Smart Products
Split Mechanical Keyboards for 2023: Ergonomic Designs for Work & Gaming

Autonomous
|
Jan 30, 2022
5,608 Views
A split mechanical keyboard can enhance your typing experience while you're working in your office. Are you ready to pick the best option on the market? This guide offers you all the models you should consider! 
What Is a Split Mechanical Keyboard?
Getting the best smart office accessories is essential, especially if you're an office worker, since you need to guarantee that your workstation layout benefits your productivity.  
Therefore, buying items such as an under-desk keyboard mount or an ergonomic keyboard tray might make a huge difference, particularly when you have to spend hours typing in front of your computer.  
However, if you're getting keyboard accessories, you need a top-quality keyboard first - a model that guarantees that your wrists, fingers, and arms are completely safe, even if you use them for hours. 
Split mechanical keyboards are the ideal option for this since their design is different from regular ones. Instead of having a standard QWERTY keyboard in front of you, the models are split in half and often include different ergonomic features to protect your body from strain or pain. 
Best Split Mechanical Keyboard Options
Take a look at the best-quality split keyboard models you can find out there – from folded designs to RGB lights, you can find the perfect one! 
1. Matias Programmable Ergo Pro Keyboard
If you're looking for a high-quality ergonomic split keyboard, this brand has one of the best options for you – the Matias Programmable Ergo Pro Keyboard!
Research proves that to improve your work efficiency, the best solution is to opt for ergonomic computer accessories. Especially an ergonomic keyboard and computer mouse can change your workstation for the better. This Matias ergonomic keyboard is one of the best split keyboards due to its ergonomic action and careful design. The keyboard is ergonomically adjustable; it has gel palm support pads for maximum cushioned action. The keyboard has USB 2.0 ports for improved connectivity.
It offers 4.5° of negative tilt, tenting in the center, and distinct left and right sides. You may use this feature to determine your ideal posture and angle. In addition to simple shortcuts, it is simple to program the pre-programmed shortcuts to support your workflow. There is no additional software needed for the Matias keyboard to function.
Matias Quiet-Click mechanical switches are also quiet enough to use in the workplace. There is no need to be concerned about upsetting your coworkers with loud click noises. It is constructed with a high-quality finish that will boost performance and provide a shiny surface that will enhance the appearance of your entire work desk. You can type more comfortably and accurately thanks to the laser-etched contoured keycaps and premium bonded lycra gel palm supports.
Office workers can spend hours using this item to type away everything they need. With adjustable features, gel pads to support your palms, and two years of warranty, it's a top split custom ergonomic keyboard you can't miss. 
2. Cloud Nine ErgoTKL Split Mechanical Keyboard
As one of the best and most modern split mechanical keyboards, Cloud Nine has presented its line of high-quality ergonomic keyboards. The same is the case with this Cloud Nine ergonomic split mechanical keyboard from Autonomous. This keyboard can be separated up to 6.5 inches and provides a natural shoulder placement. It has a 7-degree tilt and provides a smooth working angle for your wrist. The keyboard can be adjusted to three different settings, which include 0 degrees, 4 degrees, and 7 degrees.
It also has a multi-function smart wheel which is highly helpful for gamers and programmers. The programmable hotkeys in this custom ergonomic keyboard benefits the user. It also has a USB port for enhanced connectivity. Besides an ergonomic design, the keyboard has vegan leather palm rests to ensure no strain or injury happens to your wrist. The Cloud Nine ergonomic keyboards can be considered a great pick as the best keyboard for carpal tunnel. 
3. R-Go-Tools Split Ergonomic Keyboard
This split mechanical keyboard kit from R-Go-Tools follows the most popular QWERTY format, so it is ideal for people who prefer something modern but are comfortable with old-school style. The R-Go-Tools Split Ergonomic Keyboard has two parts for the most ergonomic arm and shoulder placement. This keyboard is known to help with posture issues and also attain an ergonomic neck angle while working.
The ultra-thin design is not only for aesthetic purposes but also improves blood circulation. The keyboard works with a light keystroke and has sensitive touch keys. This feature reduces muscle tension and hence prevents the chances of issues like repetitive strain injury. It is also one of the most lightweight keyboards on our list and can be one of your portable computer accessories if you are a remote worker.
4. Royal Kludge Redragon K617 Fizz 60% Wired RGB Gaming Keyboard
When it comes to gaming keyboards, they are slightly different from regular or programming keyboards. The Royal Kludge Redragon K617 is the perfect example of a modern gaming keyboard. This 60% wired RGB keyboard comes in gray and pink. The specially designed ergonomic keyboard has keycaps for FPS gamers and speedy operation. Additionally, it contains red hot-swappable switches, which are silent mechanical switches.
You will get up to 20 modes of preset backlighting and RGB settings for efficient gaming. The keyboard also can synchronize the backlit action depending on the brightness required. It comes with software that further extends the keyboard action and allows you to perform more actions. It has a space-saving design and is a great pick for your work desk with multiple monitor setups.
5. Royal Kludge Redragon K618 Horus Wireless RGB Mechanical Keyboard
A split keyboard kit is all about ergonomics, but when it comes to this wireless Royal Kludge K618 RGB keyboard, you will find it highly useful for gaming. The keyboard is a 1st Gen three-mode connection technology with a USB-C wired type. It is built with upgraded Bluetooth, so the gaming time is quick and responsive. Unlike conventional keyboards, this one offers real-time connectivity, so there is no lag in response rate.
It is one of the best universal goods available because switching between various wireless devices is simple. It is portable and perfect for remote employees thanks to its 30% Cut Ultra-Thin Low-profile design. It has on-the-fly macro keys and a function section specifically for controlling media.
The Redragon core software driver support, 16.8 million color backlighting, standard keys remapping, and endless key bindings are all accessible for individual re-modification, in addition to the tank-solid material.
6. Royal Kludge Anne Pro Mechanical Keyboard
Get on this Anne Pro mechanical keyboard if you need something sweet and efficient for your gaming setup. This keyboard is one of the top picks for users who enjoy fast real-time response and battle action in gaming. It has the gateron brown switch to improve the typing action. This makes the keyboard practical for gaming, typing, and programming.
The keyboard has 61 keys and hence a compact design. It is a great pick for portable work or gaming setups. The RGB backlit changes colors and provides multiple options to choose from. You can enjoy Bluetooth connectivity and a professional software set up to improve the keyboard's functionality. It also comes with a 1-year warranty.
7. Keyboard by Perixx
Another split custom ergonomic keyboard to add to your list of possible options is Perixx's alternative, which is available in black and comes with a beautiful split design. 
Unlike other keyboards, Perixx's option includes a palm rest for your hand to comfortably sit while you're using it. Therefore, your wrist never has to suffer any discomfort! 
Since this model's keys are specially made, they help reduce the pressure when you're typing, thus enhancing your user experience.  
8. Edging Freestyle Mechanical Split Keyboard by Kinesis
Kinesis is another famous brand that provides you with an ideal keyboard, especially if you're setting up a desk for a developer. The Freestyle Mechanical Split model is one of Kinesis' most famous options, and it's available in three different colors for you to choose from. 
Buying the Freestyle Mechanical Split keyboard means you get an item that performs excellently. Furthermore, it has a SmartSet and a driverless engine, which are convenient if you want to customize your experience. 
Additionally, this split mechanical keyboard includes premium-quality cushions to support your palms, and its 20-inch adjustable split is ideal for typing, especially during long work sessions. 
9. Kinesis' Freestyle Pro Mechanical Keyboard
Being an office worker means you have to invest in the best furniture pieces and office accessories for your workstation since these help you enhance productivity and guarantee that you're motivated while you complete your to-dos. 
Fortunately, Kinesis offers a few options to help with this, such as the Freestyle Pro Mechanical Keyboard. It has a simple black design with eight office keys. 
This split mechanical keyboard is one of the most known alternatives on the market, particularly since it's immensely durable. If you get it, it means you're investing in something that will surely last a long time.  
With nine custom layouts to choose from, the Freestyle Pro Mechanical Keyboard also includes a two-year warranty for manufacturing defects, although these are rare too.
10. Programmable Split Mechanical Keyboard by Koolertron
Koolerton gives you one of the best split keyboard options too, as this model has no less than 89 ergonomically-designed keys.  
Both parts of the keyboard have a USB port, and you can use any of its switches with little force. Therefore, your fingers and wrists never have to suffer any strain or tension while you're working. 
Due to the characteristics of this ergonomic split keyboard, you can type comfortably while keeping your wrists in a straight position. 
11. Microsoft Sculpt's Ergonomic Keyboard
A modern design, a unique feeling, and top-quality materials are what you get with Microsoft's split mechanical keyboard kit. This model is one of the best options if you want to guarantee that you position your wrists and arms correctly. 
With Microsoft's option, your wrists and forearms can always feel relaxed. The separation in the middle of the keyboard lets you make sure that your hands are at the right distance from each other, which is necessary, especially if you want to guarantee you don't get pain after a few hours of working on your computer. 
Since this keyboard provides a separate number pad, it's flexible enough for you to organize it in your workplace, even if you don't have much space to spare. Versatility and high-quality features are what you get if you buy this keyboard from Microsoft! 
12. Split Mechanical Keyboard by Core Mechanics
Core Mechanics is one of the best brands to offer you a top experience while you're typing. Unlike other alternatives, this one for sure takes your typing to a whole different level. 
In this case, Core Mechanics' keyboard comes with a 48-inch nylon connection cable, so you can place the model wherever you want. 
At the same time, the model's design guarantees less noise, and it makes sure that you have a top response every time you press the keys.
 It has an average reaction time of one millisecond, and it also comes with extra personalization features for you to customize. Furthermore, this split mechanical keyboard is made of PBT polymer, which is why it's immensely durable. 
13. Advantage 2 Ergonomic Keyboard by Kinesis
Kinesis offers a few options, all made with top-quality materials to ensure durability. Additionally, some of them are affordable, which is something you might want to keep in mind if you're on a budget. 
The first time you take a look at this model, you might feel surprised due to its odd design. Nonetheless, this is what makes it special because it's meant for you to place your fingers and hands in a relaxed position. 
If you buy the Advantage 2 split keyboard kit by Kinesis, you can place your hands and fingers without worrying about over-extension. This ergonomic split keyboard helps reduce ulnar deviation and it has fixed vertical keys, guaranteeing a comfortable position while you're typing.
14. MD770 Split Keyboard by Mistel Barocco
Just because you're an office worker doesn't mean you can't get a fun ergonomic split keyboard with RGB lights.  
It includes two C-type USB cables, and it has OEM profile keycaps. If you love black keyboards with a touch of color, this one's for you – make your workstation stand out with a beautiful split design and some RGB lights to liven up your desk! 
Furthermore, Mistel Barocco's keyboard includes an inbuilt memory and fantastic keycaps, manufactured with a two-shot molding process to enhance quality and durability. 
15. Freestyle 2 Ergonomic Keyboard by Kinesis
Finding a keyboard that offers you durability, a beautiful design, quality, and versatility is not easy, but Kinesis makes the process quicker with the Freestyle 2 model. 
This keyboard has a standard Windows layout and eight office hotkeys, and if you're looking for something that can last a long time, it's probably one of the best options out there. 
The Freestyle 2 comes with a VIP3 accessory for stable tenting, which guarantees that it will stay in the right position while you're using it. Additionally, you can separate the model up to nine inches, and that allows you to keep your wrists completely straight. 
With the Freestyle 2 split mechanical keyboard, your palms also get fantastic support and adjustable features in case you want to customize the model's split. Lastly, since its slope's angle is zero-degree, it reduces the extension of your wrist and ensures that you never feel any tension. 
16. BK06 Bluetooth Keyboard by iClever
Even though some of the best split keyboard models offer immensely convenient features, not all of them are portable, and if you have to constantly move your laptop around, you might want to get something easily transportable. 
Fortunately, iClever has the perfect solution for you – the BK06, which you can connect by Bluetooth to any device. Since it has an ergonomic design, it releases all stress in your wrists, arms, and shoulders. 
Moreover, iClever's split custom keyboard features a three-channel Bluetooth system and USB connection, and it operates with one Lithium-ion battery. Finally, the model is available in a beautiful gray color, so if you're looking for a simple design, this might be one of the prettiest options you can find! 
17. Sanwa's Foldable Bluetooth Keyboard
Another convenient alternative you should keep in mind is Sanwa's model, especially if you want a portable ergonomic split keyboard.  
This model is characterized by having a foldable design, and for being so slim that you can slip it in your pocket. Furthermore, once you charge it, it can work for 36 straight hours, which means its battery is powerful and long-lasting. 
With a smart auto sleep feature and an easily accessible on and off button, Sanwa's keyboard is designed to save battery when you're not actively using it. Plus, its design is very beautiful, sleek, and immensely durable! 
18. K860 Wireless Ergonomic Keyboard by Logitech
Office workers need to spend hours in front of their computers every day. Therefore, having an ergonomic keyboard is just as important as getting a spacious desk or a chair with ergonomic features since it protects your fingers, wrists, hands, forearms, and shoulders from suffering any tension or pain. 
Logitech's model is one of the best alternatives you could find if you're looking for ergonomic characteristics at an affordable price. This model's function keys are completely customizable, so you can quickly change the keyboard to fit your needs. 
At the same time, Logitech's split mechanical keyboard has a design that benefits your posture and lowers muscle strain. Since it has a split curved keyframe, you can enjoy your typing experience without ever feeling pain or tension. 
Lastly, Logitech's ergonomic split keyboard is immensely durable, and it includes both USB and Bluetooth connectivity features. 
19. ErgoDoz Ex Keyboard
The ErgoDoz Ex Keyboard is many people's top pick when they're looking for a luxurious, almost endlessly customizable option. Even though it's more expensive than many others out there, it might be what you're looking for. 
All its switches are hot-swappable, so you can customize the ergonomic split keyboard however you want. Furthermore, you can choose between Cherry MX and Kalih switches, PBT or ABS keycaps, and backlighting and under glow. 
Although this option offers highly convenient features, keep in mind that it's more expensive than others. Additionally, if you want to make the most of it, you should get the tilt kit too, and that's not included in the model's price. 
Even so, ErgoDoz characterized by offering its customers the best options, especially when it comes to reprogrammable features. Thus, the Ex ergonomic split keyboard uses QMK technology, which allows you to quickly set custom layouts if that's what you want.
What Makes a Split Mechanical Keyboard Better than a Regular One?
All choices have their pros and cons, but it is no secret that long-term incorrect use of keyboards can negatively impact your health.  
Many office workers experience shoulder, wrist, and arm pain, and it's often because they type while maintaining unnatural, tense positions. However, with a split custom ergonomic keyboard, you can have a completely different experience. Here are some of the pros and cons: 
Pros of a Split Mechanical Keyboard
The models often include ergonomic features to protect your body

Aesthetic designs

Additional features often include Bluetooth connectivity or USB ports 
Cons of a Split Mechanical Keyboard
Some models are expensive 
On many occasions, people compare a mechanical keyboard vs a membrane one, especially when they want to guarantee they're buying the right thing. Even so, keep in mind that split mechanical models are made to protect you, and to enhance your typing experience! 
Benefits of A Split Mechanical Keyboard
Split keyboards are particularly comfortable because they lessen what ergonomists call ulnar deviation. Ulnar deviation happens when the wrist is turned outward toward the little finger, which narrows the wrist's carpal tunnel.
A split keyboard reduces pressure on the median nerve by increasing separation, alleviating this unpleasant posture. You can detach the two key modules and reposition them so the home row is more closely shoulder-width using a split keyboard. The natural typing posture has no ulnar deviation, while the home row is at shoulder width.
Keynote Takeaways
There are many split keyboards out there, and each model has specific features to enhance your experience. Choose the best one for you and protect your hands while you type!
Video ads for product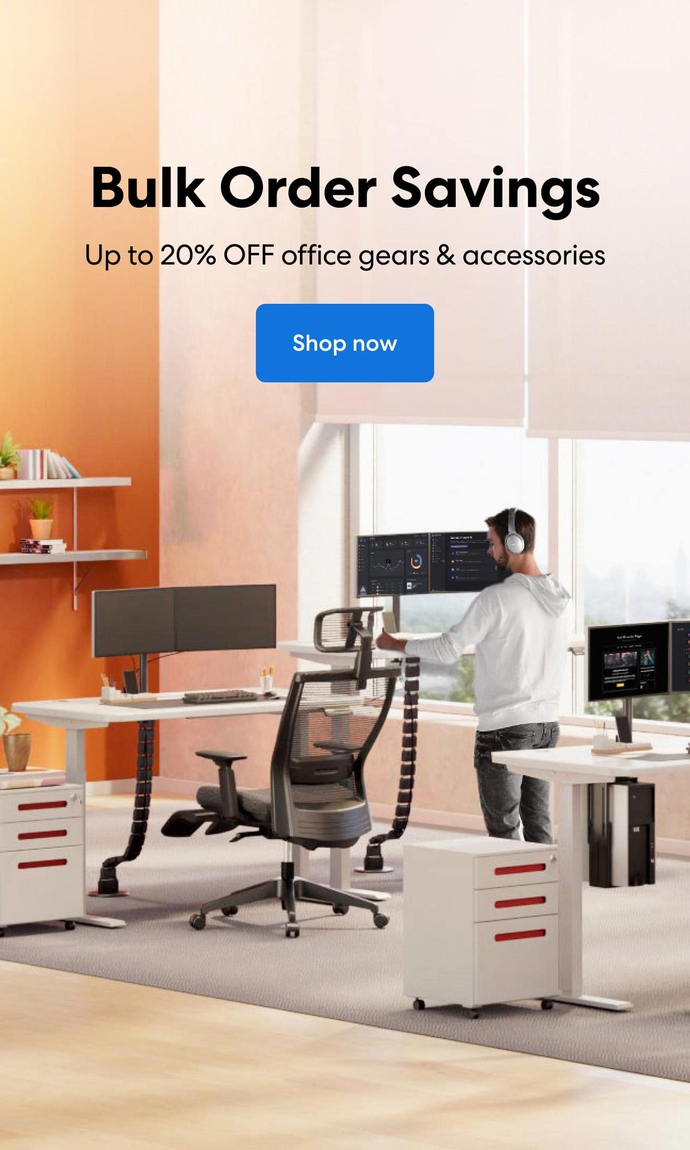 Subcribe newsletter and get $100 OFF.
Receive product updates, special offers, ergo tips, and inspiration form our team.