When you're looking to invest in a keyboard, whether it's for gaming or professional use, there are many different types of keyboards you can consider. In this article, we will explore what a 60% keyboard layout is, how many keys are on a 60% keyboard layout, and the top five keyboards in this category. 
Let's get started! 
What Is a 60% Keyboard Layout?
The 60% keyboard layout is a compact design that has gained immense popularity among the PC gaming community. As the name suggests, it only has 60% of the keys found on a standard full-size keyboard, resulting in a smaller form that saves precious desk space and increases productivity. 
With the 60 percent keyboard layout, you'll find that several keys commonly found on larger keyboards, such as the number pad, function keys, and the dedicated arrow keys, are either removed or integrated into secondary layers. This minimalist approach allows keys to be much closer to each other, which provides an excellent typing and gaming experience. 
Despite its smaller size, this keyboard layout (60 percent) doesn't compromise on functionality. Through the clever use of key combinations and programmable layers, users can still access all the essential keys needed for everyday tasks, including typing, gaming, and multimedia.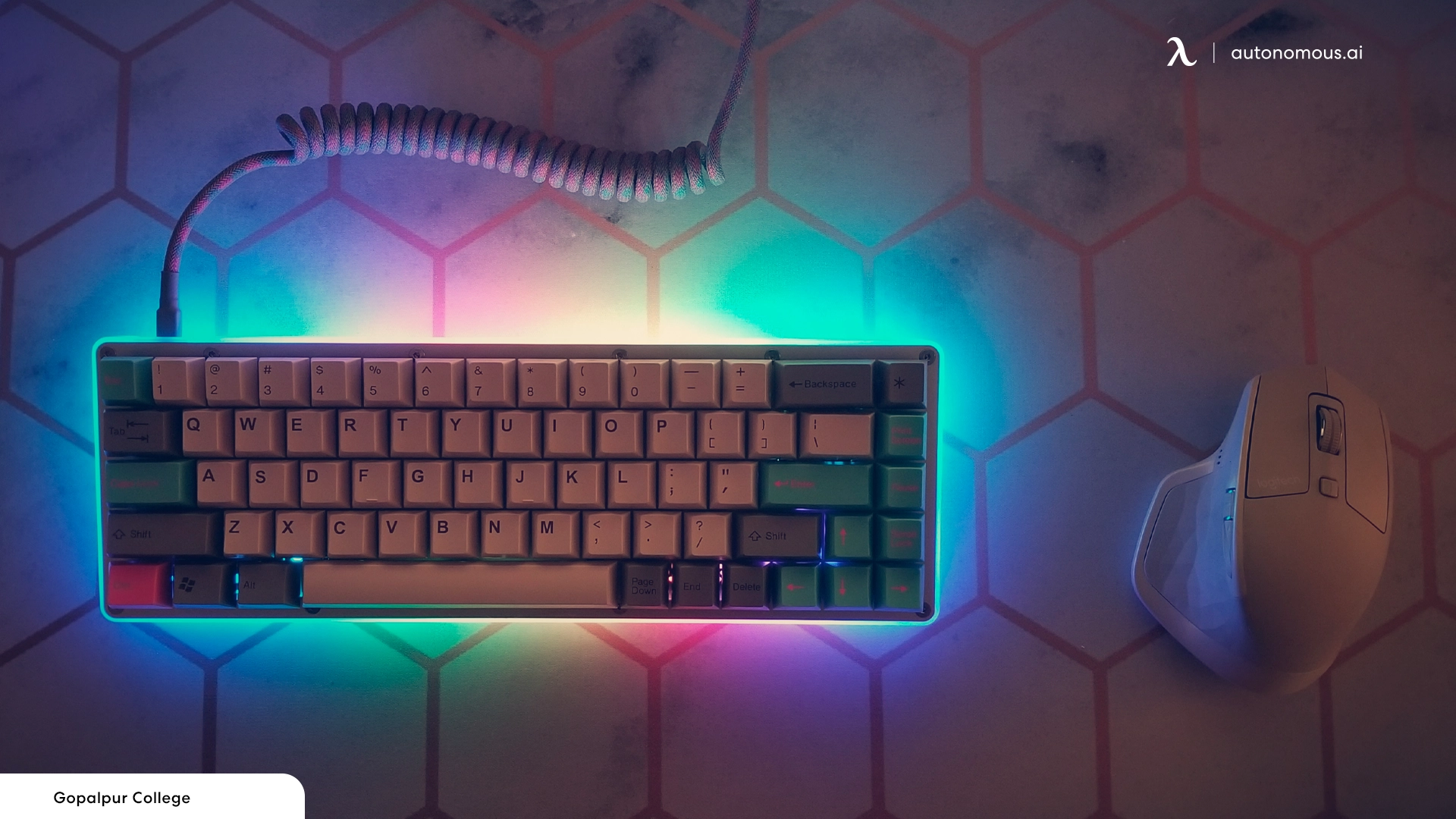 Why Are The 60-Percent Keyboards so Popular?
The primary allure of the 60% keyboard layout lies in its compact and minimalist design. By stripping away unnecessary keys and functions, these keyboards retain only the most essential components, resulting in a sleek and streamlined appearance. 
One of the key advantages of the 60 percent keyboard layout is the significant space-saving it offers. Its smaller form factor frees up valuable desk real estate, allowing for a cleaner and more organized workspace. This is also important for gamers as they have enough room to move around their mouse for those crucial "flicks" in FPS games. 
Another factor that is driving the popularity of this type of keyboard is portability. Whether you're a digital nomad, a frequent traveler, or simply someone who prefers to work in different locations, the 60 percent keyboard layout allows you to take your keyboard with you wherever you go. 
The customization and programmability factor of the 60% keyboards also contributes to its rising popularity. Despite their reduced size, many 60% keyboards come with powerful software that enables users to customize key functions, create macros, and personalize lighting effects. 
Many 60% keyboards offer a wide range of high-quality mechanical switches, providing users with a tactile and satisfying typing experience. This is extremely popular in the PC gaming community, which is why this type of layout is highly sought-after by gamers.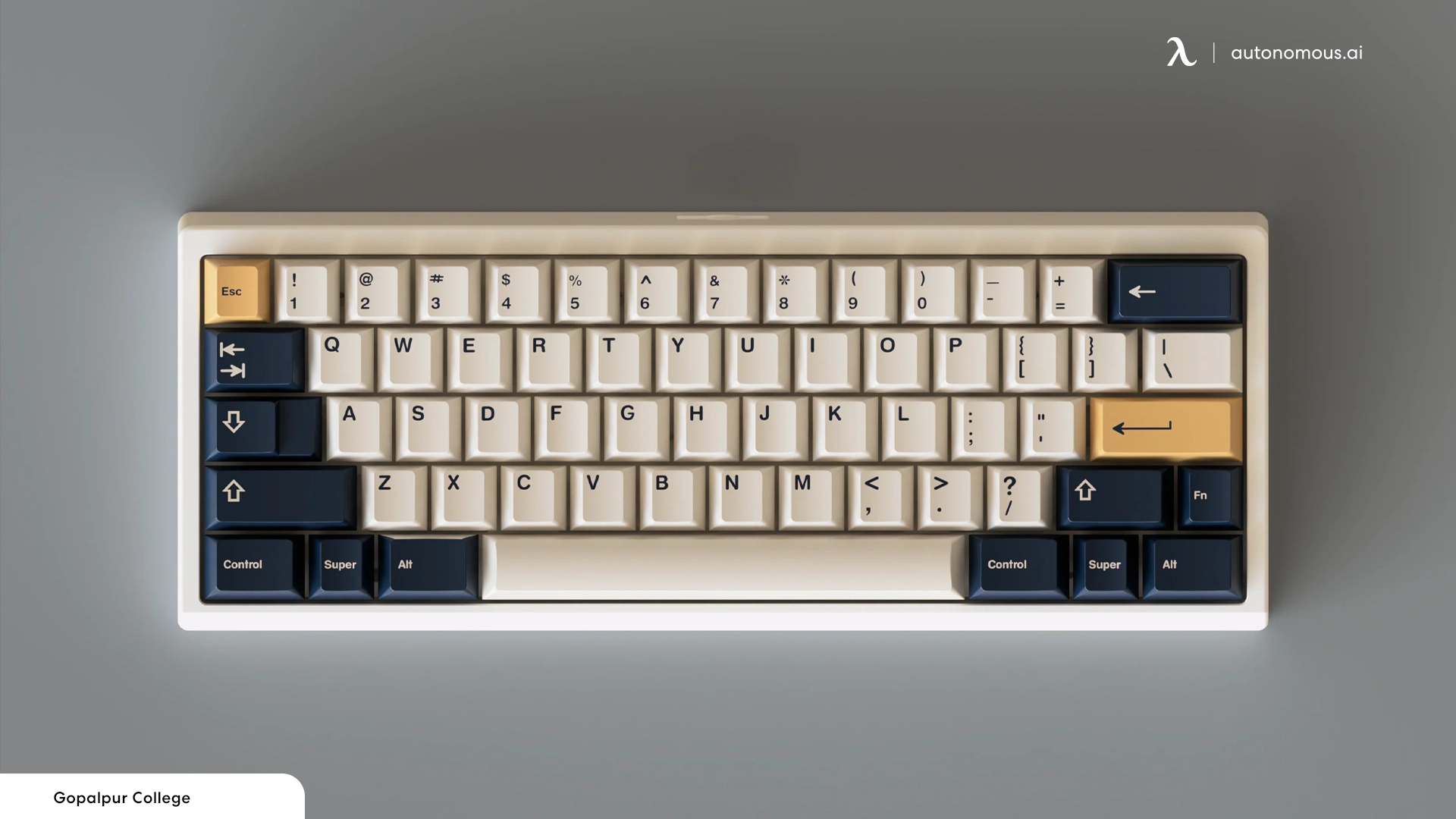 How Many Keys Are on a 60% Keyboard?
After reading this far, one of the questions you may have is, "How many keys are on a 60% keyboard?" The answer lies in its name. 
A full-size keyboard has around 104 keys. This means that a 60% keyboard should have around 61 keys. However, the number may vary slightly depending on the manufacturer.
What Is the Difference Between a 60% and 65% Keyboard?
The 60% keyboard layout typically features around 61 keys. Its minimalist design saves valuable desk space, leaving more room for your mouse movements and creating an aesthetically pleasing setup. 
On the other hand, the 65% layout builds upon the foundation of the 60% keyboard, incorporating a few additional keys while still maintaining a compact form. 
The 65% keyboard typically includes dedicated arrow keys, which are often omitted in the 60% layout, along with a few extra function keys.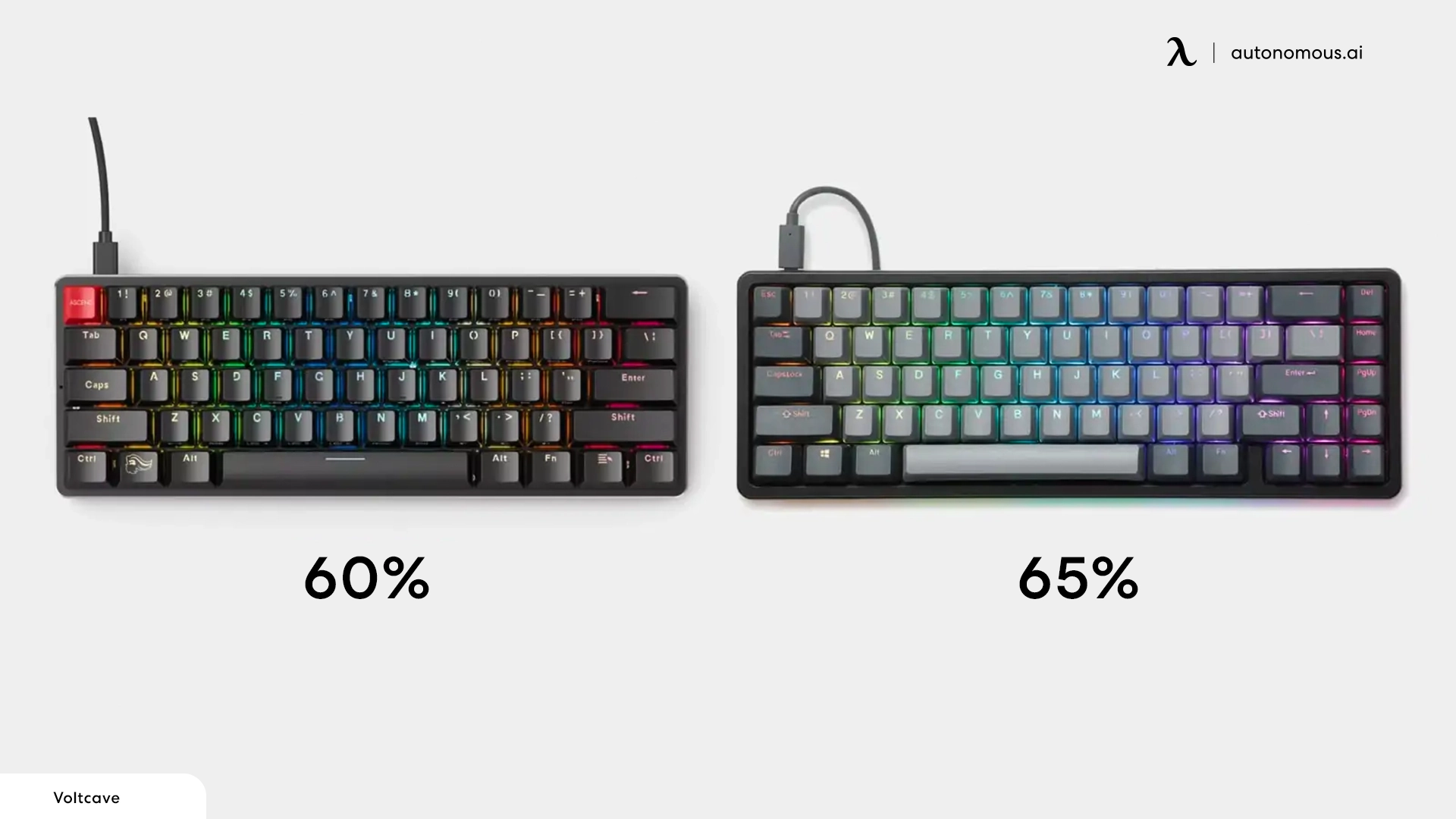 The Top Five 60% Keyboards with All the Features You Need
Whether you're looking for a quiet mechanical keyboard or a small gaming keyboard with many features for your gaming sessions, our list of the top 5 60% keyboards has something for everyone. 
Royal Kludge RK61 Wireless 60% Triple Mode Mechanical Keyboard
Are you looking for a compact and versatile mechanical keyboard? Look no further than the Royal Kludge RK61 Wireless 60% Triple Mode Mechanical Keyboard. 
Featuring a sleek 61-key layout, the RK61 gaming keyboard is perfect for those seeking a clutter-free desktop. The vibrant blue LED backlight adds a touch of style and ensures visibility even in low-light environments. 
What sets this keyboard apart is its triple-mode connectivity. Whether you prefer a wired connection, Bluetooth, or the convenient 2.4GHz dongle, the RK61 has got you covered. 
The hot-swappable mechanical switches offer a delightful customization option. With the ability to replace 3-pin or 5-pin switches without any soldering, you can create a truly unique keyboard that suits your needs. 
Thanks to its high-capacity battery, the RK61 provides up to 13 hours of continuous usage with backlighting and a fantastic standby time of up to 360 hours. You can work or game with confidence, knowing that the keyboard will keep up with your demanding tasks. 
While the RK61 boasts a single-color backlight, it compensates with 17 dynamic modes that inject a touch of vibrancy and variety. The absence of a number pad makes this 60% keyboard layout a favorite among FPS gamers. It provides more space for fluid mouse movements during intense gaming sessions. 
If you're looking for an ergonomic gaming keyboard, you can't go wrong with the RK61. It's affordable, stylish, has mechanical switches, and is wireless! 
Royal Kludge Redragon K617 Fizz 60% Wired RGB Gaming Keyboard
The Royal Kludge Redragon K617 Fizz 60% Wired RGB Gaming Keyboard is slim and stylish and is sure to impress both gamers and professionals. 
It has a 61-key layout that not only saves valuable desk space but also allows for effortless mouse movements, giving you the freedom to navigate with precision. 
Equipped with hot-swappable red switches, the K617 Fizz offers a delightful typing experience. These quiet and linear switches register every keystroke smoothly and with minimal noise. The swappable feature lets you easily swap keys and customize your keyboard to suit your preferences. 
With up to 20 preset backlighting modes to choose from, you can create a visually stunning gaming setup that matches your style. Adjust the brightness and flowing speed directly on the keyboard to find the ambiance that is perfect for your gaming sessions. 
It comes with pro software support that allows for even more customization. Use it to tailor the keyboard to your liking by designing new modes and effects. Take advantage of macros with different key bindings or shortcuts to enhance your productivity during work or gaming sessions. 
Specifically designed for FPS gamers, the K617 Fizz ensures that your keyboard won't obstruct your mouse movements. 
Its compact layout lets you place the keyboard straight on your desktop, providing ample space for smooth and uninterrupted mouse navigation. You can kiss accidental mouse collisions goodbye and focus on achieving those coveted team kills. 
If you're looking for the best RGB keyboard in the 60% keyboard layout that goes well with other gaming accessories, the Royal Kludge K617 Fizz is a fantastic investment. 
Royal Kludge RK ANNE PRO Mechanical Keyboard: Gateron Brown Switch
If you're looking for a 60 percent keyboard layout that is a complete powerhouse, you should check out the Royal Kludge RK ANNE PRO Mechanical Keyboard: Gateron Brown Switch! 
With its decent Bluetooth connectivity, the RK ANNE PRO allows you to connect up to four devices seamlessly. You can switch between devices effortlessly with a single button. Whether you're toggling between your laptop, tablet, or smartphone, this keyboard ensures a hassle-free wireless experience. 
It comes with a revamped Obinskit Starter Software that simplifies the customization process. The software enables you to effortlessly set up your own key layout and lighting preferences and create macros to streamline your workflow. 
Conveniently located on the Caps Lock button, the "Magic Fn" functionality is a great feature that unlocks the potential of the F1-F12 keys. It makes them more accessible and intuitive during gaming sessions or other tasks that require quick function-key inputs. 
Equipped with Gateron Brown Mechanical Switches, the RK ANNE PRO provides a tactile and responsive experience. The double-shot PBT keycaps ensure durability and longevity, making the RK ANNE PRO a fantastic investment. 
SteelSeries Apex Pro Mini Wireless
Are you looking for precision and customization in your keyboard? The SteelSeries Apex Pro Mini Wireless has cutting-edge technology with a compact 60% layout, delivering a powerful experience. 
Featuring the OmniPoint 2.0 switches, this keyboard outpaces the standard mechanical keyboards with an astonishing 11x faster response time and 10x swifter actuation. It gives you the competitive edge you need during intense gaming sessions. 
With the Apex Pro Mini Wireless, you can customize the registration depth of each key to the nearest 0.1mm (from rapid 0.2mm touches to deliberate 3.8mm presses). 
You can also program two different actions for a single key. This lets you execute quick movements with a light touch and unleash powerful maneuvers with a deeper press. It enhances your gaming prowess and enables seamless transitions between actions. 
Despite its compact size, it retains all the capabilities of a full-size keyboard, thanks to its side-printed secondary functions. 
It offers seamless connectivity with Quantum 2.0 Wireless technology. Users can experience lag-free gaming with the ultra-smooth 2.4GHz wireless connection or use Bluetooth 5.0 to connect to various other devices. 
Featuring an aircraft-grade aluminum alloy top plate, the keyboard is durable and will provide you with long-lasting performance. 
HyperX Alloy Origins 60
The HyperX Alloy Origins 60 has everything you can expect from a 60% keyboard. It offers a fantastic combination of functionality, convenience, and aesthetics. 
Built to endure the most demanding gaming sessions, the HyperX Alloy Origins 60 features robust mechanical key switches that guarantee exceptional durability and stability. 
The USB Type-C interface and the plug-and-play feature enable instant setup on your PC, letting you unleash your gaming prowess without any delay. 
With an aircraft-grade aluminum body, it not only exudes premium aesthetics but also provides structural integrity and stability for extended sessions. 
The double-shot PBT keycaps are durable and resistant to wear, friction, and solvents, ensuring long-lasting performance.
Equipped with HyperX Mechanical switches, the Alloy Origins 60 offers a balanced blend of speed and accuracy, enabling faster key presses with minimal errors. 
The exposed LED design of the HyperX mechanical switches delivers brighter and more luminous lighting effects, immersing you in a captivating visual experience. 
Achieve the ideal typing angle with adjustable keyboard angles. The two-step keyboard feet allow for three different tilt angles, ensuring ergonomic comfort during extended typing sessions. 
It also comes with a detachable USB-C cable that enhances portability, making this ultra-compact keyboard a travel-friendly companion.
Final Thoughts
Whether you're interested in the Royal Kludge or any other, our list of the top five in the 60% keyboard layout category comes at a great price point for the features they offer. 
Switch over from traditional keyboards and invest in one with a smaller form factor to help you save desk space while getting all the benefits of a full-sized keyboard. You can even invest in other computer accessories without worrying about overcrowding the table!
Video ads for product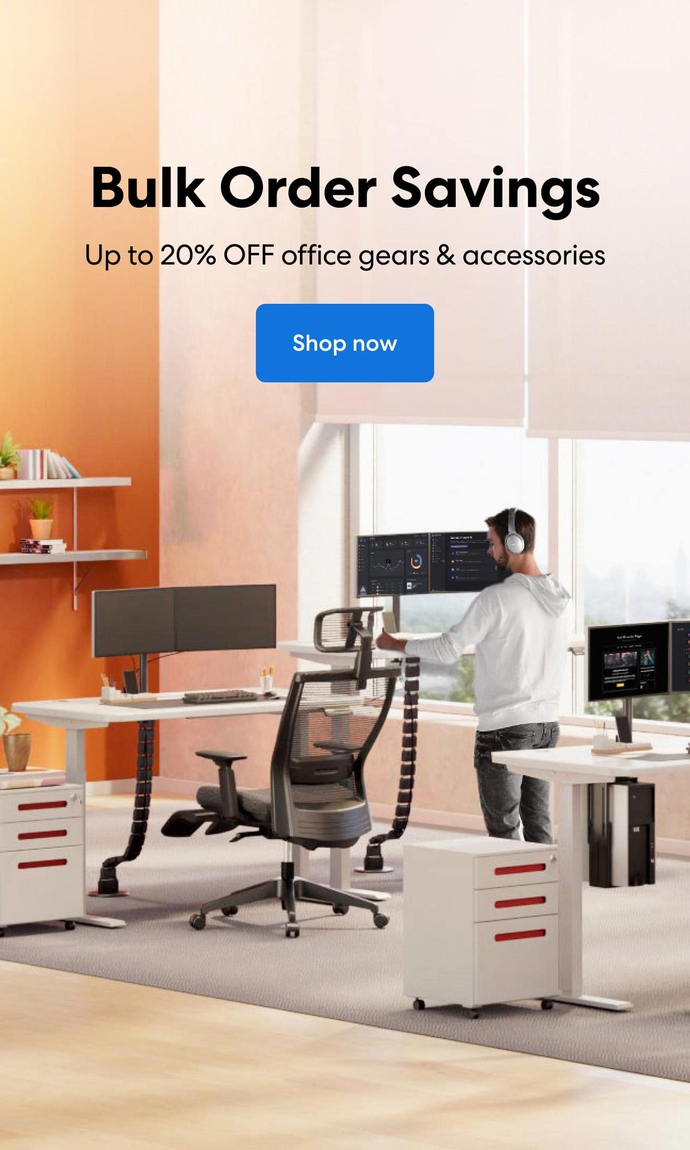 Subcribe newsletter and get $100 OFF.
Receive product updates, special offers, ergo tips, and inspiration form our team.