Smart Products
The Top Five Royal Kludge Keyboards Every Gamer Will Love
811 Views
The Royal Kludge store is a well-known name among new and old gamers. After all, it's a brand trusted by the pros in eSport competitions.  
Unlike traditional keyboards, the RK tech accessories are specially designed for gamers who want an edge in the competition. The Royal Kludge keyboard line offers unique style, superior quality, and customizable backlighting options. 
On top of that, RK gaming keyboards are made with top-grade materials, so they're reliable and can last for years. 
Gamers can expect hot-swappable switches and fully customizable backlighting. There are different models available, too, such as the RK61, RK84, and the Anne Pro keyboard - all offering fantastic features. 
Why Are Pro Gamers Using Royal Kludge Keyboards?
Royal Kludge keyboards have become the top choice among professional gamers, and it's not hard to see why. The brand has completely revolutionized gaming keyboards with its extensive lineup of stylish and affordable products.  
However, is Royal Kludge really a good brand? The answer is a clear yes! Each Royal Kludge gaming keyboard is unique and comes with a wide range of customization options.  
You can easily find the exact setup that works best for you. Plus, most of the keyboards are durable - perfect for even the most intense gaming sessions.
Different Switch Options
Royal Kludge store offers a variety of switch types in their keyboards, giving you the freedom to choose the best one for your gaming style. From linear switches to brown tactile, each option has distinct features ideal for fast and responsive gaming.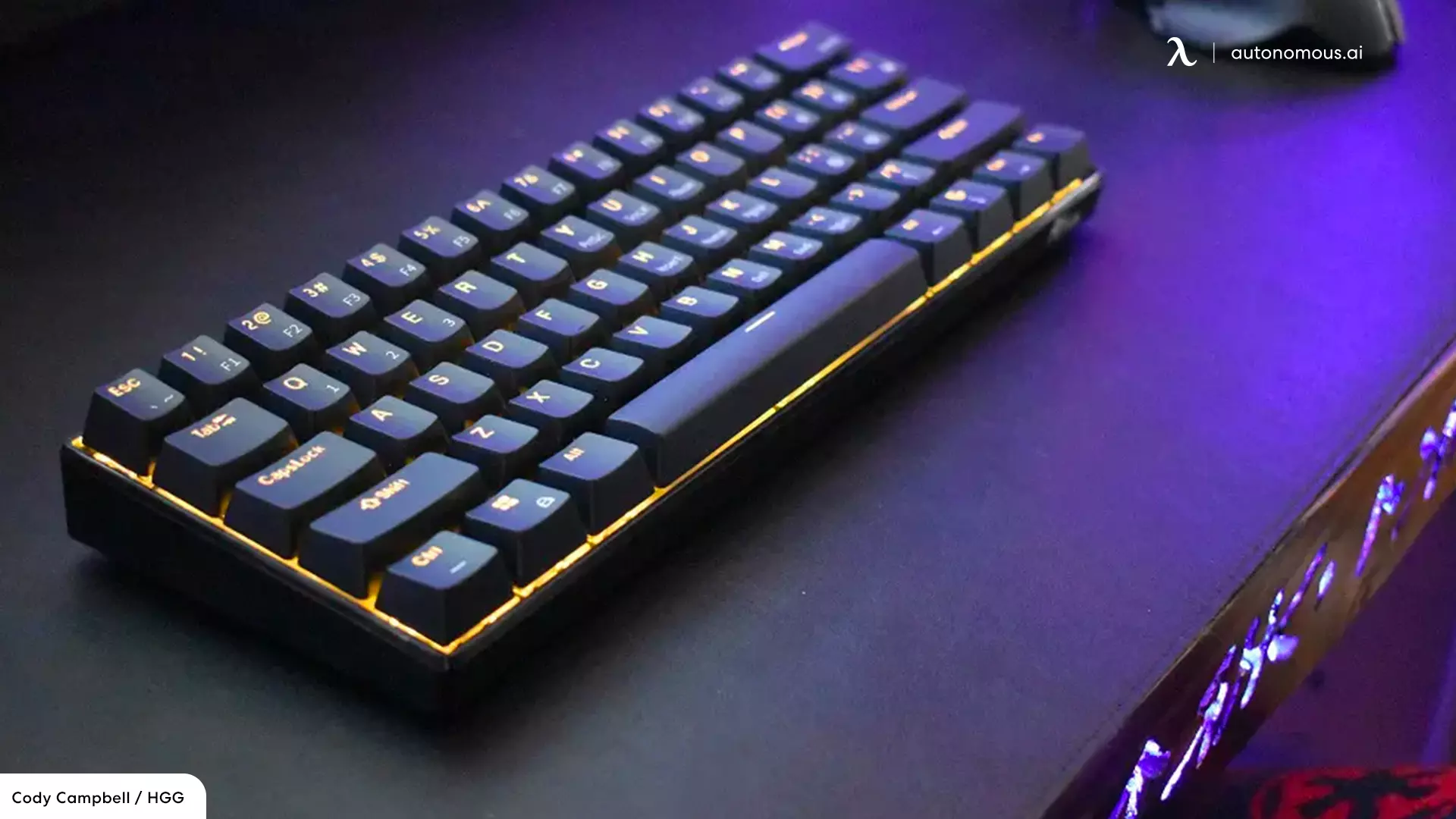 Quiet Performance
Unlike other gaming keyboards, you don't have to worry about loud clicking sounds if that's not what you prefer.  
The Royal Kludge mechanical keyboard lineup features low noise levels for typing and gaming. You can easily play your favorite games in the dead of night without disturbing your roommates!  
Portable
One of the main reasons people flock to Royal Kludge for gaming keyboards is the size options available. You don't have to settle for a full-sized keyboard if that's not your style.  
The Royal Kludge store has a line of different-sized keyboards, starting from 60% to 96% (and full size).  
Gamers who lack desktop space and prefer to stay on the go can enjoy using the 60% RK Royal Kludge rk61 or the Royal Kludge RK84 models.  
Aesthetic
Royal Kludge keyboards offer the perfect combination of features for gamers. It starts with the switches – there's something for everyone, with different options available to fit your preferences.  
The sounds are crisp and tactile – which are always pleasant to listen to while typing or gaming. Plus, the keyboards offer a unique, stylish look that stands out among the competition.  
With multiple connection options (including Bluetooth), instant macro programming, full-color RGB lighting, and more, it's easy to see why so many pros call Royal Kludge their favorite brand. Plus, with the price tag, you're getting a lot of value for your money. 
Additionally, with features like dedicated macro keys, hotkeys, and customizable profiles, you'll get the best out of any game.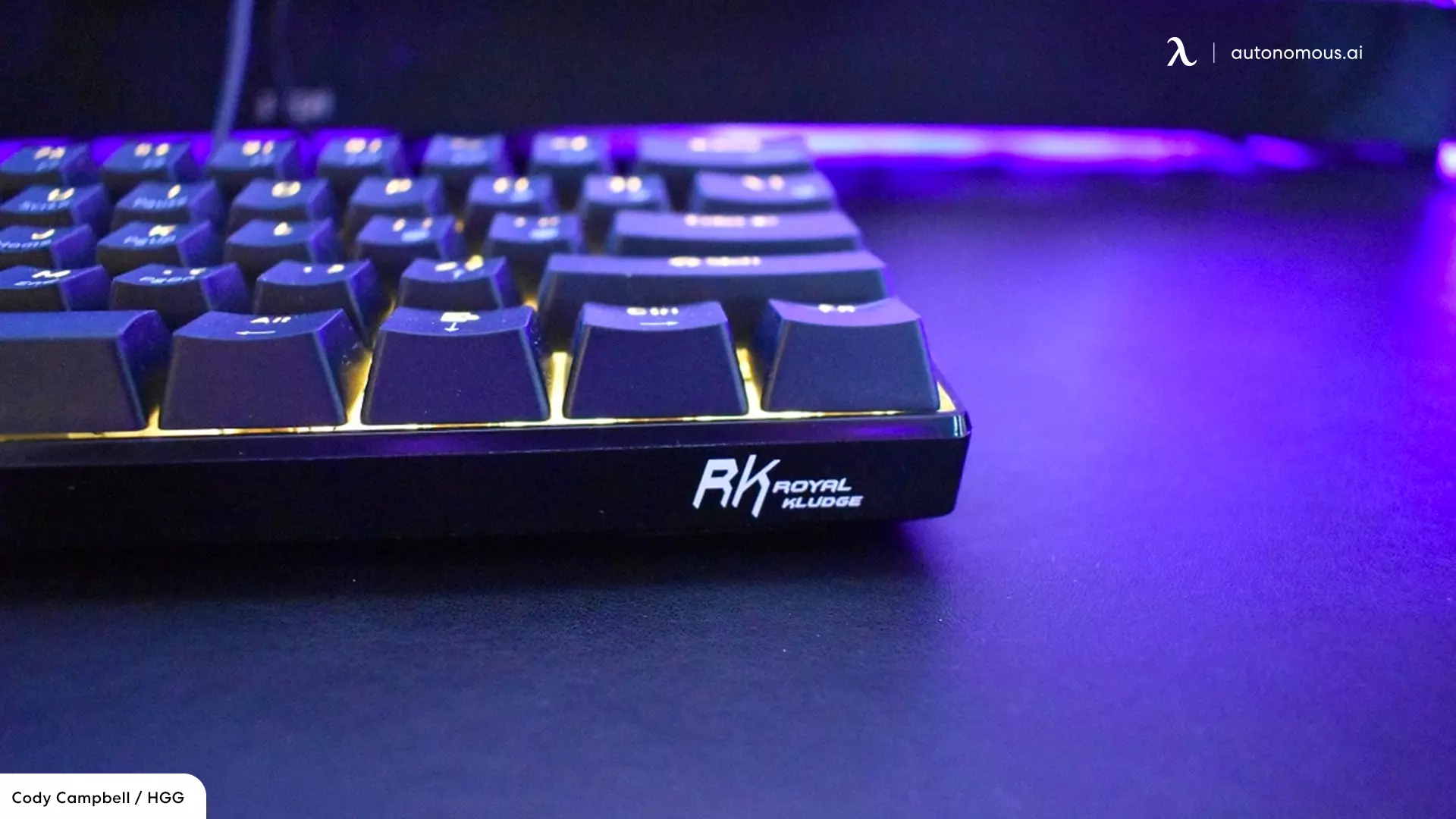 The Five Best Royal Kludge Gaming Keyboards
Pro gamers have been using Royal Kludge keyboards for quite some time now, and there's a good reason why.  
Not only are Royal Kludge products incredibly stylish, but they also provide players with a number of different switch options, great sounds, and the perfect balance between affordability and quality. 
Not sure which one to pick as your first Royal Kludge mechanical keyboard? Our list below can be the perfect guide for you!  
1. Royal Kludge RK61 Wireless 60% Triple Mode Mechanical Keyboard
Look no further than the Royal Kludge RK61 – the perfect gaming companion that won't break the bank. With 61 keys, blue LED backlighting, and a range of connection options, you'll be ready to take your gaming to the next level. 
Let's start with the design; compact and portable, this RK Royal Kludge 60% keyboard fits in any gaming setup. It connects via either wired (USB-C), Bluetooth, or a dongle connection.  
Moving onto the performance, this small gaming keyboard has mechanical keys for ultimate accuracy and responsiveness. 
It has a built-in long-lasting battery that can provide up to 13 hours of continuous backlight. Plus, it has 17 LED modes for customizability. Better yet, the switches come in either brown or red for your choice of feel and sound!
2. Royal Kludge Redragon K617 Fizz 60% Wired RGB Gaming Keyboard
You'll definitely want to check out the Royal Kludge K617 Fizz if you're after a compact keyboard with a ton of features! Available in both pink and gray, this 61-key mechanical model is perfect for those who want a quality gaming experience. 
Not to mention, the keys are also hot-swappable, so you can easily customize the keyboard however you want.  
The quiet mechanical red switches ensure no distractions between you and your game. On the other hand, the key binding feature lets you customize the commands according to your requirements. 
This quiet mechanical keyboard is also great for saving space. The compact size and low profile design make it easy to store away when you're not playing. However, we don't like the fact that this product only has a wired connection (USB-C).  
3. Royal Kludge RK ANNE PRO Mechanical Keyboard: Gateron Brown Switch
The Anne Pro keyboard has more than just looks. This black and white 61-key keyboard perfectly balances style and substance – with a full RGB backlighting system and Gateron brown switches for the best tactile feel. 
Plus, with Bluetooth connectivity, you can connect wirelessly to up to four devices simultaneously! 
The minimalistic design of the Anne Pro makes it amazingly compact and portable – perfect for gamers who value their desk space. You can also create macros and key bindings to further enhance your gaming experience. 
Whether you're looking for an upgrade to your setup, or you're a traveling gamer looking for a compact keyboard, the Royal Kludge Anne Pro is a great choice. 
4. Royal Kludge RK Mechanical Keyboard: Hot-swappable Switches
The Royal Kludge RK may just be the best RGB keyboard you've been looking for. This 84-key keyboard packs a punch!
Not only does it have long-lasting RGB backlighting, but it also offers wired, Bluetooth, and dongle connections! It's available with hot-swappable switches that give you the power to customize your keys and make them perfectly suited to your gaming style. 
The best part? You can go on your marathon gaming sessions without worrying about it draining your batteries.  
It has a high-capacity battery that allows up to 200 hours of non-stop use. Plus, thanks to the removable top frame, clean-up and transportation are easy.  
5. Royal Kludge Redragon K618 Horus Wireless RGB Mechanical Keyboard
Our final pick is the K618 full-sized mechanical keyboard by Royal Kludge. This stunning product is packed with all the bells and whistles a gamer needs, from three connection modes to 20 RGB backlighting presets. 
One of the most appealing features of the K618 is its sleek and thin design. The switches are red and combine with the RGB backlighting to create a truly remarkable display. You can even customize the brightness and colors for maximum visibility on the battlefield. 
We love how the K618 is a full-sized beast – perfect for those with abundant desk space. However, it does limit portability to some extent, so keep that in mind when shopping.  
The Quality of Royal Kludge Mechanical Keyboards in the Market
If you are a serious gamer or a professional competing in the world of eSports, then you know that a top-quality keyboard plays an integral role in your gaming experience. Having a fast, responsive, and durable product is key to winning FPS games. Enter Royal Kludge keyboards.  
Over the years, Royal Kludge has become a renowned brand among casual gamers and professionals alike. Offering a wide selection of keyboards, they have become a staple in competitive gaming. 
From the stylish body to the colorful backlighting, there is an undeniable uniqueness to a Royal Kludge keyboard. They are also built with durable materials, ensuring that your purchase will last a long time. 
On top of their reliability and quality, Royal Kludge gaming keyboards are also quite affordable. In fact, you can get a good quality model for far less than you would expect. This makes them a great choice for amateur and professional gamers looking for a budget-friendly yet high-quality keyboard. 
Their sound makes Royal Kludge mechanical keyboards stand out from the competition. Whether you like clicky switches or quieter, tactile sounds – there's something for everyone.  

Impressive Features All Royal Kludge Keyboards Have That Other Products Don't
Do you think the world of gaming has changed since the Royal Kludge keyboards first hit the shelves? Judging by the massive popularity of these amazing gaming keyboards, we certainly think so. 
The Appearance
What makes these keyboards so different from other brands? The most striking and obvious difference between Royal Kludge's gaming keyboards and others is their body.  
These keyboards are stylish and durable, and they come in various attractive colors that you can choose from. The products are also famous for being extremely lightweight and compact - perfect for gamers who want a setup that takes up as little desk space as possible. 
The Switches
Another key difference is the switches. Royal Kludge keyboards use a combination of tactile, linear, and clicky switches.  
They give players the perfect blend of control, speed, and responsiveness for whichever games they're playing. Thanks to the expertly designed key switch technology, Royal Kludge keyboards have a superior sound that's more responsive than other products. 
When it comes to gaming keyboards, there's no denying that Royal Kludge is making a huge impact.  
With their range of impressive features, stylish designs, and superior sound quality, it's no surprise that these keyboards have become so famous and sought after by amateur gamers and pros alike. 
Final Words
As its popularity grows and more players rave about it, the Royal Kludge keyboard lineup is becoming the go-to choice for gaming enthusiasts. With a combination of durability, affordability, and stylish design, it's easy to see why these keyboards are so popular in 2023. 
Our personal favorite is the RK61 model. Other than being compact and easy to carry, it also features different connection options. Plus, the hot-swappable keys are a joy to customize!  
All in all, the Royal Kludge store has a lot to offer gamers, and we can see why people love this brand so much (we're equally in love!). Out of our top five picks today, which one's your favorite? Make sure to choose a model that goes with your aesthetic and gaming style.
Subcribe newsletter and get $100 OFF.
Receive product updates, special offers, ergo tips, and inspiration form our team.
WRITTEN BYAutonomous
We build office products to help you work smarter.