Smart Products
10 Best 60 Percent Keyboards for Working and Gaming (2023)

Autonomous
|
May 2, 2023
1,941 Views
Getting the right gaming furniture is crucial to create the best gaming setup, and so is getting the right computer accessories for this setup. Since you use peripherals like the keyboard most frequently, it is vital to do some research on the keyboard market before finalizing your purchase. The 60-percent keyboard has become the talk of the town lately, but is it worth all the buzzes?
The short answer is yes. If you are inspired by the idea of having a compact gaming keyboard and creating a minimalistic workstation, you should definitely go for a mechanical 60-percent keyboard definitely. But what is a gaming keyboard 60 percent, and how can you buy the best one? We know that you may have such questions in your mind too, but there is no need to worry as we have got you covered.
In this blog, we will be discussing what a mechanical 60-percent keyboard is and what the best 60-percent keyboard is like. We have curated a detailed list of the best 60-percent keyboards as well, so you will have a holistic idea if you stick with us till the end. 
What Is a 60% Keyboard?
Let's first talk about what a mechanical 60-percent keyboardt is. The 60-percent keyboard is an ergonomic keyboard that is designed to have a compact, ergonomic design and features 60% of the keys in a full-sized keyboard. Typically, a full-sized keyboard contains 104 keys, but 60 percent of keyboards come with 61 keys.
These keyboards are smaller than the tenkeyless ones, but gamers love having them as their PC peripheral. You don't get the top row F-keys in the 60-percent keyboards, most of the keys' additional features are printed on the side of the main keys, and you are supposed to use the Fn-key instead to get your desired functionality.
The whole idea behind creating a gaming keyboard with 60-percent layout is to adopt a minimalistic setup and let the gamers optimize their gaming experience even if they are short on space. Since 60-percent keyboards are compact, they make extended gaming sessions easier for you. You won't experience much strain on your arms and shoulders while using a 60 percent keyboard.
We know that learning all that has made you super curious to learn more about the best 60-percent keyboard. So, let's talk about that! 
10 Best 60% Keyboards You'll Love
In the world of keyboards, size matters. While full-sized keyboards offer complete keys, they can be bulky and take up valuable desk space. That's where 60-percent keyboards come in. These compact keyboards have become increasingly popular among gamers and professionals, offering a streamlined design without sacrificing functionality. Here are the 10 best 60-percent keyboards for working and gaming, covering everything from key switches to connectivity options.
So whether you're a writer, programmer, or avid gamer, a 60-percent keyboard on this list is perfect for you.
1. Redragon Royal Kludge K617 Fizz 60% Gaming Keyboard
The Redragon's Royal Kludge K617 Fizz 60% Wireless Gaming Keyboard is the ultimate choice for gamers who are looking for an economical compact wireless mechanical keyboard. The K617 Fizz features 61 keys and is dedicated to serving FPS gamers. Featuring aesthetic RGB backlit keys, this 60-percent keyboard, with hot-swappable red switches, pretty much satisfies the users who are fascinated by the RGB gaming setup.
2. Royal Kludge RK61 Wireless Triple Mode 60% Mechanical Keyboard
Like the K617, the Royal Kludge RK61 is an amazing 60-percent keyboard that comes with hot-swappable keyboard switches. You can find it on the online Royal Kludge store easily. Although the keyboard can be connected to your PC using a 5.1 Bluetooth chipset, the keyboard also features a 2.4GHz dongle plus a USB-C port for a wired mode. Featuring backlit keys and no Numpad, the RK61 is something that an FPS gamer would love to have.
3. Kinesis TKO 60% Keyboard
The Kinesis TKO 60% Gaming Keyboard is a comparatively pricier option in the market, but it comes with bold and helpful features. The unique part about this keyboard is that it features a three-button spacebar. This feature makes it easier for you to type while using this Kinesis TKO. Overall, it features a compact design that makes it easier for you to carry it anywhere.
4. Corsair K70 Pro Wireless 60% Gaming Keyboard
Corsair K70 Pro is a wireless gaming keyboard 60 percent which is quite compact and lightweight. The keyboard features both Bluetooth and USB-C connectivity for swiffer operation. Furthermore, the swappable key switches are a plus in this model. It is not only pricier than the Kinesis TKO but is far more expensive than the other options, like the Redragon K617 we mentioned earlier.
5. Fnatic Streak65 60% Gaming Keyboard
The Fnatic Streak65 gaming keyboard is a top-tier compact gaming keyboard in the market. Featuring comfortable low-profile key switches, the Fnatic Strea65 makes your typing job easier. It even features four macro keys. Nevertheless, users prefer other choices over it because it comes with limited customization options.
6. Razer Huntsman Mini Analog 60% Keyboard
The Razer Huntsman Mini Analog is a mechanical keyboard of 60 percent, which can be a considerable choice too, if you have a big budget. The keyboard features high-end PBT keycaps. Its Razer software offers multiple customization features that experts may find interesting, but they are not suitable for beginners. Overall, its optical analog key switches ensure you get precise control.
7. ASUS ROG Falchion Wireless 65% Mechanical Gaming Keyboard
The ASUS ROG Falchion Wireless 65% Mechanical Gaming Keyboard is the perfect choice for a streamlined gaming and working keyboard. The keyboard features an ultra-compact 68-key layout incorporating arrow and navigation keys and a premium gaming experience thanks to its ergonomics.
It also features gaming-grade 1 MS at 2.4 GHz RF and up to 400 hours of battery life* with RGB lighting off, making it great for long gaming sessions.
The innovative keyboard cover case provides on-the-go protection, while the German-made Cherry MX RGB mechanical switches offer precision input with tactile feedback. All these features make it a great choice for gamers and professionals alike. It is highly recommended!
8. HyperX Alloy Origins 60 Percent Keyboard
HyperX Alloy Origins 60 Percent Keyboard is the perfect choice for gamers and professionals who desire a feature-rich yet compact gaming keyboard. It boasts high-quality PBT keycaps with side printing.
Moreover, HyperX mechanical switches provide responsiveness and accuracy in an aircraft-grade aluminum body for structural strength and stability in intense gaming sessions. The set has radiant RGB lighting effects, advanced customization options with HyperX NGENUITY software, and advanced game mode features like 100% anti-ghosting and N-key rollover to ensure all keypresses are registered during critical moments.
9. SteelSeries Apex Pro Mini Wireless Keyboard
The SteelSeries Apex Pro Mini Wireless Keyboard is one of the best 60% keyboards for working and gaming in 2023. It offers ultra-speedy response times with its OmniPoint 2.0 technology, allowing you to customize every keystroke.
You'll also benefit from dual action keys allowing two separate actions set to the same key. This streamlined design saves desk space without sacrificing full-size keyboard capabilities.
And all these features plus more come alongside durable PBT double shot keycaps, which offer enhanced texture feel and improved typing accuracy over time!
10. Redragon K530 Gaming Keyboard 60 Percent
Lastly, the Redragon K530 Gaming Keyboard 60 Percent is an excellent choice for a small, ergonomic gaming keyboard. It comes with a fully hot-swappable PCB, its original compact 60% layout design, and three connection modes: USB-C wired, BT 3.0/5.0 & 2.4Ghz wireless modes that make it less cumbersome while offering more options to gamers in terms of connectivity, and customization.
Buying Guide - What to Consider When Buying a 60-Percent Keyboard?
When it comes to finding the best 60-percent keyboard, there are a few factors that you should consider before making your purchase. Here are some of them:
Layout
Look out for keyboards that offer a comfortable typing experience with minimal disruption or strain on the hands and fingers. Keyboards with ergonomic layouts such as split keys, tenting, and concave design tend to be easier on the hands while providing quick access to all keys without reaching too far.
Size
When it comes to size, choose a keyboard based on personal preference and space-saving needs. If you have limited desk space opt for smaller sizes like 40 percent or 50 percent, but if you need more space for gaming or programming, opt for a larger model.
Features
Different keyboards have different features to suit various needs and desires. Look out for keyboards with key switches, backlighting and programmable macros, media keys, USB ports, etc. Choose the ones that best suit your needs and offer the most user-friendly experience.
Comfort
Comfort should be one of the top considerations when buying a keyboard, as it can greatly influence how well you use it in day-to-day tasks. Look out for adjustable feet, wrist rests, and soft-touch materials that result in minimal fatigue even after long use.
Price
When looking at models within your budget range, consider the price and quality of the build and features. While some expensive models may offer more advanced features, plenty of good-budget keyboards can offer good value for money.
Closing Thoughts
Wrapping it up, we hope that you have a clear understanding of the 60-percent keyboard. Consequently, buying the best 60-percent keyboard will not be a challenging task anymore.
We hope this article has helped you find the best 60-percent keyboard. Whether you're looking for a gaming keyboard or an ergonomic workstation, plenty of options exist. Browse through our list of products, and don't forget to read the buying guide. So, go ahead and purchase your favorite 60-percent keyboard!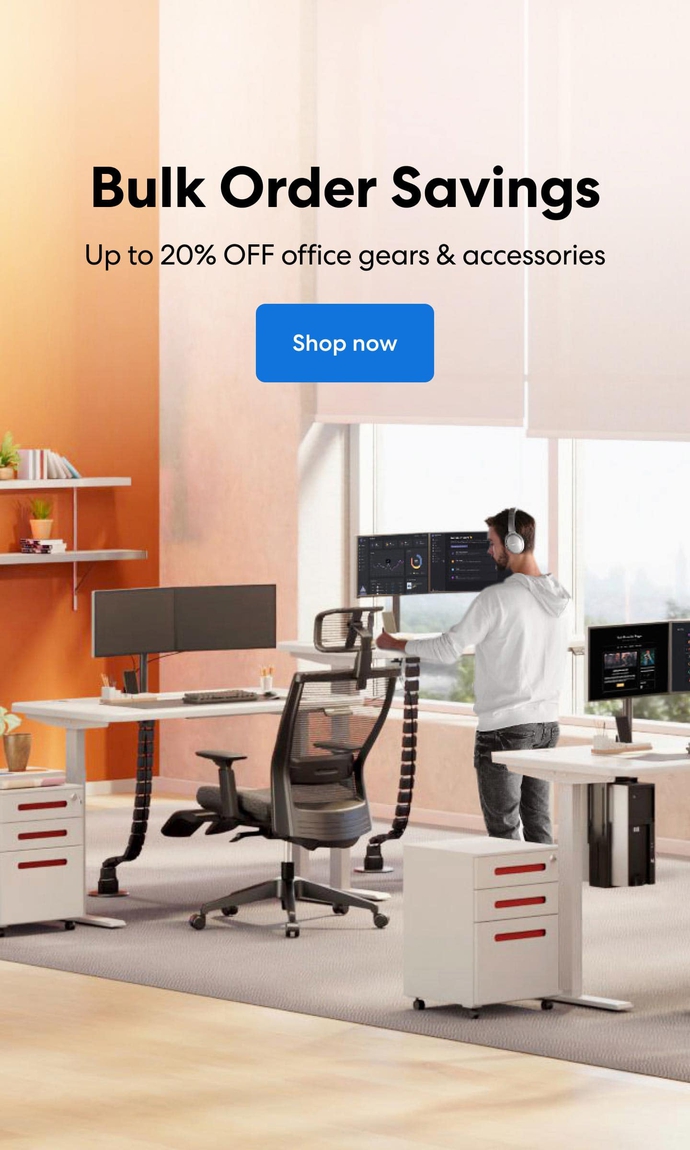 Subcribe newsletter and get $100 OFF.
Receive product updates, special offers, ergo tips, and inspiration form our team.