Smart Products
6 Best 60% Keyboards for Working and Gaming
539 Views
Getting the right gaming furniture is crucial to create the best gaming setup, and so is getting the right computer accessories for this setup. Since you use peripherals like the keyboard most frequently, it is vital to do some research on the keyboard market before finalizing your purchase. The keyboard 60 percent has become the talk of the town lately, but is it worth all the buzzes?
The short answer is yes. If you are inspired by the idea of having a compact gaming keyboard and creating a minimalistic workstation, you should definitely go for a mechanical keyboard 60 percent definitely. But what is a gaming keyboard 60 percent, and how can you buy the best one? We know that you may have such questions in your mind too, but there is no need to worry as we have got you covered.
In this blog, we will be discussing what a mechanical keyboard 60 percent is and what the best keyboard 60 percent is like. We have curated a detailed list of the best gaming keyboards, 60 percent as well, so you will have a holistic idea if you stick with us till the end. 
What Is a 60% Keyboard?
Let's first talk about what a mechanical keyboard 60 percent is. The 60 percent keyboard is an ergonomic keyboard that is designed to have a compact, ergonomic design and features 60% of the keys in a full-sized keyboard. Typically, a full-sized keyboard contains 104 keys, but 60 percent of keyboards come with 61 keys.
These keyboards are smaller than the tenkeyless ones, but gamers love having them as their PC peripheral. You don't get the top row F-keys in the 60 percent keyboards, most of the keys' additional features are printed on the side of the main keys, and you are supposed to use the Fn-key instead to get your desired functionality.
The whole idea behind creating a gaming keyboard 60 percent is to adopt a minimalistic setup and let the gamers optimize their gaming experience even if they are short on space. Since 60 percent keyboards are compact, they make extended gaming sessions easier for you. You won't experience much strain on your arms and shoulders while using a 60 percent keyboard.
We know that learning all that has made you super curious to learn more about the best keyboard 60 percent. So, let's talk about that! 
6 Best 60% Keyboards You'll Love
Here is a list of the best 60% percent keyboards that you may consider for optimizing your work and gaming experience. 
1. Redragon Royal Kludge K617 Fizz 60% Gaming Keyboard
The Redragon's Royal Kludge K617 Fizz 60% Wireless Gaming Keyboard is the ultimate choice for gamers who are looking for an economical compact wireless mechanical keyboard. The K617 Fizz features 61 keys and is dedicated to serving FPS gamers. Featuring aesthetic RGB backlit keys, this keyboard 60 percent, with hot-swappable red switches, pretty much satisfies the users who are fascinated by the RGB gaming setup.
Keyboard switches rated with a 50 million keypresses lifespan

Features upto 20 preset RGB modes

Soft key switches that are comparatively quieter 
2. Royal Kludge RK61 Wireless Triple Mode 60% Mechanical Keyboard
Like the K617, the Royal Kludge RK61 is an amazing 60 percent mechanical wireless gaming keyboard that comes with hot-swappable keyboard switches. You can find it on the online Royal Kludge store easily. Although the keyboard can be connected to your PC using a 5.1 Bluetooth chipset, the keyboard also features a 2.4GHz dongle plus a USB-C port for a wired mode. Featuring backlit keys and no Numpad, the RK61 is something that an FPS gamer would love to have.
Ultra-compact layout

Triple mode keyboard

Blue LED Backlit keyboard with 17 different modes 
3. Kinesis TKO 60% Keyboard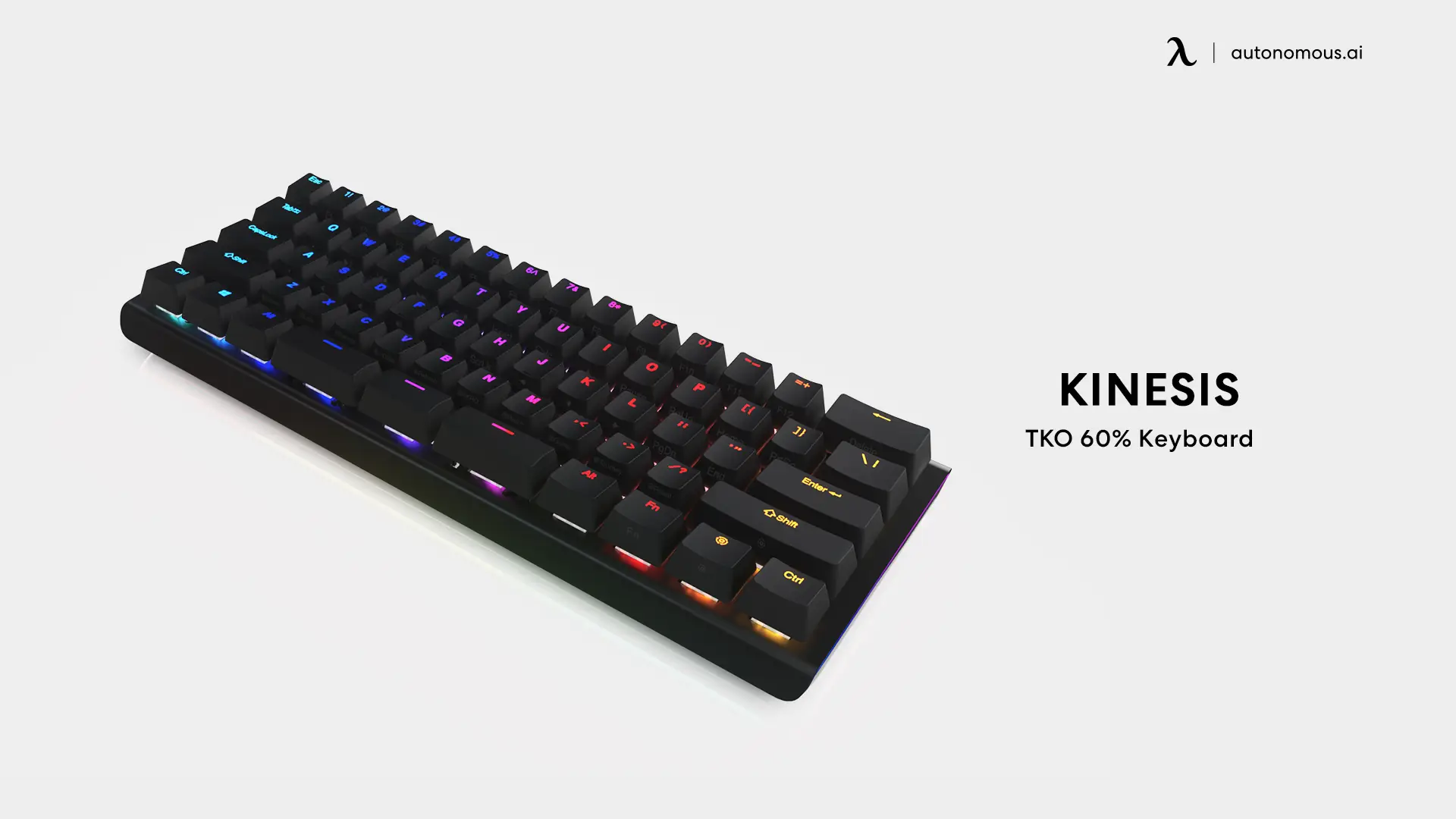 The Kinesis TKO 60% Gaming Keyboard is a comparatively pricier option in the market, but it comes with bold and helpful features. The unique part about this keyboard is that it features a three-button spacebar. This feature makes it easier for you to type while using this Kinesis TKO. Overall, it features a compact design that makes it easier for you to carry it anywhere.
Features four ergonomic feet that enable reverse tenting and tilt

Features RGB backlit keys

Can create upto 9 onboard profiles. 
4. Corsair K70 Pro Wireless 60% Gaming Keyboard
Corsair K70 Pro is a wireless gaming keyboard 60 percent which is quite compact and lightweight. The keyboard features both Bluetooth and USB-C connectivity for swiffer operation. Furthermore, the swappable key switches are a plus in this model. It is not only pricier than the Kinesis TKO but is far more expensive than the other options, like the Redragon K617 we mentioned earlier.
Lightweight and portable

Can create upto 50 user profiles with the Corsair iCue app

Expensive 
5. Fnatic Streak65 60% Gaming Keyboard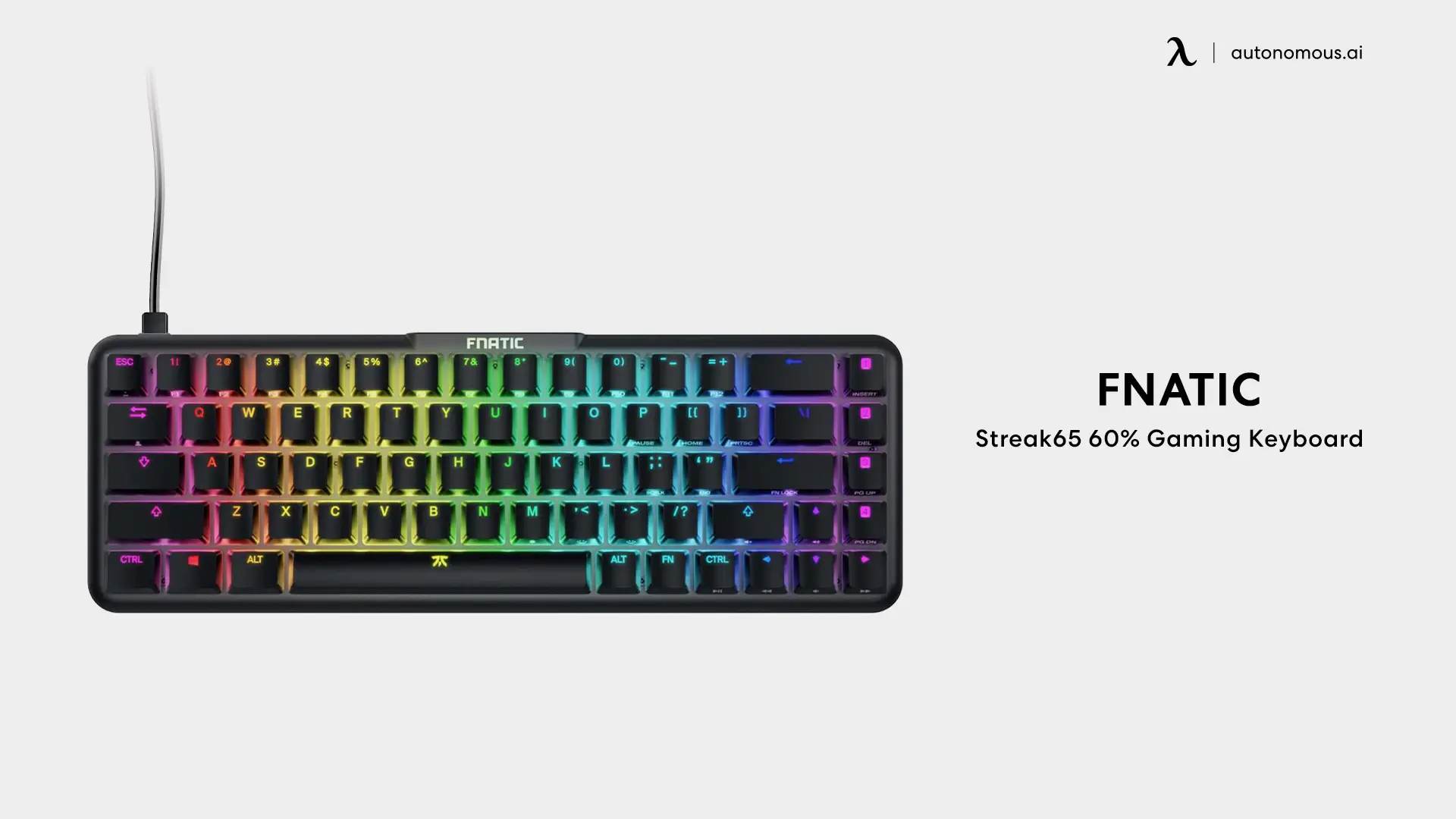 The Fnatic Streak65 gaming keyboard is a top-tier compact gaming keyboard in the market. Featuring comfortable low-profile key switches, the Fnatic Strea65 makes your typing job easier. It even features four macro keys. Nevertheless, users prefer other choices over it because it comes with limited customization options.
Tightly packed keys

Essential function shortcuts are market on keycaps

Lightweight body 
6. Razer Huntsman Mini Analog 60% Keyboard
The Razer Huntsman Mini Analog is a mechanical keyboard of 60 percent, which can be a considerable choice too, if you have a big budget. The keyboard features high-end PBT keycaps. Its Razer software offers multiple customization features that experts may find interesting, but they are not suitable for beginners. Overall, its optical analog key switches ensure you get precise control.
Lightweight

Expensive

RGB backlit keys 
Closing Thoughts
Wrapping it up, we hope that you have a clear understanding of the keyboard 60 percent. Consequently, buying the best keyboard 60 percent will not be a challenging task anymore. So, go ahead and purchase your favorite 60 percent keyboard!
Keep up with Autonomous news
Stay informed, stay inspired with our new blogs.
WRITTEN BYAutonomous
We build office products to help you work smarter.