Is your desk already pretty cluttered? Nor do you have the means to get a bigger desk or even sufficient space to think about one. As per the research, a cluttered desk is harmful to the mind, energy, and efficiency whether you are working or playing games. And for gamers who already have a ton of gaming setup accessories and need lots of room on the desk to roam their mouse freely, having clutter on the desk is a hindrance to their dream gaming setup.
Though it is impossible to avoid the main gaming essentials as they are equally important as ergonomic gaming furniture, you can opt for more compact and ergonomic options such as a small gaming keyboard. If you are new to this terminology or have never encountered a mini gaming keyboard, then you should consider this option a safe way to keep your desk clean and organized with minimal effort. A compact keyboard has many benefits, from split mechanical keyboards to mini-sized keyboards.
And when we talk about the size, you don't have to worry about functionality because these keyboards offer the same or better features. In this article, we will enlist some of the best small gaming keyboards, which you can even purchase through the gamer purchase program and earn a decent discount for your gaming setup.
A List of Best Small Gaming Keyboards
1. Anne Pro Gaming Keyboards
The Anne Pro gaming keyboard for small hands is not only suitable due to its functionality but also offers very attractive aesthetics. The white keyboard is pleasing to the eye, and the colorful backlight adds more value to the looks of this gadget. It has a smooth touch and comfortable typing experience and can simultaneously form connections to up to 4 devices.
The 1ms response time feels zero and the compact size makes it easier to carry around. The Anne pro gaming keyboard works with Bluetooth connectivity and has a custom layout for ease of use. It comes in wired and wireless options so people can opt for the desired solution.
2. R-Go-Tools Ergonomic Break Compact Keyboard with LED Signals
If you're on the hunt for a compact keyboard, the R-Go-Tools Ergonomic break keyboard is the way to go. This ergonomic gaming keyboard is a pleasure for your wrist through its gentle keystroke, which aids in minimal muscle strain. Additionally, it stops you from grabbing ahold of the mouse. Moreover, it also has Bluetooth or wired connection and is supremely lightweight.
3. Compact Slim Ergonomic Wired-USB Keyboard, QWERTY (US)
If you're looking for the optimal computer keyword for relaxed elbow and shoulder positions, this ergonomic wired-USB keyboard is ideal. The best aspect of this keyboard is that it's incredible in reducing muscle tension because it's lightweight and has a thin keystroke, leading to a relaxed wrist position. This carpal tunnel keyboard aids in ensuring that those long hours of gaming won't result in wrist stiffness.
4. Royal Kludge Redragon K617 Fizz 60% Wired RGB Gaming Keyboard
If you're looking for a vibrant keyboard to add energy to your gaming sessions through visually aesthetic backlighting, we've got the right choice. This keyboard features 20 modes for backlighting and offers the opportunity to adjust the flowing speed and brightness. Additionally, this is one of the best compact keyboards because you can easily place this keyboard upright on your table and yet have ample mouse moving space as you go for those game kills.
5. Royal Kludge RK61 Wireless 60% Triple Mode Mechanical Keyboard
If you're searching for the best mini gaming keyboards, it's impossible to miss the Royal Kludge RK61. This keyboard features Bluetooth connection while also carrying a top-capacity battery. Additionally, its backlighting comes with one color but maintains a classy look and will surely encourage and calm you as you go through those stressful hours of gaming.
6. Royal Kludge RK Mechanical Keyboard: Hot-swappable Switches
This keyboard is among the best for a convenient and smooth gaming experience. Not only is it practical, but it's 68 keys also make it incredibly compact. It also has a red switch which calls for a linear and quiet experience with typing. Moreover, this gaming keyboard has top-to-bottom and soft feedback, which provides smoother and easier use when it comes to tactile switches, making it one of the best mini gaming keyboards.
7. Royal Kludge RK Anne PRO Mechanical Keyboard: Gateron Brown Switch
This computer keyboard is the classic example of less is more. Its minimalistic yet classy design is visually appealing and functionally convenient. Additionally, you don't need to worry about wrist pain because this keyboard requires minimal hand movement without compromising on any of the functionalities. Moreover, it's one of the most portable and compact devices and, therefore, is among the best keyboards for small hands.
8. R-Go-Tools Number Pad with Break Indicator: Ergonomic
Within the realm of computer accessories, this one takes the lead. This keyboard has an ergonomic and ultra-thin design, making it one of the most compact keyboards on the market. Interestingly, this is one of the few gaming keyboards with only 22 keys yet offers full functionality. Moreover, it has Bluetooth and wired connections along with a reliable warranty of 2 years. Therefore, practice your ultimate freedom through this R-Go Number Pad Break.
9. Dierya Wireless Mechanical Keyboard
The special thing about this small gaming keyboard is a battery that will last twice the regular keyboards. Its design and compact shape make it suitable for use on any desk surface, and it even makes a great pair with a multi-screen monitor setup.
The keyboard offers 7 different color modes, which adds to the looks and makes working in the dark hours easier and more comfortable. You can control the key's brightness individually, and the keyboard works well for your office adventures, tying jobs, book writing, and even gaming, considering how each key is soft and responsive to touch.
10. Solakaka Gaming Keyboard
The Solakaka gaming keyboard is one of the most versatile options out there for a gaming keyboard. This one is built with advanced chip technology, making it suitable for any work environment. The keyboard supports connections for up to three devices at a time, and you can find Bluetooth connectivity and type c, wired connections to suit all of your devices.
This premium keyboard is ideal for usage at home, in a professional setting, or when traveling. No more cramped spaces when using your laptop, thanks to this. Due to its 60% compact form it has become a practical alternative for gamers and keyboard users.
11. Roccat Vulcan II Max
This keyboard is incredibly lightweight and comes with attractive and bright lighting. Additionally, this small gaming keyboard is incredibly comforting for your wrist amidst long hours of gaming. It features tactile or linear switch options, various built-in functions, and media keys.
12. SteelSeries Apex Pro TKL Wireless
Due to the integrated twin wireless system, the SteelSeries Apex Pro TKL Wireless offers you the opportunity to recover some desk space. This best budget keyboard has double-shot keys with PBT and an aluminum alloy base surface that make up the Apex Pro TKL's 2022 makeover.
Although switches essentially have mechanical components, they differ from switching devices because they are activated by light instead of physical pressure.
13. Hexgears Impulse
If one of the top priorities is speedy typing and comprehensive gaming, the Hexgears Impulse is the finest small gaming keyboard. Upon thorough research, we can assure you that this keyboard exceeds the performance of various older keyboards with IBM style in terms of typing performance.
(Image credit: Tom's Hardware)
14. Razer Huntsman V2
This keyboard is the ideal fit for the majority of gamers. Despite its relatively high price point, its premium features and switches make up for the investment through incredible media keys, multi-functional keys, and four profiles with onboarding capabilities that can aid in the automatic launching of various apps.
15. Huo Ji Gaming Keyboard
The HUO JI game keyboard boasts a wide variety of functionality and nine changeable LED light effects. It allows you to design a unique ambiance for a variety of events.
For a more pleasant experience, you also have a variety of brightness and speed settings and double-shot injection molded keycaps. This item has a matte appearance and is made of metal and plastic. Its metal component ensures durability and excellent connectivity with PCs, Macs, and tablets.
16. Cooler Master Gaming Keyboard
There are several positive aspects of the Cooler Master. With a smaller profile for comfort and portability and a light bar wrapped around it for greater immersion, its design is among the nicest we've seen on compact keyboards.
Although Cooler Master calls it a 60 percent keyboard, it has some special buttons and dedicated arrow keys and boasts an even thinner profile. Additionally, it supports several platforms and offers key remapping, RGB illumination customization, and the ability to record macros.
17. Corsair K70 RGB TKL
This small gaming keyboard is a classic example of a worthy investment. Apart from saving space, the TKL construction feels sturdy and damage resistant. Corsair outfits the K70 RGB TKL with separate media keys and the option to alter RGB effects settings without downloading any other software (however, Corsair's iCue app is required for more in-depth customization).
18. Razer BlackWidow V3 Pro
The Razer BlackWidow V3 Pro is the finest portable wireless keyboard we've evaluated if you desire a comprehensive physical gaming keyboard feel without the cables. The BlackWidow V3 Pro retains all the dimensions, weight, and capabilities of a comprehensive mechanical keyboard. Moreover, it has a top-quality tactile capacity dial, media keys, double-shot plastic keys with ABS, and an aluminum top plate. This is in contrast to several wireless keyboards designed for portability.
19. Logitech G915 Lightspeed
The Logitech G915 Lightspeed poses the greatest gaming keyboard you could purchase if you desire the quickness and slimness that low-profile technical switches offer. Everything about this calls for a luxury gaming experience. This entails dedicated media settings, such as an enormous volume slider roller, numerous connectivity capabilities, and a line of G macro buttons for use in combat.
20. Cloud Nine C989 ErgoFS
Finding an ergonomically split gaming keypad with all the necessary gaming functions is difficult. Therefore, if you desire technical switches, it's even more difficult. This is precisely why the Cloud Nine C989 ErgoFS excels in this regard.
This small gaming keyboard has a conventional key design apart from its Windows button replacement, which can also be programmed. This makes it much simpler to get used to the broad, divided design of the great C989 ErgoFS.
How to choose the best Small Gaming Keyboard?
Finding and selecting the best compact keyboard for your needs can be challenging and time-consuming, especially considering the variety of possibilities available on the market. You can count on some factors before choosing the best small gaming keyboard.
Size
There are many different sorts of tiny form factor keyboards, so they are not all the same size, but two popular ones are the TKL and the 60 percent. The term "TKL" stands for a Tenkeyless design, in which the keyboard is still identical to a full-size keyboard but without the Numpad.
A keyboard without Fn keys, a Numpad and Arrow cluster, and navigational keys like page down and page up is 60%. It's a common choice among gamers because first-person shooters, in particular, hardly ever use the keys above.
Type
You will find many types of keyboards in the market today, and while the purpose remains the same, the type defines comfort, response rate, ease of use, and price. From big to mini keyboards, wired to wireless, and membrane vs. mechanical keyboards – the end goal you wish to attain with a keyboard will impact the type of keyboard which will suit you best.
Durability
Another important consideration when choosing a keyboard is how much pressure and force it will be subjected to throughout its lifetime.
Many less expensive boards now offer a plastic design that can feel flimsy and inferior. In particular, if you're prone to the occasional fit of wrath, this kind of build quality is not recommended for gamers because it just won't last.
Aesthetics
While aesthetics is probably the last factor to look upon (not in every case), for a keyboard where functionality is involved, such as work and gaming, choosing based on aesthetics isn't a wise choice. Though having a fresh and handsome keyboard on your desk is nice, it shouldn't be the ultimate factor in picking or eliminating a product from your list.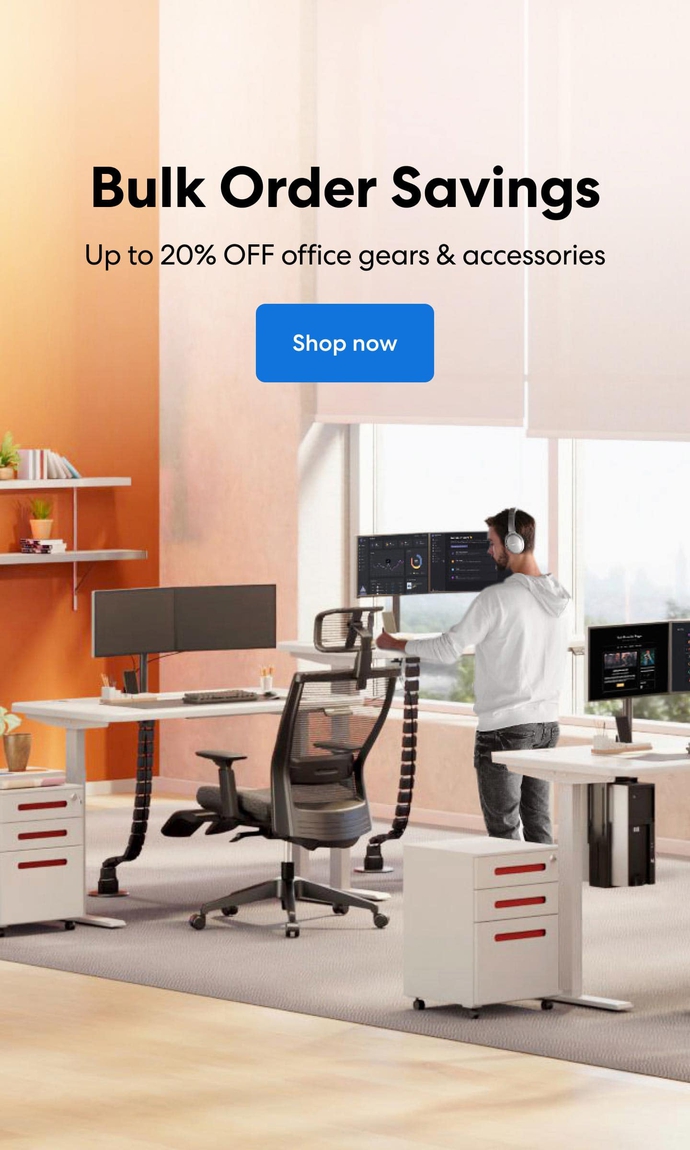 Subcribe newsletter and get $100 OFF.
Receive product updates, special offers, ergo tips, and inspiration form our team.