Smart Products
Top 7 Quiet Mechanical Keyboards with Reviews & Ratings
8,130 Views
These days, mechanical keyboards aren't just for coders, typists, and underground eSports players; they're standard equipment for any PC user. Everybody who is specific regarding efficiency and smoothness today uses a mechanical keyboard, and the quiet quiet mechanical keyboards are much gentler on the ears - so a win-win.
Mechanical keyboards are not always loud, contrary to popular belief. Keyboards designed specifically for quiet operation are available from many manufacturers. What do they do to accomplish this? The right switches and rings should be placed below the keys in order to create a dampening effect. You can make it quieter if you own some mechanical keyboards and don't want to invest in another keyboard. Check out our mechanical vs. membrane keyboard guide here if you wish to see how to do that with just O rings and switches.
If this has piqued your interest and you'd like to learn more about purchasing a quiet mechanical keyboard, we have everything for you below.
What Is a Quiet Mechanical Keyboard?
Quiet mechanical keyboards resemble regular keyboards in certain ways. But the truth is that these keyboards work somewhat differently than standard keyboards. Many specialized quiet keyboard switches replace the rubber membranes on the keyboard keys.
It's possible to sense how close or far away your fingers are from a key and the force with which you've pressed it. You can "feel" your keyboard and type with ease. The mechanics here are superior to those of a membrane keyboard.
And finally, the real difference is that a quiet mechanical keyboard doesn't create a lot of noise when you type, unlike a mechanical keyboard. This is because of the quiet mechanical keyboard switches installed on them. Though they are not completely silent, the best silent switches are noticeably less noisy than their clicky counterparts, but you might still hear a faint sound.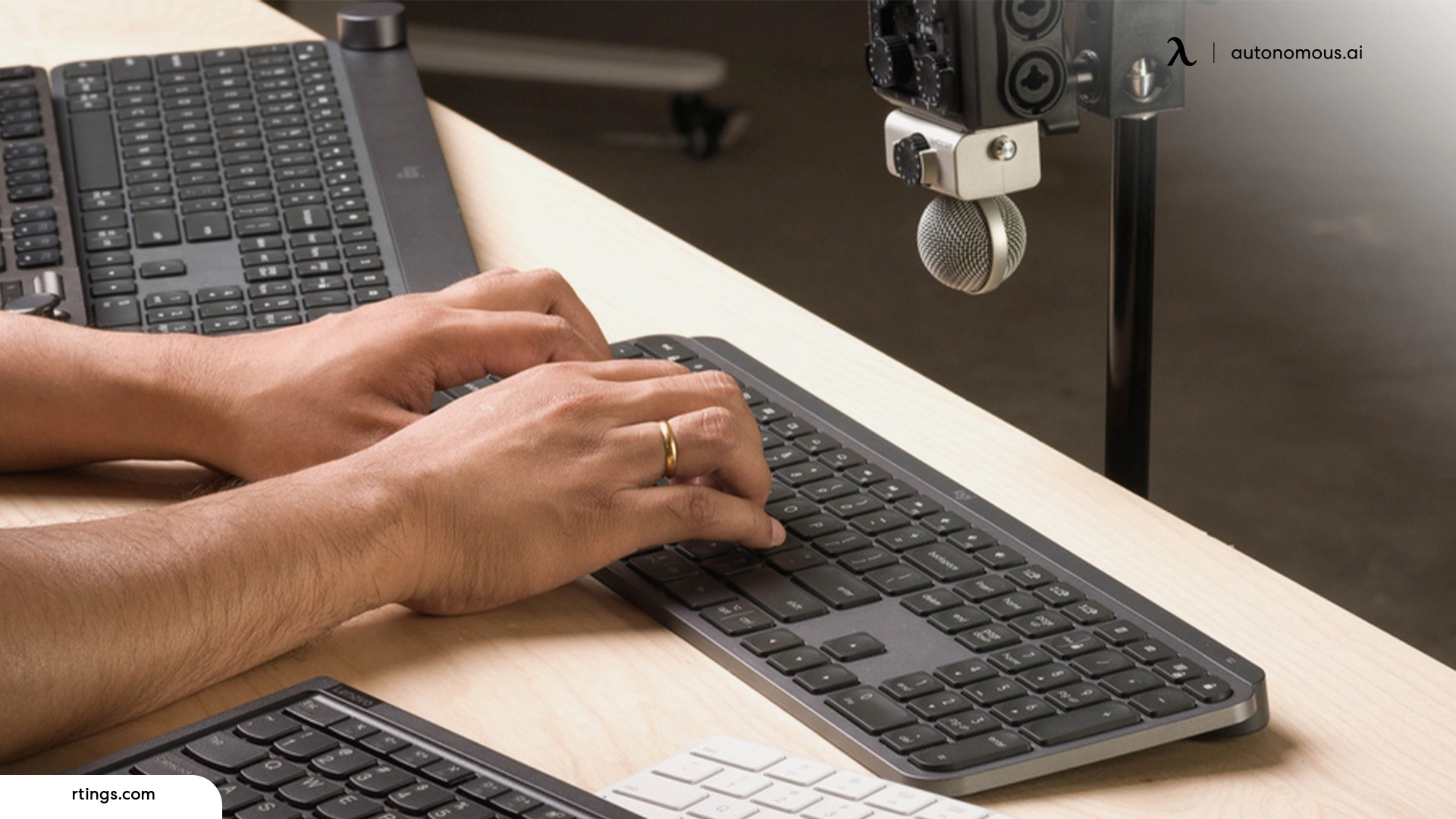 7 Best Quiet Mechanical Keyboards
1. Royal Kludge RK ANNE PRO Mechanical Keyboard: Gateron Brown Switch
This is a 60% compact gaming keyboard, which means there is no number pad, arrow keys, or F keys. PBT plastic gives the keycaps a grease-free appearance. Despite being made out of PBT, the keycaps have a smooth and slippery feel, despite being textured. It would be great if the keys were textured, but it is just a matter of personal preference. Keycaps with textured surfaces are our favorite. The Anne Pro II allows you to switch between different backlight colors with several lighting options. This feature is perfect if you enjoy typing with a different color background every time.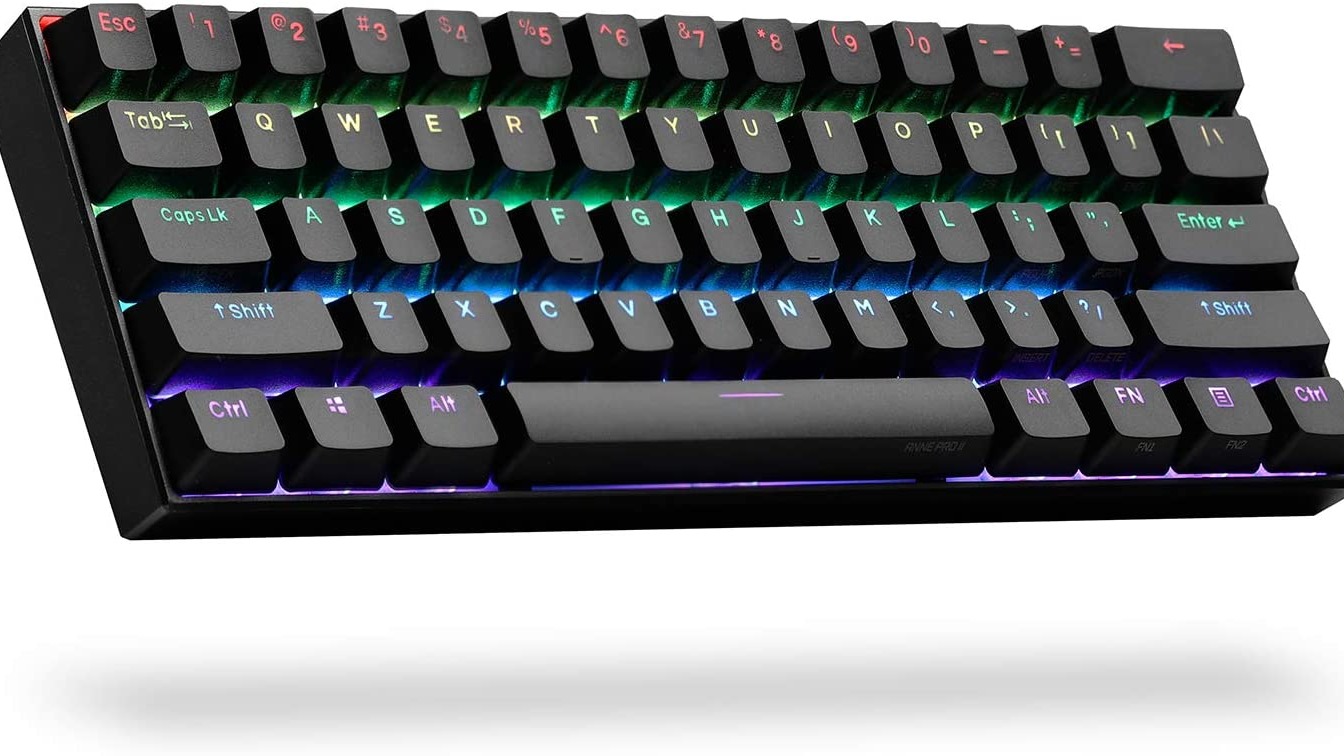 | | |
| --- | --- |
| Keys | 61 keys |
| Battery life | 8 hours |
| Color | Black, White |
| Warranty | 1 year |
2. Royal Kludge Redragon K617 Fizz 60% Wired RGB Gaming Keyboard
With 61 keys, the Redragon K617 Fizz is a 60% layout wireless mechanical keyboard that will save you space on your desk and give you a mechanical quiet mechanical keyboard gaming with 61 keys. The keyboard's small size and weight, .43 Kg, makes it very portable, being only 11.5 x 3.9 in and one inch thick. Carrying it around to school or the office wouldn't be a hassle if you packed it in your bag. 
With its clean design, you can choose between two color combinations of keycaps, gray and white or pink and white. Despite only having a plastic frame and body, the Redragon K617 Fizz has a sturdy build. In the event you apply pressure to it, there is some flex, but it does not pose a major problem.
As the wire is also detachable, you can customize it if you want to.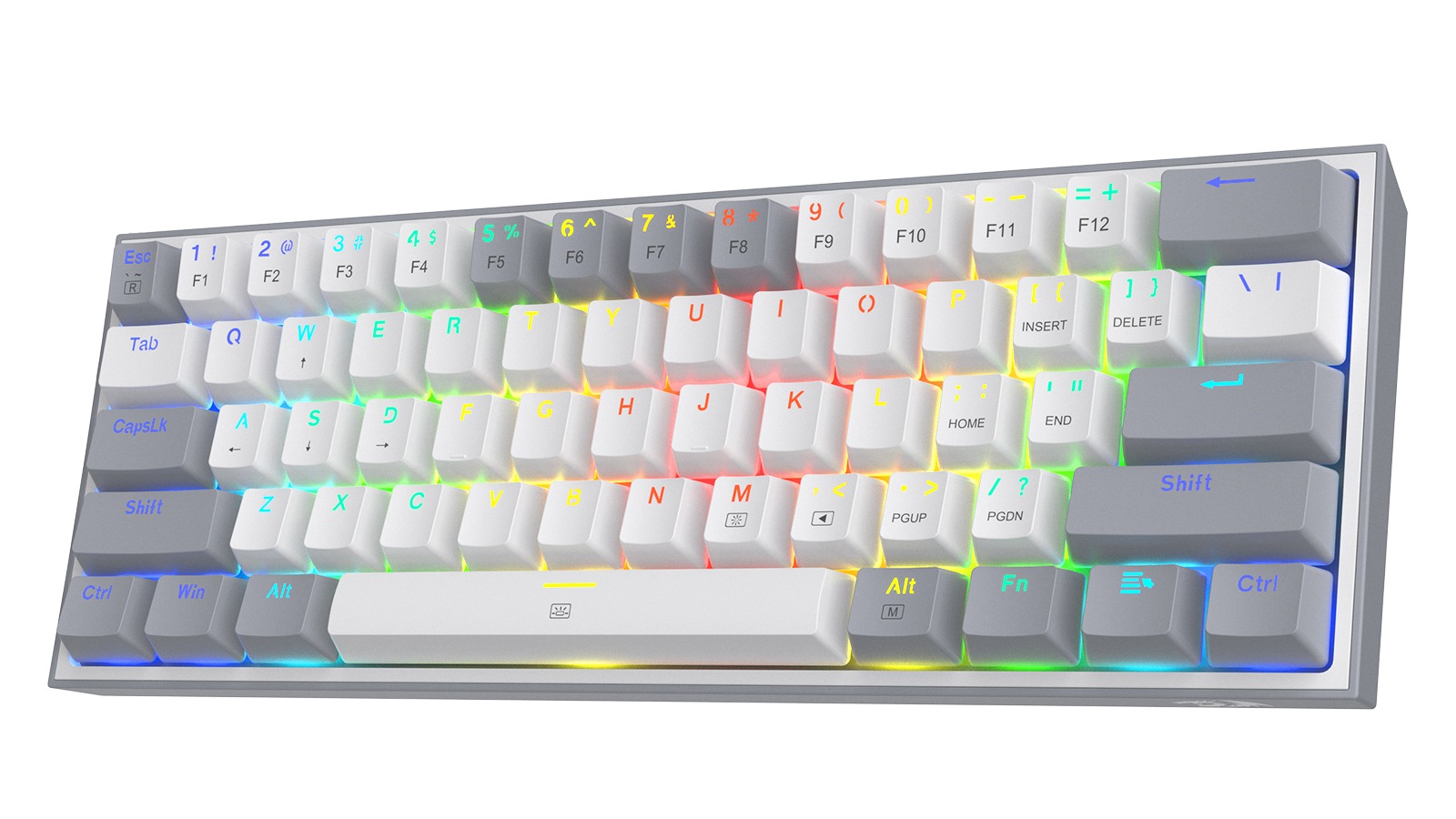 | | |
| --- | --- |
| Keys | 61 keys |
| Switch style | Hot-swappable red switch |
| Layout | 60% wired RGB gaming keyboard |
| Color | Gray, Pink |
| Warranty | 1 year |
3. Corsair K55 RGB PRO XT
Thanks to its rubber dome controls, you won't disturb your roommates or parents even though you're into gaming late at night. Furthermore, the heavy perceptible thump in the center of the hotkeys prevents you from bottoming out unswervingly, which also reduces noise. 
Despite being a gaming keyboard, this quiet mechanical keyboard for office offers some general functions, such as the ability to record macros at once, which allows you to create macros straightaway. Regardless of the tasks in hand, any task it handles will feel fluid and responsive- thanks to its low latency.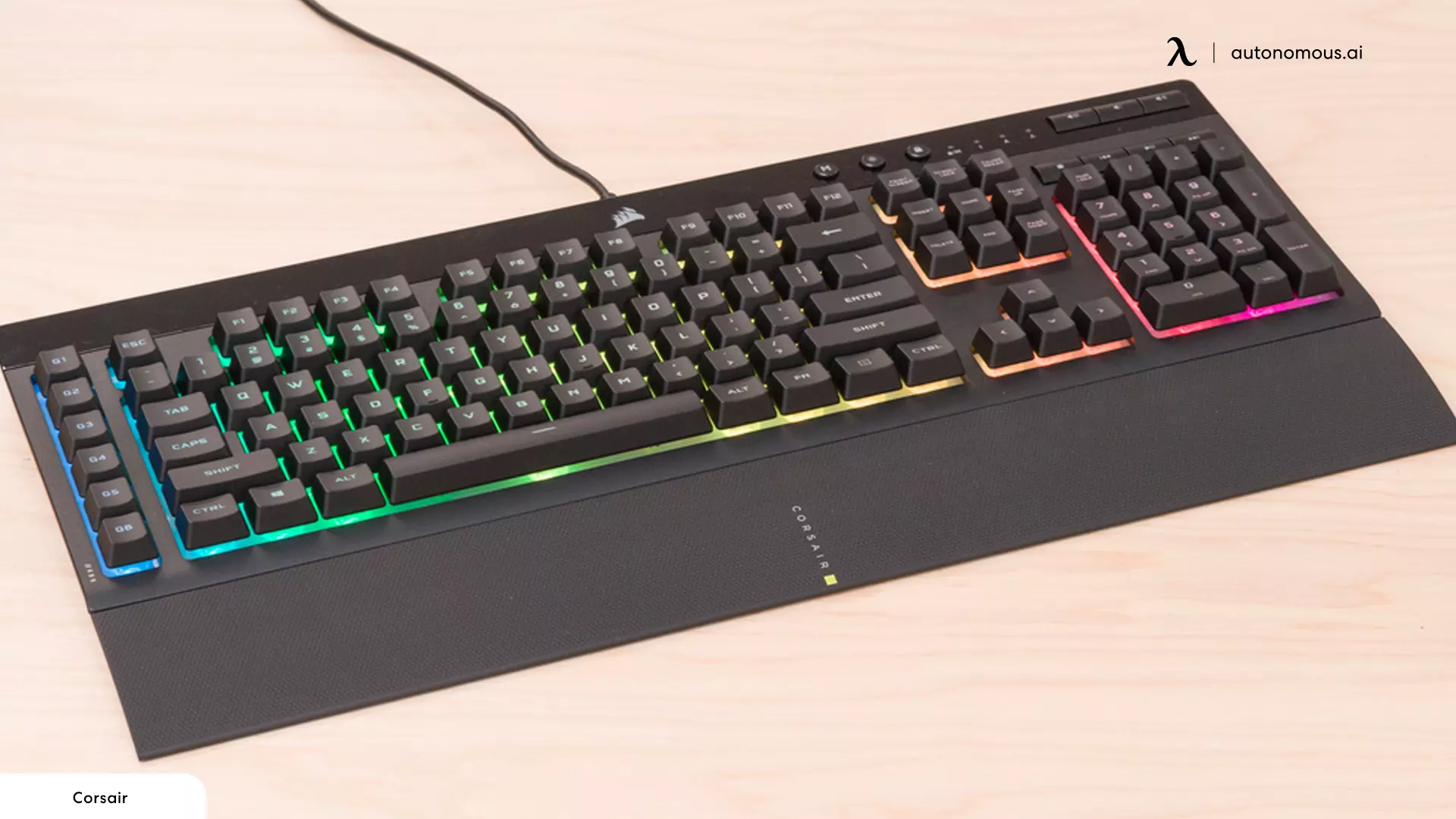 K55 RGB PRO XT Gaming Keyboard
| | |
| --- | --- |
| Number of Keys | 104 |
| Special Feature | Backlit |
| Colors | Black |
4. Keychron Q2 QMK Custom Mechanical Keyboard
The keyboard has several details that contribute to an unobtrusive but filling typing experience. In addition to the sound-dampening lather (two layers) inside the board, there are stabilizers and mechanical switches to help absorb any noise that might come from them. 
Besides having a "gasket-mounted structure," this best quiet mechanical keyboard also has an inner circuit board mounted within its case. Because of this design, you do not hear the punitive thud when bottoming out the keys. It is because the suspension supplements bounce and flex, which makes the sound quieter and softer.
Keychron Q2 QMK Custom Mechanical Keyboard
| | |
| --- | --- |
| Layout | 65% layout |
| Switches | Gateron G Pro (Fully Assembled Version) |
| Keycaps | Double-shot PBT keycaps, not shine-through, OSA Profile (OEM height, SA shape) |
| Backlight | South-facing RGB LED |
5. Logitech G613
Logitech's G613 keyboard is an excellent gaming keyboard overall. Due to its wireless nature, you'll have fewer cords to deal with while gaming. Aside from this, the device is Bluetooth-enabled and works seamlessly with Windows, Mac, Android, and Chrome OS. 
As for the G keys, they can be easily programmed on the device. Accessing app commands and creating custom macro sequences is a welcome benefit. Additionally, the keyboard features mechanical switches to ensure a seamless gaming experience. It has a lifespan of 70 million clicks, which means you can use it for a very long time.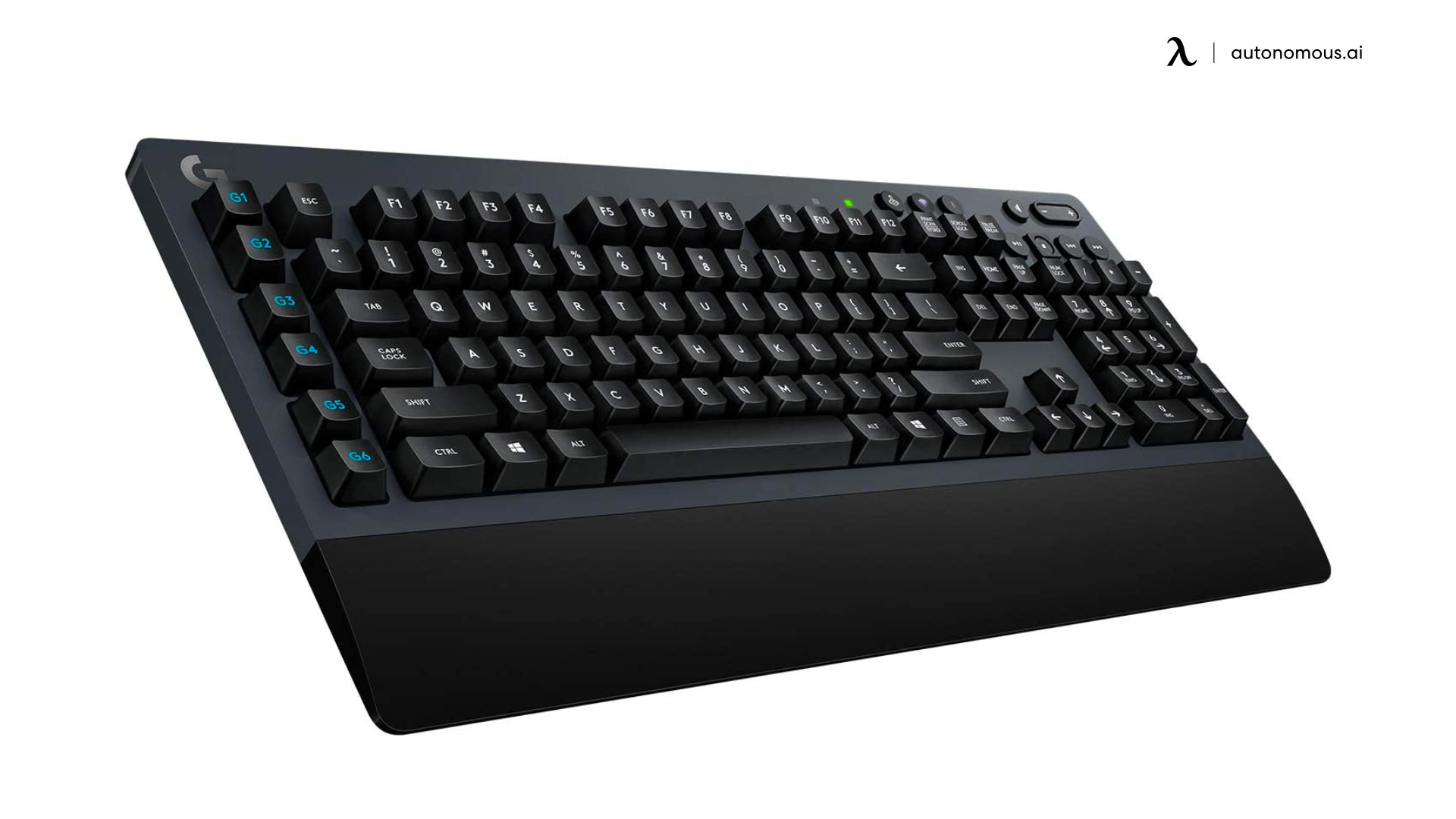 | | |
| --- | --- |
| Number of Keys | 104 |
| Special Feature | Wireless, Bluetooth |
| Lightspeed | Wireless technology for super-fast 1 ms report rate |
| Keyboard backlighting color support | Single Color |
6. Razer BlackWidow Silent Mechanical Keyboard
Our first impression was that it came with a tenkeyless design and a USB cable that could be detached. Furthermore, the unit has a mechanical switch that offers zero compromises. Due to the technology behind this switch, accurate and silent input is possible with only 45 G of actuation force required. As a result, the machine can be used to simultaneously type and play video games on gaming furniture. 
In addition, you can remap all the keys and keypress combinations on this best silent mechanical keyboard. In addition to delivering a much smoother gaming experience, this allows complex commands to be executed. Furthermore, the magnetic, ergonomic wrist rest adds to the gaming experience. Even during extended gaming sessions, it provides great comfort thanks to its plush leatherette material.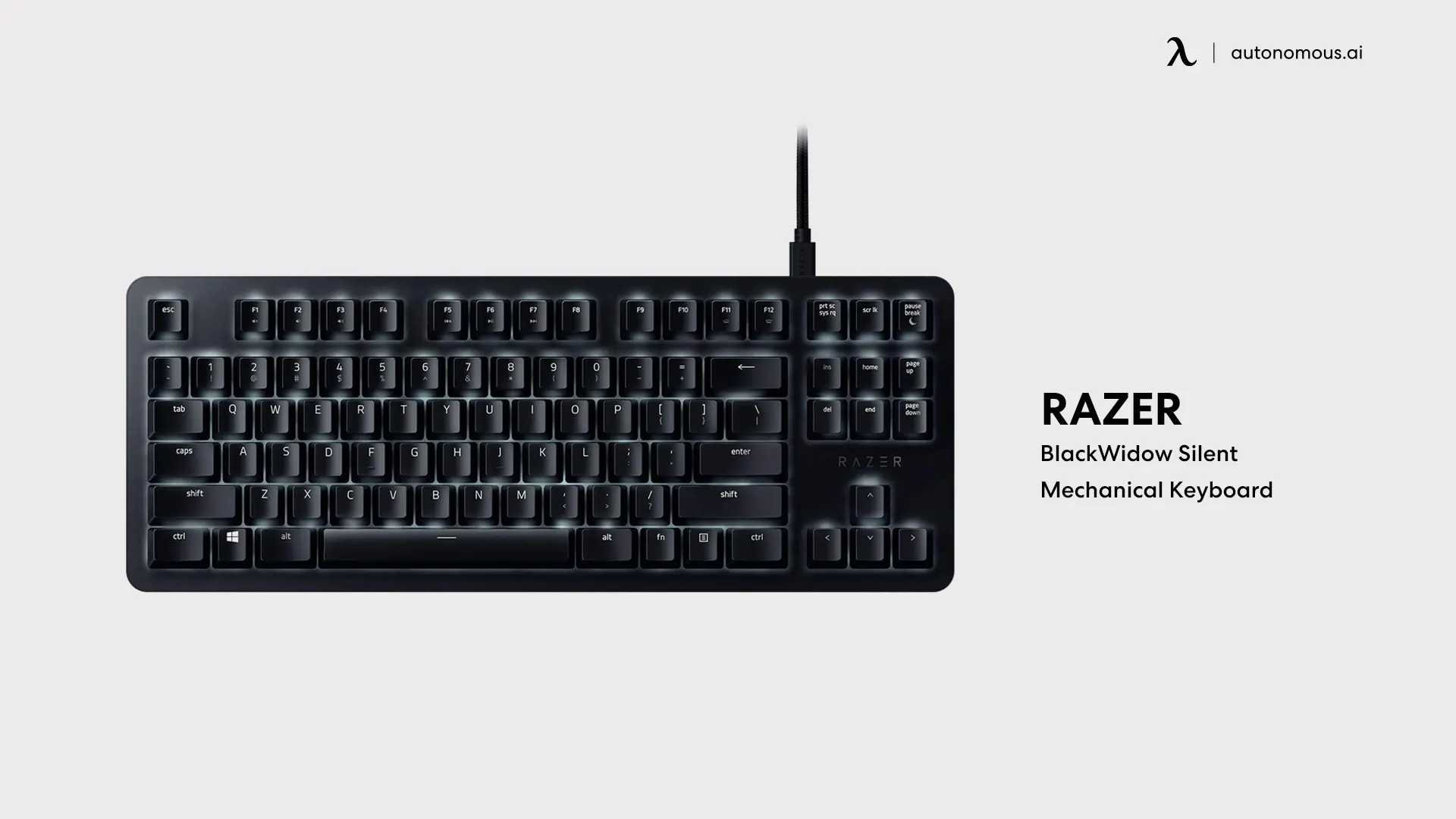 Razer BlackWidow Silent Mechanical Keyboard
| | |
| --- | --- |
| Approximate size | Tenkeyless |
| Switches | Razer™ Orange Mechanical Switch |
| Keycaps | Regular ABS |
| Backlight | True white LED backlighting |
7. Das Keyboard 4 Professional
You'll find one of the best-looking mechanical keyboards is the Das Keyboard 4 Pro. In any office scenario, the keyboard looks right at home in an executive office desk accessory. As the Cherry MX Brown switches aren't exactly silent but quiet enough for work environments, we recommend installing blue O-rings on these keys. These keyboards can be used in any environment and are popular among gamers' computer accessories.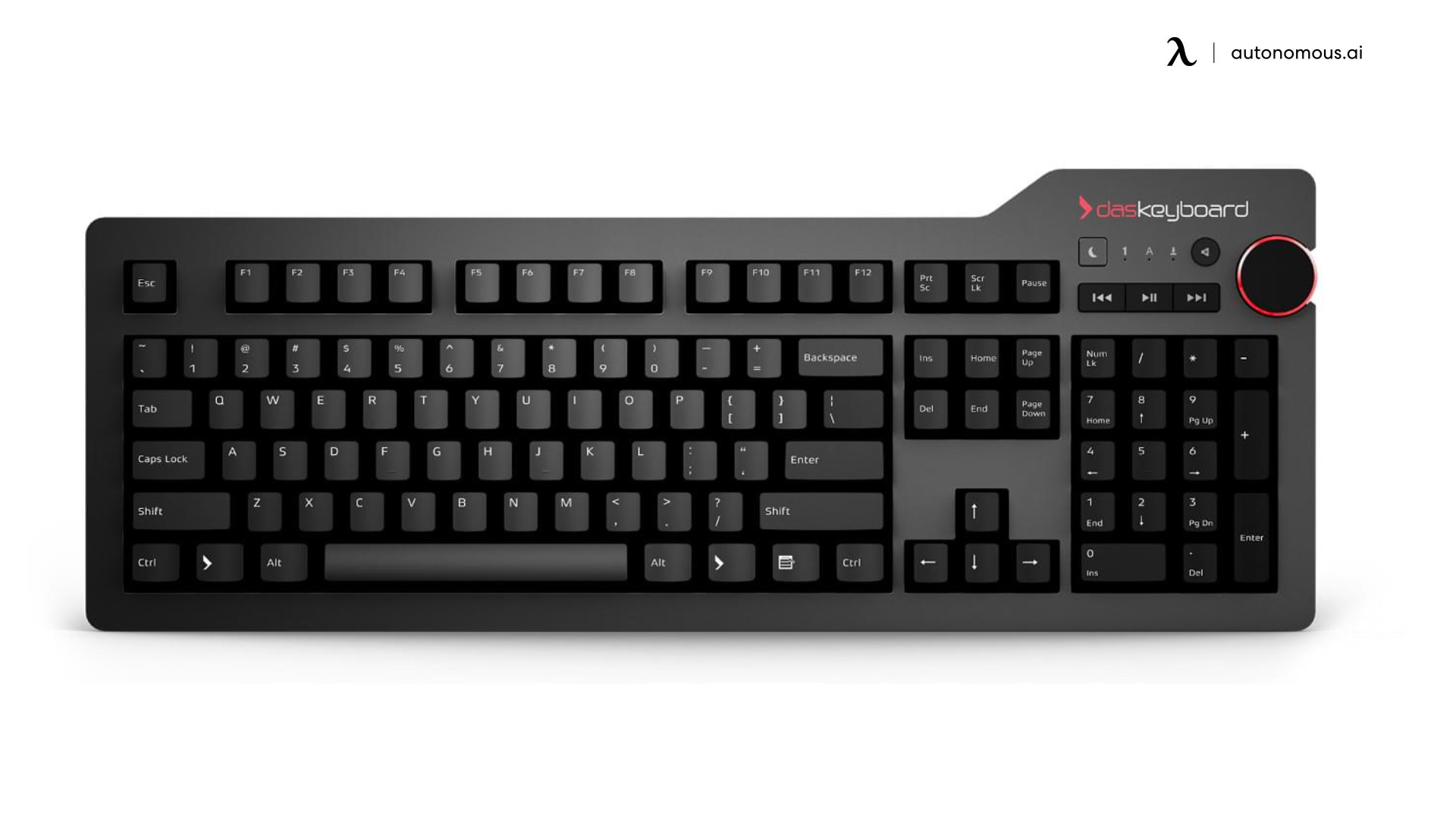 Das Keyboard 4 Professional
| | |
| --- | --- |
| Layout | 104-key US layout, 105-key for UK, NO, and DE layouts |
| Switches | Cherry MX mechanical key switches |
| Dimensions | 18" x 6.8" x .80" |
| Elevated height | 1.2" |
Benefits and Drawbacks of Quiet Mechanical Keyboards
Pros
Mechanical keyboards have the advantage of being very easy to use. You can only price this quality if you type or play games requiring frequent key presses.
These quiet keyboards have a substantially quicker response time than membrane keyboards.
You and your fingers will love the mechanical keyboard's responsiveness and speed, and you won't need to apply much force to press its keys.
Compared to membrane keyboards, which typically have a maximum endurance of 5 million keystrokes, mechanical keyboards typically have a lifespan of 20 to 80 million keystrokes per key (Cherry MX, Outemu, or Razer).
Improved human-computer interface
It's no secret that mechanical keyboards are preferable to membrane ones for ease of usage. Improved user-computer interface is facilitated by combining a hundred percent click registration, shorter key travel, and tactile feedback. As a result, there are fewer accidental mouse clicks.
Many people enjoy the satisfying click of a mechanical keyboard, but it can become annoying if you use one too often. A mechanical keyboard with silent keyboard switches significantly reduces typing noise to create a serene environment.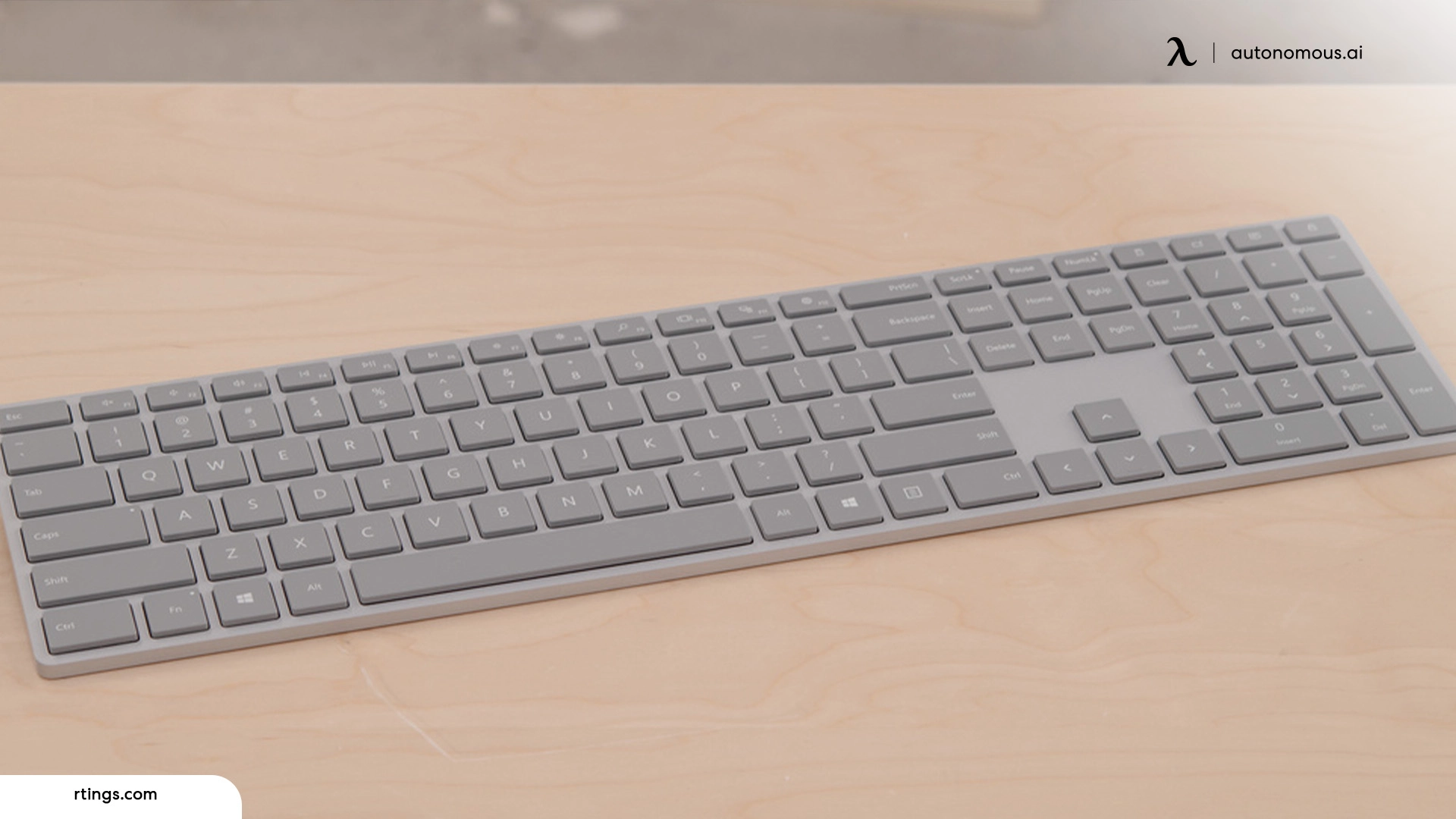 Cons
Mechanical keyboards can be quite costly due to the high quality of their quiet keyboard switches and construction. This is the most annoying thing about using a mechanical keyboard: it costs considerably more than regular keyboards.
Mechanical keyboards are not for people that prefer ergonomic keyboard and mouse, except for one particular style. These keyboards don't provide hand or wrist support, and you might not feel the strain of typing at first, but as time passes, it becomes apparent.
A heavier keyboard is more stable, but it is also more cumbersome to carry along. The burden is especially bothersome if you prefer to use the keyboard while sitting on your lap.
Buying Guide For Quiet Mechanical Keyboards
Form Factors
There are many types of keyboards, and the full-size keyboard layout is the most popular among manufacturers and users. A full-size keyboard has 104 keys, excluding the tenkeypad and Numpad cluster. This keyboard is good for numbers or general use.
TKL, or 80% of design factors, is available for smaller keyboards. A tenkeyless configuration decreases the number of keys to 88 and frees up desk space by deleting the Numpad cluster of 10 keys. Gamers and programmers utilize it most.
If a tenkeyless or 80% form factor is too hefty, the 75% form factor is a good compromise between portability and space savings. It's similar to the tenkeyless or 80% form factor, with fewer keys and more confined keyboard size, with keys close together.
Lastly, the smallest form factor, the 60%, is designed with aesthetics in mind, and it lacks function and navigation keys for portability.
Layout
When buying a mechanical keyboard, the layout should be considered more than the design. The ANSI, ISO, and JIS are the global layouts.
American, Canadian, and Western European keyboards use the ANSI layout, while Japan uses JIS keyboards, and Europe uses ISO. The most common keyboard layout is ANSI, followed by ISO.
Functional layouts might need to be clarified when choosing between these mechanically based principles. Therefore, most keyboards use QWERTY, while DVORAK is another popular alternative, but most keyboard sets don't have it.
Many brands have also introduced mechanical left-handed keyboards to cater to left-handed people, so look for the one that suits you best.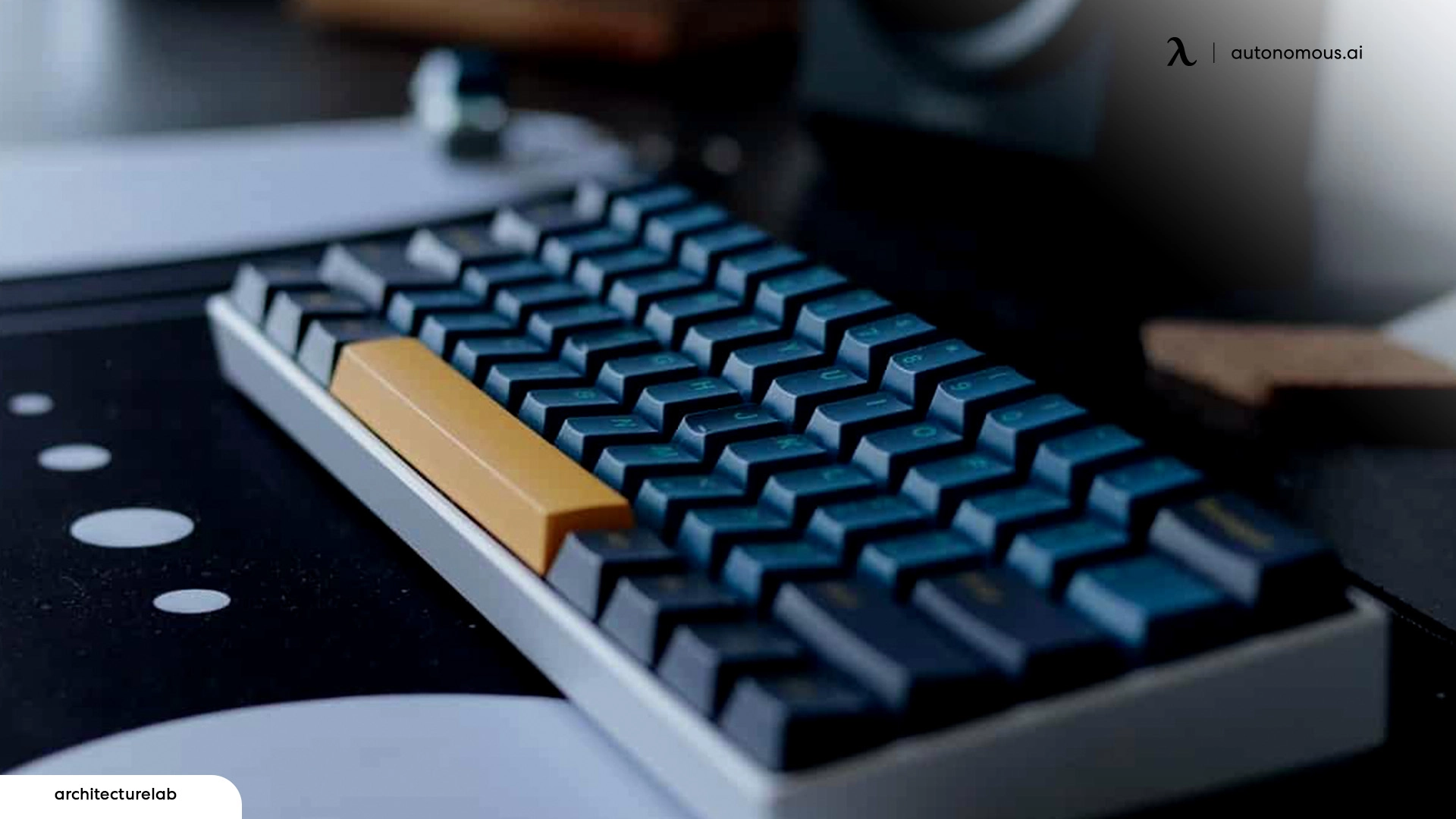 Switches
Switch type is crucial when thinking about the typing performance on a silent keyboard. Do you favor ultra-thin keyboards or those that seem more like classic computer keyboards?
If you like a keyboard with low-profile and soft-touch keys, a membrane keyboard or rubber dome switches is a good option, while a mechanical keyboard with a mechanical "clicky" feel will be a quiet and reliable option.
Key rollover (KRO)
A keyboard with key rollover can detect many simultaneous key presses. N-Key rollover (NKRO) is a feature on modern mechanical keyboards that allows several key presses to be registered simultaneously. The keyboard's connection type is a determining factor in a key rollover. Unlike the PS/2 port, which supports N-Key rollover, the USB port provides compatibility for anywhere from 4 to 6 Key rollover.
Frequently Asked Questions (FAQs)
What is the difference between blue, brown, and red switches?
Blue switches are tactile and clicky, providing a satisfying typing experience but producing more noise. Brown switches are also tactile but quieter, making them suitable for both typing and gaming. Red switches are linear and quiet, offering a smooth keystroke without tactile feedback and producing minimal noise. The choice between these switches depends on personal preference, with blue switches being louder, brown switches striking a balance between feedback and noise, and red switches providing a silent typing experience.
Can you change the backlighting of your quiet mechanical keyboard?
Many quiet mechanical keyboards on the market do come with customizable backlighting options. These keyboards often feature LED lights that can be adjusted in terms of brightness, color, and lighting effects. Some keyboards may even offer software or onboard controls to personalize and customize the backlighting to suit your preferences. It's important to check the specifications and features of a specific keyboard model to determine if it offers backlight customization.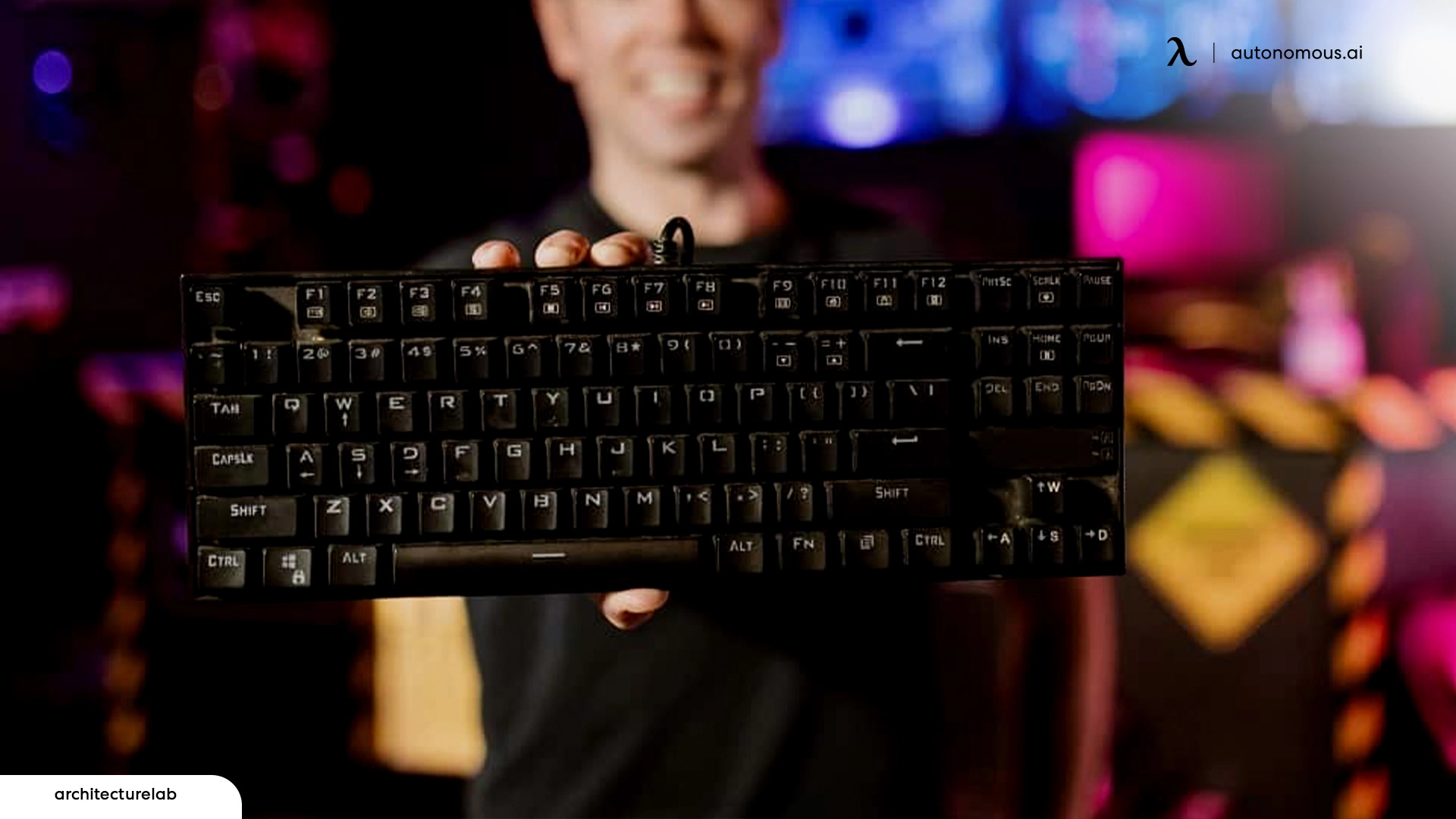 How do you use the function keys on a smaller 60% keyboard
On a 60% keyboard, the function keys are typically accessed by holding down the FN (Function) key located near the bottom right corner or on the side of the keyboard. While holding FN, pressing the designated key will activate the desired function. Common functions include media controls for play/pause, volume adjustment, and track skipping. Some 60% keyboards allow for custom function layers, which can be programmed using dedicated software. Specific key combinations and functions may vary, so consulting the keyboard's manual or manufacturer's website is recommended for detailed instructions.
Why are mechanical keyboards good for designers?
Designers should utilize a mechanical keyboard since it allows them to type more quickly. Mechanical switches, found on many of the best keyboards for design work, provide tactile feedback and a perceptible bounce to aid in reducing fatigue and increasing input speed. Due to the quiet mechanical keyboards' functionality and quiet silent switches, designers prefer these the most.
Are mechanical keyboards louder than membrane keyboards?
Mechanical keyboards make more noise than their membrane counterparts; however, their total noise is usually comparable to a normal workplace environment.
Are mechanical keyboards better for gaming?
There are several reasons why a mechanical keyboard makes an excellent gaming accessory. They're responsive, long-lasting, have N-key rollover, are highly customizable, and provide a gratifying experience overall.
In addition, quiet mechanical keyboards have many other fascinating features, such as silent keyboard switches that are tailor-made for gamers.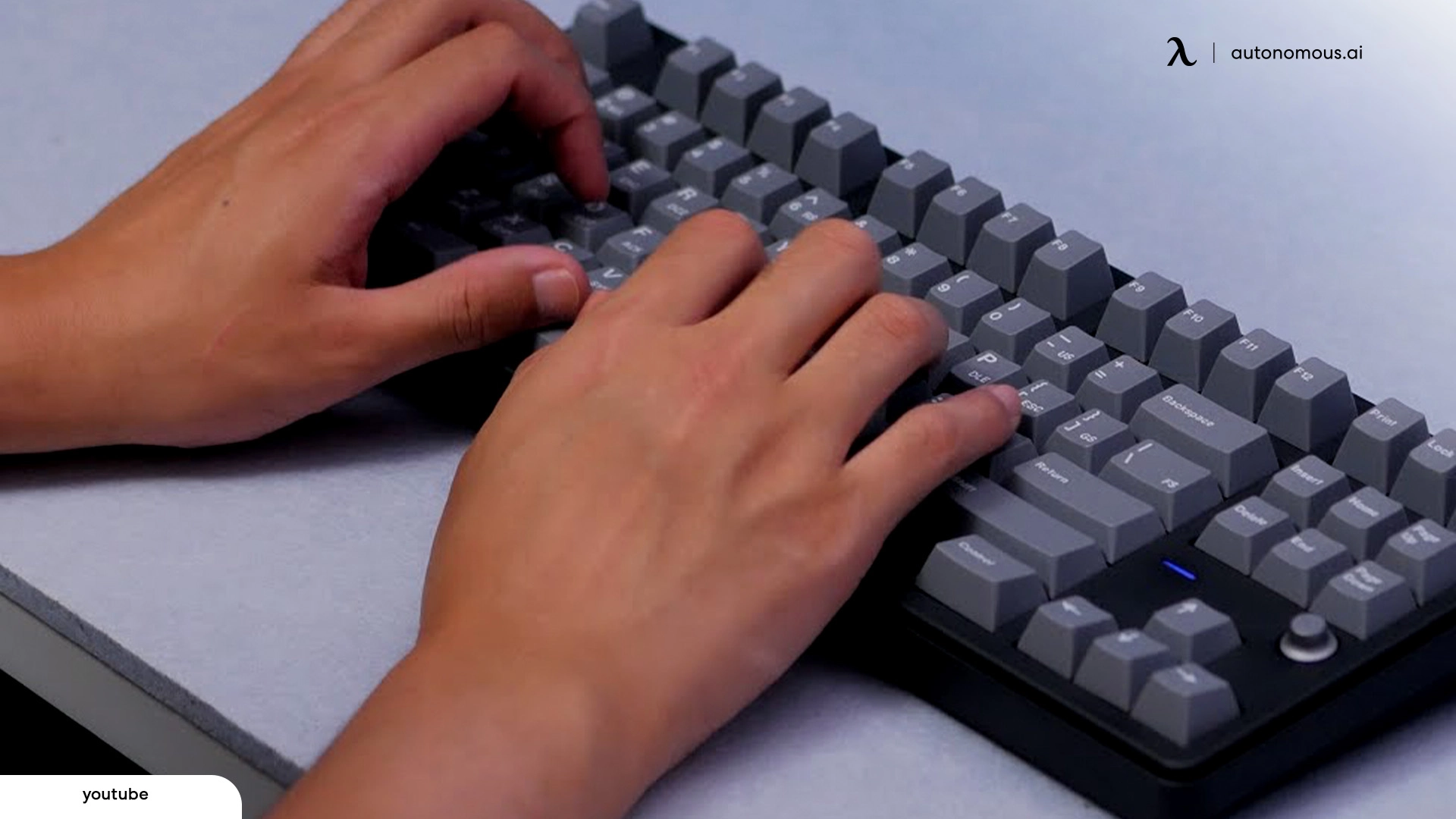 Final Thoughts
The idea of a silent mechanical keyboard was comical in the past, but that is no longer the case. With the advent of quiet keyboard switches and other noise-reducing keyboard features, it is now possible to obtain a somewhat silent keyboard without giving up the great typing sensation that mechanical switches provide.
All the details you need are laid out above; therefore, the only thing left is to go out and get one. Get your keyboard now and enjoy the experience.
Subcribe newsletter and get $100 OFF.
Receive product updates, special offers, ergo tips, and inspiration form our team.
WRITTEN BYAutonomous
We build office products to help you work smarter.