Workplace Inspiration
Mastering Dual Monitor Gaming Setup: A Step-by-Step Guide

Autonomous
|
Dec 7, 2022
15,646 Views
No matter what kind of game you're playing, having a dual monitor setup creates a better experience than only using one monitor while gaming. You can do so much more at once with a multi-monitor gaming setup. For example, you can have instructions on one monitor, and the gameplay on the second monitor. This makes it easier to play because you don't have to keep closing the game window to open a new window and read the instructions.  
Having a dual monitor gaming setup also creates a more immersive experience. It widens your view of the game, which can make you feel more entranced in the gameplay.
Setting up two monitors isn't too complicated, but there are some things you should know before setting up multiple gaming monitors.  
Choosing a Gaming Monitor
You may also be wondering how to choose the right monitor to buy. Before buying a gaming monitor, you need to check the computer's connectivity. Not all graphics cards support dual monitors. If your graphics card only has one video port, it won't support a dual monitor setup. Although it was common many years ago for graphics cards to not support a dual monitor setup, most modern graphics cards have two or more ports, so you most likely won't run into any issues here. 
It is also best to have two monitors that are the same size. When they're the same size, they're easier to align with each other, which makes for a better visual gaming experience. Another important thing to consider when you're buying a monitor is the frame thickness. Monitors with very thin bezels work much better in a dual monitor gaming setup, as they provide a sleeker image and fewer distractions.
Choosing a Gaming Monitor Stand
Another important aspect of a dual monitor gaming setup is choosing a monitor stand. If you're someone who plays a lot, it's important that your monitors are positioned in a way that you're not straining your back, neck, or eyes. Choosing the best dual monitor stand can be difficult, as there are so many options to choose from. 
The most important thing is that you buy a dual monitor stand and not a single monitor stand. With a dual monitor stand, you can position both your monitors in a way that suits your needs. Most dual monitor stands allow you to tilt, rotate, and adjust accordingly. It's advised to set up your monitors at eye level, as this promotes good posture. If you feel like you're hunching over, or if your neck feels strained after a few hours, chances are your monitor isn't at the right height. 
That's the beauty of a monitor stand; being able to adjust the height to your needs.
Before Setting up Your Monitors
Before setting up your monitors, it's good to have some dual monitor setup ideas. You also want to make sure you have a dual monitor gaming desk, i.e., a desk that's big enough to fit two monitors.  
If you're someone who plays a lot, it may be a good idea to invest in a dual monitor standing desk, so that you can alternate between sitting and standing. It's always good to stand for a few minutes if you're sitting for long periods. 
Although this article focuses on a dual monitor setup, you may want to have three or four monitors. If you want a 3-monitor gaming setup, you need to make sure you have a 3-monitor gaming desk. If you're thinking of having a 4-monitor gaming setup, you need to have even more space; keep that in mind.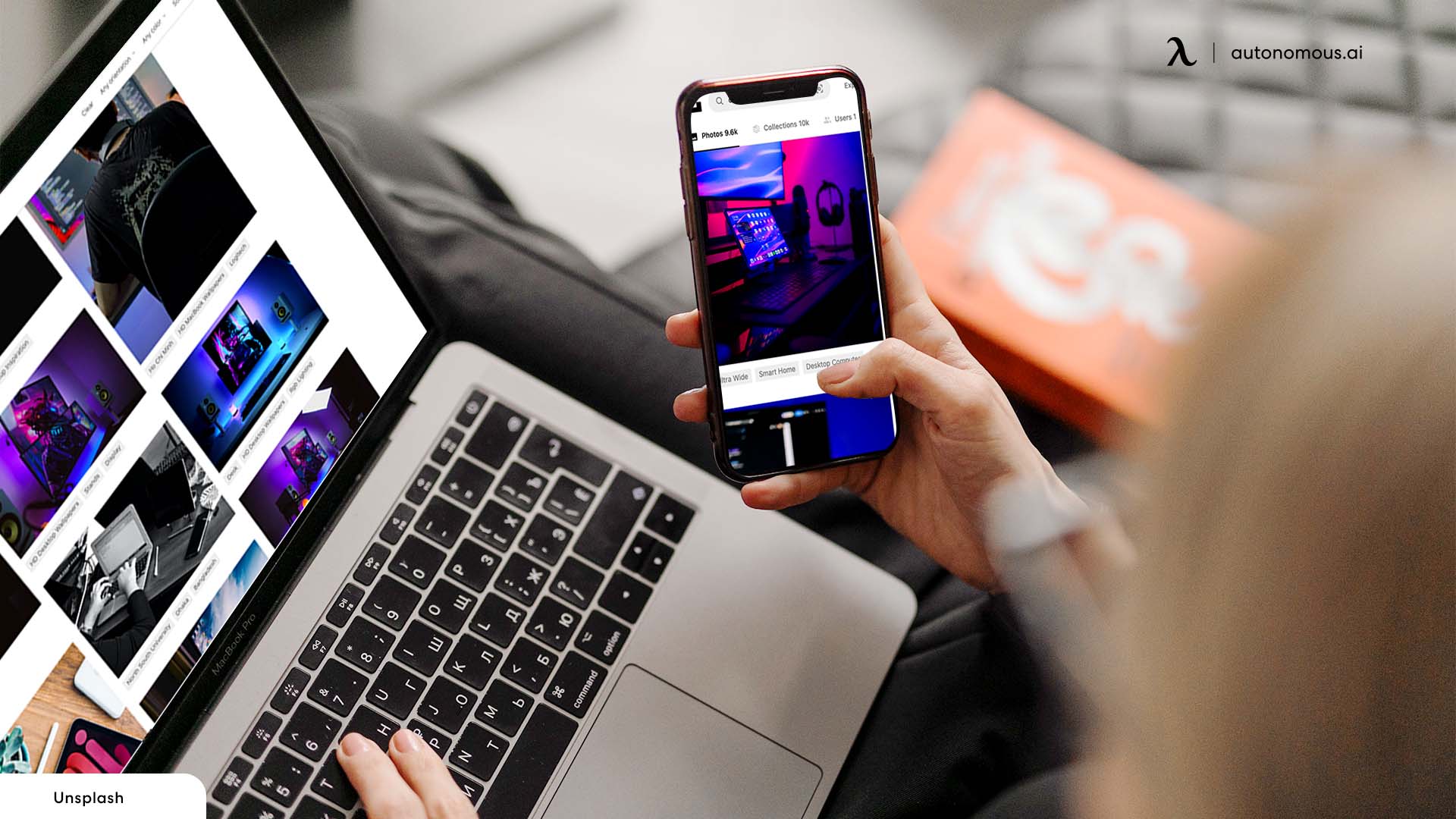 Ultrawide Vs. Dual Monitor
People often wonder whether choosing a dual monitor over an ultrawide, or vice versa, is good for them. Although both these types have a common purpose, i.e., expand screen space, they both are quite different from each other.
If you ask us, a dual monitor setup is better for PC gaming. But how did we reach this conclusion? For your information, we evaluated a double monitor setup and an ultrawide monitor in light of a few aspects that we have discussed below. 
Width of the Display
Usually, an ultrawide monitor features a 34-inch screen. Even if it is wider than normal ultrawide monitors, the maximum width that you will get is 49-inches which is still less than what you may get with a double gaming monitor setup.
However, if you buy two 27-inches monitors for a dual monitor setup, you will get around 54 inches of display size, which is massive. People who love having a wider single screen might like an ultrawide setup, but those who like focusing on every detail in their game would love to have a dual monitor setup.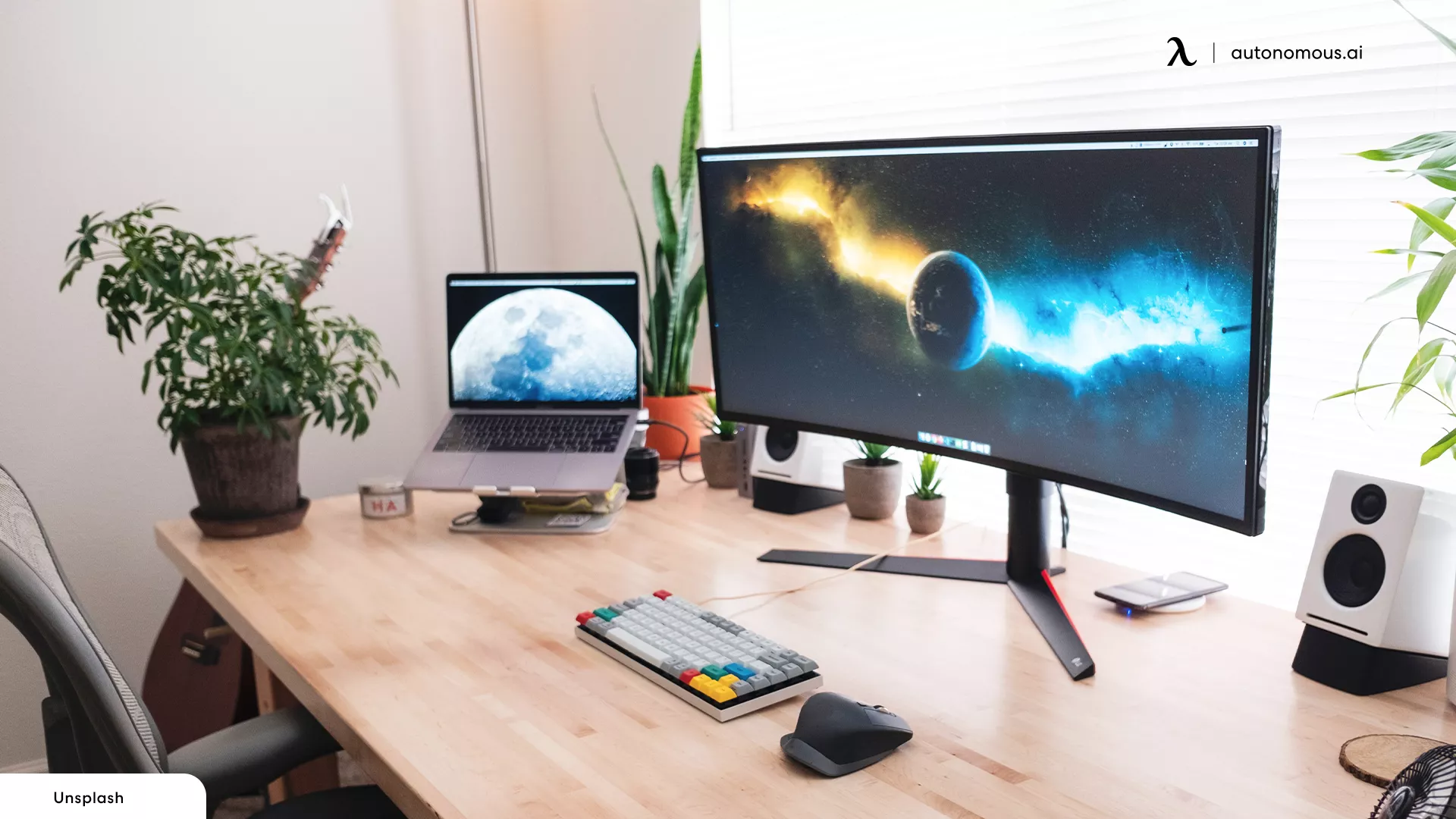 Flexibility
Do you wonder which monitor display will offer you more flexibility in functionality while playing games? It is the dual monitor setup that ensures you play your best game while staying flexible. You will only need a dual monitor arm for the desk to adjust your screen the way you like.
People who like multitasking would love to have dual monitors because they are more fit for resizing your display for multitasking. You are supposed to resize your screen on an ultrawide monitor manually. 
Pixel Density
You get a better pixel density with dual monitors. Since dual 4K monitors are not hard to find and are available in an affordable price range, you can easily buy the best option in the market to level up your game. A standard ultrawide monitor offers you 3440x1440p or 2560x1080p.
In contrast to this, 4K monitors feature 3840x2160p, which offers a crispy clear image. So, if you are a gamer who loves having a high-quality gaming experience, you must go for a dual monitor setup where affording a top-notch display is easier.
Adjustability
People have different preferences when it comes to their monitor setup. The problem with an ultrawide monitor is that it does not offer much flexibility in adjustments compared to a dual monitor setup. You can have a vertical screen monitor or a simple portrait-style one as well by simply adjusting your monitor's angle.
Since dual monitors are comparatively light, you can easily attach them to a monitor wall mount and adjust their tilt and height as per your requirement. Nevertheless, some people may find this a hectic task and prefer an ultrawide single screen over dual monitors. 
Dual Screen Setup Guide
Going through a detailed comparison of dual monitors vs. an ultrawide monitor, you would have understood how dual monitors are better for you. However, they can be a bit challenging if you don't know how to go with the screens' setup. We understand your challenges very well. That's why we have shared a simple guide on how you can set up your dual monitors' screens. 
Step 1: Select Primary and Secondary Monitors
The first step in line is to select your primary and secondary screens. You must right-click on your desktop and select the display. Doing that will open a dialogue box which will show two boxes labeled 1 and 2 in blue color. You can select your main screen from here. As soon as you select your main screen, the second screen becomes the secondary screen.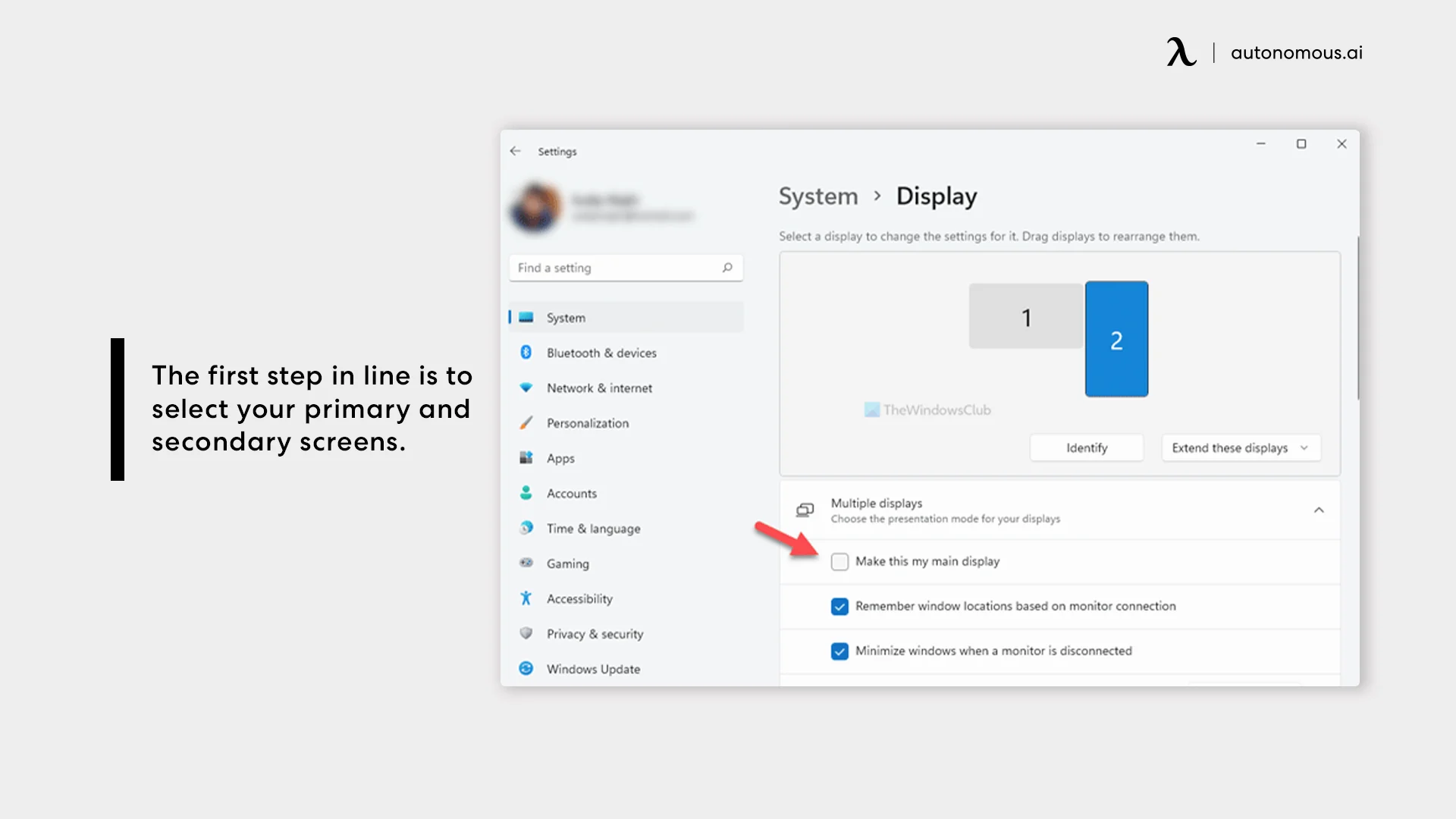 Step 2: Set Your Monitors' Resolution
The next step is to set your monitor's resolution. You can do that by repeating the same steps that are for opening the display dialogue box. However, click the 'Advanced Display Settings' option once the dialogue box opens. You may then select the 'Resolution' drop-down menu and choose your desired resolution there and click 'Apply' once you are done. 
Step 3: Choose Your Monitor's Display Style
Once the resolution is set, you can choose your display style from the 'Multiple Displays' drop-down menu. You may select whether you wish to duplicate your screen or extend the display to both monitors. You can even disable any of the two displays from here. Once you are done with this part, click 'Apply'.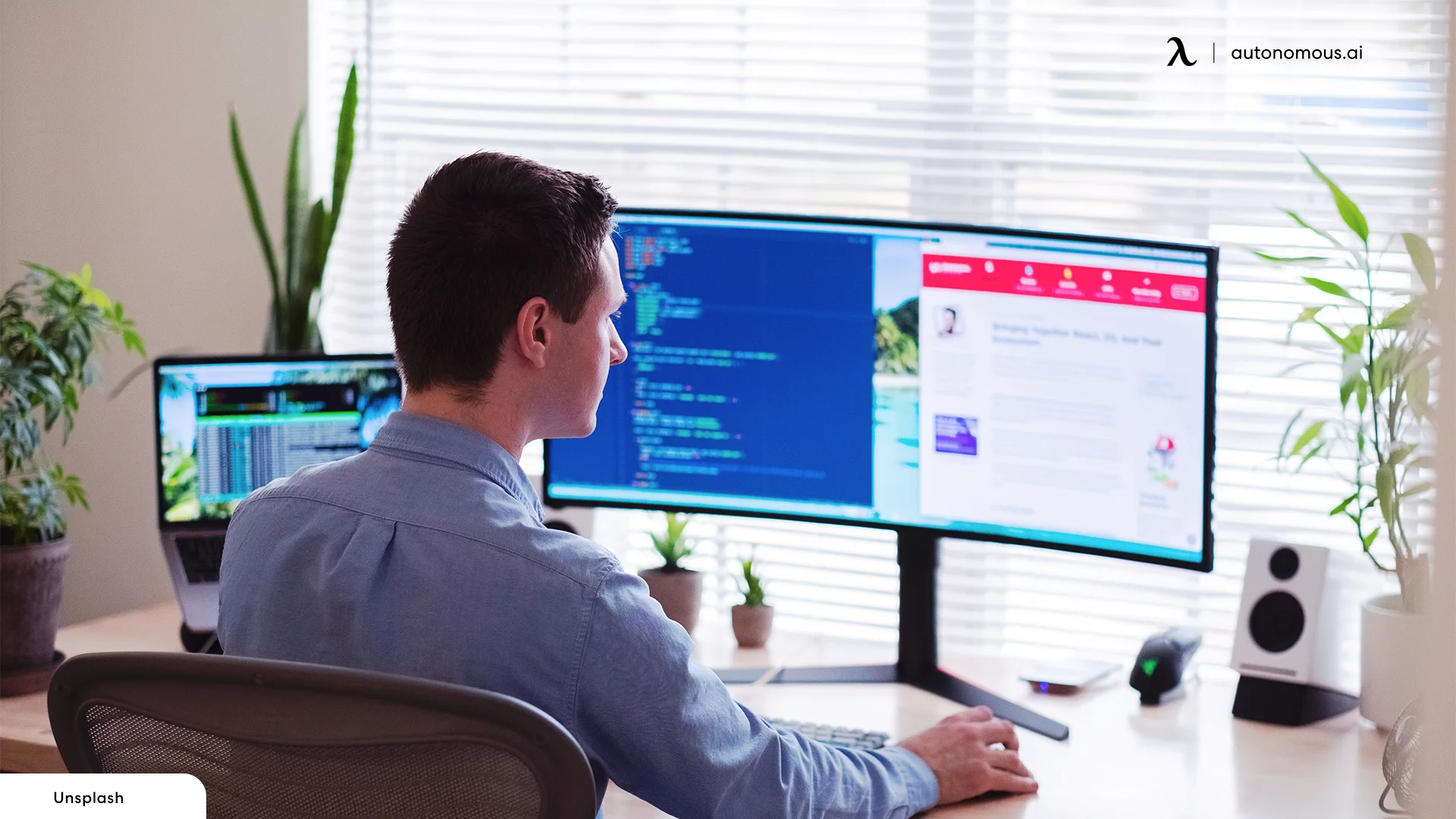 Step 4: Select Your Monitors' Position
The last step is to select your monitor's position. If you want your monitor in portrait mode, you can select the desired position from the 'Display' dialogue box. You can even identify which monitor is 1 and which is 2 from here. Once you are finished with all the settings, click 'Apply'. 
How to Setup Dual Monitors for Gaming (Step-by-Step)
1. Check Your Monitors
It is always best to use monitors that are the same or similar model. If the monitors are the same model, it means they have the same measurements and that they match up with each other. If your monitors aren't the same model, it's best to make sure they at least have the same display ports, for example, an HDMI port. Making sure your monitors have the same display features is also important, because if they don't, the game and graphics may look off. 
You also want to make sure your graphics card can connect to all your monitors. A 4K monitor requires HDMI ports, for example.
2. Check Your Graphics Card
Unlike years ago, when most gamers only used one monitor, nowadays many gamers use more than one monitor. This means that modern GPUs are made for multiple-monitor use. If you have a new GPU, chances are it supports multiple-screen gaming. It is also important to check the following: 
Nvidia
Your Nvidia GPU needs to have the Surround solution. Not only does Sound support multiple gaming monitors, but it also supports 3D gaming. If you have a standard monitor connection, Sound will work just fine with it. 
AMD
AMD graphics cards feature the multi-monitor Eyefinity technology. If you want the best visual gaming experience, Eyefinity allows the game visuals to be spread across all monitors, without any unpleasant distortion.  
3. Set It All Up
First what you need to do is plug it all in and make sure you have the correct ports. Thankfully, this setup step only requires one screen. You can worry about the other one later. If your other monitor doesn't turn on or it isn't working properly, you may need to change cables or update your drivers.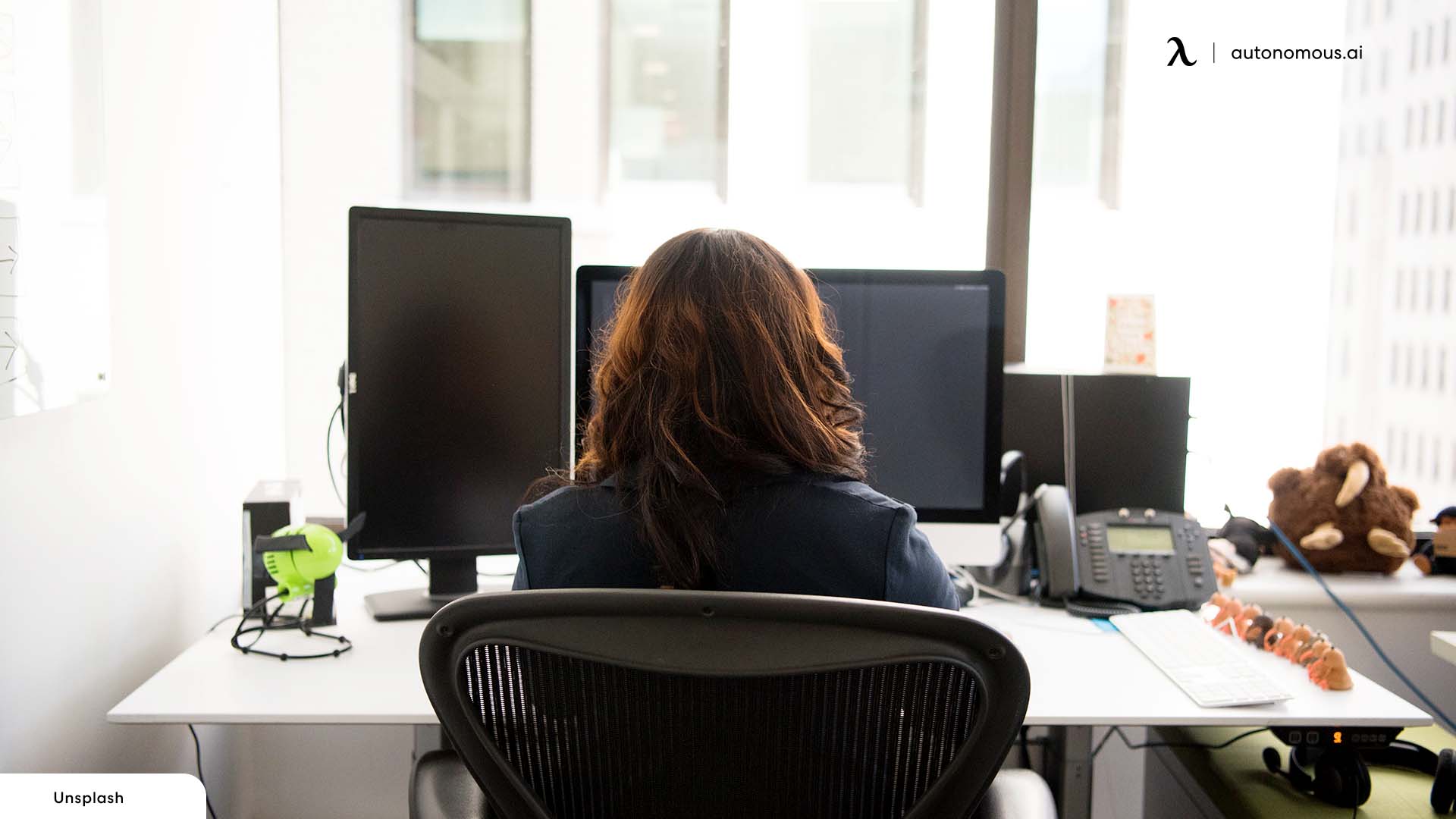 4. Update Settings
You may need to adjust some settings before you start gaming. The GPU control panel is a good place to do this. If you notice that you're having problems with frame rate or anything else, resort back to the GPU control panel and keep changing the settings until everything is correct and ready to go. 
Ways to Improve Dual Monitor Gaming Setup
Rather than simply plugging in your monitors and leaving it at that, there are some simple ways to improve your dual monitor setup.  
1. Edit Your Taskbar
On Windows 10, you can edit your taskbar settings to your liking. All you need to do is right-click on the taskbar and click Taskbar Settings. You can look through the different settings and choose which ones you want to change. These settings are mostly based on personal preference, so choose whatever works best for you. 
If you want, you can go to the Multiple Displays section. Here, you have the option to change a few things. One thing you can do is remove the taskbar from your secondary monitor, which can be handy; mess around with the options and find what's best for you.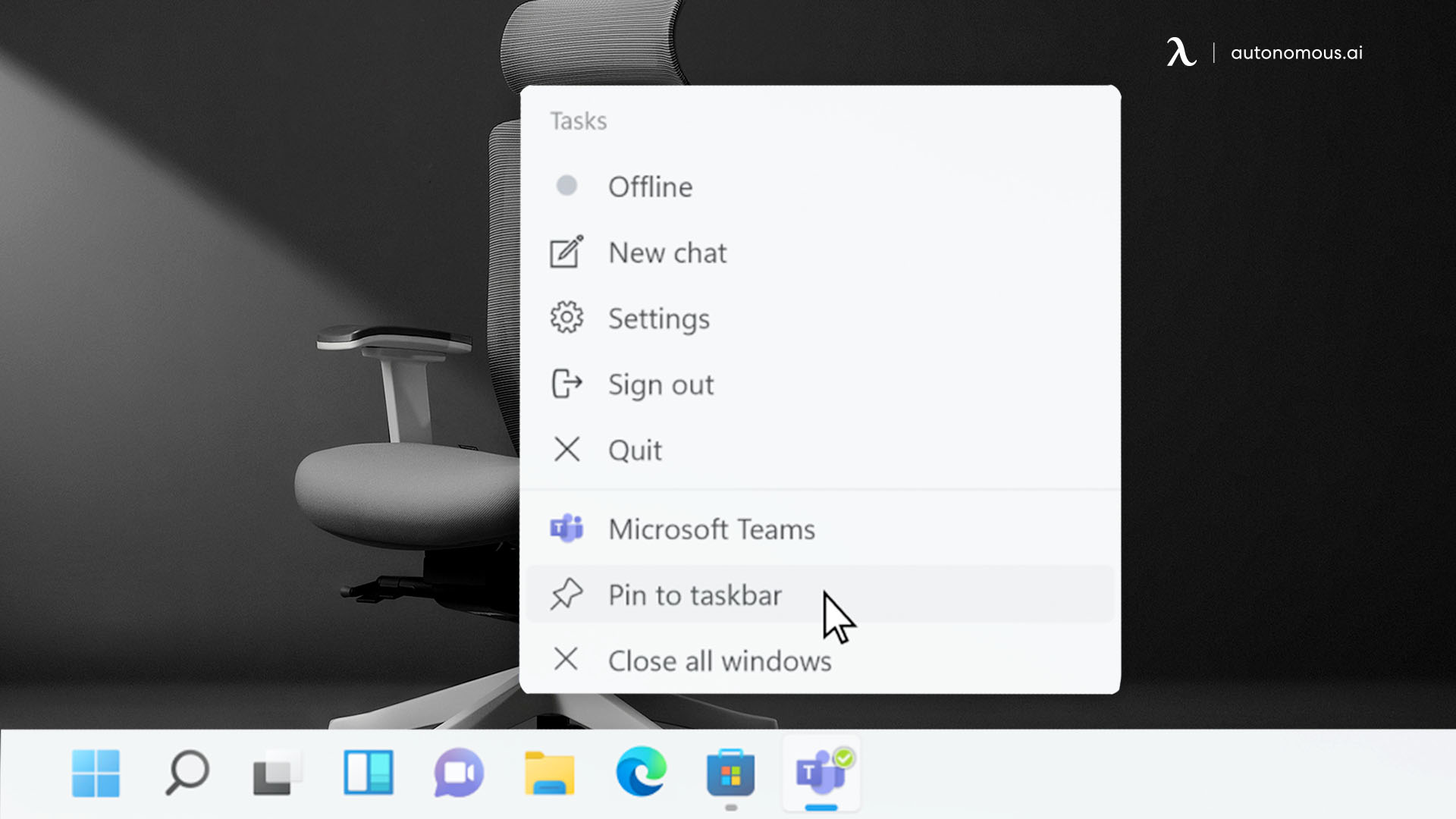 2. Match the Displays
The first thing you should do is make sure the displays match. If your monitors are the same model, you don't need to do this. If you have two different models, however, make sure to do this step.  
You need to go to your Display Settings. From there, you can rearrange your displays by moving the rectangles around. Try to match the rectangles with the way your own monitors are set up. For example, if your right monitor is slightly lower than your left monitor, move the rectangles according to that. It may take a while to get this right but keep trying. 
You can then scroll to the Scale and Layout section. Here, you can adjust the scaling and resolution settings of each monitor. For example, if both your monitors have different resolutions, you can set each one to its local resolution, but make sure to increase the scaling on the monitor that has a higher resolution. This will make the visual gameplay much more pleasing. 
Something else you can do, but it's not totally necessary, is tweak the brightness settings on each monitor so that their brightness levels match. This gives a more pleasing viewing experience. 
3. Wallpapers
Having a super wide wallpaper gives off an impressive visual effect for your dual monitor gaming setup, although it's not a necessary step. Once you find your desired multiple gaming monitors wallpaper, you can right-click on your desktop and click Personalize. All you need to do is find the image and click Span. This will make the wallpaper span across all monitors.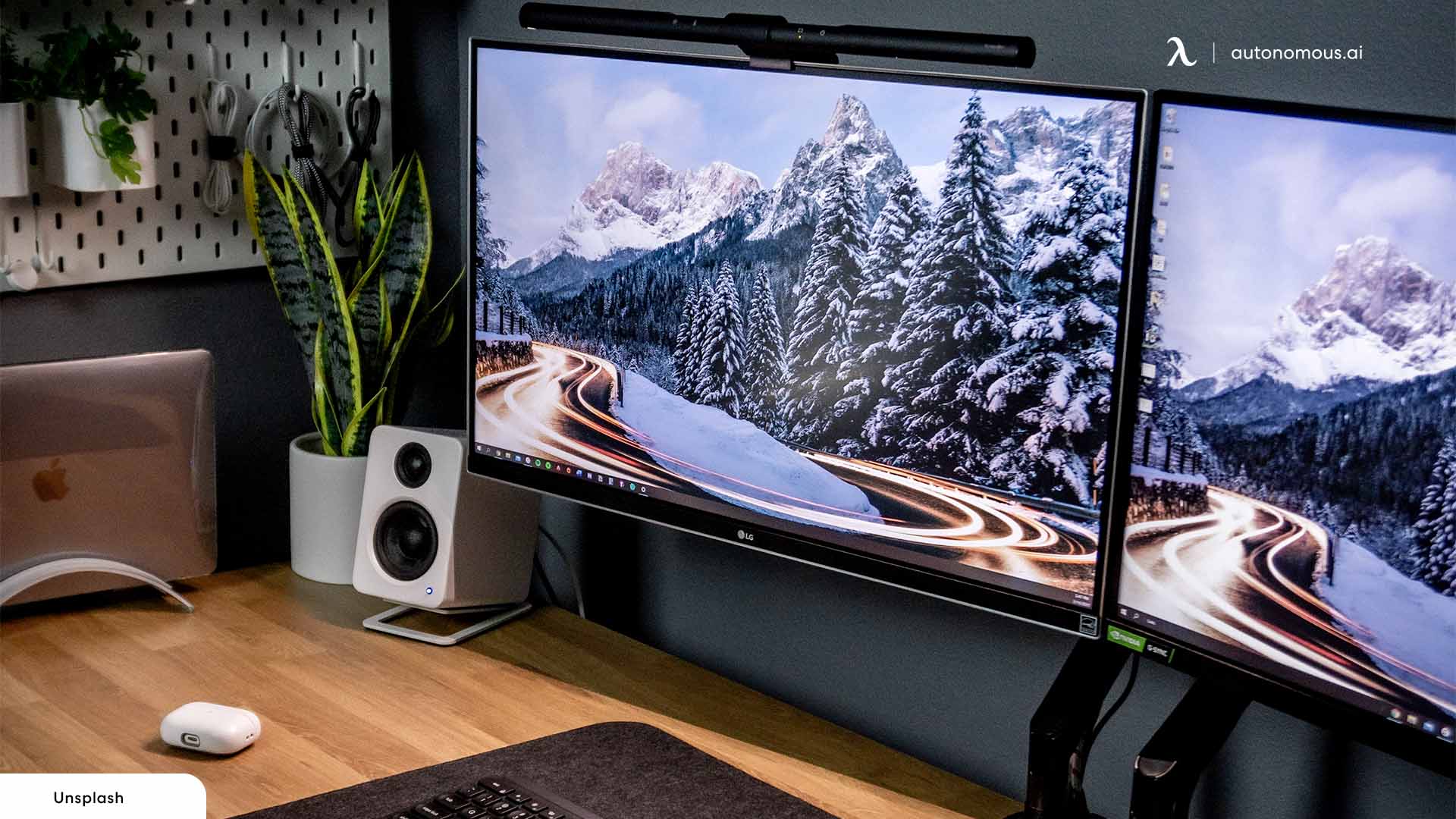 4. Shortcuts
There are different shortcuts on Windows 10 that you can only use with more than one monitor; that is why it's handy to know what some of them are.  
Win + Home

minimizes every window other than the one currently being used.

Shift + Win + Left and Shift + Win + Right

moves the monitor currently being used to the next monitor.

Win + Left and Win + Right

puts the window currently being used to either side of the active monitor. 
There are other shortcuts, but these are just some examples that you may find helpful.
Best Monitor Arms for Dual Monitor Setup
Best Monitors for Dual Screen Setup
We hope that you have a holistic idea about the dual monitor gaming setup and things like how you can set your screens the right way. Coming towards the end, we have shared some details about the best monitors for a dual-screen setup below. 
1. Pixio PX222 Monitor
Pixio PX222 is a 22-inch flat monitor that is one of the most affordable monitors on the market. Featuring a 75Hz refresh rate and 1080p VA panel, this monitor will be an ideal choice for people looking for a compact double-monitor gaming station. 
2. Pixio PX243 Monitor
Pixio PX243 is ideal for both gamers and streamers. It features thin bezels so that you can have a full-length display. Its 165Hz refresh rate and 1080p resolution are more like a cherry on top. Overall, gamers who love playing eSports can buy a pair of these monitors for competitive gaming. 
3. Pixio PX274 Prime Monitor
If you are looking for a prime gaming monitor, you should not look any further. Pixio PX274 Prime is a 27-inch flat monitor with thin bezels for the best gaming experience. Since it is equipped with WQHD 1440p resolution and 75Hz refresh rate, it is great for gaming. So, overall, this monitor will not disappoint you.
Can I Play Any Game with a Dual Monitor Setup?
Luckily, most games that have been released in the last five to ten years are fully playable in a multiple gaming monitors setup. Many games older than ten years work as well, but it's recommended to double-check the specific game you want to play. There are tons of lists online that show all multi-monitor compatible games, and most of them are updated regularly. If you're ever in doubt, just check one of the lists, and you're sure to find the information. 
Choosing a Gaming Desk
If you are trying to improve your dual monitor gaming setup, consider the type of desk you need. An electric standing desk is a good option, as you can easily move the height up and down. You can also consider a corner standing desk, which gives more space than a regular desk; this is perfect if you use more than one gaming monitor!  
If you just want a standard desk that is also height adjustable, a smart desk is something to look into. If you're an everyday gamer, having the most comfortable setup is important, as well as having the most useful gaming desk. If you have more than one monitor, you want to make sure your desk supports the weight. You also want to make sure all your monitors fit on the desk. Taking measurements is always a good idea before committing to anything.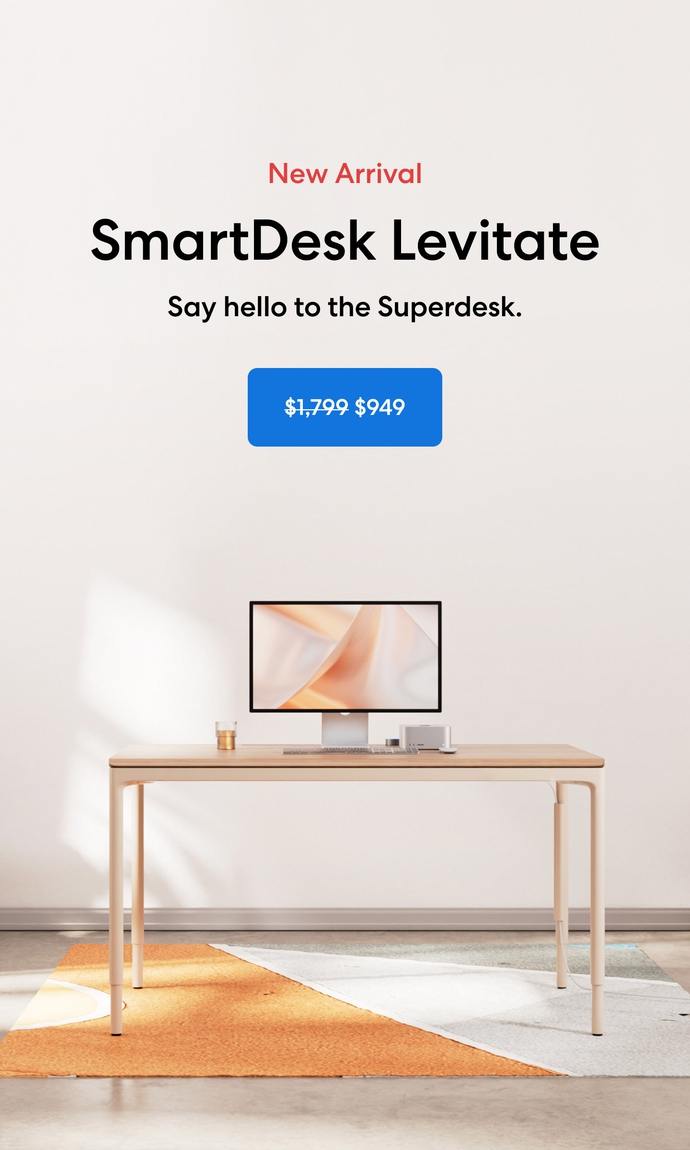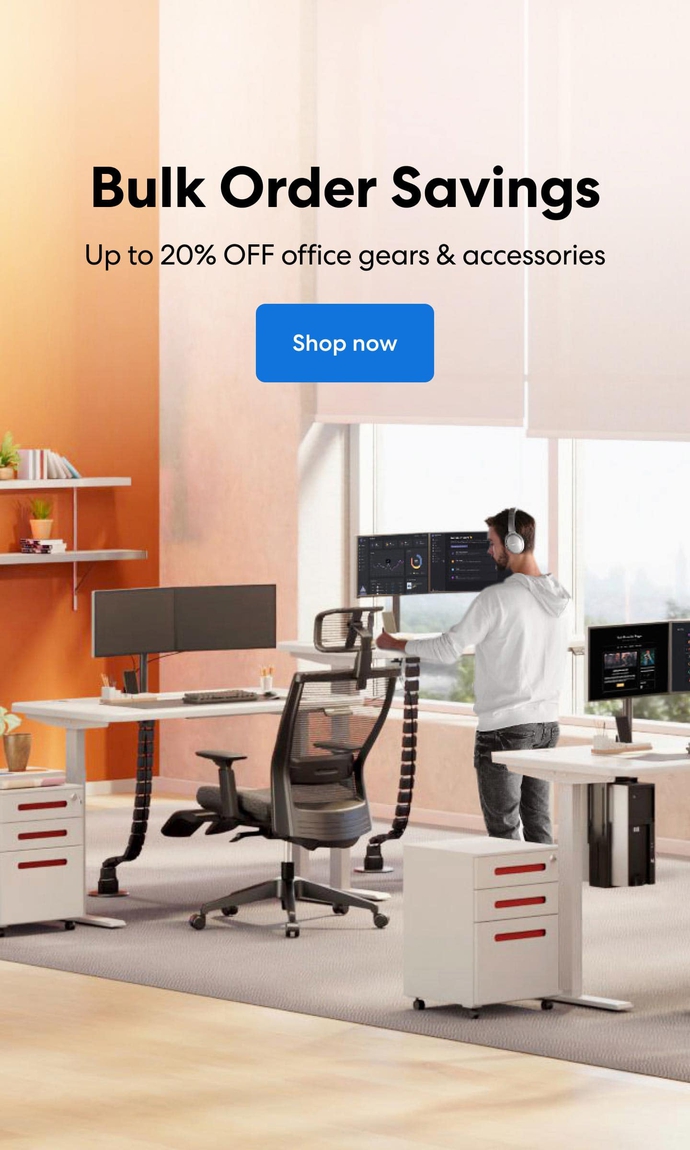 Subcribe newsletter and get $100 OFF.
Receive product updates, special offers, ergo tips, and inspiration form our team.