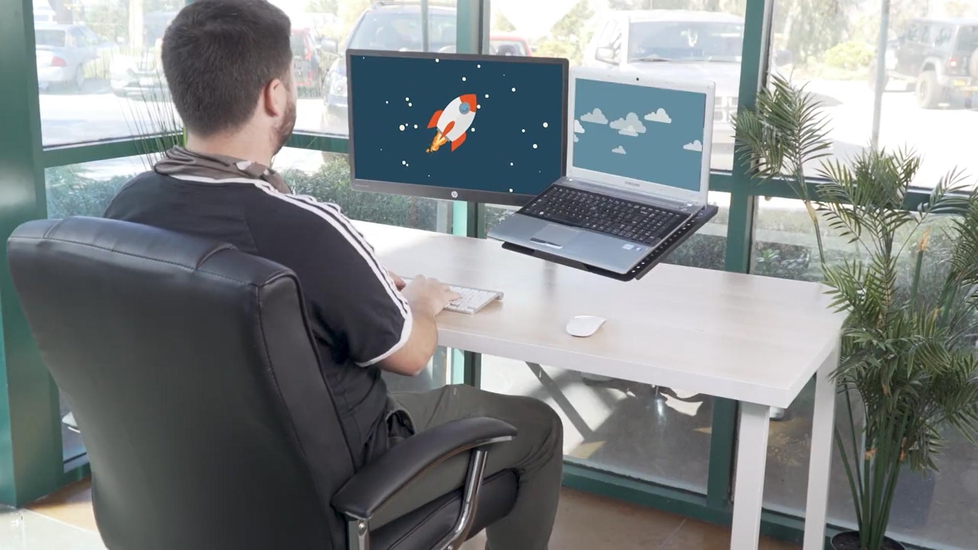 Mount-It! Laptop and Monitor Stand
109 Bewertungen
Visit our store
Kostenloser & flexibler Versand
GroßbestellungSparen Sie bis zu 

5%
Jetzt kaufen
In den Warenkorb legen
Kostenloser Versand Dec 08 - Dec 11 KOSTENLOSE 30-tägige Rückgabe.
Verkauft und versandt von Mount-It!
Mount-It! Laptop and Monitor Stand auf einen Blick.
Completely adjustable, free your desk space and work ergonomically with an all-in-one desk mount that elevates both your laptop and secondary display.
• Supports laptops up to 17"
• Supports VESA monitors up to 27"
• 90° forward back tilt
• 180° left to right swivel
• 360° monitor rotation
• Max load 22 lbs per arm
• Laptop ventilation
• C-clamp or grommet base
Tief in die Spezifikationen eintauchen
Merkmale
FAQs
Spezifikationen
Bewertungen
4.8
Laptop and Monitor Stands by Mount-It!
If you're a laptop setup owner, perhaps you can take advantage of the Mount-It Laptop Desk Stand and Monitor Mount. It can help you keep your workstation as organized as possible while also allowing you to enhance the ergonomics of your workspace. Laptop and monitor stands have become more common in recent years. These office accessories allow you to arrange your laptop and monitor setup the right way, helping you keep both screens at the optimal level at all times. These mounts can also be helpful to free space on your work desk. Mount-It! is a company owned by regular people who want to provide people worldwide with ergonomic solutions for their offices. These products range from monitor mounts to standing desk converters, covering diverse needs in the process. The company has been expanding its catalog for many years, and some of the newest additions include Mount-It Laptop Desk Stand and Monitor Mount.
Mount-It Laptop Desk Stand and Monitor Mount – Key features
Many people struggle with keeping their workspaces organized. One of the biggest problems they face is keeping their screens at an optimal level without it disturbing their work surface. You can quickly solve this issue by using a laptop and monitor mount. A monitor stand with a laptop tray will allow you to easily maintain your laptop and your monitor at a similar level. You will be able to adjust them based on your preferred settings, allowing you to turn your workstation into an ergonomic place where you can work all day comfortably.
Supports laptops and monitors of different sizes & Modify the angle and find your preferred settings
The Mount-It Laptop Desk Stand and Monitor Mount is quite durable and resistant. It has been designed to support laptops up to 17 inches while also being able to support VESA monitors of up to 27 inches. These capabilities can be useful for people with smaller workstations who often struggle with their desks' space management. Additionally, each arm has a total weight capacity of 22 lbs. It doesn't matter if you'd like to use your monitor or your laptop as the primary screen. This monitor arm with a laptop tray will allow you to modify the following angles and positions. You can modify the forward tilt within a 90-degree angle. The left to right swivel can be modified within a 180-degree angle. Last but not least, you will be able to modify your monitor's rotation within 360 degrees. You can choose to use it vertically or horizontally.
Keep your laptop at the optimal temperature & Enhance the ergonomics of your workspace
Laptops have the tendency to overheat when they're placed on an inappropriate surface. However, that won't be a problem with the laptop and monitor stand by Mount-It! The laptop tray has been designed to provide enough ventilation to your laptop. Hence, you can be sure that it'll remain at the optimal temperature throughout the time, allowing you to continue using it without problems. A multi-monitor setup requires you to set it up the right way so both screens can be at your eye level. This can be quite tricky without a monitor arm. Still, Mount-It laptop desk stand and monitor mount will allow you to place your monitor and your laptop comfortably at a similar level, allowing you to maintain your neck straight and your eyes always on the screen. Thanks to this, you won't be forced to tilt your neck to be able to see what's on the screen clearly, helping you prevent neck pain and eye fatigue in the process.
Keep your desk uncluttered all the time
Placing your monitor and your laptop on your desk can take a lot of space. However, this laptop and monitor stand can be mounted at the edge of your desk so you can keep it as uncluttered as possible at all times. The monitor arm and the laptop tray are both adjustable. Hence, you will be able to adjust the tilt and rotation angle of each option depending on your movements. Last but not least, Mount-It Laptop Desk Stand and Monitor Mount includes cable management trays to help you even further with your desk's organization.