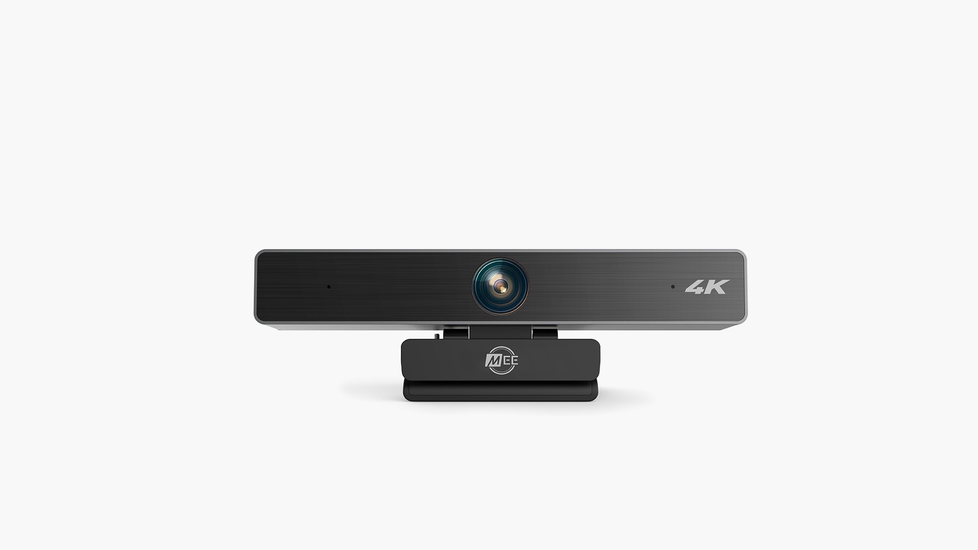 MEE Audio C11Z Webcam with Microphone: Ultra HD
MEE audio C11Z 4K Ultra HD Conference Webcam with ANC Microphone
5 Bewertungen
Visit our store
Kostenloser & flexibler Versand
GroßbestellungSparen Sie bis zu 

2%
Jetzt kaufen
In den Warenkorb legen
Kostenloser Versand Dec 06 - Dec 08 KOSTENLOSE 30-tägige Rückgabe.
Gekauft von 2+ UC San Diego Health Mitarbeiter.
Verkauft und versandt von MEE audio
• 4K Ultra HD (3840 x 2160) resolution with dedicated zoom button • Wide angle lens with 90-degree field of view and automatic low light correction • Dual Active Noise Canceling microphones plus built-in privacy indicator light & shutter • Adjustable monitor clip with 360° rotation and tripod-compatible • Plug and play operation – no additional software required
• 1-year warranty
The MEE audio C11Z 4K USB webcam with mic features 4K Ultra HD resolution, a wide angle lens, and 4x digital zoom to help you frame the perfect shot, as well as dual ANC microphones to ensure crisp audio free of echoes and unwanted background noise.
Tief in die Spezifikationen eintauchen
Merkmale
FAQs
Spezifikationen
Bewertungen
4.6
As hybrid working has become the norm, more individuals are looking for the finest conference room webcams. For a long time, conferences were held electronically, with participants connecting from all over the globe over the internet, but now, more and more businesses are using the technology to have regular meetings remotely. However, if you work remotely, here are essential home office desk accessories for you by Autonomous. Conference room webcams are available for a wide variety of costs and feature sets, making it easier to accommodate so many people in one room, we recommend Mee audio C11z for all your needs as it is the best 4K webcam for video conferencing, making it one of the must-have office accessories. A wide-angle lens and 4x digital zoom let you get the ideal photo, while twin ANC microphones offer clear audio free from echoes and unpleasant background noise so you can conference like a pro making it the best 4K webcam with a microphone. As the number of employees who work from home increases, so does the necessity for companies to invest in the finest conference webcams. Thanks to these sophisticated camera systems, it is possible to focus on multiple persons and pick certain sounds without asking them to utilize microphones and headphones.
Benefits Of MEE 4K Ultra HD Conference Webcam With Mic
In addition to noise-canceling speakers and microphones with automated face identification, there are other features to look for. As a result, even if you're seated far from the camera, you won't miss anything the other participants have to say, making it one of the best smart devices out there. Mee audio C11z 4K camera may follow targets using optical technology, which is likely to have better clarity than other models, while other cameras may employ digital zoom and perspective correction to fine-tune the video.
Video conferencing in human life
In telemedicine, Mee audio C11z 4K Ultra HD Conference Webcam with ANC Microphone allows doctors to see more of a patient's body than ever before, allowing them to make more accurate diagnoses and prescriptions. Experts in the field of medicine and surgery may benefit from 4K webcam for video conferencing, which allows them to perform remote education, even for complicated procedures involving sophisticated medical devices. It is critical to be able to see the instructor and the board when taking distant education courses. This issue is well-solved by devices that use 4K webcam with a microphone. There are several ways to ensure that the material of a teacher's class reaches its intended audience, and this helps to lessen the issue of "distortion".
4K webcam with a microphone in the future
COVID has necessitated the relocation of judicial proceedings on the internet. When it comes to video conferencing, the judge's ultimate trial depends on every element of a court session. Small motions and microexpressions made by any witness may significantly impact the final verdict. In light of the existing state of affairs, it seems inevitable that online courtrooms will increasingly make use of 4K webcam for video conferencing with Mee audio C11z. Many video-related areas, including video conferencing, are adopting 4K resolution as a result of the many advantages that UHD 4K resolution offers. Video conferencing in the future will be more closely connected with 4K technology, which has emerged as a popular trend in the business. Participants in video conferences will feel more like they're in the same physical meeting room with this.
Features Of Mee Audio C11z
Up to 4K Uhd (3840 x 2160) quality High-definition video of professional quality. A wide-angle lens and a 4-times digital zoom. The 90-degree field of vision is ideal for conference usage, and the dedicated zoom button makes it simple to use digital zoom. High-definition visual clarity. Video is always crisp and bright, thanks to automatic low light adjustment. There are two in-built ANC microphones on this Mee audio C11z 4K Ultra HD Conference Webcam. Active Noise-canceling technology eliminates undesirable background noise from the built-in stereo microphones. A simple plug-and-play procedure. Zoom, Google Meetings, Google Hangouts, and other video conferencing applications may all be connected through plug-and-play.