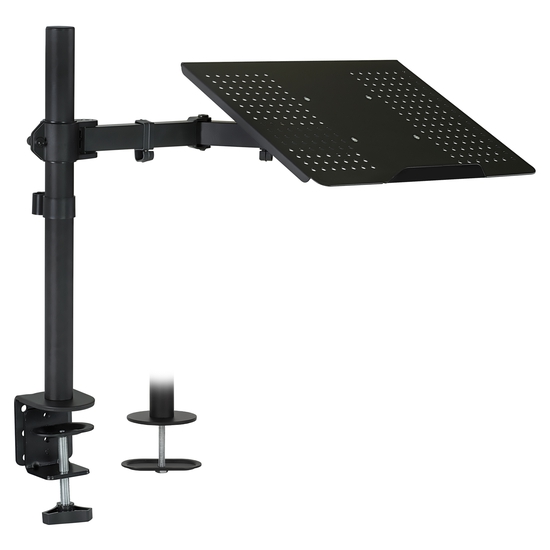 Mount-It! Height-Adjustable Laptop Notebook Desk Stand
5 Bewertungen
Visit our store
$53
$59
(-10%)
Kostenloser & flexibler Versand
GroßbestellungSparen Sie bis zu 

2%
Jetzt kaufen
In den Warenkorb legen
Kostenloser Versand Sep 30 - Oct 02 KOSTENLOSE 30-tägige Rückgabe.
Gekauft von 1+ Wix Mitarbeiter.
Verkauft und versandt von Mount-It!
• Fits laptops/notebooks up to 17 inches in screen size • Platform size: 14 inch wide by 11.8 inch deep • Weight Capacity: 22 lbs • Pole height: 17.7 inches • Pole Diameter: 1 1/4" Swivel: 360 degrees
• 10-year warranty
MI-4352LT is a universal laptop riser with a large 14" x 11.8" vented tray that supports laptops with screens up to 17" and up to 22 lbs.
Tief in die Spezifikationen eintauchen
Merkmale
Spezifikationen
FAQs
Bewertungen
4.8
Did you know that sitting is being dubbed the "new smoking" by researchers? Well, that's a good thing! Consider using a Mount-It! height-adjustable laptop notebook desk stand to answer your next email or work on your next project. Yes, getting a notebook desk stand may help you avoid the negative effects of sitting for lengthy periods of time while also increasing your output. However, if this is your first time acquiring one, the process may be a little more difficult. You can see Autonomous's 5 desk setup with laptop monitor by clicking here! Take a look at this list, select your favorite, and actually stand more for your health's sake! Laptops are a lifesaver when it comes to long road trips. As a bonus, they provide a lot of what you'd get from a desktop computer in a portable form factor. Because of this, sitting and working with one isn't necessarily an enjoyable experience for many people. To help yourself out you should get a laptop notebook desk mount stand.
Uses Of Notebook Desk Stand
Many people use laptops all day long, just as they do with their ergonomic laptop setup. In addition to becoming more difficult to operate over time, the tiny keyboard and mouse pad may cause extreme pain and perhaps have health consequences. To what degree would one accept the universal reality that one must complete one's work? There is absolutely no need to put your health at risk for your work. Don't misinterpret that sentence to suggest that you shouldn't put your all into your work at the workplace. Instead, an adjustable ergonomic portable laptop desk stand is designed to teach you the importance of working in an ergonomically sound manner if you must do so for extended periods of time. As an example, an adjustable standing desk, like a SmartDesk Pro may be a good addition to your business. Consistent sitting is not the healthiest thing in the world, and that's old news by now. As a result, some people have understood this to suggest that they should stand during their whole workdays.
Height-Adjustable Laptop Notebook Desk Stand by Mount-It!
It was Mount-goal It's to provide you with the ultimate in adaptability and convenience for your minimalist laptop desk configuration. You can save up a lot of desktop space by using this universal laptop mount for your monitor and laptop. Consider using a wireless keyboard and mouse instead of an on-board one for the best experience possible. In spite of the build's seeming simplicity, the tremendous amount of work put into it can be seen in its performance. As a long-term companion, you'll be able to take advantage of how Mount-It notebook desk stand changes to suit your needs and works with you whenever you need it to. On the list, Mount-It! is at the top, and the company is nearly universally recognized for making this kind of computer hardware. Adjustability and the ability to free up desktop space by hanging a monitor and a laptop in the air are two of the adjustable computer stand's main selling points.
Why Is It The Best Option?
If you're using this best adjustable laptop desk stand by Mount-It!, an external keyboard is advised. The chair's shape helps relieve stress on the neck, back, and the eyes. An ergonomic experience may be achieved with the use of a height-adjustable screen. The high-grade aluminum plus steel C-clamp can be tightly locked in place to prevent any movement, so you don't have to worry about it shifting. Tables up to 4.1 inches thick should be able to make use of the product. In addition to the height adjustment, additional angles are important. With Mount-It! height-adjustable laptop notebook desk stand, for example, the user may tilt the computer at a 90-degree angle forward and backward, as well as 180-degrees to the left and right. The finest laptop stand lets you rotate your laptop 360 degrees, so you can use it in either landscape or portrait mode. The adjustable laptop notebook desk stand offers built-in cable management, as well as built-in ventilation.