Smart Products
A – Z Ergonomic Laptop Setup Guide for Office Workers

Natasha Palance
|
Jun 13, 2021
3,148 Views
Did you know how important can be an ergonomic laptop setup for an office worker like you? Without any doubt, the right guide can help you get the best laptop setup that is suitable for your health and allows you to become more productive. We know that as an office worker, you often prefer working on a laptop due to its immense data-carrying capacity and portable nature.
Even though a laptop is comparatively convenient to use, and you can simply use it while keeping it on your laps, the risk of stress that a wrong posture can put on your neck and back is still high. Therefore, only a complete guide can help you avoid any health concerns while you plan your laptop desk setup. The first piece of information that can help you in this journey are the basics that will you plan an ideal laptop desk setup. So, what are the basics for an ergonomic laptop setup?
Basic Requirements for the Best Laptop Setup
Often people think that of a laptop as an all-rounder gadget and believe they will not need anything extra to support the work ergonomics, but this idea is wrong. If it is a laptop, you are not necessarily supposed to work while placing it on your lap.
This position is bad for your posture and your work ergonomics. You would have observed it yourself that you have to slouch while working on a laptop. This position can put a lot of strain on your neck and spine. In such a situation, it would be ideal for elevating the laptop on the desk. So, that means you will need a dedicated standing desk for your laptop.
But is that the only basic requirement for the best laptop desk setup? No, there are other accessories that you need, so we have shared all their details below to help you best.
Ergonomic Standing Desk
The first and foremost requirement for an ergonomic laptop setup is an electric standing desk. When thinking about the right ergonomic desk, you should definitely think of going for our SmartDesk, as this desk is crafted while keeping the work ergonomics in consideration. You can easily adjust this desk with the help of the efficient built-in motors and align it in a way that lets you maintain the best posture.
Ergonomic Office Chair
You know that you will not be working only while standing throughout your active hours, so it would be wise to invest in an ergonomic office chair while planning an ergonomic laptop setup. The best ergonomic chairs are those that you can adjust as per the requirements, so you should get the one that has more adjustment features to offer you greater flexibility.
You should ensure that your feet lay flat on the floor and your muscles are not under any stress while you work on your laptop. Having feet lying flat on the floor, your lumbar becomes neutral, and any strain on the lower spine is eliminated. All this helps you stay more active in your workspace.
Laptop Stand
An electric standing desk alone will not be enough to bring your laptop to the right height that allows you to avoid any neck strain. A laptop stand is the only accessory that will help you best in this situation. This stand helps you elevate the laptop on desk as per your requirement. The degree of elevation depends upon the users' height.
Ideally, your laptop screen's top third section should align with your eye level when you look up straight. So, you can think of adjusting the stand accordingly. If you cannot afford a laptop stand, you may think of using a stack of books to achieve the same.
Separate Mouse and Keyboard
Since you elevate laptop on desk to align it with your eye level, we advise that you should buy an external mouse and keyboard to relax your arms and shoulders while you work. In order to satisfy the work ergonomics, your wrists should be kept neutral and your elbows tucked close to your body while making a 90-degree angle with your arm. This posture helps eliminate any stress on your neck muscles and avoids rounded shoulder posture.
You may think of buying a Bluetooth mouse and keyboard to avoid the cord clutter from your work desk and keep up with the minimalism trend that promotes productivity.
Anything Else?
You can get an ergonomic laptop setup with these basic requirements, but taking care of a few minor details can help you have the best experience overall. You might be one of those office workers who find it difficult to work with a smaller screen, so you can think of installing a monitor to continue your work on the larger screen while using your laptop's keyboard and touchpad.
Working excessively can make you face burnout, and that is bad for your health and productivity. You should never miss out on your short breaks from work to re-energize yourself and continue working with the same zeal. If you still face problems with maintaining a good posture, you can think of using a posture app to correct your posture. There are various dedicated applications on Mac and PC in this regard.
In addition to all this, spending some time exercising will help you stay active and productive. At the same time, you continue working using the best laptop setup or MacBook desk setup that you have designed by using all the comprehensive guidelines that we have given above.
Video ads for product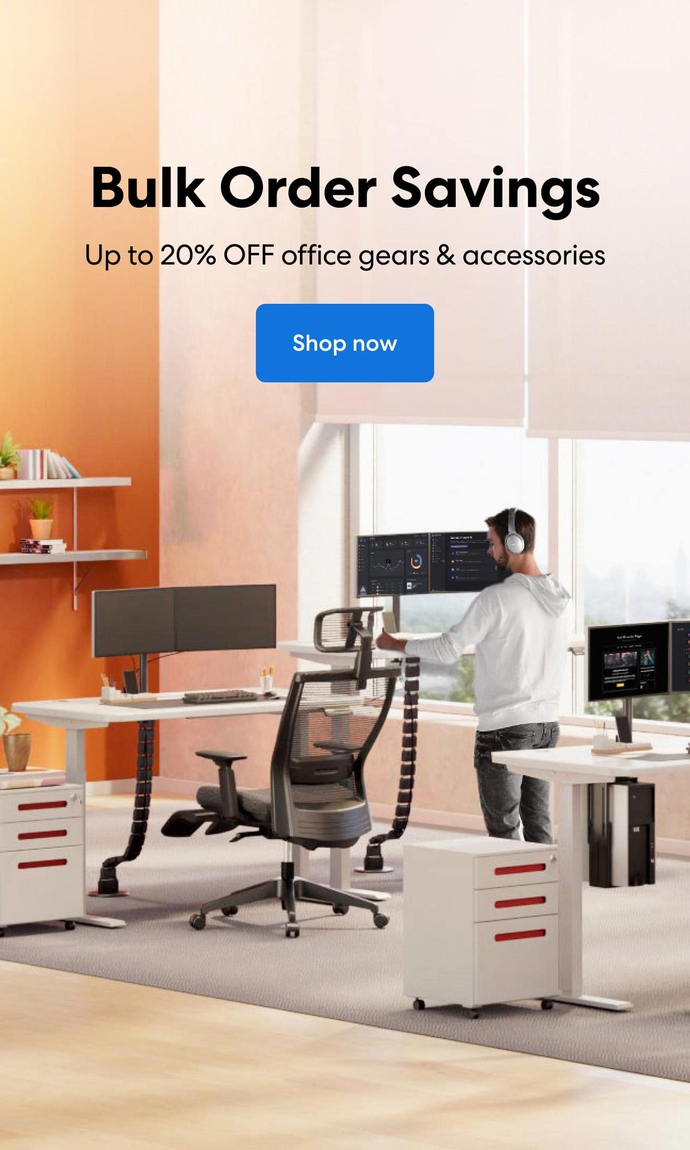 Subcribe newsletter and get $100 OFF.
Receive product updates, special offers, ergo tips, and inspiration form our team.