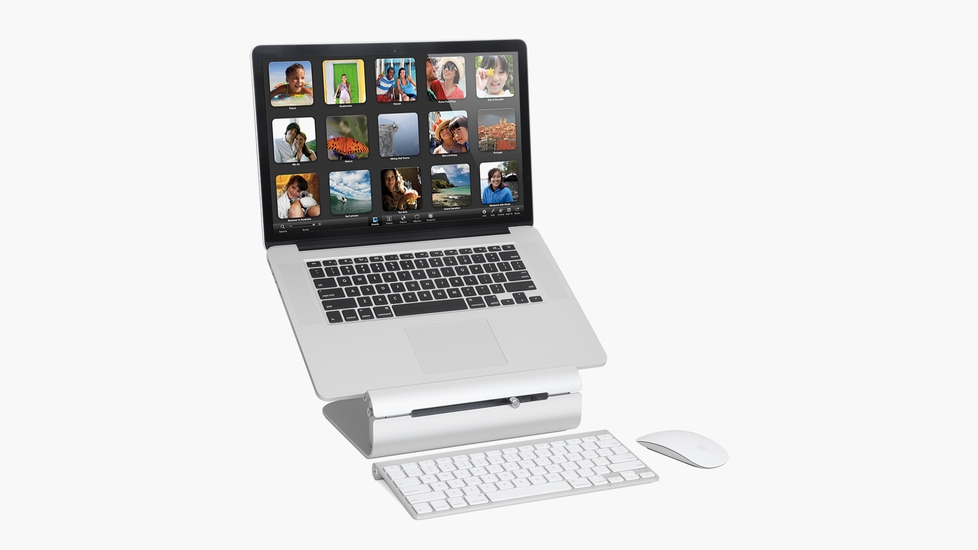 Rain Design Inc Rain Design iLevel Laptop Stand: Ergonomic
Kostenloser & flexibler Versand
GroßbestellungSparen Sie bis zu 

13%
Mich benachrichtigen, wenn dieser Artikel verfügbar ist
Geben Sie unten Ihre E-Mail-Adresse ein. Wir informieren Sie, wenn es wieder vorrätig ist.
Verkauft und versandt von Rain Design Inc

Price Match Guarantee
• Adjust height easily with front Slider and elevates the screen to eye level for better posture • Rubber pads on the stand protects your notebook and desk. • Tilt design cools laptop by helping heat escape and brings screen closer • Anodized aluminum to match with Apple MacBook. • Fits all Mac-books and compatible with most notebooks.Works best with external keyboard and mouse. • Space to stash Keyboard.
• 1-year warranty
iLevel 2 Is A Dynamic Stand With A Unique Height Adjustment Slider On The Front Panel. Drag Level'S Slider To Adjust The Screen Height To Your New Eye Level Whenever You Shift Position. Work Comfortably In A Stylish And Solid Desktop Setting.
Tief in die Spezifikationen eintauchen
Merkmale
FAQs
Spezifikationen
A laptop stand that can be adjusted in height is useful in a wide variety of settings, including the classroom, the office, and the workplace. A height-adjustable laptop stand can be a useful tool in the pursuit of better health and increased efficiency by reducing the strain on the user's neck, shoulders, and back. Putting your laptop at an angle like that may be more ergonomically sound at work, relieving strain on your neck, wrists, back, and eyes. Your laptop will last longer if you keep it at a cooler temperature. The foldable and lightweight design of this laptop desk stand makes it ideal for travel and one of the must-have office accessories. We recommend an adjustable height laptop stand at the Rain Design store. The mobility of a laptop and the adaptability of a laptop holder, like a Rain Design iLevel make it feasible to get work done anywhere, be it at home, in a coffee shop, or in a conference room. However, laptops aren't ideal for ergonomics because you can't adjust the keyboard and screen independently. As a result, people have to bend over to operate their laptops, which can create discomfort in the upper back, neck, shoulders, hands, wrists, and arms, as well as muscular strain. However, there are various work from home desk setups that would help counter this problem. The ergonomics of using a laptop can be greatly improved with the help of a Rain Design iLevel adjustable height laptop stand. The height of your laptop can be changed to put you in a more comfortable working posture. There is a wide range of modern desk accessories that help with the location for laptop support, from your desk to your coffee table to your bed.
Benefits of Using Rain Design iLevel
This aluminum laptop stand can help reduce the risk of carpal tunnel syndrome. This ailment manifests itself if there is undue stress placed on the carpal tunnel. Carpal tunnel syndrome is an entrapment of the median nerve that causes pain in the arm and hand, and it can be made worse by activities like texting, typing, and other forms of repetitive motion. If you have a repetitive stress injury, raising your wrists is a must. You can adjust the height of your laptop's keyboard with this aluminum laptop stand, making it the ideal desk replacement.
Ergonomic Improvements
You can improve your typing posture significantly by employing this adjustable height laptop stand. They recommend a closer-to-the-body stance with straight hands. Overuse injuries like carpal tunnel can be avoided by doing this. To further improve your viewing comfort, this adjustable height laptop stand can prop up your screen. In addition, you can use this standing laptop stand for desks to lessen the strain on your neck from looking down at the keyboard and then up at the screen.
No Overheating
Computer notebooks are notoriously fragile. Due to their high temperature, they can easily catch fire if left unattended. This adjustable aluminum laptop stand helps keep your laptop cool by reducing the amount of contact between your body and the heat-generating components of your laptop. Because of the heat generated, your laptop may become less efficient and run more slowly. This adjustable aluminum laptop stand by Rain Design can help keep your computer cool and operational.
Features of Rain Design iLevel
The Rain Design iLevel is a versatile stand that features a front-mounted height-adjustment slider. When you change positions, the screen will automatically adjust to your new eye level if you use the Level slider. Following are some of its features. The front-mounted slider makes it simple to adjust the monitor's height and bring it to a more comfortable eye level. The stand's rubber feet will keep both your laptop and your desk scratch-free. The laptop's screen is brought into a more comfortable viewing position, and heat is dissipated, thanks to the tilt design. Complements Apple's MacBook with an anodized aluminum finish. Designed to perfectly accommodate all MacBooks and work with the vast majority of laptops. The usage of a separate keyboard and mouse is recommended. A Place to Stow Away Your Keyboard.