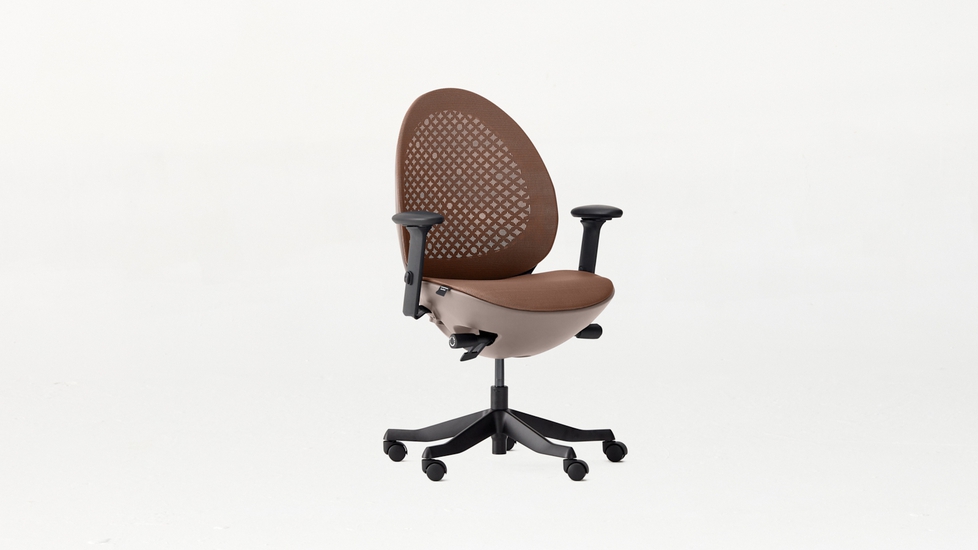 Autonomous AvoChair
- Eco Friendly Office Chair
Bought by 69 Shopify employees
FREE shipping Mar 31 - Apr 03. FREE 15-day returns.
Sold and shipped by Autonomous.
Autonomous AvoChair at a glance.
Clean, functional ergonomics. Inspired by nature and built to care for it.
• Adjustable height, armrest, back tilt and tension
• Elastomeric mesh back and seat
• Sturdy diecast aluminum alloy base
• Supports up to 300 lbs
• Manufactured from recycled materials
• 2-year warranty
Deep dive into specs
It seems like everyone is focused on helping the environment, but they also want to ensure that they have an ergonomic office chair. Therefore, eco-friendly office furniture is becoming the top trend for most people. Autonomous offers an eco-friendly office chair called the AvoChair. It offers many benefits, and today, you get to learn about them. If you've been thinking about buying an eco-friendly desk chair, now is the time. The planet needs your help, and sustainability from all products is essential. With a sustainable office chair, your company can do its part to protect Earth and call yourself a green business.
Less Toxins but Biodegradable with Natural Materials
Many times, manmade materials are recyclable. Therefore, it's important to look for a recyclable office chair. What does that mean, though? Typically, it ensures that it's made solely or mostly from recycled materials. It might even contain organic and manmade components to help you find a modern solution for sitting that promotes a healthy posture. The AvoChair by Autonomous is designed to care for nature. This environmentally-friendly office chair is made from recycled products where possible. Plus, the parts are easily broken down, and almost all of them are completely recyclable, too. That also means you don't have toxins in your home!
What Are the Features of an Eco-Friendly and Ergonomic Chair?
When you choose a sustainable office chair, you get many features and benefits. It's important to understand what those are. If you're on the verge of buying an eco-friendly office chair, now is the time!
Adjustable Armrests and Seat Height
The armrests on the AvoChair are completely adjustable. There are buttons on each side, and you can push them to lower or raise the armrests. With that, you can also slide the armrest out or in to accommodate your specific needs. The ultimate goal here is for your arms to be in a relaxed position while you are thinking or otherwise not working but sitting. Once they are in the right position, you can lock the armrests into place. Each employee can set their own preferences. This works well even if each person uses different workstations throughout the day! When you choose the sustainable office chair from Autonomous, you can change the seat height. You can lift and lower it automatically with the press of a button. Plus, it goes from 16 to 19 inches. Though it doesn't seem like much, the seat is quite large and is almost bucket-like. Therefore, the base of the chair's seat to the top is deeper. With that, it is still suitable for shorter and taller people to use comfortably.
Back Tilt Angle and Tension
Most of the time, you find an eco-friendly desk chair that's uncomfortable to sit in for extended periods. However, the AvoChair is fully customizable, and you can change the positioning at will. The back tilt angle indicates how far you can recline in the chair. There are various positions and degrees of back tilt that you can use to rest and relax when you're on the phone. Plus, you can lock it into place. Along with that, it offers the perfect amount of tension when you're reclining. Find the right preference easily and thoroughly enjoy your environmentally-friendly office chair.
Autonomous Design Concept: Gentle Waterfall Style
Most companies want to focus on green tips for the office, and that can include buying a recyclable office chair for every employee. Typically, people like eco-friendly office furniture because it's safer for Earth. However, comfort is always a must-have. The AvoChair features a new design concept to remove hard edges. This makes it safer to sit in, but it also creates visual appeal. The waterfall style means that the chair's back is straight; it goes directly out to the seat and then rolls off from there.
Spinal and Ellipsoid Arm Pad Support
For most companies, having an eco-friendly office chair matters little if the employees don't get appropriate spinal support. The AvoChair from Autonomous can assist here. It features an elastomeric mesh back, which slightly stretches to conform to the employee's body. With that, each person gets the right amount of spinal support for their needs. On top of that, you don't have that annoying back sweat problem while working. You stay cool and comfortable throughout the workday! When you choose an eco-friendly desk chair like AvoChair, you get ellipsoid arm pad support. What is that, though? The ellipsoid joint includes the wrist joint. Therefore, when you're deep in thought about how to tackle the next project, you can rest your wrists. That way, you prevent carpal tunnel syndrome and other repetitive motion injuries. Many chairs don't have padding on the armrests, which makes it more uncomfortable to relax the arms and shoulders.
Why Should You Choose Autonomous AvoChair?
There are countless reasons to choose the AvoChair. If you want eco-friendly office furniture for your business, this is a great start. It's ergonomically correct, so the employees don't hurt themselves while they work. Here are a few other reasons to consider the AvoChair by Autonomous:
Quality/Certificate and Assembly
Only high-quality materials are used to make the AvoChair. You have a molded foam interior base to sit on comfortably. Plus, the seat is made of polyester fabric. With that, there's a durable frame made of nylon plastic. The AvoChair features UL 2818 certification. This is from Greenguard and means that this is an environmentally-friendly office chair. It doesn't give off any emissions or toxins, so your home's air is fresh and clean. When you buy the AvoChair, it does require assembly. However, it's easy to do! First, you attach the armrests to the chair itself. Then, add the connector to the base, put the seat on top, and adjust it as necessary!
Trial & Warranty
Having a sustainable office chair is crucial, but you must make sure it's right for you. The AvoChair comes with a 30-day trial period. You can test it out for the employees, and if you don't all love it, you can return it! This recyclable office chair also comes with a 2-year warranty. It focuses on the TPB mesh components, mechanical and metal parts, and includes any electrical or motor components. If something shorts out or is faulty, the company replaces it at no charge to you. It's essential to have an eco-friendly office chair, but ergonomics is also crucial. With the AvoChair from Autonomous, you get both!
An Eco-friendly Office Chair
AvoChair is a sleek and functional ergonomic office chair. Its clean, minimal, flowing lines are inspired by nature and thoughtfully constructed with health in mind. It combines the manmade and the organic, for a modern sitting solution that promotes healthy posture.
Comfy and Curvy - Personalized Positioning Experience - Environmentally Friendly
AvoChair's airy elastomeric mesh back offers a great deal of spinal support as well as comfort. Its design concept was to remove any hard edges, resulting in a gentle waterfall style roll-off at the front and soft ellipsoid arm pads. The minimally designed AvoChair contains a sophisticated mechanism built into its sturdy diecast aluminum alloy base. It allows you to lock in your preferences to find the perfect reclining tension, arm position and seat height. The AvoChair is inspired by nature and built to care for it. The eco-friendly chair is manufactured from recycled materials where possible, and can be easily broken down into its component parts, nearly all of which are 100% recyclable.
FAQs
Don't see the answer to your question?
Is the seat made of cushion or mesh?
The AvoChair's seat is made of mesh for breathability, gentle touch and embracing tension.
Does the AvoChair have a lumbar support?
Even though AvoChair does not offer a particular cushion/ part called lumbar support, this eco-friendly office chair is designed with a delicate, elegant back curve that holds and supports your posture nicely.
What body height range does the AvoChair support?
Our environmentally friendly office chair - AvoChair, supports the body height range from  4.9 ft to up to 5.75 ft thanks to the height adjustable feature.
How much the AvoChair's backrest can tilt?
This eco-friendly desk chair can tilt as much as 25 degrees. You have as many spaces as you want to ạdjust.
Heard you say AvoChair is an eco-friendly office chair, why?
Hi, we call AvoChair an environmentally friendly office chair because it gets UL 2818 - 2013 Gold Standard for Chemical Emissions for Building Materials, Finishes and Furnishings, which means the chair is manufactured from recycled materials, nearly all of the components are 100% recyclable.