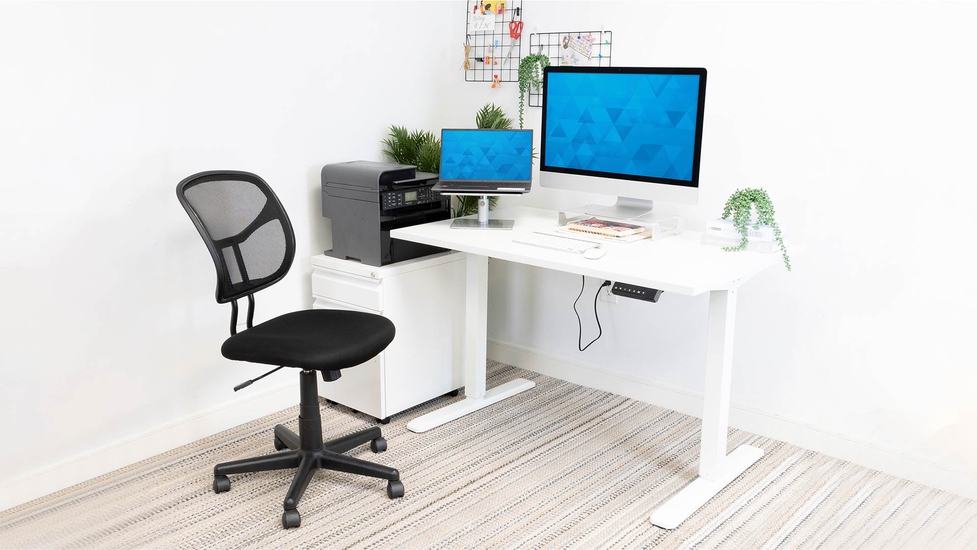 Mount-It! Compact Desk by Mount-It!: Sit-Stand Reminder
1 Review
Visit our store
$548
Livraison gratuite et flexible
Acheter maintenant
Ajouter au panier
Livraison gratuite Sep 30 - Oct 02
Vendu et expédié par Mount-It!
Fonctionnalités principales
• Motor: Single motor height adjustment • Height range: 29.7" to 49.4" • Width adjustment: 39.4" to 63" • Tabletop Dimensions: 47.5" W x 29.5" D x 1" H Weight Capacity: 176 lb
• 10-year warranty
The sit-stand desk with electric motor elevates your workstation anywhere between 29.7" to 49.4" - allowing you to get out of your chair without interrupting your workflow or productivity.
Plongez-vous dans les spécifications
Caractéristiques
Spécifications
FAQs
Commentaires
5.0
The ability to do anything you want at your office is typically associated with a minimalist lifestyle. Workers that work from home do so for a variety of different reasons. As long as they fulfill the deadlines for their assignments, they may create their own timetables. It is necessary to set up an effective workstation for a minimalist worker in order to be productive. They might take advantage of color psychology and how a white sit-stand desk can change your working style for their standing workstations. Mount-It! white electric sit-stand desk is here to the rescue. After all, It's worth the effort to put in the practice time and adopt some minimalist office design ideas for productivity. This small white standing desk by Mount-It! is the most common option for remote employees. Increasing numbers of parents are homeschooling their children, and this has made it imperative for youngsters to feel at ease and productive during the school day. To get the most out of your workday, you'll want to be able to alternate between standing and sitting on your Mount-It electric standing desk.
A Look into Compact White Electric Sit-Stand Desk By Mount-It!
Three height presets may be customized on the sophisticated touchscreen control panel and standing desk timer, allowing you to store your preferred sitting and standing heights. For maximum ergonomic advantages, they have also incorporated a stand up desk timer that reminds you when to sit and stand up, and they are best for small spaces. Dual electric motors make high load capacity and seamless height adjustment possible. To ensure your safety and the life of your equipment, they're also thermally and overload protected. In order to prevent any harm, the system uses integrated sensing to identify both soft and hard objects in the route of movement.
Think of white as a canvas for your standing desks in terms of color psychology. Having a white electric sit-stand desk, such as this compact desk by Mount-It! is an excellent method to de-stress. You can bring out the color in your plants or paintings with a little creative flair. When you paint your walls white, you bring out the ambient light in your space and keep it from becoming too gloomy. Since darkness makes it harder to find things, you should work in a well-lit environment. Additionally, this standing desk timer has a more refined appearance. A tidy attitude is required since you have to keep a close lookout for dust and filth. Maintaining a tidy workspace helps you develop a more disciplined approach to your job. However, beside this, one of Autonomous' most well-known products is the SmartDesk Core. It's a white standing desk that can be adjusted in height and has a smooth transition between the various positions.
Mount-It! Compact Desk: Sit-Stand Reminder
With a single push of the button and fatigue is gone. This Mount-It! white electric sit-stand desk allows you to move about and keeps you comfortable, you can ward off eye strain, back, and neck discomfort, and ailments such as carpal tunnel syndrome. You can work when and how you want. 63" is the maximum width that may be achieved by extending the width from 39.5". Using a quiet, smooth electric motor, the standing desk timer may be raised and lowered from 29.7" to 49.4". A wide range of floor surfaces may be accommodated with adjustable feet.
Elevate your workspace with this Mount-It! white electric sit-stand desk, which has three settings and allows you to move out of your chair without disrupting your production. There's a built-in timer to optimize the ergonomic advantages that tells you when it's time to begin moving. Maintain a healthy level of physical activity. This stylish and simple to use by Mount-It! small white standing desk will help you burn more calories as you work plus improve your posture.