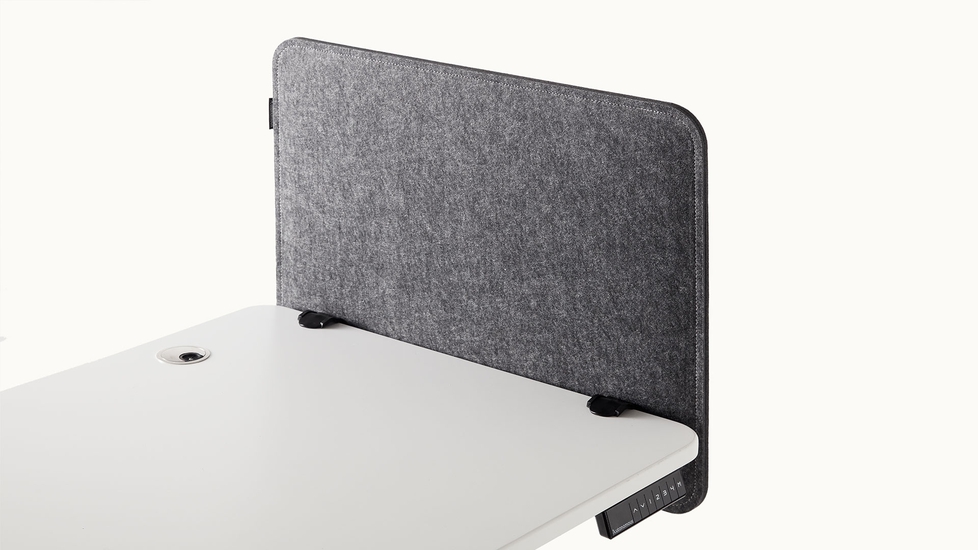 Working from home?
Obtenir des prix spéciaux
This easy-to-install Privacy Panel gives you a seperate, silent working space in a snap. It can also be used as a memory board for notes or personal decor.
Expédié sous 2 jours ouvrés
|
Livraison gratuite
& 30-le jour revient.
Faites-le payer à votre entreprise
Nous pouvons transmettre cette commande à un contact de bureau et demander le paiement en votre nom.
Économisez jusqu'à 10 %.
Achetez plus, économisez plus
Quantité
Prix unitaire ($)
| Quantité | Prix unitaire ($) |
| --- | --- |
Privacy Panel en un coup d'œil.
• 100% recycled PET
• Sound-absorben
• Flame retardant
• Easy to clamp onto a surface
• 1-year warranty
Plongez-vous dans les spécifications
While working on a standing desk station, all you desire is the element of privacy in your workstation. You want to focus more on your tasks and keep yourself at a distance from other colleagues to concentrate more on your tasks. A privacy panel is the standing desk accessory that you desire for actually. Office desk privacy panels separate you from other colleagues and help you work more vigilantly. As an office worker, you often get distracted by the person who is working next to you and think of the right desk setup ideas to avoid this distraction. Desk privacy panels keep you more focused, thus boost your productivity. A more attentive, productive, and the focused worker is loved by every employer.
Autonomous Privacy Panel
The Autonomous Privacy Panel is designed while keeping all that in mind. Boost your productivity and attention span with Autonomous Privacy Panels. Designed using 100% recycled materials, the Autonomous Privacy Panel is a sound-absorbent panel that can be clamped vertically onto your desk's edge to separate you from the person sitting next to you.
Dimensions
This mini wall consists of a 21-inch high front panel 47-inch wide and a smaller 27.5-inch side panel that together helps you make a personalized corner where you can work in peace. Since these 1.37-inch and 0.47-inch thick panels are 8lbs and 5lbs, respectively, it won't be much difficult to carry and clamp them to your desk. In addition, the assembly is quite simple; even the newbies can do it.
Material and Pricing
Stitched by three fiberboards of recycled PET material, the grey monotone privacy panel absorbs 85% of background noise, providing you a peaceful corner to work in. What is to be noted here is that the Autonomous privacy panels do not isolate you from your environment completely. Instead, provide you a relatively quiet workplace that is much better for your productivity. The fiberboards are sturdy enough to hold your important pinned memos and notes without experiencing any damage.
Shopping Autonomous Privacy Panel for Your Workspace
When buying the Autonomous privacy panel, you have two options; either pay full at once or pay in installments. In either case, your money is completely refundable within the 30-day free trial period, where you can return the privacy panels if you find them unsuitable for your desk. Overall, the Autonomous privacy panel's shipping and design are pretty simple. Once you receive your shipped order, all you need to do is tighten the clamp to your desk's edge, it's that simple!
FAQ
Vous ne voyez pas la réponse à votre question ?
Quelles options de panneau de confidentialité proposez-vous?
Nous proposons 2 options: Panneau latéral et Panneau frontal que vous pouvez fixer à votre bureau et utiliser instantanément. 
Quelles couleurs de panneau de confidentialité je peux choisir?
Nous proposons une seule couleur pour les panneaux latéraux et frontal: gris foncé. C'est une couleur monotone et haut de gamme qui convient à tous les styles de bureau. 
Quelles sont les dimensions des panneaux latéraux et avant?
Le frontal est: 119cm de longueur x 53cm de largeur x 1,2cm T
Le lateral est: 70cm de longueur x 53cm de largeur x 1,2cm T 
De quoi le panneau est-il fait pour absorber le bruit?
Tous nos panneaux sont cousus (non collés) par 3 panneaux de fibres de polyester recyclé qui rendent le produit extrêmement solide. 
Qu'est-ce que le coefficient de réduction du bruit? Qu'est-ce que le coefficient de réduction du bruit signifie pour votre panneau de confidentilalite?
Un coefficient de réduction du bruit de 0 signifie que le produit n'absorbe aucun son. Un coefficient de réduction du bruit de 1 signifie que le produit absorbe tous les sons. Notre panneau de confidentialite a un coefficient de réduction du bruit de 0,85, ce qui signifie que vous pouvez toujours profiter de votre endroit calme et privé sans vous isoler de l'environnement. 
Les panneaux sont-ils assemblés?
Il vous suffit de serrer le panneau sur votre bureau à l'aide de colliers déjà assemblés au panneau de fibres. Il vous faudra moins de 5 minutes pour configurer votre panneau de confidentialité. 
Puis-je coller ou épingler mes mémos sur le panneau de confidentialité? Cela va-t-il réduire la qualité du produit?
Bien sûr, vous pouvez coller et épingler des mémos, des images, des notes, etc. sur le panneau, sans affecter la qualité du produit lui-même. Notre panneau de confidentialité est conçu pour cet usage. 
Livrez-vous dans le monde entier?
Nous expédions actuellement partout aux États-Unis. La livraison internationale est en cours, nous vous tiendrons au courant quand nous le pouvons! 
Dois-je payer les frais de port lors du retour par essai gratuit de 30 jours? Comment fonctionne le retour?
Nous sommes heureux de couvrir les frais d'expédition si vous demandez un retour avant la fin de votre période d'essai de 30 jours.