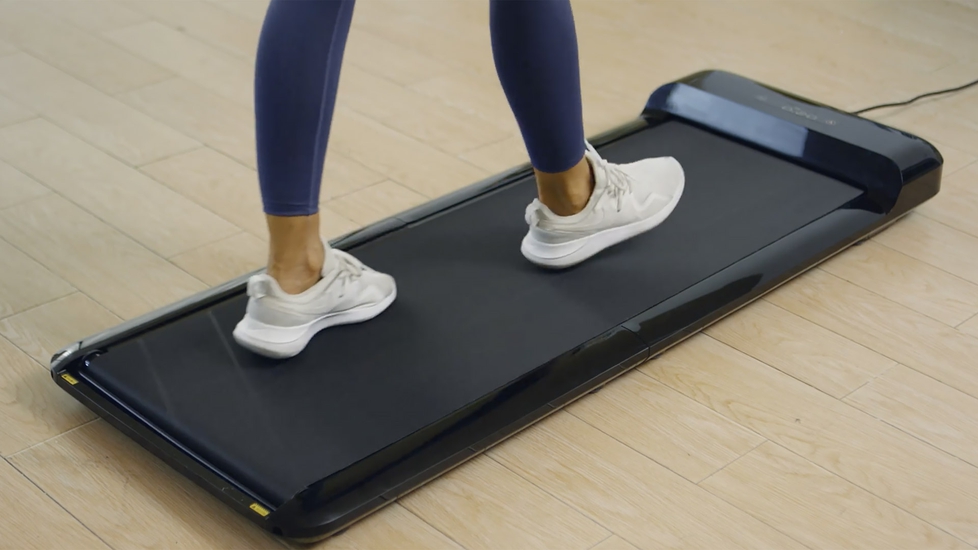 Walkingpad Foldable Walking Treadmill C2
Sold and shipped by WalkingPad. Visit our store
Versand nach Dec 01
.
Kostenlose Rückgabe am 30 Tag
Entsperren Sie Geschäftspreise mit geschäftlicher E-Mail
Auf Lager
Secure payment
Laden Sie es Ihrem Unternehmen in Rechnung
$381.06
Walkingpad Foldable Walking Treadmill C2 auf einen Blick.
This foldable, compact, smart and easy-to-store walking treadmill by Walkingpad makes it easy to take a light workout with you anywhere.
• Patented foldable technology
• 4-layer structure
• Smart connection
• Foot-sensing speed control
• 1-year warranty
Tief in die Spezifikationen eintauchen
WalkingPad C2 Foldable Walking Treadmill
Would you like to go out for walks more often but feel like you never have time to do so? Then the WalkingPad C2 Foldable Walking Treadmill will become your best friend! Thanks to its compact and foldable design, you will be able to walk for as long as you'd like, no matter where you are. In addition, it is one of the best and most innovative office treadmills available in the market, thanks to the various features it comprises. Thanks to this foldable treadmill walking pad, you will be able to lead a more active lifestyle. It is equipped with convenient controls and features, which you can take advantage of even when you're working on your daily responsibilities.
What is a foldable walking treadmill?
A foldable under desk treadmill is exactly what it is – it is an indoor walking machine that fits in only 775in². Plus, the foldable design makes it easy to move and store in pretty much any place you can find. In addition, the integrated scroll wheel will make it even easier for you to move it from one place to another.
Benefits of foldable treadmill walking pad
There are different reasons why using the WalkingPad C2 Foldable Walking Treadmill can be quite convenient and beneficial for you, especially if you're an office worker. Here we describe all the benefits associated with this treadmill. Use your phone, remote, or feet to control it. You can easily control the WalkingPad C2 Foldable Walking treadmill by using your phone. You can get the free-to-download app and configure your workout session to whatever you feel is convenient at the moment. The app will give you clear information about the results of your workout routine, including how many steps you took or the calories you're burned. Additionally, you can also opt for using your feet or the remote control to configure your workout sessions. It is quite convenient, and either of the three control options can be used at any time, allowing you to use the option you feel more comfortable with based on the context. Auto-adaptive speed. The WalkingPad C2 Foldable Walking Treadmill is constantly monitoring your pace and will adapt the settings based on your current speed. The treadmill will maintain a constant rate if you step into the middle zone. On the other hand, the upper half will accelerate the speed, while the lower area will slow down the pace. Therefore, you can easily walk in the correct area to modify the speed with your feet.
Lead a more active lifestyle
As an office worker, you spend several hours sitting behind a desk. However, opting for alternatives is now possible, allowing you to prevent the struggles of sitting for too long, such as weight gain or lower back pain. Thanks to the WalkinGpad C2 Foldable Walking Treadmill, you will be able to walk while you're being productive. It can be a meaningful change in your life, but you'll enjoy the benefits that come with walking every day. Several studies have found that walking on a daily basis can help you reduce joint pain, especially if you have arthritis or similar conditions. Walking every day will also boost your immune system, allowing you to be protected against common diseases like the flu. Even if you get sick, it'll be for a shorter period compared to those that don't walk so often. It can have a positive effect on your mental health. For example, studies have found that going out for walks for at least thirty minutes can help you improve your mood and ease the symptoms of anxiety or depression. Even if it's walking, physical activity can help you lower your blood sugar. Although the research is still in its early stages, it is clear that walking for a few minutes every day will help you be in good shape in the long term. There are diverse reasons why including the best foldable treadmill for walking within your home gym equipment can be quite beneficial. If you think that your job consumes too much of your time and you're unable to look after your health, simply including this treadmill in your workstation can help you look after your health. It's now possible to be healthy and be productive simultaneously!
Häufig gestellte Fragen
Sie sehen die Antwort auf Ihre Frage nicht?
Can I use this treadmill on the carpet?
No. This is not recommended to use on carpet.
How can I connect to the app?