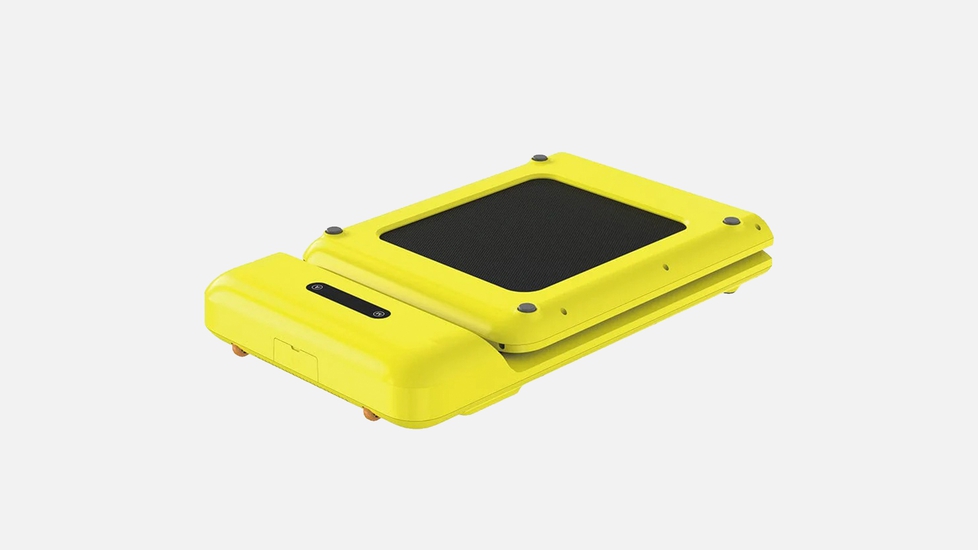 Walkingpad Foldable Walking Treadmill C2
166 Bewertungen
Visit our store
Kostenloser & flexibler Versand
GroßbestellungSparen Sie bis zu 

9%
Color:

Not available

Not available

Not available

Not available

Not available
Jetzt kaufen
In den Warenkorb legen
Kostenloser Versand Dec 13 - Dec 15 KOSTENLOSE 30-tägige Rückgabe.
Verkauft und versandt von WalkingPad

Price Match Guarantee
Walkingpad Foldable Walking Treadmill C2 auf einen Blick.
This foldable, compact, smart and easy-to-store walking treadmill by Walkingpad makes it easy to take a light workout with you anywhere.
• Patented foldable technology
• 4-layer structure
• Weight Capacity up to 220lbs
• Speed Range: 0.3 - 3.7mph
• Smart connection
• Foot-sensing speed control
Tief in die Spezifikationen eintauchen
Merkmale
FAQs
Spezifikationen
Bewertungen
4.7
WalkingPad C2 Foldable Walking Treadmill
Would you like to go out for walks more often but feel like you never have time to do so? Then the WalkingPad C2 Foldable Walking Treadmill will become your best friend! Thanks to its compact and foldable design, you will be able to walk for as long as you'd like, no matter where you are. In addition, it is one of the best and most innovative office treadmills available in the market, thanks to the various features it comprises. Thanks to this foldable treadmill walking pad, you will be able to lead a more active lifestyle. It is equipped with convenient controls and features, which you can take advantage of even when you're working on your daily responsibilities.
What is a foldable walking treadmill?
A foldable under desk treadmill is exactly what it is – it is an indoor walking machine that fits in only 775in². Plus, the foldable design makes it easy to move and store in pretty much any place you can find. In addition, the integrated scroll wheel will make it even easier for you to move it from one place to another.
Benefits of foldable treadmill walking pad
There are different reasons why using the WalkingPad C2 Foldable Walking Treadmill can be quite convenient and beneficial for you, especially if you're an office worker. Here we describe all the benefits associated with this treadmill. Use your phone, remote, or feet to control it. You can easily control the WalkingPad C2 Foldable Walking treadmill by using your phone. You can get the free-to-download app and configure your workout session to whatever you feel is convenient at the moment. The app will give you clear information about the results of your workout routine, including how many steps you took or the calories you're burned. Additionally, you can also opt for using your feet or the remote control to configure your workout sessions. It is quite convenient, and either of the three control options can be used at any time, allowing you to use the option you feel more comfortable with based on the context. Auto-adaptive speed. The WalkingPad C2 Foldable Walking Treadmill is constantly monitoring your pace and will adapt the settings based on your current speed. The treadmill will maintain a constant rate if you step into the middle zone. On the other hand, the upper half will accelerate the speed, while the lower area will slow down the pace. Therefore, you can easily walk in the correct area to modify the speed with your feet.
Lead a more active lifestyle
As an office worker, you spend several hours sitting behind a desk. However, opting for alternatives is now possible, allowing you to prevent the struggles of sitting for too long, such as weight gain or lower back pain. Thanks to the WalkinGpad C2 Foldable Walking Treadmill, you will be able to walk while you're being productive. It can be a meaningful change in your life, but you'll enjoy the benefits that come with walking every day. Several studies have found that walking on a daily basis can help you reduce joint pain, especially if you have arthritis or similar conditions. Walking every day will also boost your immune system, allowing you to be protected against common diseases like the flu. Even if you get sick, it'll be for a shorter period compared to those that don't walk so often. It can have a positive effect on your mental health. For example, studies have found that going out for walks for at least thirty minutes can help you improve your mood and ease the symptoms of anxiety or depression. Even if it's walking, physical activity can help you lower your blood sugar. Although the research is still in its early stages, it is clear that walking for a few minutes every day will help you be in good shape in the long term. There are diverse reasons why including the best foldable treadmill for walking within your home gym equipment can be quite beneficial. If you think that your job consumes too much of your time and you're unable to look after your health, simply including this treadmill in your workstation can help you look after your health. It's now possible to be healthy and be productive simultaneously!
About Walkingpad Foldable Walking Treadmill C2
Walking on a treadmill is a terrific method to enhance overall health and fitness, and there are numerous benefits to utilizing a treadmill at home or the office. Having a walking treadmill at home or at the workplace makes regular exercise more accessible, which is good for the heart, the body, and the mind. Using a treadmill or a standing desk treadmill is an excellent way to get in shape and lose weight. At-home treadmill benefits both one's mental and emotional health, which are often overlooked in the office. The monotony of the office treadmill may be quite relaxing and contemplative, making it an excellent tool for mental decluttering. In addition, the feel-good endorphins you get from going out can make you feel better, decrease your anxiety and despair, and even help you sleep better. For office workers, an under-desk walking treadmill can be a life changer.
About The WalkingPad
The WalkingPad walking treadmill is a cutting-edge piece of exercise technology that makes it simple to get in a short workout everywhere you go. This office treadmill's innovative folding design makes it convenient to travel and store. The treadmill's 4-layer construction was made to offer a secure and long-lasting surface for walking. Additionally, the WalkingPad treadmill boasts smart connection capabilities, allowing you to link it to your smartphone or other smart devices to track your progress and monitor your workout. The treadmill's speed can be automatically adjusted to your walking pace thanks to the foot-sensing speed control function, making for a more natural and intuitive workout. This WalkingPad treadmill comes with a 1-year warranty, so you know you're getting a high-quality item that will last in your home gym or workplace.
What To Look For When Purchasing A Treadmill?
You should seek a treadmill or work treadmill that folds up or is otherwise compact and easy to store if you live in a small place or work in a cramped office. Look for a treadmill with a strong motor and a fast top speed if you intend to use it for high-intensity or running exercises. However, if you only plan on using the treadmill for walking or light running, you may be OK with a work treadmill with lesser motor power and maximum speed. Try to choose treadmills with several inclination settings, and ensure the elevation can be adjusted easily and smoothly. However, an under-desk walking treadmill may not have this feature. A high-quality deck and belt will be more durable and less prone to wear out over time and give a more pleasant walking or running experience. Purchasing a treadmill is a big deal, so you should verify that the seller will be there for you if you run into any issues.
How To Protect Your Walking Treadmill?
Because purchasing a walking treadmill represents a large financial commitment, it is important to safeguard the machine from deterioration and accidental damage. The following are some precautions you may take to safeguard your walking treadmill: A treadmill mat helps prevent your treadmill from becoming dinged up or scratched as you work out. It will shield the treadmill's engine and moving parts from dirt and grime. Maintaining the treadmill's functionality and preventing damage requires regular cleaning. Use a moist towel to wipe out the treadmill's running belt and deck and clear the surrounding space of dust and dirt. Lubricating the running belt can reduce friction and wear, shortening the treadmill's lifespan. The belt should be lubricated every few months; most treadmills provide instructions on how to lubricate a treadmill. For optimal performance and to extend the treadmill's life, a flat surface is essential. The treadmill's leveling feet should be used to ensure that it is set up on a level surface. Treadmills are sophisticated and useful pieces of equipment that require regular servicing per the guidelines provided by the manufacturer or distributor. Some examples of maintenance are adjusting the belt tension, cleaning and lubricating the moving parts, and securing any loose nuts or bolts, as mentioned above.