Smart Products
Top 10 Standing Desks with Treadmill Combo for 2023
2,737 Views
When did you ever imagine that you would be reading about a stand-up desk with a treadmill? Typically, these are two things that you don't necessarily associate with each other, especially considering that you're talking about the office space. 
However, as new research comes to light and innovations continue to be made, you see this and other cool ideas that can contribute to a much more comfortable and healthier time spent working and getting a workout in. 
So, that makes this the perfect time to discuss the combination of an office treadmill with an office desk. 
Bear in mind that there are technically two ways to achieve this union of creations. First, there is what is known as the best treadmill desk. What you get here is a treadmill with a desk attached, allowing you to essentially kill two birds with one stone. 
In other words, as you are walking or running, you can use the tabletop surface to get your work done. This means that you don't have to worry about carving out time to handle both work and exercising on your treadmill independently, since you're going to be doing both. 
Of course, the overarching challenge here is that multitasking is technically not a real thing, since what you're doing is cutting the amount of focus you can give each task. 
Nevertheless, there are multiple benefits to explore with this kind of standing desk.  
Another type of treadmill that is potentially a better idea is a standard under desk treadmill, which you can purchase along with a typical smart desk.  
It may seem less convenient initially but carving out a designated time for work and having your treadmill be present is way better for staying focused. 
Even if you want to do both things at the same time, your under desk treadmill can accommodate this, even though you're using a desk that takes advantage of a fully standard capacity. 
Typically, walking treadmill desks don't offer the largest surface area in the world. Many of them are only suited to a laptop and nothing else. 
Why You Need a Treadmill for Your Standing Desk?
Why would you even need an office treadmill? When you think about your workspace and the office equipment you need, exercise machinery is probably the last thing that comes to mind. 
Well, the first justification has to do with your physical health and well-being. Your body is technically made for movement, which means standing or sitting for long periods can have detrimental long-term effects. In fact, this explains why so many people are suffering from chronic pains. 
Sit-stand sessions indeed help, but they do not necessarily compare to the kind of movement you can get out of even simply walking on a treadmill. 
It's a good idea to take breaks from your work every so often and spend some of the time leisurely walking along your treadmill. 
Next, usually when you combine two such things into a single purchase, you find that you spend less on the combination. Who knows? Maybe you were interested in a treadmill and an office desk before. 
Now, you can obtain each at a bargain. What do you have to lose?
You can consider this the end of the introductory section as it's time to jump into some of the standing treadmill desk workstation choices out there for you. 
Best Standing Desk with a Treadmill
Working for hours can get very stressful, and can have adverse effects on your physical health. You wouldn't notice, but you'll be gaining some extra pounds slowly and gradually.
So to avoid getting bulky, there is a need of finding a solution, so that work and fitness can go hand in hand. Let's look at our list of the best standing treadmill desks, and look at the amazing advantages they offer. So let's read on to find out!
1. Autonomous SmartDesk Core & WalkingPad Treadmill C2
The combinations are incredibly unique as they take two of the best standing desks on the market and combine them with solid treadmill options from other manufacturers. 
First, there's the Autonomous SmartDesk Core that features a solid steel frame, electric dual motor, generous height adjustment range, and four programmable keypad settings. We tried out the Autonomous SmartDesk Core which is a standing treadmill desk and found the combination of productivity and fitness features impressive. The desk has a height range of 29.4 to 48 inches, making it suitable for many users. Its programmable keypad allows you to save up to 4 custom heights.
This goes hand in hand with the foldable WalkingPad Treadmill C2, with its four-layer structure, foot sensing speed control, patented four-layer technology, and smart connection. The WalkingPad Treadmill C2 is compact and lightweight, fitting easily under the desk. Its quiet motor lets you focus on work without any disturbance.
There's even an app that you can use to exercise control over the generously sized treadmill that goes up to 3.7 mph.
Pros
Easy to assemble with convenient programmable settings.
Suitable for a wide range of users with a generous height range
Certified for safety and strength.
Cons
The WalkingPad Treadmill C2 is sold separately.
2. Autonomous SmartDesk Pro & WalkingPad Treadmill A1 Pro
The next combination puts together the Autonomous SmartDesk Pro and the foldable WalkingPad A1 Pro treadmill. The WalkingPad Foldable Walking Treadmill A1 Pro is a smart and compact treadmill with patented foldable technology. It has a four-layer structure for maximum comfort and is equipped with a brushless motor with a speed range of 0.3 - 3.7 mph.
The A1 Pro has a remote control, foot-sensing speed control, and a WalkingPad KS fit app for IOS and Android.
The desk features generous height adjustment, an upgraded dual motor that's more powerful and quieter, better load capacity, multiple tabletop size selections, as well as other outstanding specs. 
The foldable treadmill also has a generous weight capacity, remote control, its own app, foot sensing speed control, and comfort features designed to enhance your experience. 
Pros
Takes up minimal space when folded
High weight capacity of up to 230 lbs
It provides a low-impact workout option
Cons
3. Fully Jarvis Treadmill Desk
Fully Jarvis is known for its office furniture, which makes it no surprise that the manufacturer managed to build a design that has found its way on this list. This is a standing treadmill desk and not one of the combination units. 
Therefore, you are going to be using an under desk treadmill with a standard Fully Jarvis table design, which encourages the kind of separation that is conducive to a greater focus. 
This stand-up desk with treadmill is designed to promote an active lifestyle while working. It features a high-quality treadmill integrated into a sturdy desk, allowing users to walk and work simultaneously. The desk is fully adjustable, accommodating users of various heights and providing ample workspace.
The treadmill allows for a maximum weight of 400 pounds, which should be more than enough for anyone in the office space. The treadmill has a maximum speed of 2 mph, making it suitable for light walking while working. The desk also has an LED display showing distance, time, and calories burned. 
One of the real drawbacks that has resulted in this unit's low placement on the list is the fact that it happens to be one of the shortest treadmills available. 
Nevertheless, it achieves what it sets out to do, and you're getting an adjustable standing desk with memory presets to boot. At least you can be happy about the tabletop space that you are getting, as it should be more than adequate.
Pros
Helps users stay active, promotes better health, and reduces sedentary behavior.
It also allows for adjustable desk heights and offers a quiet and powerful motor.
Cons
Can be expensive compared to a traditional desk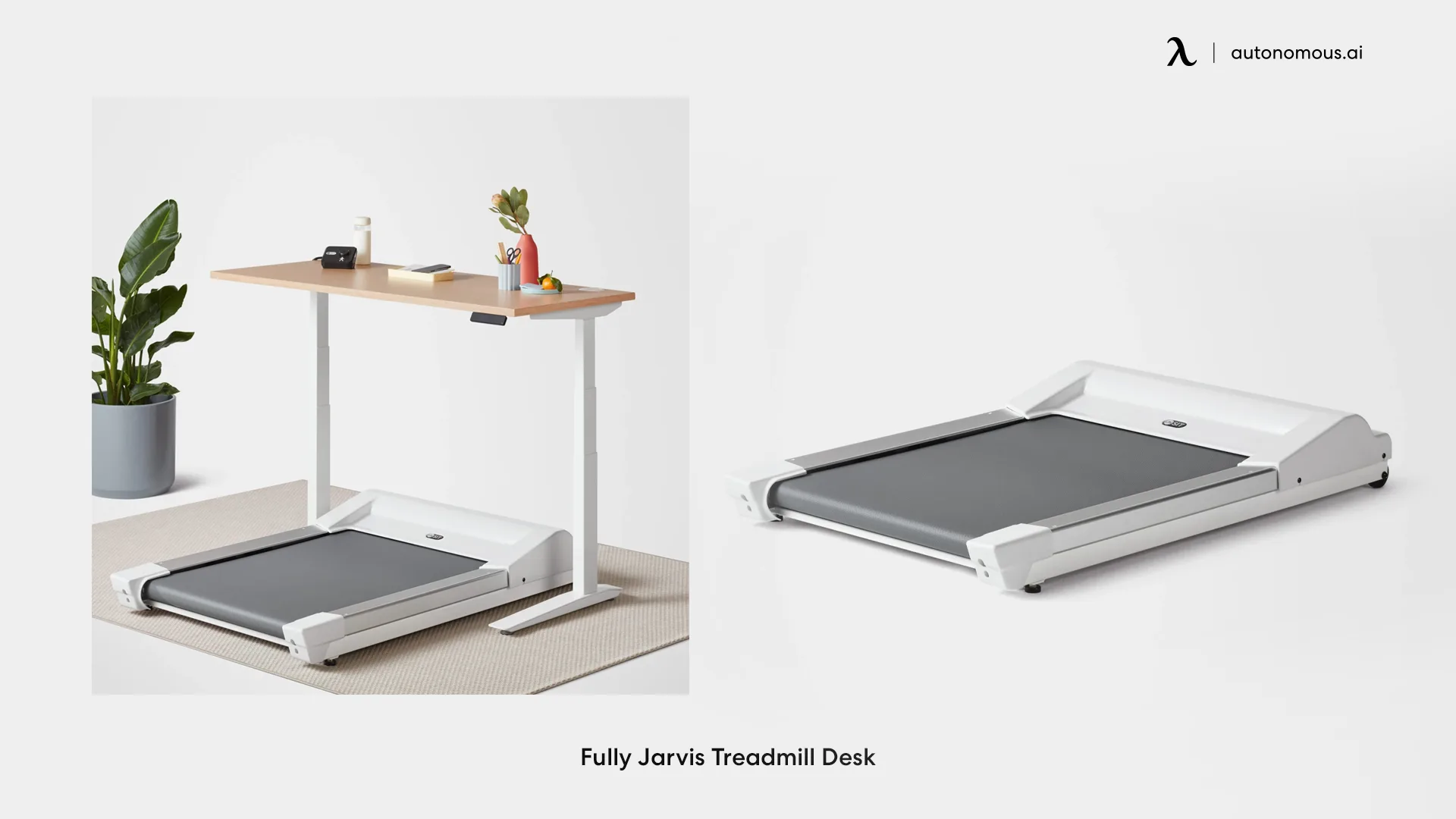 4. Costway HP 3-in-1 Folding Treadmill
The idea of purchasing the best treadmill desk can be incredibly intimidating from a price standpoint. Therefore, the idea here is to provide you with a budget unit that prevents you from having to break the bank. 
As a team of reviewers, we had the opportunity to test the innovative 3-in-1 treadmill, which combines the benefits of a treadmill, walking machine and working machine. This treadmill is perfect for home (and office use); the large and sturdy acrylic tabletop allows for multitasking while exercising. 
This is where Costway comes in with its design that happens to be able to handle up to 220 pounds of weight. There's a small acrylic tabletop included that you can easily remove when you want the unit to function as nothing more than a treadmill. 
The powerful 2.25 HP motor and 5-layer running belt provides a quiet exercise experience, and the speed can be adjusted from 0.5 to 7.5 miles per hour using the control board or remote control
Apart from that, you can get some work done on the said tabletop, provided that you are using a laptop to do so. Costway also includes a phone holder to make your experience that much more convenient. 
Note that the treadmill includes an LCD, allowing you to see details about your distance, calories, steps, time, and speed. Additionally, there is probably value in mentioning that you get a remote control to help you adjust your speed and other parameters. The treadmill also features a safety lock for emergency braking.
Pros
Quiet motor for a noise-free exercise experience
Large and sturdy acrylic tabletop for multitasking while working out
Easy to move and store
Cons
Limited weight capacity of 220 lbs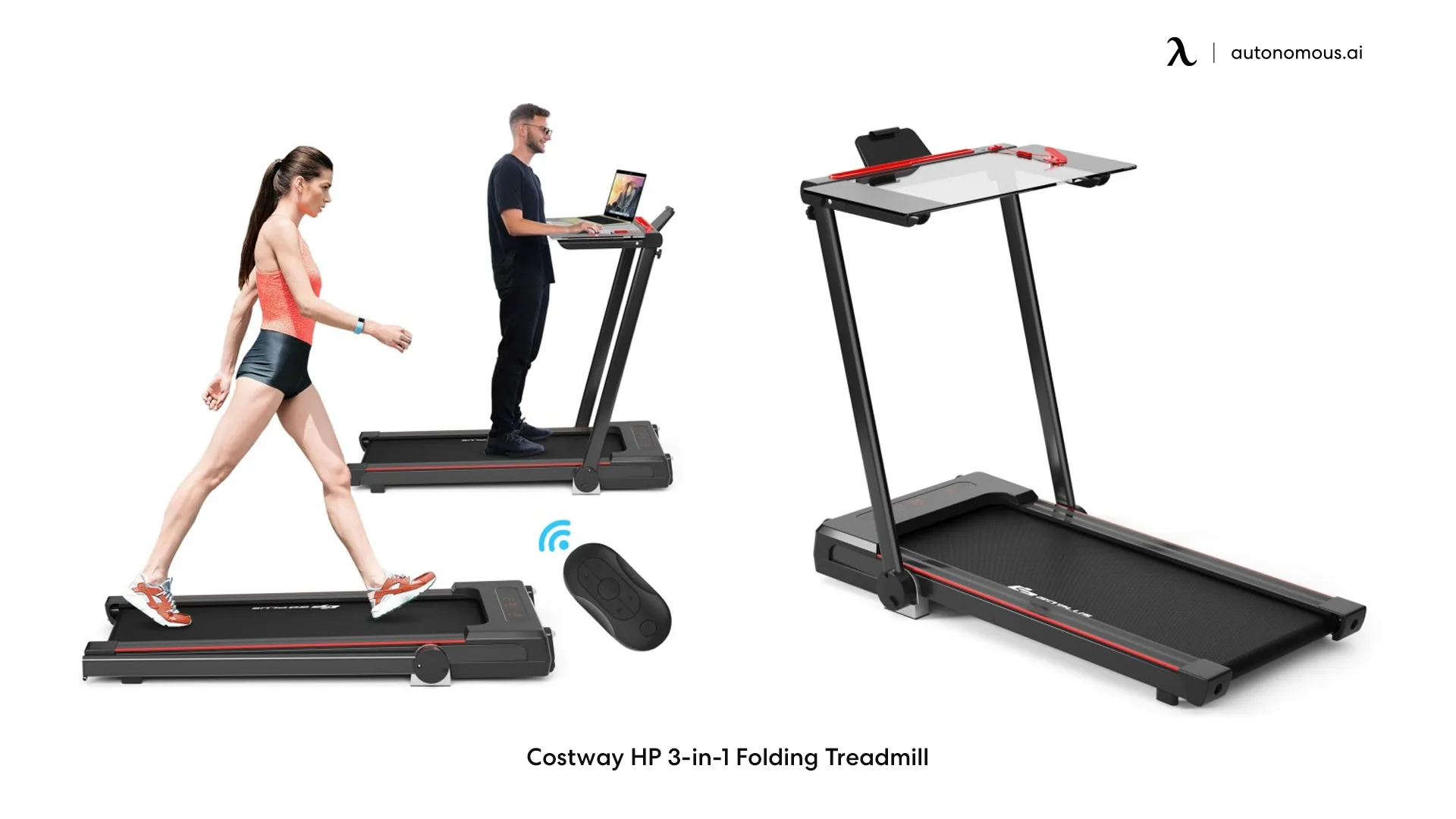 5. NordicTrack Treadmill Desk
This is another combination unit with a respectable tabletop space, though it's not necessarily the largest in the world. The NordicTrack standing treadmill desk is a fantastic piece of equipment that enables you to get in some cardio as you get some work done. The large desk space and iFit fitness equipment make it simple to work out thoroughly while maintaining productivity.
This stand-up desk with treadmill is great for walking and gentle jogging, with a maximum speed of 6 miles per hour. One of its claims to fame is being able to reach up to 8 mph on its platinum model, which goes beyond the typical 2 to 4 mph on most desk-based builds. The heart rate monitor is a fantastic addition for individuals who want to keep track of their progress and the 2.6 CHP drive system ensures a smooth and steady training experience.
If you are looking to be able to separate the tabletop from the treadmill here, you're going to find that one a bit difficult, as such an option is not offered. 
Like the previous model, this one folds and stays out of your way when you're not using it if you want it to. 
As far as the desk is concerned, it can be a manual or electric height adjustable desk, depending on the configuration that you choose. Note that as durable as this unit may look, it's not built to handle everyday use. 
Pros
iFit training technology provides personal trainer-designed workouts
It has a heart rate monitor
Good warranty on different parts.
Cons
Deck length not tall enough.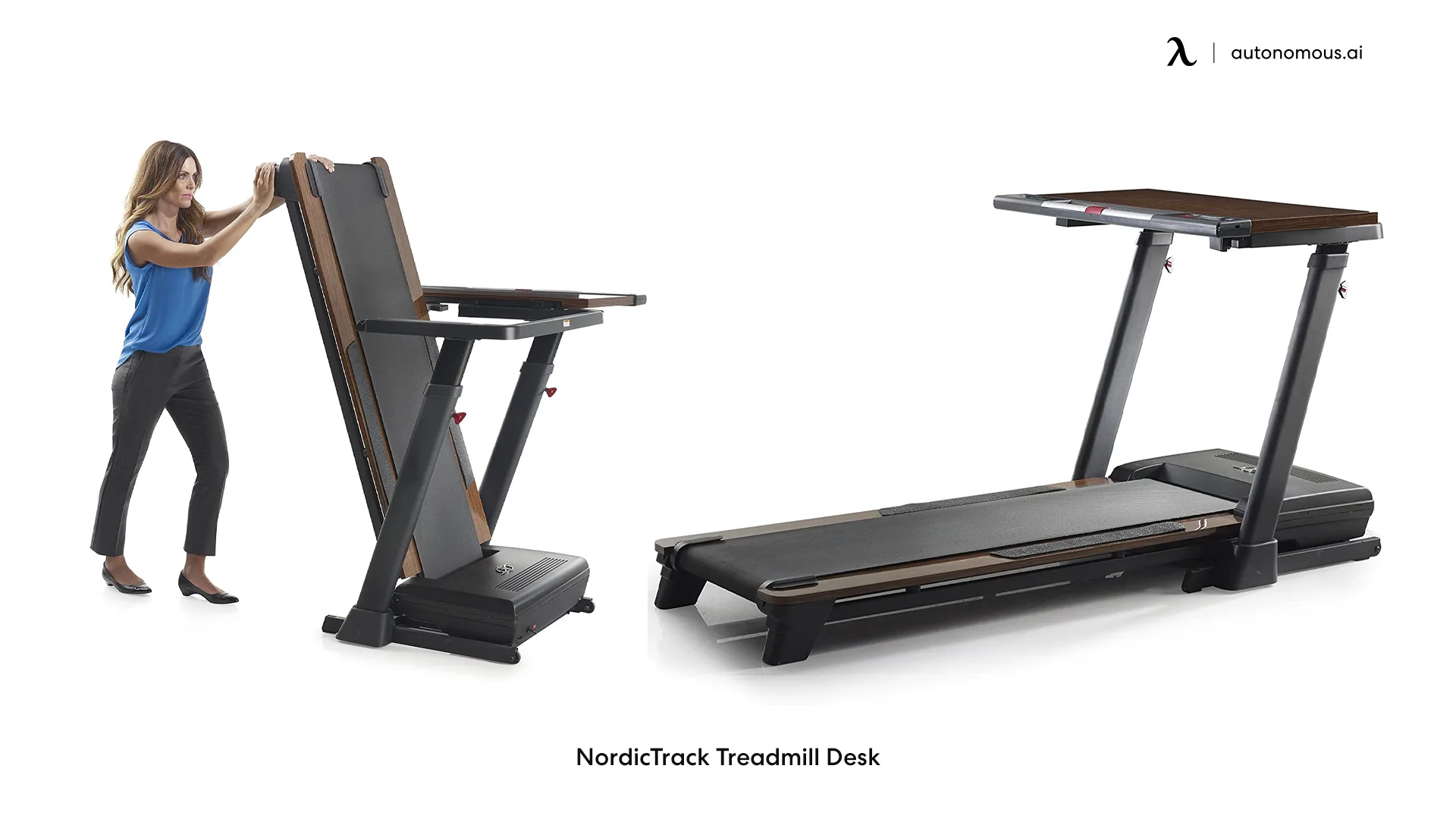 6. iMovR Cascade Treadmill Desk
Again, you have a standing treadmill desk here, offering you the usual benefits associated with one of the separated design options. Like Fully Jarvis, iMovR is not an unknown name in the world of office furniture, especially where standing desks and converters are served. 
Therefore, the combination here sees a standard iMovR adjustable standing desk combined with a ThermoTread GT treadmill. There are even a keyboard tray and a monitor arm included, which create quite the package. 
The iMovR Cascade standing treadmill desk is an excellent investment for those looking to improve their health and productivity at work. It combines a high-quality treadmill (the Thermotread GT) with a stable standing desk (the Cascade). The desk is customizable, with 5 tabletop sizes and 12 colors available, and the base legs come in 3 colors.
This stand-up desk with treadmill has a lifetime warranty on the steel frame, 10 years on the desk's electronics and motor, and 5 years on the tabletop.
With all that said and the fact that you have an easy-to-use touchscreen display along with a sturdy design, why does this one fall so low? 
First, it only goes up to 2.5 mph, which is not such a bad thing in itself. However, this option constitutes a very expensive purchase, and the unit is very noisy at its maximum speed. 
Pros
The desk is highly customizable.
The treadmill has an anti-collision sensor that prevents abrupt starts and stops.
The desk has several warranties.
Cons
Standard shipping is $249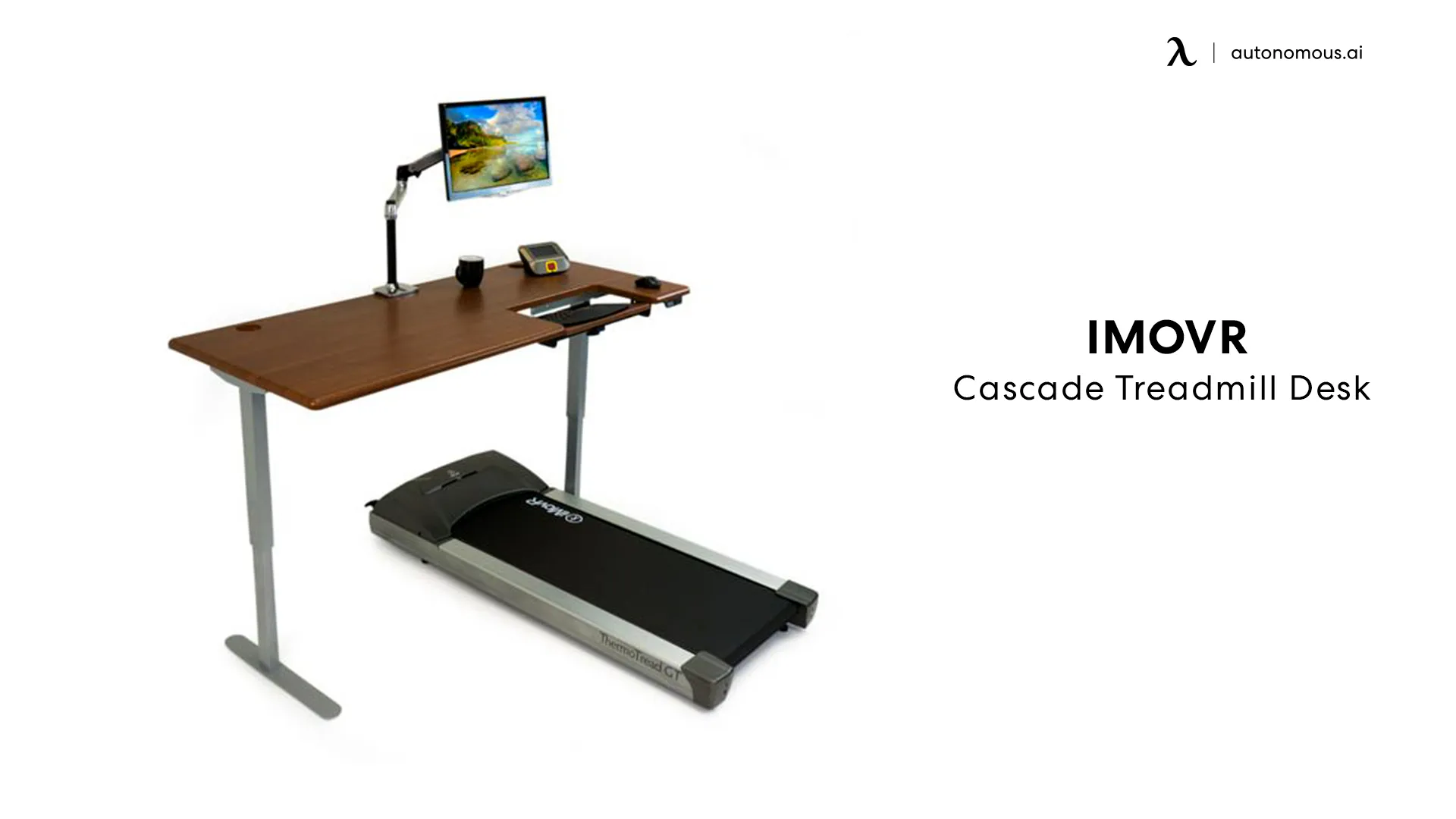 7. Lifespan TR5000-Omni
Lifespan has three different designs that fall under this standing treadmill desk, and what you're looking at here is the highest end of the three. Its claim to fame is the fact that it can handle daily use, even in a commercial space if it were to be used by multiple people almost consistently.
This premium-quality treadmill desk is designed to offer maximum comfort and convenience for users. The desk has a spacious work surface that accommodates laptops, books, and other work materials.
It's a combination design, which means that it features a relatively small tabletop. Not many of these builds can boast a self-lubricating feature. The desk also features an intuitive console that displays vital workout metrics, including time, distance, and calories burned. The TR5000-Omni has a weight capacity of up to 400 pounds and is built with high-quality materials that guarantee durability and longevity.
By default, it only goes up to two mph, but you do get the ability to adjust it up to four, which is a very welcome design decision. It's an incredibly durable model, and it even features an adjustable height.  
Note that when you're making your purchase, you have one of three desk choices. You can opt for no desk, a manual height adjustment, or an electric height adjustment. 
You should note that this is another model that's on the noisier side of things as you increase the speed.
Pros
It is easy to set up and use.
The desk's console provides real-time feedback.
The treadmill operates smoothly and quietly.
Cons
This stand-up desk with a treadmill is relatively expensive.
8. Funmily Folding Treadmill Desk
This desk is an affordable and versatile option for users who want to stay active while working. The desk features a compact, foldable design allowing users to store it in small spaces easily.
This is one of the faster models on the list, as it can reach up to 7.5 mph. Funmily offers a combination design with the usual small tabletop that can accommodate not much more than a laptop. 
Two convenient cupholders are included, which should make for a comfortable experience, and one that allows you to keep yourself hydrated without having to walk back and forth whenever you want a drink. 
Additionally, there is a tablet holder too if you use one during your workday. There are even Bluetooth speakers included, allowing you to pair your phone if you feel like going into full workout focus mode during your break. 
The LCD built-in means you can keep track of the various parameters indicating how well your walking is going. The Funmily Folding Treadmill Desk has a weight capacity of up to 220 pounds and is built with high-quality materials that ensure durability and longevity.
Pros
Easy Assembly
Real-time metrics are available.
The treadmill operates silently.
Cons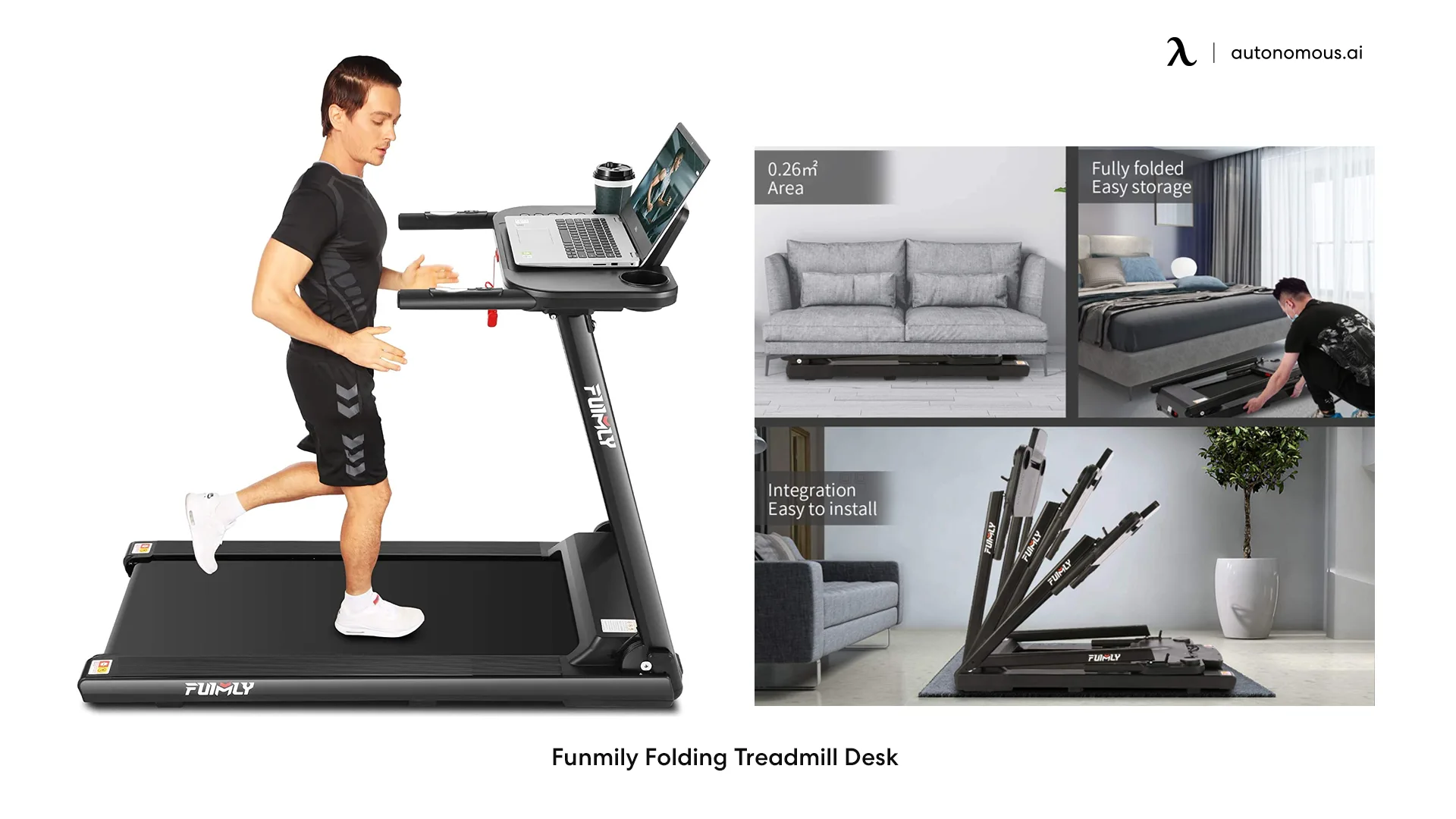 9. BiFanuo Folding Treadmill
If you're short on storage space but still want to get in your workouts, the BiFanuo Folding Treadmill is the way to go. The maximum speed is 7.5 mph, and the 2.25 HP engine allows for a wide range of programs.
The biggest selling point here is most definitely the extremely compact size. It's a combination design and does not necessarily require a huge financial investment for those who may want to get their hands on one.
Arriving fully assembled is another big plus, which means all the guesswork is eliminated. At a maximum speed of 6.5 mph, you can get a decent workout out of this one. It's a folding unit too, meaning it easily gets out of your way when you're not using it. 
It's equipped with a tablet holder and an LCD screen that displays data like your pace, distance, duration and calories burned. It also contains a safety key you can attach to the clothes to stop the machine. The treadmill can hold up to 220 pounds and folds up for easy storage.
A phone holder is included, as is a Bluetooth speaker for pairing and musical enjoyment. The BiFanuo standing treadmill desk is more suited to tight spaces where you cannot accommodate anything too large. 
Even as you approach the maximum speed, the motor in this one is incredibly quiet, making for a treadmill experience that happens to not be distracting.
Pros
Compact and foldable
Tablet holder included
Easy to assemble
Cons
The machine may not be suitable for taller users.
10. InMovement Unsit Treadmill Desk
The InMovement Unsit Treadmill Desk is a treadmill with a desk attached to it, making it perfect for those who want to work and exercise simultaneously. It has a powerful 2.25HP motor that can support speeds up to 4 mph and has a quiet operation.
This InMovement design comes highly recommended, thanks to its generous weight capacity and its quiet operation. It's a standing treadmill desk instead of a combination design.
The treadmill is wide, and it's also short enough to not be a nuisance but long enough to not feel uncomfortable. You can feel the heavy-duty commercial-grade materials that were integrated into the design, which means that this one is quite durable. 
Potentially the only downside is the fact that it goes no more than 2 mph, but the big workspace, automatic shutter feature, Bluetooth syncing, and digital display more than make up for it.
Pros
Can accommodate a laptop and other items
It comes with a 3-year warranty
Large weight capacity
Cons
The price may be too high for some users.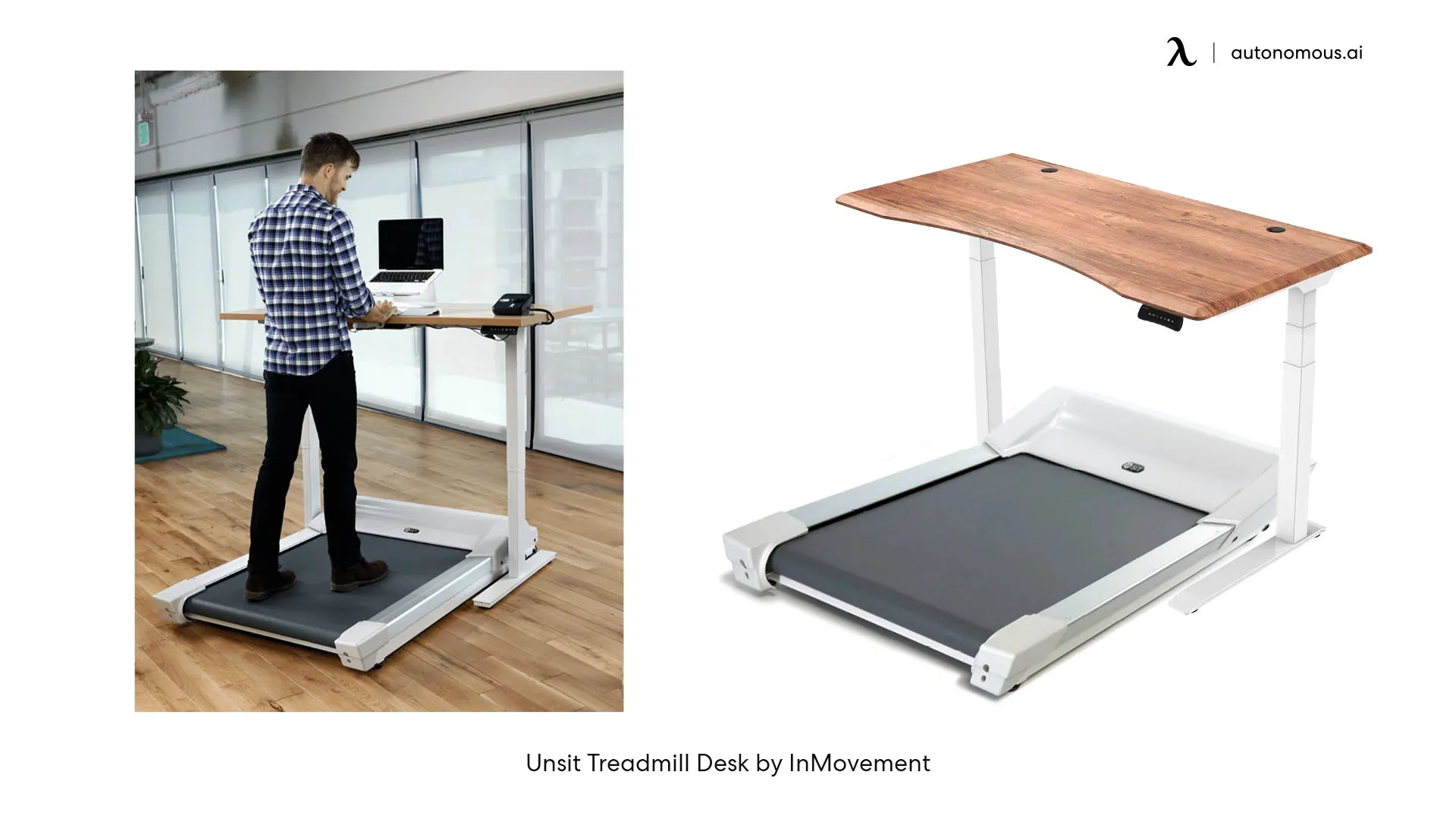 Final Remarks
Now, the concept of the best treadmill desk should no longer feel too foreign to you. Additionally, when you consider the insights provided about each unit above, picking out the best under desk treadmill should be barely an inconvenience. 
The question is what do you prefer? Is it the separate desk and treadmill design that appeals to you or are you more leaning towards the site the side of the combination style? 
At the end of the day, the choice is yours and it heavily depends on the kind of workflow that you prefer.
Subcribe newsletter and get $100 OFF.
Receive product updates, special offers, ergo tips, and inspiration form our team.
WRITTEN BYAutonomous
We build office products to help you work smarter.