Stepping treadmills are an excellent method to improve your wellness without compromising performance, so it's no surprise that perhaps the concept of "moving while you keep working" appeals to most of us who telework. Barrel balls and gymnastics wristbands don't permit you to multitask while enjoying some much-needed workout, but combining a good office fitness treadmill with a computer workstation lets you work effortlessly. Adopt an under-desk treadmill if you've already desired to freshen things up at your workplace and introduce a little extra movement to your usually lethargic day. You can get a job completed while transitioning your body if you put something under your workstation, such as a treadmill for a standing desk. While using the best office treadmill to exercise does not substitute another type of training, it is an excellent approach to develop healthy habits because moving trumps sitting.
The quietest desk treadmill will permit you to work out easily, so you won't bother your colleagues, and they're sleek enough even to fit beneath your desktop or storage areas when not in use. If you are wondering what is the best desk treadmill, you should read on because this article includes some of our top selections for the best office treadmills because then you can walk your way throughout the day.
List of 10 Best Office Treadmills
We've compiled a list of our top picks for the finest underneath desktop walkers to help you maximize your daily pedometer and cardio activity while working in a confined space. These may also be used to play games or view YouTube videos, making it a great option for anyone trying to enhance their protracted wellbeing on standing desks with the treadmill.
1. SmartDesk Tread by Autonomous x Treadly
This is a professional treadmill for under a desktop for any home office, with a lightweight, foldable trainer and a sleek freestanding desk. This best office treadmill can comfortably support up to 270 pounds. A fusion Treadly treadmill desk is the right choice for anyone who wants to work out while doing their jobs.
2. Office Treadmill by Treadly
This is also an easy-to-carry foldable treadmill that you may use in a professional or personal setting. It's a small treadmill that's ideal for teleworking. It should be incorporated as the most profound home gym equipment everywhere. This company also has more amazing options, such as the Treadly 2 slim treadmill.
3. The Lifespan Model-TR1200-DT3 Treadmill
It is amongst the most commonly used devices in their home working collection, and it's created to support solitary individuals or collectives for up to 6 periods. It contains six influence shocks to assist in reducing loudness when stepping, as well as an automated pause when you move off the gadget, ensuring both protection and a quiet atmosphere for receiving calls.
4. Sunny Health and Wellness Walk station Treadmill
It is the most affordable alternative in our collection, and it includes a slew of functions to compensate for its cheap rate. With an installed screen to indicate your footsteps, carbohydrates burnt, miles walked, and speed of movement, the machine arrives completely installed and ready to use right out of the box.
5. The iMovR Thermo-Tread Office Fitness Treadmill
This is one of the most durable products and best office treadmills on the market, with a maximum user mass of 350 pounds. The machine also has a computer capacitive touch control console for easy usage while functioning and several compressed pulses beneath the bearing surface to provide joint support while strolling workouts.
6. TR800-DT3 Lifespan Treadmill
It is one of the best office desk treadmills to use. It's an excellent choice for everyone who regularly uses a standing desk and wants to incorporate a few little activities onto their normal schedule. It includes a dashboard with a USB power connector so you can charge your devices or phone.
7. The In movement Unit beneath Workstation Treadmill
It is operated by a dial controller that links to your cellphone via software, providing for simple, yet another adjustment. Those who use alternative fitness platforms can move this app's info to those other wellbeing apps like Google Health or Zumba.
8. The WalkingPad A1 Advanced Treadmill
This treadmill is stylish and functional, with different sporting modes. You can independently manage the machine with a little control then use the best office treadmill Fitness Application to change the velocity, timing, running pace, and calorie expenditure in one of the modes recommended for beginners. The treadmill speed varies by how swiftly you're strolling.
9. WALKINGPAD P1 Clever Workplace Treadmill
Look no farther than WALKINGPAD P1 Clever Workplace Treadmill if you're searching for an extremely sleek treadmill that can slide underneath the chair once your job is done. Despite its small size, it can attain a speed of up to four kilometers per hour. Despite the relatively small size, it is built of steel material and has a robust frame. Moreover, its whisper-quiet operation is ideal for use in a business.
10. Goplus Multi-Function Folding Treadmill
If you want to get a desktop computer treadmill for the least amount of money, this under-desk strolling treadmill seems to be the one for you. When the railing is dropped, it speeds 2 to 3 miles per hour, and if it is raised, it speeds up to 9 miles an hour. It features a simple assembly, a designed Wireless Bluetooth speaker, a cellphone holder, and a navigation system for speed adjustment. It has a collapsible form with constructed rollers for easy transportation and storage.
Conclusion
A treadmill workstation is an excellent way to get more exercise into your workplace. The workout has been shown to boost memory and concentration capabilities by increasing the synthesis of neurotransmitters in the brain and expanding the number of neurons in the brain.
When looking for the best office treadmill, keep in mind that the features can be mixed and matched. Your standup desk should operate with an under-the-desk stepper as provided since it has a high clearance and no bumpers for further assistance. We've compiled a list of our finest under-desk treadmills to simplify your task easily. And thus, a treadmill also remains an important part of home gym essentials.
Video ads for product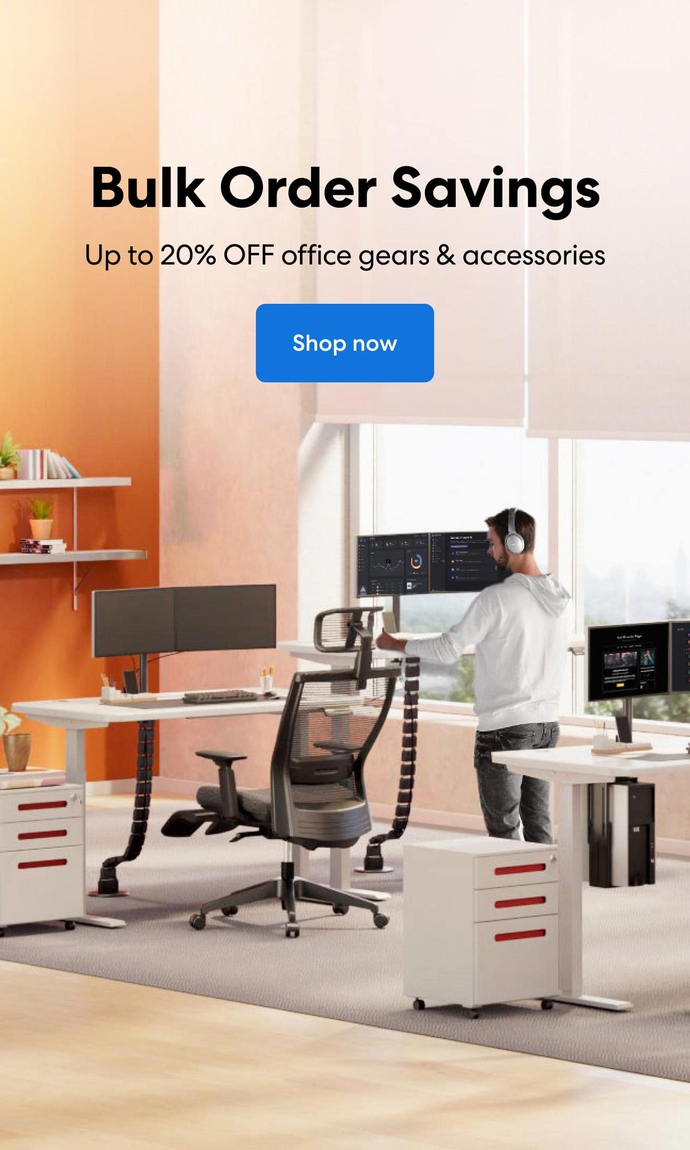 Subcribe newsletter and get $100 OFF.
Receive product updates, special offers, ergo tips, and inspiration form our team.