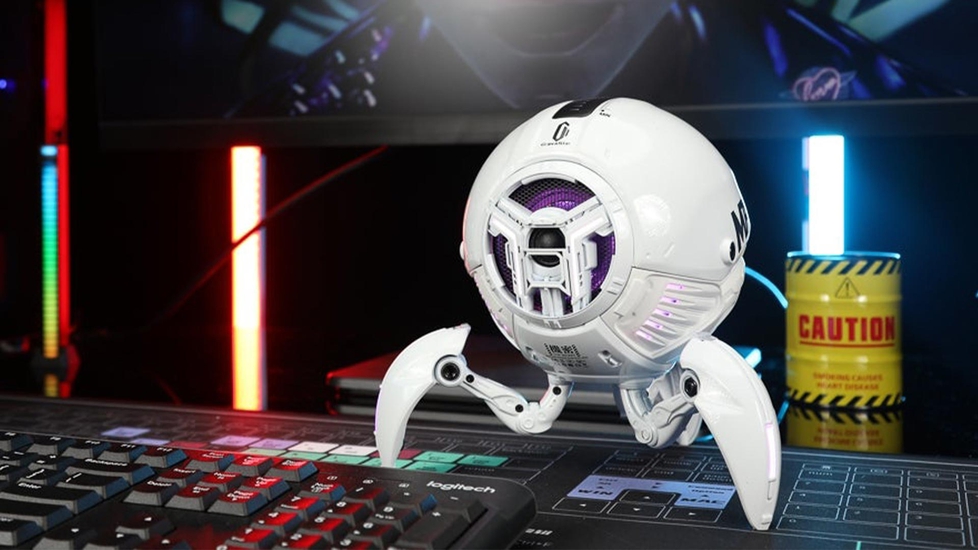 Gravastar Mars Pro Bluetooth Speaker
63 Bewertungen
Visit our store
Kostenloser & flexibler Versand
GroßbestellungSparen Sie bis zu 

20%
Color:
Not available

Not available
Jetzt kaufen
In den Warenkorb legen
Kostenloser Versand Dec 06 - Dec 08 KOSTENLOSE 7-tägige Rückgabe.
Gekauft von 20+ Edgemont Capital Partners L. P. Mitarbeiter.
Verkauft und versandt von GravaStar

Price Match Guarantee
Gravastar Mars Pro Bluetooth Speaker auf einen Blick.
This cybertastic compact unit with dual speaker system and passive bass radiator projects massive sound. Pair 2 Mars Pro speakers via TWS Bluetooth for a truly immersive experience.
• Crafted from zinc alloy
• 20W dual full-range speakers
• 6 RGB Lights with 3 lights modes
• Sensitive touch volume control
• Bluetooth 5.0
• 15-hour battery life
Tief in die Spezifikationen eintauchen
Merkmale
FAQs
Spezifikationen
Bewertungen
4.9
Gravastar Mars Pro Bluetooth Speaker – High-quality sound and décor
Every item in your aesthetic gaming setup is part of your décor. Thus, no item should go unnoticed while you're at it, even if it's about your speakers. If you want to keep your workstation as stylish as ever, the Gravastar Mars Pro Bluetooth speaker is a good option. This device is a dual-speaker system with a passive bass radiator that's capable of offering high-quality sounds. Furthermore, Its TWS Bluetooth technology will allow you to keep your workstation as free of clutter as possible. It will become a key piece of your RGB gaming setup, thanks to its peculiar design.
What is an RGB Bluetooth speaker?
An RGB Bluetooth speaker combines everything you like from a regular TWS speaker with the best RGB lighting. This device provides high-quality sound while also being part of your room décor, allowing you to keep your battlestation as stylish as ever. You will be able to choose from three light modes and configure the six RGB lights the device has integrated. Thus, you will be able to set it up based on your preferences. You can be sure that it will be a good fit in your current gaming setup. Immersive sound experience with a good aesthetic. The Gravastar Mars Pro Bluetooth Speaker is one of the most innovative Bluetooth speakers TWS available at the moment. You can change the color quickly if you tap the lighting button, allowing you to explore the six settings until you find what works best for you. This RGB Bluetooth speaker is an excellent addition to any gaming setup due to its RGB effects and excellent sound quality, especially in stereo. This speaker is an excellent choice if you want to bring a more futuristic approach to your workstation. Compact but powerful. The Gravastar Mars Pro Bluetooth speaker is small enough for you to carry it easily. Combined with the long battery life, you can be sure that it will accompany you during your greatest moments. Keep a USB-Cable with you, and you'll be able to enjoy it at any moment.
Why you should choose Gravastar Mars Pro
Despite being a compact device, it has an excellent sound capacity and provides an exceptional experience from the first use. However, you should get to know more about the Gravastar Mars Pro Bluetooth Speaker.
Futuristic aesthetic - Portable design: At first look, this futuristic Bluetooth speaker looks like an alien device or the Hall of Doom from Injustice. This unique approach leaves a lot to your imagination while allowing you to integrate it with your gaming setup, no matter what décor you prefer. The RGB lighting will make it easier to match your preferences. You can fold in and out the legs of the Gravastar Mars Pro Bluetooth Speaker whenever you need to transport it. Combined with its compact size, you will be able to carry it anywhere and listen to your favorite tunes wherever you are. It is one of the best gaming setup accessories you can choose.
Up to 15 hours of battery life - High-quality sound: This bluetooth speaker 5.0 can continue emitting high-quality sound for up to 15 hours. However, you can also opt for using a USB-C cable to connect it to other devices. Regardless of the option you choose, the device will provide precise and high-quality audio. You will be able to enjoy an immersive experience while playing your favorite games. This bluetooth speaker 5.0 grants you access to plenty of volume options. It is capable of playing diverse musical genres accurately while leaning more to the bass. It has an excellent sound definition that will accompany you during gaming sessions or whenever you're listening to music. Besides working perfectly in a battlestation, it can pretty much work as a party Bluetooth speaker TWS due to its powerful sound. Don't be fooled by its compact size – it is more powerful than you imagine!
About Gravastar
Gravastar is a company founded in 2019. Besides engineers, the team is also composed of artists, gamers and music lovers to bring high-quality devices with interesting and cool designs. The company describes its work as "audio engineering art". Each device by Gravastar has diverse small details that will make you fall in love. Most of Gravastar's devices work as functional speakers and collectibles. The Gravastar Mars Pro Bluetooth speaker has a futuristic design that matches any gaming setup. It's the perfect choice to bring your gaming to the next level.