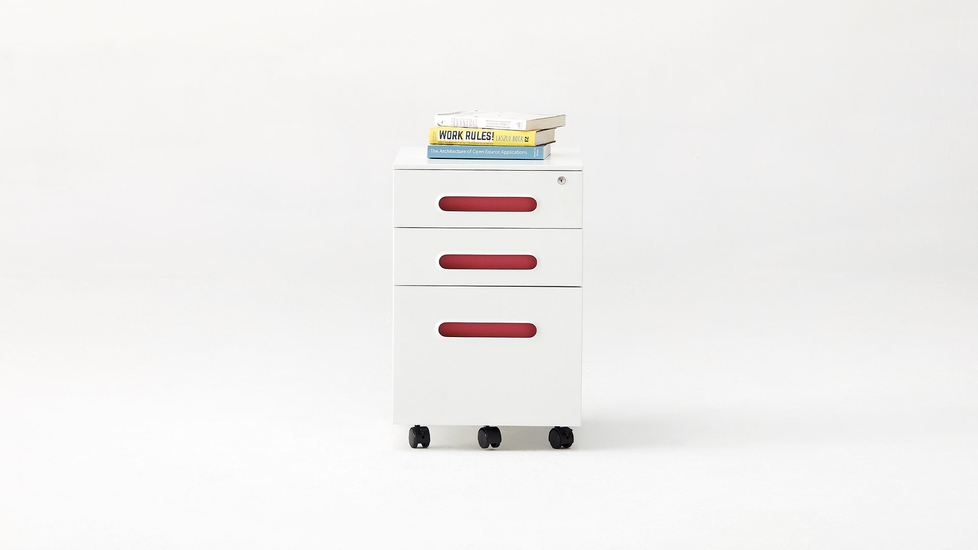 48 Bewertungen
Kostenloser & flexibler Versand
Begrenzte Zeit
GroßbestellungSparen Sie bis zu 

7.5%
Cabinet Color:

Not available

Not available

Not available

Not available
Jetzt kaufen
In den Warenkorb legen
Kostenloser Versand Dec 04 - Dec 06
Gekauft von 218+ hk.pwc.com Mitarbeiter.
Verkauft und versandt von Autonomous
Filing Cabinet auf einen Blick.
Passt perfekt unter Ihren SmartDesk und in Ihren Arbeitsplatz. Geräumige Schubladen für all Ihre Geräte, Akten und Papiere, mit einem Schloss, um alles sicher aufzubewahren.
• 3 Schubladen
• Anpassbare Trennwände
• Hergestellt aus massivem Stahl
• Anti-Rost-Beschichtung
• Abschließbare Schubladen und fixierbare Räder
• Trägt bis zu 125 kg
• 1-year warranty
Tief in die Spezifikationen eintauchen
Merkmale
FAQs
Spezifikationen
Bewertungen
4.8
How You Select a Filing Cabinet
Are you looking for additional storage space for your home office or office? As you explore various options, we are sure you see the benefit of an Autonomous Filing Cabinet. Need storage space for your office files? Well, you have various options that range from a desk drawer, chest of drawers, filing cabinets, and more. Which types of filing cabinets are the best for you? It really depends on the type of work you do. If your work requires maintaining many client files, files by topic, date, projects, or more, you cannot skip an office filing cabinet. True to its name, it offers to store files in a hanging format and a label on the top to help you build an index and search through whenever you are looking for something. While most paper clutter management has been done away with people preferring to store things on their computers or in the cloud format, what is the need for a filing cabinet for sale? You are right. Cloud storage has made it possible to access your files from any part of the world and share these resources too. Given the costs, you may not need cloud storage if you are a small firm or organization. Secondly, as a practice, much legal compliance requires you to maintain the hard copy in a physical format. This filing cabinet desk is an immediate need for you to remain productive. Whatever be your reason for a physical filing cabinet, the fact is that you could also use it as a storage space for other things. With this need for a versatile space, you have lots of choices.
Autonomous 3-Drawer Filing Cabinet for Your Workspace
If you have been exploring one of the best filing cabinets, your stop will surely come and stop here. Given the best wooden material used for the 3-drawer filing cabinets, they are simple and most elegant to look at. You can easily store them under your desks or keep them as a standalone. However, some offices can also be seen keeping one desk filing cabinet on top of another if they are short of floor space or need more filing space. The Autonomous Filing cabinet offers you customizable dividers to manage your storage needs and convenience at work. Office filing cabinets are made from solid steel and are painted with an anti-rust finish. Don't miss the lockable drawers for you to store confidential material. The castors for each unit give you great mobility functions. There is an offer of a one-year warranty for the units. These cabinets come in various colors covering a hue of baby blue, evergreen, yellow apple, and cool gray. For better prices, keep a lookout for filing cabinets for sale. Have you read our blog on file cabinet accessories?
So mix and match and set yourself free from all the clutter around!
In summary, a filing cabinet or storage area becomes a necessity in most offices. Without a space to store your files and other material, you are cluttered, which makes you effective at work. Filing cabinet for sale is in demand for their versatility and yet blend in with any office design.
Grey is the color of balance, intelligence, and neutrality.
A filing cabinet is an important piece of furniture for your office. A good quality one can carry all the important documents of your home and office. These cabinets are generally used as storage units in office spaces and can easily fit inside tabletops or office desks. If you want to see all your important documents organized, you should invest in a gray metal filing cabinet. All these qualities are required in an office from the employees. In addition, the gray filing cabinet will change the look of your office, making it more elegant and sophisticated. A combination of black and white color, gray is used in most corporate offices. The gray furniture and décor items look pretty sophisticated. So, corporate interior designers generally choose these gray accessories and furniture for the office room design. According to color psychology, gray is the color of balance and neutrality. Every employee is supposed to maintain a balance between their professional life and personal life. So, the gray color ensures this balance in the life of these employees, thereby allowing them to live a happy life. It also signifies power and influence. This color symbolizes maturity as well. An employee needs to show all these characteristics while working in an office. These days, interior designers are using gray colors in their offices to make the workspace look modern and sleek. It gives the employees a cool and cozy feeling. As a result, they feel comfortable working in the office and work sincerely throughout their full general shift. You can either color the walls gray or purchase some grey furniture for your office room. A gray filing cabinet with lock can be a great choice for gray-themed office spaces. This cabinet is less likely to get dirty also. A gray filing cabinet with lock will bring a sophisticated and elegant touch to your corporate interior design.
The Autonomous grey filing cabinet is more than just a file storage unit.
The piece of office furniture features wheels, a special scratch-free coating, a lock system, and so on. It can fit under any tablet, desk, or rack. If you are setting up your home office, you should place an order along with an Autonomous standing desk and ergonomic chair.
1. The Autonomous gray metal filing cabinet comes with three drawers which are quite roomy. This means you can keep all your important office papers along with other office accessories inside these drawers. Apart from grey, it is manufactured in other colors like evergreen, baby blue, red apple, and so on. But, the gray filing cabinet features a comfortable working environment.
2. The Autonomous grey filing cabinet is around 21.5 inches tall. The heights of the drawers are 4.7 inches, 5.3 inches, and 11.4 inches, respectively, from top to bottom. It features four wheels adding around 2 inches of height to the filing cabinet. This first-rated wheel system features anti-slip qualities as well.
3. This type of grey filing cabinet is capable of carrying around 275 lbs of weight. Whereas the actual weight of the cabinet is only 46 lbs. This means this filing cabinet is capable of carrying around six times of its own weight.
4. The gray filing cabinet 3 drawer has a glossy finish. It is highly unlikely to get any rust on it and has a waterproof coating all over it. We send it in one piece, no extra part in the package, which you will have to attach on your own. We ensure free return policies but you will have to keep in mind the limit of 30 days.
5. A steel plate design on the outer parts is superfine cold-rolled. It is pretty sleek and durable in nature; pretty strong as well to keep all your important papers safe and secure. The filing cabinet features a customizable storage facility. There are installed moveable drawer dividers. You can adjust these dividers as per requirement.