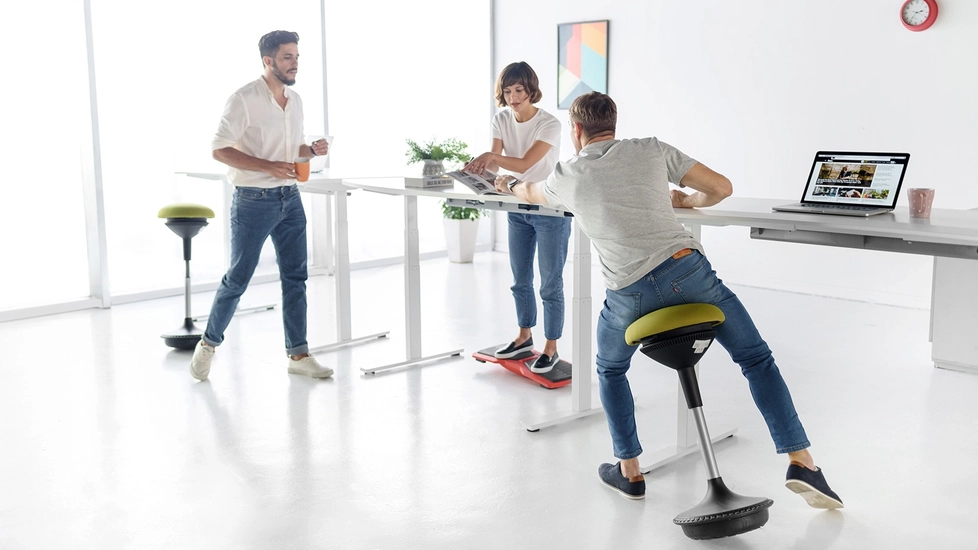 Autonomous ErgoStool
- Ergonomic Office Stool
$149
Kostenloser & flexibler Versand
Kaufe jetzt
In den Warenkorb legen
Versand nach Aug 21. Kostenlose Rückgabe am 30 Tag.
Bought by 300+ Facebook employees
Verkauft und versandt von Autonomous.
Autonomous ErgoStool auf einen Blick.
Für schonende Pausen im Stehen und mehr Spaß beim Sitzen.
• Gewichtete dynamische Basis
• Höhenverstellbereich von 25.4 cm
• Ergonomischer geneigter Sitz
• Hervorragende Haftung auf einer Vielzahl von Oberflächen
• Trägt bis zu 122 kg
• 2-year warranty
Tief in die Spezifikationen eintauchen

Bleiben Sie in Bewegung
Bauen Sie Kraft in Rücken und Rumpf auf, indem Sie aufrecht sitzen ohne die Unterstützung eines Stuhls und sanft wackeln, während Sie sitzen.Dynamisches Sitzen ahmt die häufigen Haltungsänderungen im Stehen nach, die unsere Muskeln auf natürliche Weise straffen.Die gewichtete Basis bietet eine hervorragende Traktion auf verschiedenen Oberflächen und ermöglicht so ein breites Bewegungsspektrum im Sitzen.
Machen Sie eine gesunde Pause vom Stehen
Setzen Sie sich auf unseren ergonomischen Hocker, ohne Ihren Schreibtisch absenken zu müssen, um eine stoßarme Standpause einzulegen. Wenn Sie sich die Möglichkeit geben, schnell und einfach Pausen einzulegen, werden Sie dazu angeregt, länger zu stehen.
Gesünder sitzen
Höhenverstellbar in einem Bereich von 10 Zoll, kann der ErgoStool auch an einem normalen Schreibtisch verwendet werden.Es hält Sie sanft aktiv und ermöglicht es Ihnen, bequem zu sitzen und gleichzeitig eine gesunde Durchblutung des gesamten Unterkörpers aufrechtzuerhalten.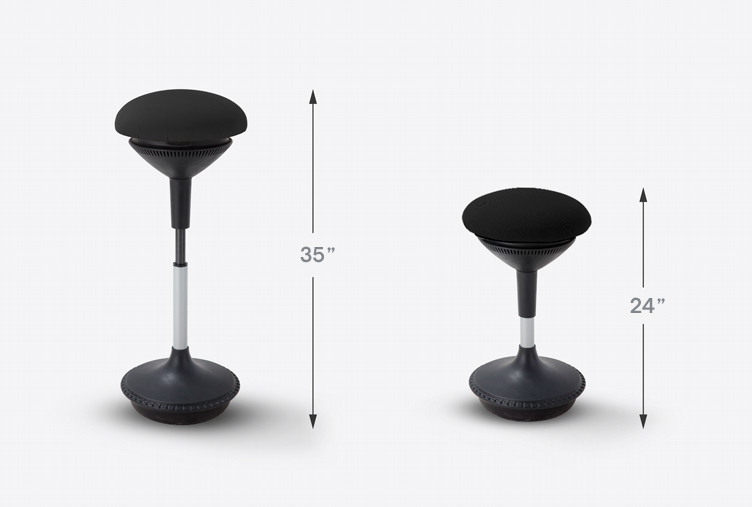 Die Kraft der Haltung
Eine schlechte Körperhaltung ist eine der Hauptursachen für Rückenschmerzen und degenerative Bandscheibenerkrankungen. Wenn Sie sich an das Sitzen auf einem rückenfreien Stuhl gewöhnen und durch aktives Sitzen Kraft in Ihrem Kern und Rücken aufbauen, verbessert sich Ihre Körperhaltung auf natürliche Weise - nicht nur beim Verwenden des ErgoStool, sondern auch beim Sitzen in einem normalen Bürostuhl und Stehen. Es ist der multifunktionale ergonomische Hocker für Ihren Stehpult.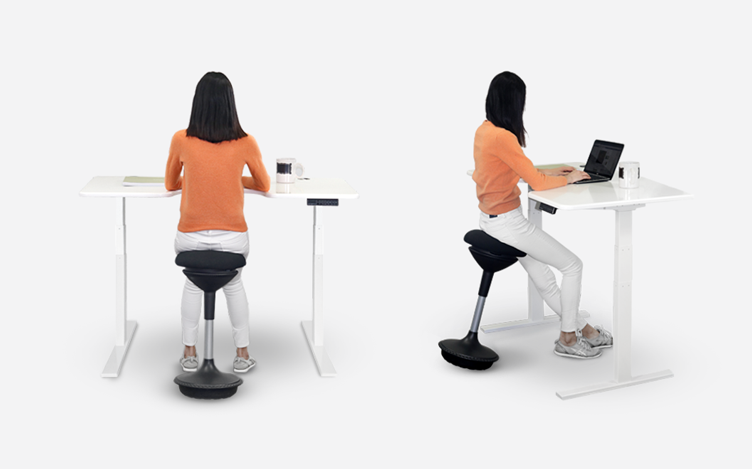 Many office employees want something more than an office ergonomic chair, and an ergonomic stool might be the best alternative. Typically, an ergonomic stool chair is slightly different than an ergonomic saddle chair. With the saddle version, there are two sections, and each one slopes off. It looks similar to a saddle you might sit on while riding a horse. The ergonomic stool for a desk is a bit different because it has a rounded top and a sturdy base. You should consider the one from Autonomous, as it's an ideal solution!
Making Your Office More Beautifully Minimalistic with Autonomous ErgoStool
With so many standing desk chairs and stools on the market, Autonomous comes out on top. The ErgoStool is an ergonomic adjustable stool that can make your office appear minimalistic, especially if everyone uses it. There are many advantages of choosing an ergonomic stool for the office, such as:
Pneumatic height Adjustable
Each ergonomic stool offers pneumatic height adjustments. This feature lets you change the seat's height based on how tall or short you are. That way, your feet are grounded, and there aren't gaps between the floor and you. These mechanisms work through pressurized air inside the system. That lifts and lowers the ergonomic adjustable stool for you.
Made of Durable and High-Quality Materials
With the ErgoStool, you know you're getting something that's high-quality. Each ergonomic stool chair features polyester fabric for the seat top. The interior uses a molded foam, which helps it conform to your body. The frame is made using durable nylon fabric. This is a synthetic thermoplastic polymer that's flexible, versatile, and highly durable. With that, it's more affordable than other materials and only melts at extremely high temperatures.
Elegant Design and Trendy Colors
You want an ergonomic saddle chair that's trendy and looks great in the office. Remember, clients might see where the employees work! However, you want the team to be independent and have their own styles added to the office. That way, they feel more comfortable. Therefore, many companies allow their employees to pick their seat color. This works especially well if each person has their own workstation. Otherwise, you may choose various shades and space them throughout the office to add some color. The ErgoStool comes in navy blue, all black, cool gray, and evergreen. Now, you can have an ergonomic stool chair that matches each person's personality or color-coordinate to have a stylish office.
What Benefits Will You Get While Using ErgoStool?
When you choose the ErgoStool, you get an ergonomic stool for the desk that offers plenty of benefits. Here are just a few of them:
Encourage Your Muscles
When you're sitting in a regular chair, you don't get as much movement. Though you can push it out of the way and stand up to work (with a height-adjustable desk), that still doesn't work the muscles. With the ergonomic adjustable stool, you get the benefit of active sitting. Though you're sitting down, balance is required to keep you on the stool.
Improving Posture
Most people don't realize how important posture is. If you experience back or neck pain, it could be because of poor posture. The ErgoStool helps you improve your posture. Though you must remember to sit up straight while on it, you also get a workout. Since you have to keep the core muscles tight and can move all around, it does strengthen your posture muscles, too. Many doctors recommend people sit on an ergonomic stool chair for a few hours each day. Pair that with standing and sitting in a regular chair, and you've got something amazing.
Allows Maximum Flexibility
Everyone knows that sitting in a regular office chair can be restricting. However, when you choose an ergonomic adjustable stool like the ErgoChair, you have more flexibility. The base is weighted and anti-slip, so you don't fall over. However, you can stretch to the left or right to grab something, reach behind you, lean forward, or lean backward slightly. There's 360-degree movement!
Promotes Circulation
When you sit or lean on an ergonomic stool for the desk, it frees you up to flex your lower leg muscles. You're also working them while you balance. That encourages more circulation into the lower regions of the body. The traditional seated position (a 90-degree bend of the knees) restricts blood flow throughout the organs, as well. Standing can help, but your legs often fatigue if you stand for long periods. Using the ergonomic stool in conjunction with ergonomic office chairs and standing can be highly beneficial.
Why Should You Choose Autonomous?
Now that you know the benefits of them, it's important to choose the best ergonomic stool. Autonomous offers the ErgoStool, which is an excellent choice for office employees everywhere. Here are just some of the reasons to consider Autonomous and its ErgoStool:
Quality/Certificate
The ergonomic adjustable stool from Autonomous is a high-quality piece. It's made of durable materials, can be lowered and raised as needed, and supports weights of 264 pounds. However, the best thing is the certificate it holds, called the UL 2818. Sometimes called the UL Greenguard, it means that these products are scientifically proven to meet rigorous third-party emissions standards. In a sense, it means that the materials used don't have toxins that can permeate the indoor air and expose you to chemicals.
Assembly
When you purchase the ergonomic stool chair, you get the assembling instruction booklet, but it's really easy to put together. The four parts include the seat, connector, leg, and base. First, you turn over the seat and put on the connector. Then, you connect the leg of the stool to the base. From there, you add the connector to the leg while the ergonomic stool is in the upright position. No tools are required! There are two buttons under your seat, which lower/raise it for you.
Trial & Warranty
The ergonomic adjustable stool from Autonomous comes with a 30-day trial. If you're not happy with the chair for any reason, you may return it and get your money back. With that, you also have a 2-year warranty on the ergonomic stool chair. This covers the TPB mesh components, the mechanical and metal parts, and the motor/electrical components. Many people enjoy their ergonomic stools from Autonomous. Buy one today to see how beneficial and fun it can be!
The use of LED lights has been on the increase among both young and elderly. Studies conducted very recently have shown a number of advantages of adopting LED lighting. Many individuals have discovered that LED lights are more efficient and trustworthy than conventional bulbs. Several households have reported lower power bills after replacing incandescent bulbs with LEDs, according to the study's authors. The installation of LED lighting may improve the quality of your home or office in many ways. So we recommend you go for the LumiCharge Mini which comes with multiple chargers at any LumiCharge store. Using high-tech desk accessories nowadays are all the rage. We are using LEDs from the third generation now. When compared to conventional lighting, the newest generation outlasts them all in terms of lifespan, durability, performance, and energy efficiency. Today, LEDs lamps are often used in a variety of settings across a broad spectrum of industries and sectors as well as in homes and businesses. LumiCharge Mini is one of the best desk lamp phone chargers.
Why Should You Go For an LED Light with a Charger?
Conserves Power
Bills for electricity are often unpredictable. Power bills in the average household tend to climb over the summer as a result of increased use of air conditioners and fans and other computer accessories, according to studies. During the summer, power rates may skyrocket by hundreds of dollars, and no one enjoys that additional expense. From what we can see, utilizing an LED desk lamp phone charger is a great way to reduce your monthly power expenditure. According to research, the energy consumption of LED lamps with phone charger base is 75% lower than that of conventional bulbs. Overall, changing to LED lighting is a fantastic method of reducing annual expenditures.
Truly Dependable & Wide Range of Colors
Switching to LED lamps with wireless phone charging stands is crucial for a number of reasons, not the least of which is their dependability. LED lights, according to the research, last far longer than incandescent ones. According to some reports, the lifespan of these bulbs is 25 times that of standard bulbs in homes. Furthermore, regular bulbs tend to fail after prolonged use. In contrast, LED lights seldom become hot, so they won't burn out even after prolonged use. The typical lifespan of an LED bulb is estimated to be 5,000 hours, which means you may save money by not continuously replacing your lights. Finally, another fantastic feature of the LED lamps with a wireless phone charging stand is that they can be purchased in a wide variety of hues and tints, making them suitable for use in homes with both young and senior residents. Light-emitting diode (LED) bulbs may be purchased in multicolored strips that are great for decorating rooms, hallways, and patios. Also, you may shop for them according to the color temperatures that have been demonstrated to keep their color consistency over time. In sum, LEDith wireless phone charging station is great for decorations to help you add some light and color to your house, and it also helps you save money.
Features Of LumiCharge Mini
Wireless, Long Lifespan & Quality Assurance
In addition to fast-charging your iPhone, AirPods, and Apple Watch with up to 15w, The multifunctional wireless phone charging station keeps your space neat and tidy. It also has two wireless charger points. Energy efficient, ecologically responsible, and earth-friendly, this LumiCharge Mini desk lamp has a long lifetime of over 50,000 hours with 10 years of usage or more.
Stepless Dimming & Eye-Friendly
There are three different color temperature settings available at the press of a button, and the brightness may be fine-tuned in infinite increments to suit your needs. Useful for completing tasks, reading, and learning. Such as: Cold Light Color Temperature, Daylight Color Temperature, Warm Light Color Temperature.
Häufig gestellte Fragen
Sie sehen die Antwort auf Ihre Frage nicht?
Ich habe einen Master-Abschluss in Ingenieurwesen.Kann ich den Hocker selbst zusammenbauen?
Ja, obwohl du wirklich keinen brauchst, um das zu tun! Der ErgoStool ist extrem einfach zu montieren und dauert nur wenige Minuten. Jeder Packung liegt eine ausführliche Bedienungsanleitung bei.
Ist die 30-Tage-Testversion für das Ergostool verfügbar?Wer zahlt die Rücksendekosten?
Ja ist es! Wir übernehmen die Kosten für den Versand, wenn Sie das Produkt innerhalb der 30-tägigen kostenlosen Testperiode zurücksenden.
Ok, ich bin bereit, eine zu kaufen.Was ist die Garantie für das Ergostool? Und was deckt es ab?
Der ErgoStool ist auf Langlebigkeit ausgelegt. Aus Sicherheitsgründen gilt jedoch eine Garantie von 2 Jahren, die alle Herstellermängel abdeckt.
Gleicht sich das Ergostool selbst aus?
Ja, es kehrt nach Gebrauch in die aufrechte Position zurück.
Wie kann ich die Höhe des Ergostools einstellen?
Die Höhe kann einfach durch Drücken einer der Tasten unter dem Sitz eingestellt werden.
Ich bin eine zierliche Person.Passt der Ergostool zu mir?
Die Höhe des Hockers kann von 24 Zoll bis 34 Zoll eingestellt werden, damit er gut zu Ihnen passt - egal ob Sie Simone Biles oder Kobe Bryant sind!
Aus welchen Materialien besteht das Ergostool?
Der Sitz ist mit hochwertigem Stoff gepolstert und verfügt über ein strapazierfähiges Polyurethanschaum-Interieur. Der Hauptkörper besteht aus schwarzem Polypropylen. Die Gasfeder ist eine hochdruckpneumatische, höhenverstellbare 250-mm-Gasfeder und mit einer silbernen Epoxid-Pulverbeschichtung versehen. Die thermoplastische Elastomersohle auf dem ErgoStool-Basispolster bietet sicheren Halt auf verschiedenen Bodenflächen. Diese Materialien wurden sorgfältig ausgewählt, um maximale Unterstützung zu bieten und Ihnen die Gewissheit zu geben, den Hocker in verschiedenen Sitzpositionen und Winkeln zu verwenden.
Der Ergostool sieht winzig aus. Wird es mir passen?
Ja!Der Sitzdurchmesser beträgt 13,5 Zoll.
Wie viel Gewicht kann der Ergostool tragen?
Der Schemel kann bis 298 Pfund stützen.
Ich möchte den Ergostool als Geburtstagsgeschenk für meinen Sohn in Toronto kaufen. Was wären die Versandkosten?
Wir bieten kostenlosen Versand für einige Autonomous' Produkte nach Kanada!
Die Verpackung für den ErgoChair war super diskret.Was ist mit der ErgoStool-Verpackung?
Die Verpackung misst 15 "L x 21" B x 13 "H und wiegt 24,3 Pfund.
Wieviel wiegt der ErgoStool?Kann ich es bis zu meiner Wohnung in der 67. Etage tragen?
Der ErgoStool wiegt nur 22 Pfund, also könnten Sie es wahrscheinlich, wenn Sie es wirklich wollten!
Was sind die Abmessungen des Ergostools?
Der ErgoStool misst 13,5 "L x 13,5" B x 24,5 -34 "H.