Smart Products
35 Standing Desk Chairs & Stools for 2023 Ergonomic Bliss

Autonomous
|
Feb 23, 2022
47,249 Views
Standing desks are revolutionary pieces of office furniture that have enhanced the way we think about work. Research suggests that there are so many health benefits if you use them properly. However, to get the most out of your standing desk, you need to be comfortable. That means you need to find the best stool for a standing desk or the best standing desk chair.  
A standing desk can help you maintain productivity throughout the day, but if you stand for too long or keep bad posture, then you may not experience all the great benefits. Finding a quality office chair for a standing desk can help you stay on track.  
Keep reading this comprehensive guide for our top 35 stools and chairs for standing desks, along with more information on how to use your standing desk properly.  
How Important is a Chair or Stool for a Standing Desk?
You cannot and should not stand all day with your standing desk. It is perfectly healthy to alternate between sitting and standing to prevent muscle aches and pains. A stool or a chair for standing desk that complies with your standing desk is immensely important so that you can take care of your knees, feet, and back.  
Which Is Better for a Standing Desk, Stool or Chair? 
This comes down to your personal preference. Ergonomic chairs are great because they offer more back support. On the other hand, stools require more activity in the body. There is no back support, so you need to maintain good posture to promote healthy sitting habits. Overall, if you want to have a more active sitting surface, then a stool is perfect. If not, then go for the chair.  
The 35 Best Chairs and Stools in 2022 for Your Standing Desk
1. ErgoChair Pro
The ErgoChair Pro is perfectly customizable so that you can find the right adjustments to provide the most comfort. There are six features that have adjustable capabilities, including the chair height. That way, you can use the chair for your standing desk, thus making this our best standing desk chair.  
2. ErgoChair Recline
Just like the ErgoChair Pro, the ErgoChair Recline is fully adjustable to provide total comfort throughout the day. Even when you are using a standing desk, you can easily fine-tune the seat to go along with your raised workspace. When looking for the best standing desk ergonomic chair, this one is perfect—and affordable! 
3. AvoChair
Buying new and improved office furniture for your standing desk should not have to sacrifice your love of the environment. With the AvoChair, you can prioritize both your comfort and the well being of the planet. Made with recyclable materials, this is the best standing desk chair for environmentally conscious desk workers.  
4. ErgoStool
On a cheaper note, the ErgoStool is perfect for people who are tired of the same old with their office chairs. Instead, stools keep your core engaged throughout the day and promote a more active lifestyle—the perfect complement to your standing desk. Of all the stools on the market, this is the best stool for a standing desk.   
5. ErgoChair Plus
If you are one to struggle with sitting up straight, your chest back, and shoulders down, the ErgoChair Plus is the best standing desk ergonomic chair for you. It corrects and maintains good sitting posture. Therefore, while you sit, you form good habits so that, while you stand, you can maintain that same good posture.  
6. KERDOM Ergonomic Chair: Advanced Contoured Seat
The cushion and back of the standing desk chair are breathable. It is made of high-quality mesh to make the mesh stable, well-shaped, and elastic. Depending on your needs, the adjustment angle can be adjusted arbitrarily in a range of 90 degrees to 130 degrees. 
7. KERDOM Ergonomic Chair: for Wooden Floor
In addition to the cushion, the back of the standing chair is breathable. Stable, elastic, and well-shaped, the mesh is of high quality. PU material makes the wheels durable. A smooth 360° glide is as quiet as a mouse, so you won't have to worry about distracting noises. PU mute wheels roll smoothly on wooden floors without causing damage. A durable polyurethane chair caster is fitted on the high-back ergonomic chair with industrial-grade steel wheels, precision ball bearings, and precision ball bearings. It is safe and carefree to glide even on carpet.
8. KERDOM Office Chair: Adjustable Armrests
A 360-degree swivel function is included as part of the ergonomic design of the chair for sit-stand desk. The pneumatic height adjustment and tilt locking function make this an ideal office chair standing desk for ergonomically inclined individuals. A high-density, breathable mesh back provides lumbar support and thick cushioning for the most comfortable posture when sitting at your computer desk. The thickened explosion-proof seat plate provides enhanced comfort and double coverage.
9. KERDOM Ergonomic Chair: Optional Footrest
In addition to the chair's height, the footrest can be adjusted by 46CM, and the chair's height can be adjusted by 10CM. The premium cushion and backrest with mesh material come in handy every time you use them.
10. The Office Oasis Ergonomic Chair: Hardwood Floors Caster
In addition to being ergonomically designed for your comfort, this ergonomic mesh office chair was made with the same high-quality materials as brand-name chairs that don't cost under $1,000. All floors (hardwood included) are safe for use since it has smooth rollerblade-style wheels. Customized comfort is at your fingertips thanks to multi-directional arm adjustments and lockable reclining features.
11. KERDOM Office Chair: Adjustable Armrests & Headrest
Designed with ergonomics, the office chairs focus on the armrests and headrest. This standing desk chair is pneumatically adjustable and has tilt lock (angle adjustable) functionality along with a 360-degree swivel. The office chair with a headrest and adjustable arms allows you to maintain a relaxed posture throughout a long working day. Muscle fatigue is relieved, and pressure is dispersed more easily.
12. KERDOM Office Chair: Waterfall Seat Edge
You can sit on the waterfall edge seat for a longer time and still feel comfortable. This ergonomic backrest is designed to fit the lower back's natural curve, relieving pressure on the lower back. A high-density mesh back provides flexibility, support, and breathability. You will be comfortable all day long with the thick padded seat cushion.
13. KERDOM Office Chair: Elastic Mesh & Adjustable Backrest
Designed with an ergonomic S-curve, this modern adjustable high back chair makes it easier to relieve stress and relax muscles. It won't make you feel tired regardless of how long you sit. Due to its elastic mesh covering and highly adjustable backrest, this chair is good for people with back pain.
14. Finercrafts The Office Chair: Headrest & Legrest
You can now focus and work on what you're doing on this adjustable FinerCrafts ergonomic chair, which maintains proper alignment and reduces muscle strain. In addition to premium ergonomic support, it comes with a headrest and leg rest so that you can use it in virtually any work layout.
15. KERDOM Office Chair: Flip-up Arms
The ergonomic office chairs are designed to promote a relaxed posture for long periods so that you can work comfortably. Pressure can be dispersed more easily, and muscle fatigue can be relieved more easily. A flip-up armrest and full lumbar support are included in this standing desk chair.
16. Logicfox Ergonomic Office Chair: Adjustable Breathable Mesh Seat Depth
This ergonomic office standing desk stool is very comfortable with its sturdy backrest frame and soft seat cushions. In addition to mesh material that is more breathable and skin-friendly, the backrest and seat also adopt grid-weaving technology. The ergonomic chair provides adequate tensile rigidity and support while seated.
17. KERDOM Ergonomic Chair: Breathable Mesh Cushion
There are four support points and proper lumbar support in the high-back ergonomic office chair. There are a variety of settings to suit different needs. Flexible mesh fabric covers the backrest and cushion of the premium backrest. The chair keeps you comfortable for longer by preventing sweat from accumulating on your back and body.
18. Uncaged Ergonomics Wobble Stool Standing Desk Balance
19. Northread Ergonomic Mid Back Swivel Black Mesh Desk Chair
The mesh swivel office chair with armrests is the perfect way to get extra comfort at work. Long work days are made easier with this sturdy office chair that is easy to assemble. Whether working on a project at work or playing games at home, the ergonomic mesh back and padded seat provide long-lasting comfort. Seat depth can be adjusted, arms can be adjusted, the seat height can be adjusted, recline tension can be adjusted, mesh back can be adjusted, and the seat can be contoured.
20. Logicfox Ergonomic Office Chair: Saddle-shaped Sponge Seat
Mesh standing desk chair with saddle-shaped seats is ergonomically designed to meet your needs. Featuring multi-functional adjustments, this ergonomic office chair is ideal for the modern workplace. This high-back desk chair has a height-adjustable headrest and lumbar support. The standing desk chair has adjustable 3D armrests that can be adjusted forward and backward, up and down, and rotated. You can relieve shoulder and hand pressure with it.
21. Uncaged Ergonomics Wobble Stool Air Balance Chair
Enjoy healthy sitting with this sleek, rolling balance chair that's more functional, elegant and easy to maneuver then an exercise ball chair. This balance stool effortlessly rolls into place or tucks out-of-the-way when not needed. Wobble Stool Air's balance seat swivels 360. Sit still comfortably or engage your core for active sitting.
22. Trio Supply House Leather-look High Back Office Chair
This standing desk chair boasts supreme padding all around, a thick and comfortable adjustable seat that includes a lock-in tilt back mechanism, and accented with a glossy white finish at the back including black trimming for added boldness.
23. Trio Supply House Chair Black Leather-look Multi-Position
BIFMA certified for commercial or home office use, this standing desk chair is both stylish and supremely comfortable with a natural curved padded back, head rest, and arm rests that swing back.
24. Skyline Decor High-Back Leather: Office Chair With Gold Frame
Embrace full luxury with this exceptional standing desk chair built to provide optimal comfort and a sophisticated aesthetic. Make a statement with an adjustable mid-century style chair that completes the contemporary office space. Inspired by a classic mid-century design, this version shows off a bold and sophisticated presence. High back office chairs have backs extending to the upper back for greater support. With a pneumatic gas lift to adjust the seat height and 360-degree swivel, this chair delivers the versatility and functionality required by the modern working environment. A tension knob and tilt locking lever complement a catered five-point base for easy mobility.
25. Luna Standing Desk Stool
The best standing desk stool with slip resistance is the Luna Standing Desk Stool. It maximizes comfort and provides the right height for standing desk users. 
26. Pierrepont Mid-back Ergonomic Mesh Drafting Chair
With height adjustability, the Pierrepont Mid-back Ergonomic Mesh Drafting Chair is the best standing desk ergonomic chair for people who like simplicity—and a little bit of airflow.  
27. Stand Up Desk Store Ergonomic Adjustable Standing Desk Chair
This stool has been placed on our list of the top 35best standing desk stools that have an adjustable height so that you can be as comfortable as possible. If you don't feel like fixing your standing desk's height, all you have to do is pull a lever on this stool, and you are good to go! 
28. Uline Big and Tall Work Stool
With a weight capacity of 450 pounds, this is the best standing desk chair for desk workers who value comfort. As with the other stools and chairs on this list, the Uline Big and Tall Work Stool is height adjustable and even includes a footrest. Overall, this is the standing desk ergonomic chair for big and tall workers.  
29. Soho Soft pad Drafting Chair
For a bit more added style to your space, go for something sleek and classy. This is the best standing desk ergonomic chair for style and bringing a little sophistication to your workspace—though you may have to sacrifice some comfort. As always, it is height adjustable and comes with wheels for easy movement.  
30. Active Perch Stool Fit Kit
When you don't have the best posture, you need a chair that can complement your body. With a slight slope, this office stool for standing desk if you need some assistance maintaining correct posture. With height adjustments, you can make this stool your own.  
31. Flash Furniture Adjustable Height Cushioned Bar Stool
Though this is not quite a piece of office furniture, it still looks great in any workspace. The Adjustable Height Cushioned Bar Stool comes in different colors that pop with a design that promotes a little bit of flair. It is a great office chair for a standing desk that also has a 360-degree swivel.  
32. Capisco Plus by Hag
This is the best standing desk stool for those who want a sleek design that also promotes comfort. You pick whether your chair comes partially or fully upholstered. Overall, this stool impressively provides comfort with fewer materials.  
33. Dominick High-Back Mesh Drafting Chair
If you are still on the hunt for the best standing desk chair for your office, then this chair can do wonders for you. With comfortable backing that promotes airflow for comfort and 360-degree turn capabilities, this chair can promote productivity and comfort at the same time.  
34. Wayfair Basics Resaca Industrial Stool
Though it has the word "basic" in its title, this stool is nowhere near boring. It is the best standing desk stool if you want a seat that promotes comfort and flexibility. With wheels and spinning capabilities, you can freely move the stool and adjust the height to meet your standing desk.  
35. Costway Adjustable Swivel Sitting Balance Wobble Stool for Standing Desk Chair
When looking for a chair for sit-stand desks, this stool should come to mind. It has a wobbly base that promotes flexibility and movement so that you don't sit stiffly all day at your desk. It comes fairly cheap and is made for standing desks. 
36. Commercial Office Overstock Mesh Back Standing Desk Stool
Though it does not provide much movement, as it does not have wheels nor can spin, this is the best standing desk ergonomic chair for people looking for a basic high-back chair. It functions compatible with a standing desk and has plenty of cushioning to keep you comfortable when you are not on your feet.  
37. Interion Ergonomic Standing Stool 
While looking for the best chair for sit-stand desks, this is a good one to consider because it molds together the two advantages of a chair and a stool. First, this is the best standing desk ergonomic chair that wants the best of both words due to its height and backrest. This standing stool serves as a stool with the backrest of a modified chair.  
38. Vari Active Seat Basic
Though this acts as a stool, this is the best office stool for standing desks that promotes style. The materials used for the cushion and the strong base complement each other perfectly so that you can sit with elegance. For class with a hint of casual, this is the best office stool for standing desk.  
39. Tic Toc Chair
The last item on our list in your search for the best chair for sit-stand desks is the Tic Toc Chair. With a simplistic design that uses wood, it looks great in any office space. Plus, the curved seat promotes healthy and comfortable sitting. This is the best office stool for standing desks for those who value modesty and grace.  
The Benefits of a Standing Desk
Standing desks are a relatively new addition to ergonomic office furniture. Unfortunately, this means that there has been little research conducted to understand their benefits better. However, there has been lots of investigation on sedentary lifestyles, which says that sitting for too long in the day can lead to damaging health effects.  
Using a bit of logic, scientists and researchers believe that standing desks are a great alternative to sitting all day. Though they are not the remedy, standing desks are one step toward leading a healthier and more active lifestyle.
When using a standing desk, you can burn more calories per hour, approximately 10 more calories. Additionally, standing desks can help you avoid sitting for too long, which may lead to weight gain, obesity, and cardiovascular disease. Plus, being on your feet encourages more active movements, like taking a walk, so that you can burn a healthy number of calories in the day.
How to Use a Standing Desk Properly
When you buy a standing desk online, it is easy to think that you are going to be on your feet all day. However, standing for too long—just like sitting for too long—can be harmful. Taking precautions and being aware of how long you stand is critical to using your standing desk correctly.  
After setting up a standing desk, you should ease your way into it. Do not stand for hours and hours right off the bat. In fact, you should not stand for much longer than an hour, even if you have used a standing desk for years. Anywhere between 30 minutes and one hour is a healthy amount of time to stand. Don't feel embarrassed about taking sitting breaks. These help you avoid getting muscle aches at the end of the day. Plus, an ergonomic sit-stand chair for a standing desk can make things much more comfortable.  
Pros and Cons of an Accompanying Chair or Stool to Your Standing Desk
The best standing desk chair for your workspace is out there. Hopefully, you can find what you are looking for with our top 35 list. However, if you have a standing desk, you may think it is not worth the money to buy the best standing desk stool or the best standing desk ergonomic chair. Of course, there are pros and cons to everything. 
Pros of having a seat by your standing desk:
More comfort

Promotes the benefits of a standing desk

Can be used in other workspaces
Cons of having a seat by your standing desk:
Overall, the main con to having an office chair for standing desk is the cost. However, given all its benefits, the money is well worth it. Additionally, you should not stand on your feet all day. Having a chair that is compatible with your standing desk can make work much smoother.
Choosing Standing Desk Chair & Stool: Key Considerations for Comfort and Ergonomics
When buying a standing desk chair or stool, there are several factors to consider to ensure that you select the right option for your needs. Here are some important considerations:
Ergonomics
Look for a standing desk chair or stool that promotes good posture and provides proper support. Consider features such as adjustable height, lumbar support, and a contoured seat. The chair or stool should allow you to maintain a comfortable and neutral posture while standing or leaning.
Height Adjustability
Ensure that the standing desk chair or stool can be adjusted to your preferred height. This is important as people have different heights and the chair or stool should be able to accommodate your specific needs. Look for options with a wide range of height adjustments to find the most comfortable position for you.
Stability and Durability
Check the stability and sturdiness of the standing desk chair or stool. It should have a solid base and be able to support your weight without wobbling or tipping over. Look for chairs or stools made from high-quality materials that are built to withstand regular use.
Mobility and Portability
Consider whether you need a standing desk chair or stool that can easily move or be transported. Some options come with wheels or casters for easy maneuverability, while others are lightweight and foldable, making them more portable. Assess your specific needs and workspace requirements to determine the level of mobility or portability you require.
Comfort
Look for a standing desk chair or stool that provides adequate comfort for extended periods of use. Consider factors such as cushioning, seat size, and materials. If possible, try out the chair or stool before purchasing or read reviews from other users to get an idea of its comfort level.
Functionality
Consider any additional features or functionalities that may be important to you. This could include adjustable footrests, swivel capabilities, or built-in storage. Think about how you plan to use the chair or stool and choose one that aligns with your specific needs.
Budget
Determine your budget range for a standing desk chair or stool and explore options within that range. Prices can vary based on brand, features, and materials. Consider the value and longevity of the chair or stool, as investing in a quality option can provide long-term benefits.
User Reviews and Recommendations
Take the time to read reviews and recommendations from other users. Their experiences can provide insights into the quality, comfort, and durability of different standing desk chair or stool options. Look for feedback on ergonomics, adjustability, and overall satisfaction.
By considering these factors, you can make an informed decision when purchasing a standing desk chair or stool that meets your ergonomic needs, enhances your comfort, and supports a healthy and productive workspace.
Conclusion
The process of finding the best standing desk chair can be tricky. There are a lot of components to consider. Things like cost, comfort, eco-friendliness, and adjustability are all concerns that buyers have.
When using a standing desk, the best way to get all its benefits is by taking frequent breaks to sit down and give your feet a rest. The best way to do this is with a compatible ergonomic chair. By going through our compiled list of the 35 best chairs and stools for your standing desk, you can find a great seat much more easily.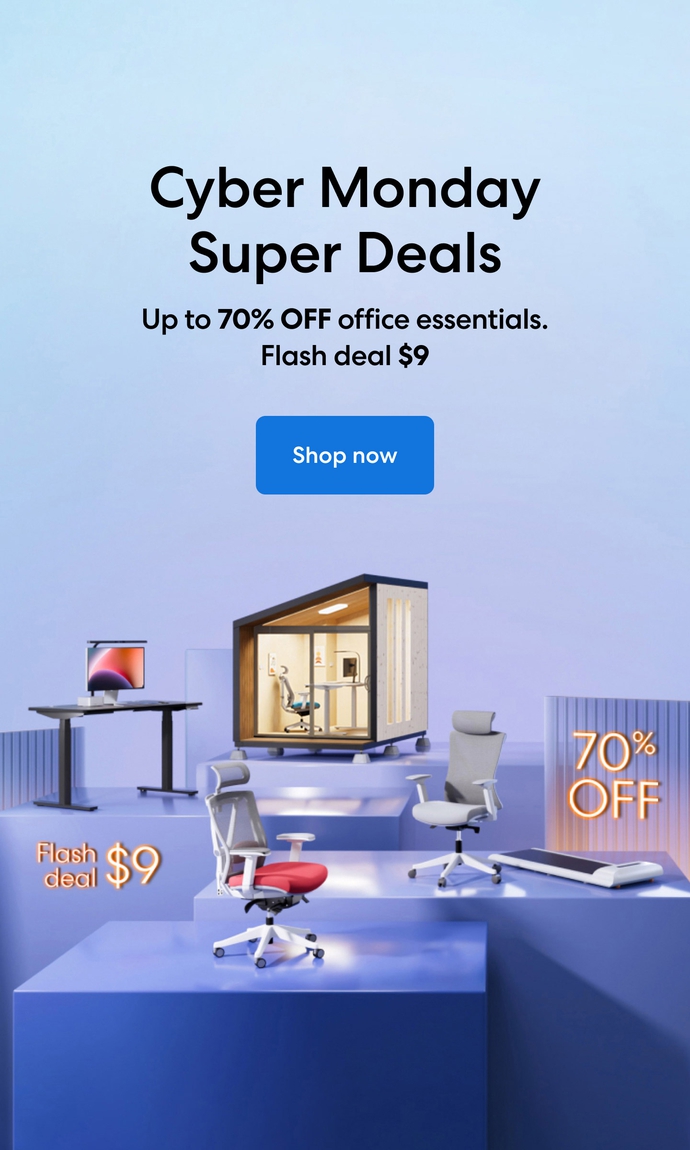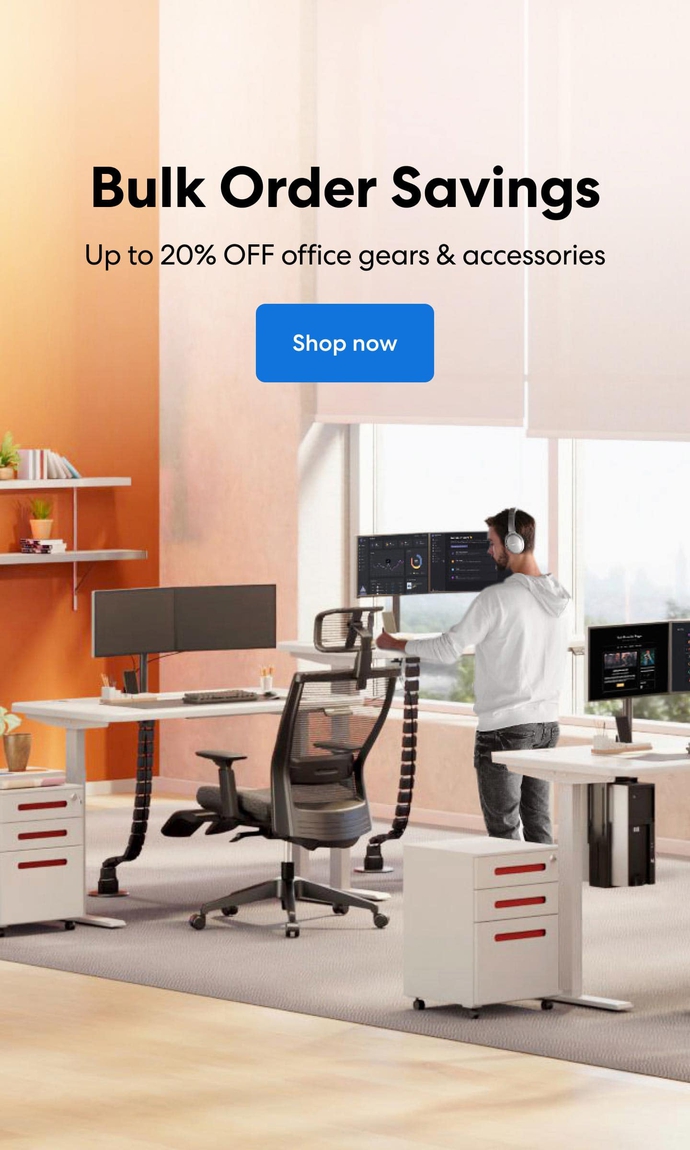 Subcribe newsletter and get $100 OFF.
Receive product updates, special offers, ergo tips, and inspiration form our team.