Latest Updates
Put a Spring in Your Step with our Techie Spring Sale!

Autonomous
|
Mar 21, 2023
677 Views
The arrival of Spring gives us a chance to refresh our minds and spaces after the depths of winter. The longer days and (mostly!) better weather gives us a more optimistic outlook. 
And that's a perfect time to give your workspace an uplift!
From 20/03/23 to 05/04/23, Autonomous is hosting the inaugural Spring Tech Week where you can get up to 50% OFF selected products! (And there's more… Read on to find out)
The Details
There are two sides to Spring Tech Week:
The 50% OFF sale: We've selected dozens of products to be reduced by up to 50% so you can enhance your workspace for Spring. 

The Pod offer: If you're thinking of creating an entirely new office, this is the one for you. We're offering $1,000 OFF two of our most popular Pod models - StudioPod and WorkPod.
Here's a few highlights for your Spring office
It's your office within a desk
Eureka 60° L-Shaped Standing Desk (Left-handed): Complete with a programmable keypad, this spacious and practical standing desk is made for people who need to be on it all day, every day. It's also great for collaborative working or multiple screens with space for three monitors and room to spare.
Give your back a Spring break.
Logicfox Ergonomic Office Chair - Saddle-shaped Mesh Seat: Designed to allow 8+ hours of comfort, this fully adjustable chair could revolutionize your working life. Boasting a breathable mesh, generous recline, and lumbar support - you could wave goodbye to stiff backs - even after a full-day of work.
Light up your space in your own, unique way.
Lamp Depot Honeycomb Lights: This unique modular design delivers a new way to use lighting. Split into six modules, you can set out the lights in the way you want - it could spell out an initial or a pattern, for example. And each module can bit its own color, which can be set by remote control or touch.
Spring Savings Pod
As we touched on earlier, the 50% OFF sale isn't the only game in town this week. We're also offering an incredible $1,000 off the StudioPod and WorkPod. As the flowers begin to blossom from the depths of winter, this is the perfect time of the year to move your workspace or to simply create a new space in your backyard - so that you can enjoy the outdoors in comfort.
StudioPod: The versatile option that can be used as a workspace, a playroom, or even as a spare guest room. It can even be all three - and that's the appeal of StudioPod. It can be whatever you need it to be. Sturdy, simple and sound-insulated, this Pod has proven popular with our customers who love the practicality.
Your versatile Pod. (Regular Price: $19,900 - Spring Tech Week Price: $18,900)
WorkPod: Slightly smaller than the StudioPod, with 98 sq. ft. of floor area, the WorkPod is a great solution if you simply need a space to focus and get on with things. That could be work, your daily yoga session or simply a quiet reading space. With a design that allows plenty of light and sound insulation, it can serve as your escape room from the hustle and bustle of daily life.
The focus Pod. (Regular Price: $17,900 - Spring Tech Week Price: $16,900)
Both Pods do not need planning permits in most localities (Please check before you buy) and we can provide you with a team to assemble and fit it out within days. This will come with an extra fee.
Bring on Spring Tech Week
We hope this sale will put a spring in your step as the days get longer and the temperature warms up. The products highlighted are just a sneak preview of what we've got to offer. So take a leap and check out our full catalog in the Autonomous store!
Terms & Conditions
Our terms and conditions may be posted on the site during the promotion only and are referenced herein.
We reserve the right, in our sole discretion, to refuse any disputes that do not follow our Terms and Conditions at any time.
Entry period: Mar 20 - Apr 05.
Location: US and Canada.
This promotion is a limited-time offer and shall be offered on a "first come first serve" basis and may be ended early in case the item is out of stock.
Promotion trial & return policy
Please note we've updated our trial & return policy to include promotions. Therefore, you can now return any products bought during sales (except Autonomous products), as well as enjoying full warranty.
Due to logistical constraints, once orders have shipped, they can't be canceled. We are sorry to inform you that the promotion will NOT be applied to Alaska, Hawaii, and Puerto Rico.
Discount code application terms and conditions
Our discount codes and referral codes are not applicable for products on promotion. Codes are applicable for full-price products in your order and only one code can be used per order.
Store credit can't be applicable for products on sale.
Changes in Terms & Conditions
Autonomous may change the Terms & Conditions at any time. You are responsible for checking these Terms & Conditions from time to time for any changes. If you continue to participate after we post changes to these Terms of Service, you are signifying your acceptance of the new terms.
Autonomous decisions on all matters related to the promotion will be final and decisive. Autonomous will not be liable for any claims made by you, or for third party claims, or losses of any nature, including but not limited to, any loss of profits, loss of expectations, indirect, special, or other damages, and any related claim of any nature, including direct, indirect, third consequential party, consequential damages or other harm caused by or related to this promotion.
Video ads for product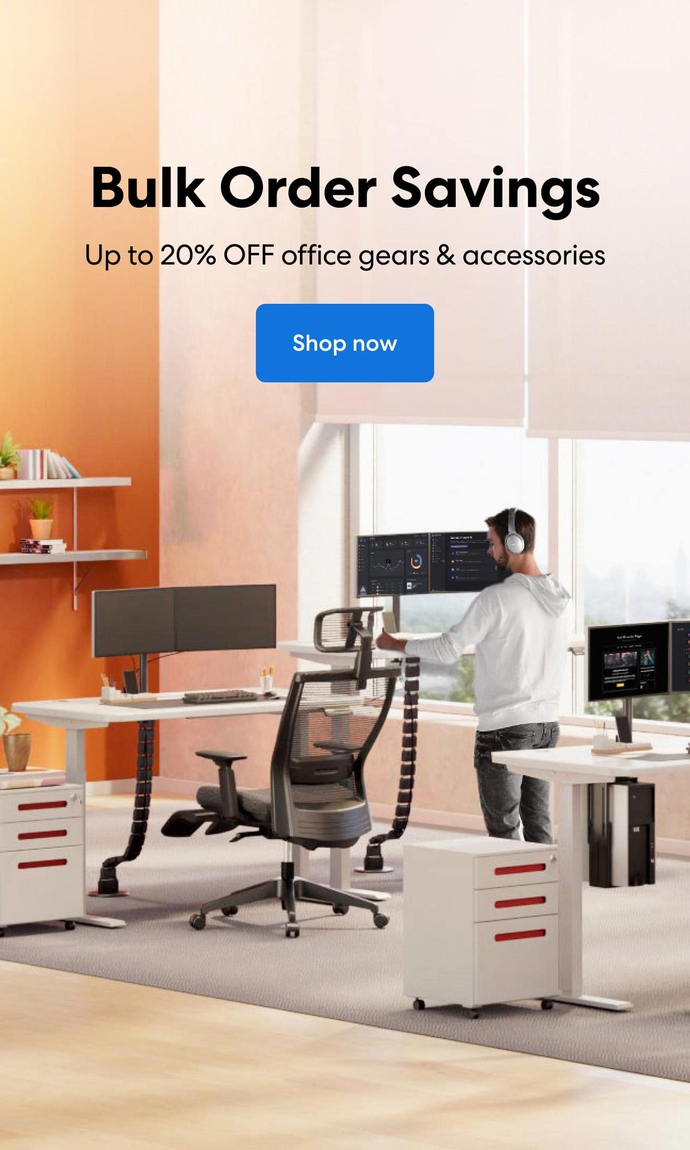 Subcribe newsletter and get $100 OFF.
Receive product updates, special offers, ergo tips, and inspiration form our team.