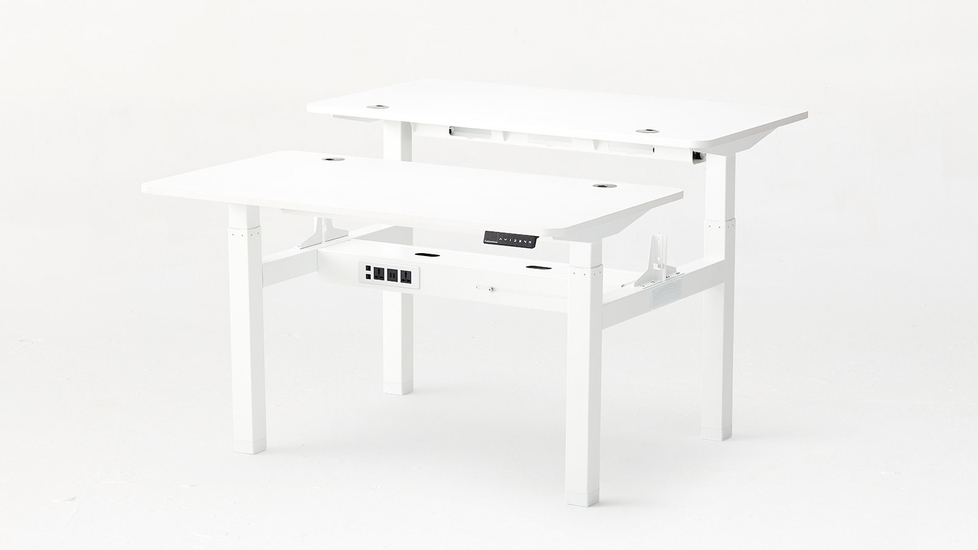 Travailler à domicile?
Sonderpreise erhalten
Für Teams, Partner und Verbrechensbekämpfungs-Duos. Holen Sie das Bestmögliche aus gemeinsam genutzten Räumen heraus.
Versand innerhalb von 2 Werktagen
|
Kostenloser Versand
& 30-Tag kehrt zurück.
Laden Sie es Ihrem Unternehmen in Rechnung
Wir können diese Bestellung an einen Bürokontakt weiterleiten und die Zahlung in Ihrem Namen anfordern.
Sparen Sie bis zu 10%.
SmartDesk Core Duo auf einen Blick.
• 2 geräumige Schreibtische
• 2 flüsterleise Doppelmotoren, jeder kann bis zu 120 kg heben
• Unabhängige Steuerung über programmierbare Tastenfelder
• Höhenverstellbar von 74.6 cm bis 121.7 cm
• 2 Kabel Bahnen
• Zentraler Strombalken für Steckdosen und Anschlüsse
• Platzsparender robuster Stahlrahmen
• 7-year warranty
Tief in die Spezifikationen eintauchen
It seems that everyone wants an office standing desk, and there are so many on the market right now. When you go to Autonomous, you have various styles to consider, but the double desk is one of the most popular. With this double desk for home office use, you get two desks in one. The base only has four legs like other options, but there is a wide section in the middle. From there, two normal-sized desks arise, and both of them are height-adjustable.
What Is the Design Concept of Autonomous Double Desk
Primarily, the design concept of the double sit-stand desk from Autonomous was all about collaboration. Though home offices can benefit from them if one person does two different tasks for their job or has two work-from-home employees, the double office desk is primarily there for offices and companies. Let's learn more about the design concepts for the double standing desk:
Increasing Both Collaboration & Privacy
When the workspaces are connected together, there is more collaboration from all sides. The SmartDesk Core Duo is a double office desk designed with a high-tech lifting system and built-in management for wires. Two people can work face-to-face and reap all the benefits. Though collaboration is the name of the game for the double desk, you can increase privacy when necessary by adding a privacy panel between the two setups. This is based on necessity, and not everyone needs it. However, if you're on your lunch break and eating at your double sit-stand desk, you can put up the privacy panel so that they aren't watching you. Still, it doesn't drown out noises, so they can hear what you say.
Special Features
The double standing desk from Autonomous is nothing short of amazing. There are so many cool features to love about it. For example, it has two different desktops, each of which moves independently. Let's check out the rest of the perks of this double desk for home office or in-office use:
Powerful Frame
With this double desk, you get a powerful frame. There are dual motors for each desk, which means a total of four. Plus, it can lift about 2.3 inches per second, and the frame itself holds 300 pounds.
Electrical Functions, Height, Noise Level & Top
The top includes the SmartDesk Core Duo Top, which means you have two tabletops. Altogether, it's 61 inches long, 53 inches wide, and each tabletop is 29 inches long. Plus, the entire double office desk is white. There are many benefits of choosing an Autonomous white standing desk! Most people like that it's white, which helps promote productivity. When the motor is going on this double sit-stand desk, it's only 50 decibels loud. This is comparable to regular outside noises or household chatter. In a sense, no one around you can hear when you lift your side of the double office desk. That ensures that you're not disruptive and everyone can work comfortably. The frame itself raises from 28.5 inches to 47.5 inches tall. It can also support various lengths from 47.2 to 64.7. Therefore, you can go with a longer table if you want or a shorter one to save space. With that, the SmartDesk Core Duo is suitable for people of varying heights. One of the best things about this double desk for home office use is the power beam. It is full of ports and outlets, allowing you to plug and play without having to fill up all the plugins around the office. In fact, you can have two double desks for each outlet and still have plenty of juice to plug in computers, monitors, and all the rest.
Materials
When you choose the double office desk, the tops are made of high-quality MDF material. This is more durable than plywood and is considered engineered wood. Therefore, it's strong and robust while being low-cost. The frame is made using SPCC steel, which is highly strong and durable. Plus, it isn't likely to tip over, even though there are two desk setups!
What Are the Advantages of Face-to-Face Working in the Office?
Most people assume that face-to-face working is more about working at the office instead of remote working. While there are various benefits of working from home, you can also benefit from working in front of someone else. Though you're focused on your task, you can glance up quickly to see if the employee is busy. If not, you can ask questions, collaborate on the same project, and get quick advice.
Why Should You Choose Autonomous?
There are countless reasons to choose Autonomous. For one, it offers an amazing double desk that's suitable for nearly everyone. However, there are some other benefits that this company brings to the table, too:
Quality/Certificate
When you choose the double sit-stand desk from Autonomous, you get unsurpassed quality. In fact, its double office desk features two certifications. The UL certification indicates that products with that indication focus on making the world a better and safer place for consumers and workers. There's also the ANSI/BIFMA certification. BIFMA is a non-profit organization formed to create voluntary standards that promote safer work environments. Pretty much, these certifications claim that the double standing desk from Autonomous is safe for anyone to use.
Assembly
Assembling the double desk for home office use is easy. First, you must loosen the screws for the support beam with the included Allen wrench and extend it fully. Then, you put the support beams over two of the legs, attaching it with the supplied screws. Do that to the other side. Attach the two connection beams to the legs as in the instruction booklet. Add the gaskets and screws, securing them in place. Then, add the power tray to the right location of the support beam, and then attach the cable trays to the support beams. Flip the frame over, and add the power beam covers. Attach the included screen clips to the connection beam. Put on the two brackets on each support beam, and don't forget the support pads for the bracket and support beams. Connect your control box to the control switch and leg cables. Repeat with the other side of the double desk. Now, plug the power cable into the control box and the outlet. Attach the desktops onto the frames, fix the central support beam in place, and you're finished.
Trial & Warranty
Everyone has a 30-day trial period when buying any Autonomous product, though there are a few stipulations. With that, there is a 7-year warranty for the SmartDesk Core Pro for all mechanical and met parts, including electrical components and motors. Employers that want to create a better working environment might want to consider the double desk from Autonomous. It allows for more collaboration and can save space, as well.
Häufig gestellte Fragen
Sie sehen die Antwort auf Ihre Frage nicht?
If one of my leg motor gets broken, can I replace only one leg/ motor? The same question to other parts.
Definitely. With SmartDesk Core Duo, we support you to replace parts including PowerBeam, power tray, bracket, leg, control box, keypad, support beam, plastic lid, power cord, cable tray.
Does the two sides function separately so that if one side gets wrong the other side can still perform okay?
Yes, the two sides of the Double standing desk function separately. Each side of the Double Desk is provided with full package of control box, keypad, lifting motors therefore they perform independently that do not affect each other.
Can I buy a table top separately in case there is a problem with only one desk top?
Sure. You can talk to our Customer service team by DM on Autonomous social media (Facebook/ Instagram/ Twitter) or email at human@autonomous.nyc to ask for a new desk top. We are always available for you.
Can I buy the XL desk top for the Double standing desk?
Hi, based on customer demand, we only sell the desk top in basic size, white color for SmartDesk Core Duo. We hope you will be happy with the model available and definitely will we introduce more options that customers show a large interest in.
How can I utilize the PowerBeam?
PowerBeam is an outlet hub that allows you to connect electricity, USB, Ethernet and phone. Plug the cords into the prebuilt ports then plug the PowerBeam main cord into the power source, now you are fully provided with the internet, electricity and phone line.