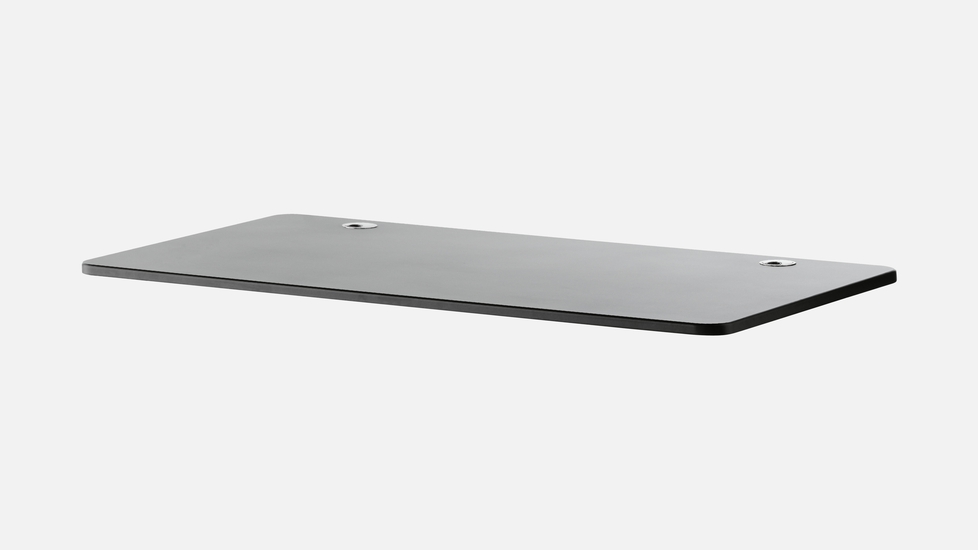 Autonomous SmartDesk Surface
Bought by 23 Google employees
FREE shipping Feb 07 - Feb 09
Sold and shipped by Autonomous.
Autonomous SmartDesk Surface at a glance.
• Pairs with Autonomous SmartDesk Pro & Core
• Not compatible with desk frames made in collaboration with partners
• Matte or standard finishes
• Warp-proof MDF wood option
• Scratch-resistant bamboo option
• TSCA & REACH certified for safety
• 2-year warranty
Deep dive into specs
Black Desk Top: Classy and Sophisticated Table Tops
Black work desks are gaining popularity for quite a few reasons. These table tops are becoming prominent parts of each office and home today. They look classy and have several other perks which make them a top pick. So, if you consider installing a black desk top on your work desk, this article will assist you well. Today people want their work desks to blend well with the other interiors in their office or home. As a result, they demand more designs, shades, and forms to satisfy their needs. Likewise, the black table desk top is getting a great response because of the varied perks it extends. Autonomous is a renowned company that offers various products to its clients. Moreover, they have classic standing desks
1. Elegant and Sophisticated Appearance
Black is a common color that goes well with other interiors without fail. So, if you want your work desk to look attractive and help your employees work better, this is your most reliable choice. The black office desk top is perfect for your work desks as it gives a subtle and professional look. Moreover, it also looks classy for gaming centers and helps individuals acquire power and concentrate better.
2. Anti-clutter & UV and Scratch Resistant
The black table top is entirely anti-clutter and prevents the entangling of wires and mess on your work desk. It ensures the space is open and not occupied by unnecessary items. Further, these grommets have silicone linings that protect wires better and prevent damage. The autonomous black table desk top is hand polished only. Further, it has protective layers to lock the shade and prevent UV and Scratch damage. Also, the company offers a matte bamboo option which comes with double protection from scratches.
3. Robust Material
The black desk top only is made of a strong, sustainable material that you will not find elsewhere. The company also offers warp-proof MDF wood options if clients are looking for better durability. It is a sturdy product that will guard your work and computer device in every way. Further, you can also opt for the resilient bamboo material if you want natural wood. Both the materials are tested and certified to be the strongest for desk tops. Also, they are environmentally friendly.
Key Considerations when buying a black table desk top
Checking on these aspects before purchasing a table top is essential. They will aid you in acquiring an ideal product and eliminate disappointments. So, if you want to purchase a black table top only then consider these points first. The quality and material of the desk top are very important aspects. This factor determines how long your work desk will last. Further, a high-quality material also promises stability and prevents wear out to make the desk look great for a longer time. Another point to check on is the design of your desk top. The design must be classic and subtle not to distract you or any other use while working. Moreover, a decent color will promise better work efficiency and offer more comfort. Check these 20 black office designs to get a better idea about this point. Last but the most crucial point is weight capacity. This factor helps you analyze if your desk will be able to carry the weight of your devices well. We suggest picking desks with better weight capacities and robustness for fine outcomes.
Reasons to choose a black desk top for your work desk
Black desk tops have several merits that make them a reliable choice for all individuals. Installing these desks will help you acquire all the perks that this color offers. Moreover, it will lighten up your entire space and make it appear amazing. Thus, pick the correct black desk with us and boost your work efficiency today. Several aspects make black a top color choice for your office desks. To know more about colors, check the best color schemes for office desks before finalizing your choice. There are many physical and psychological perks of using a black office desk top. Please read on to grasp more knowledge on it and make a suitable choice.
1. Importance of Black: Black as a color has its perks to offer better work efficiency. In addition, the color signifies elegance, sophistication, and power. Thus, these aspects help a user concentrate better, feel great and perform their work with determination. Furthermore, black is a subtle and basic color that blends well with its surroundings. So, selecting a black desk top will surely not upset you or your employees.
2. Better Productivity: As we know, black desks encourage individuals to work seriously. However, they are also beneficial for gaming and other purposes. These table tops promise better concentration and help you focus on your tasks well. Further, to top gaming, you can also opt for a black desk to get your ideal gaming set-up.
3. More Professional : Black is considered to be a serious and more professional color in comparison to white. Of course, white has its merits, but black promises precision and accuracy, which is a must while working. Moreover, black is a cozier color that promises the utmost ease and comfort for a user. Thus, installing a black table wood top is very beneficial for your office or workspace. Autonomous has the finest black table tops for your work or home space. Installing these work desks offers comfort and better concentration to progress.
FAQs
Don't see the answer to your question?
Can I use PayPal to pay for this desk?
Due to transaction limits, we can only accept PayPal payments from the 1st to the 15th of every month. PayPal's account policy permits us to accept a limited volume of payments per month, and with current sales volume, we normally reach our limit by the 15th.
We do! We have shipped to more than 60 countries so far, and we're still counting! Please select your country for localized checkout and appropriate pricing, duties, and taxation processing.
The SmartDesk in Artist's x Autonomous collection is available in the US only. We are considering worldwide availability so stay tuned for updates.
How long does shipping take?
Once your order is processed (less than 1 business day), shipping takes 3-5 business days for continental US addresses and 12-15 days for international orders.
Concerning The SmartDesk in Artist's x Autonomous collection, because this is a pre-order product, our team needs to arrange the production and shipment logistics. Please bear with us during this process. You will receive your pre-order special SmartDesk no later than 45 days after you complete the order. Thank you for your patience.
Can you give me more information about your 30-Day Trial policy?
If you don't like your desk, we'll take it back. It's that simple and easy. You have until 30 days after delivery to build and use your desk. If you change your mind, you can then request to return the desk for a full refund (we even cover shipping!), no questions asked. This policy applies to all desks delivered inside continental U.S. and returned in their original packaging only. International orders do not qualify for this program. Please note that the returned standing desk needs to be in its original packaging. If not, we reserve the right to refuse your request.