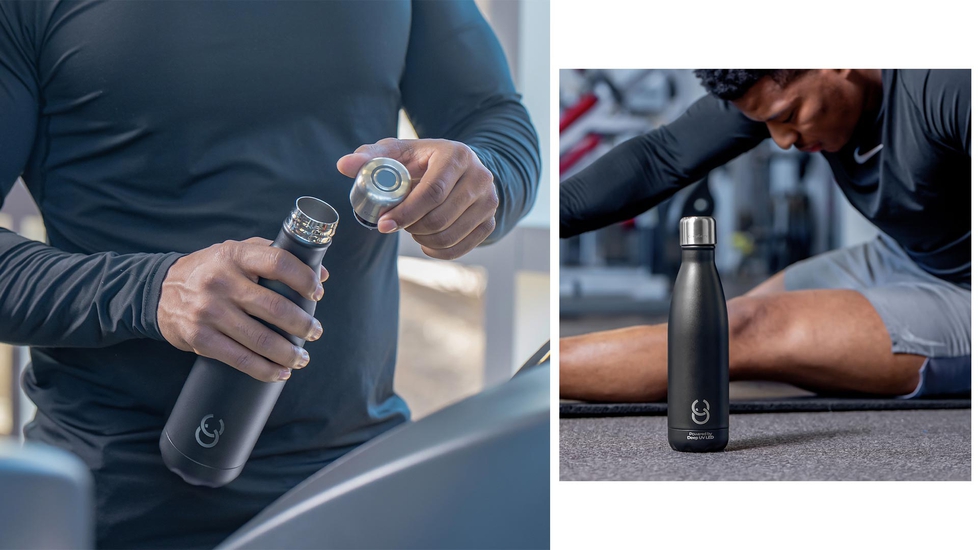 WAATR CrazyCap 2.0 Purification Bottle
$71
Livraison gratuite et flexible
Notify me when this item is available
Enter your email below. We'll let you know when it's back in stock.
Vendu et expédié par WAATR.
WAATR CrazyCap 2.0 Purification Bottle en un coup d'œil.
This smart water bottle automatically sanitizes your water with a built-in UV light that activates itself. Enjoy clean, pure water anywhere in a durable and eco-friendly bottle.
• Modern design
• Keeps hot inside to 12 hrs
• Keeps cold inside to 24 hrs
• Super durable stainless steel
• UV water purification
• Automatically kills germs and bacteria
• Planet-friendly
• Easy operation
• 10-year warranty
Plongez-vous dans les spécifications
Sleek and stylish design
The filterless design makes CrazyCap come with no maintenance for life. Ensure your CrazyCap performance is always optimal and ready to go at any time.
STAYS HOT AND COOL
Super insulated stainless steel
Crafted with durable BPA-free 304 stainless steel with double-walled vacuum insulation, it maintains hot beverages for 12 hours, and keeps drinks icy cold for 24 hours.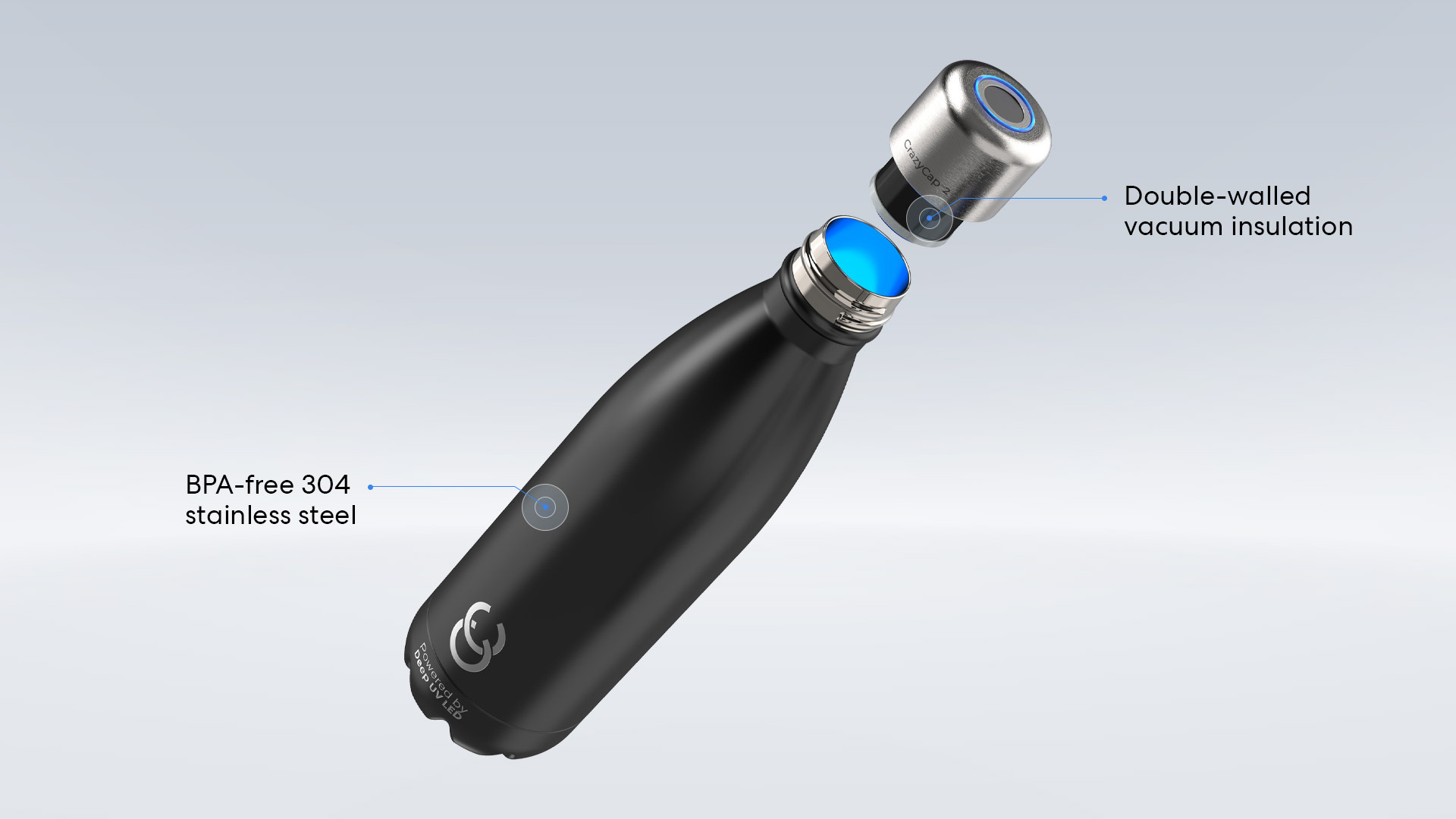 SUPER SAFE
Chemical-free purification
The ultraviolet light is built in, with the same wavelength as the UV used to sanitize operating rooms. It's 100% CHEMICAL-FREE, certified by NSF International against NSF/ANSI 55.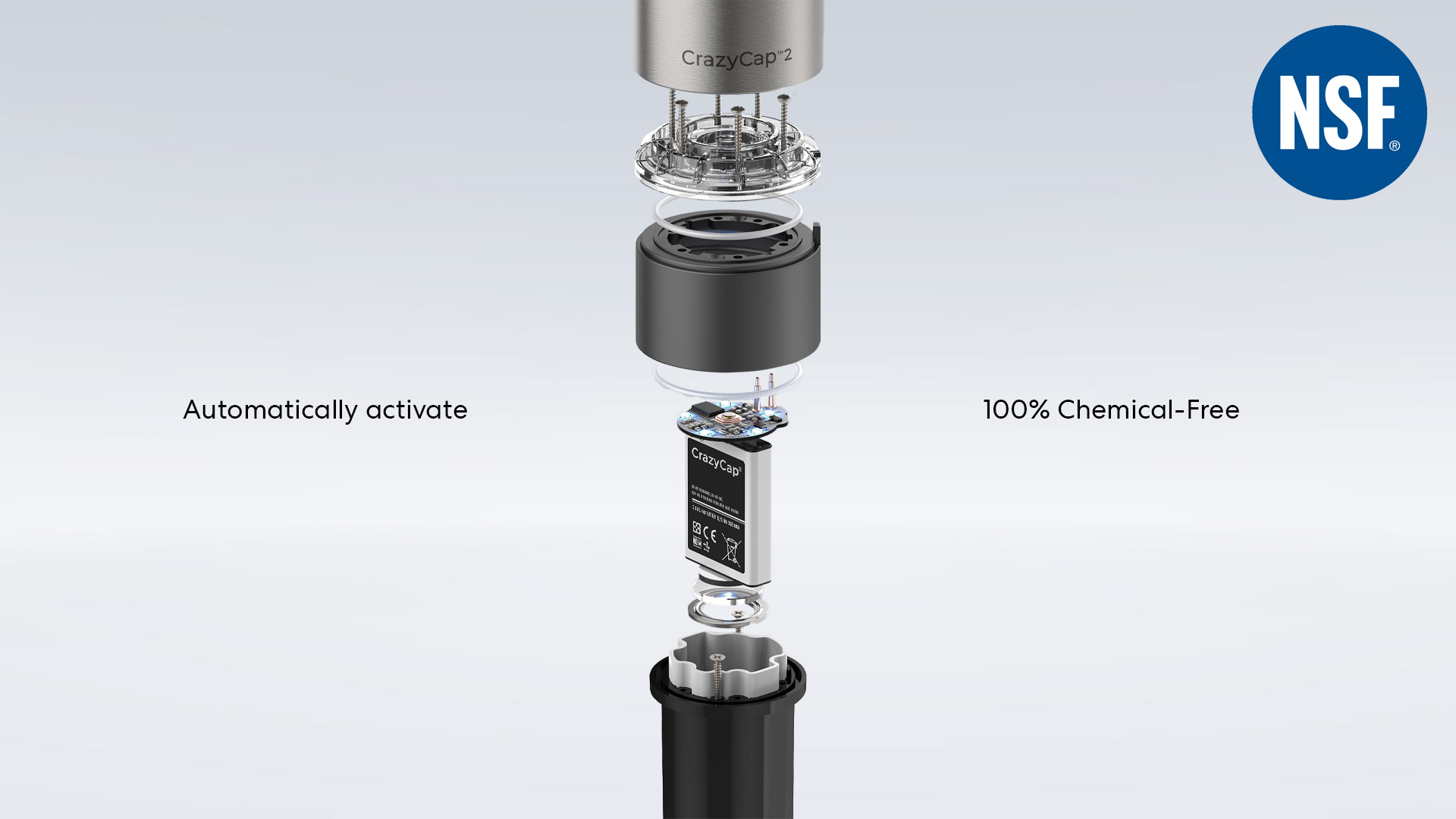 FAST CLEANSING, 2 ACTIVATION MODES
60 seconds is all you need
With just a few taps of the finger, you can enjoy pristine drinking water anywhere. Tap the cap twice for quick 60-second cleansing, or five times for deeper 2-minute purification.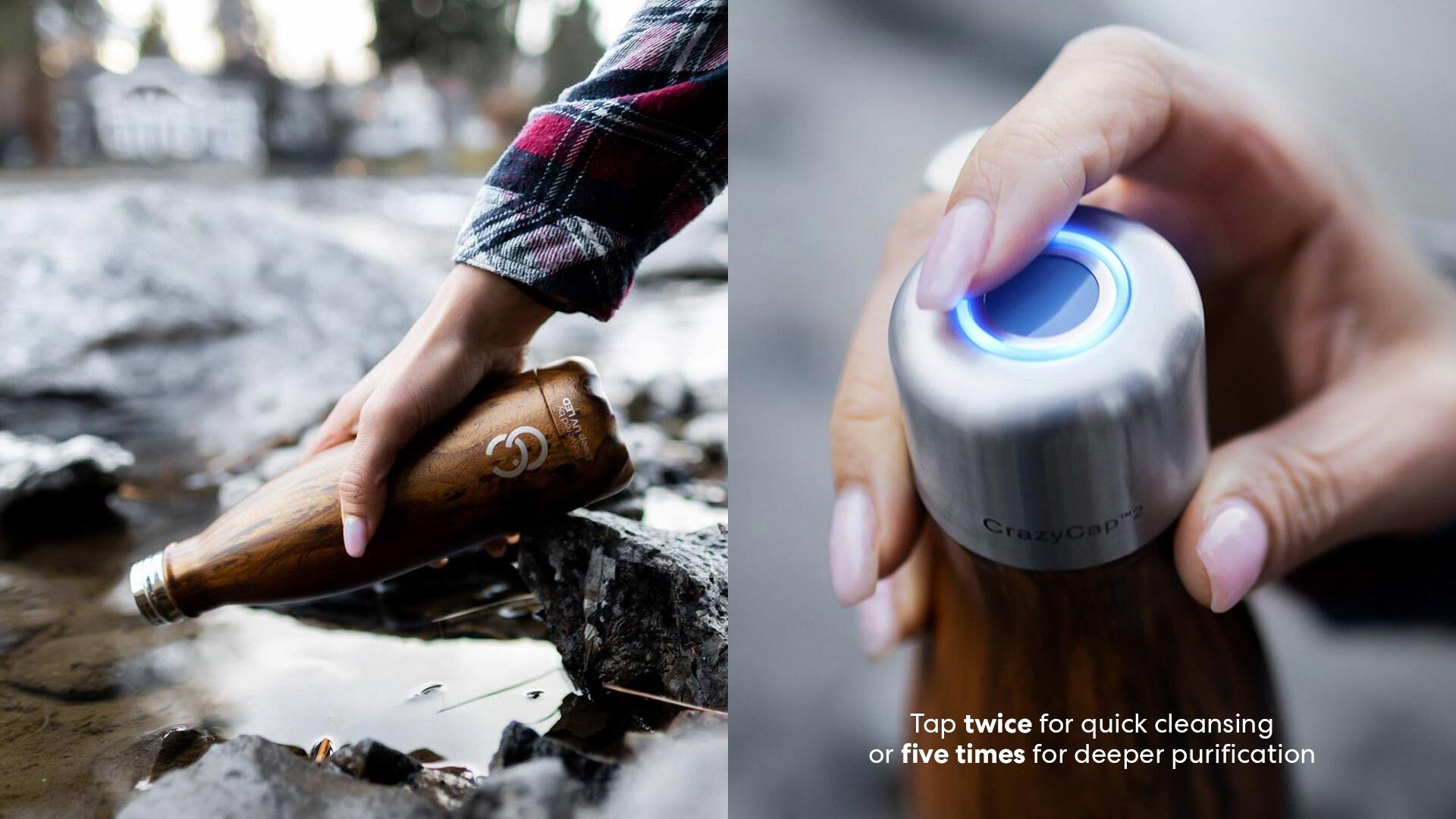 AUTOMATIC SELF-CLEANING MODE
Cleans itself for you
CrazyCap stops bacteria and germs from breeding. Every four hours, UV rays in the cap automatically activate, keeping your water 99.9996% fresh and clean.
NO FILTER REPLACEMENT
Eco-friendly hydration
CrazyCap helps keep you hydrated while replacing 500,000+ plastic bottles! Reduce waste, save a ton of money, and be at ease with a limited lifetime warranty. Recharge with an included port-less USB cable.
CRAZYCAP 2 Filtered Water Bottle – Keep yourself hydrated at all times!
The CRAZYCAP 2 Filtered Water Bottle is an excellent choice if you want to make sure that the water you drink is as clean as possible. It includes a built-in UV light that will remove all the potential bacteria and germs that the water may contain. It can be part of your home gym ideas or your office accessories. According to experts, it is recommended to drink about 2 to 3.7 liters of water per day for women and men, respectively. However, this self-cleaning water bottle will make sure that the water you drink is 100% purified. Therefore, you will be able to enjoy even more benefits in the long term than you think of, regardless of whether you're an office worker trying to get the home office essentials or an athlete.
Benefits of using a purified water bottle
The CRAZYCAP 2 Filtered Water Bottle can help you purify the water you drink on a daily basis. Purified water is associated with tons of benefits that will help you in your everyday life. Here we mention some of the advantages that you will enjoy after acquiring the purified water bottle by CRAZYCAP. The CRAZYCAP water bottle is the best option for people that live in the gym 24/7 or office workers that often forget to drink water throughout their day.
1. Purified water is helpful for your digestion. This purified water bottle will neutralize the water's pH levels, which will allow you to reduce your body's acidity as well. This effect translates into a better digestive process. It is especially helpful for people that have reflux.
2. It will help you have a better performance at work and at the gym. It is well-known that drinking water improves focus. Furthermore, it helps you maintain your body fresh and your joints and muscles lubricated.
3. Hydrating your body is necessary for detoxifying your body. We deal with tons of toxins on a daily basis. However, when one drinks enough clean water, you will make sure that your kidneys are functioning properly. Thus, all those impurities and toxins will eventually be flushed out naturally.
4. Drinking water is excellent for your skin. It is recommended that people who suffer from dry skin or other conditions drink water regularly. Purified water is excellent for improving your skin's moisture and elasticity. The absence of chemicals during the purifying process of this self-cleaning bottle makes sure that all the water you take throughout the day is 100% safe for you.
5. Purified water tastes better. Tap water often has an unpleasant taste and odor, making it challenging to drink it frequently. However, purified water tastes way better and has a neutral smell. Therefore, it will be easier for you to drink it. As you can see, there are tons of benefits associated with the CRAZYCAP 2 Filtered Water Bottle. If you want to follow a healthier lifestyle, one of the first steps you need to take is to drink as much water as possible.
How does a self-cleaning water bottle work?
The CRAZYCAP 2 Filtered Water Bottle is easy to use. It only takes 60 seconds to purify the water you'll drink. After pouring the water, all you need to do is "tap" the cap two times. Then, the bottle will start the quick cleansing process. You will also be able to take advantage of the 2-minute-deep purification. All you need is to tap the cap five times for the bottle to activate it. Let's not forget that we're describing a self-cleaning water bottle. The CRAZYCAP 2 Filtered Water Bottle will clean itself every four hours with the built-in UV light in the cap. Therefore, your water will remain as fresh and clean as possible even if you forget to drink water for a long while. If you want to ensure that your purified water bottle works at all times, confirm that your self-cleaning water bottle is appropriately charged. It includes a port-less USB cable. The CRAZYCAP 2 Filtered Water Bottle is the best option you can choose if you want an eco-friendly purified water bottle that's useful for you in the long term.
About CRAZYCAP
CRAZYCAP is a company that offers reusable purified water bottles to the public. Considering that about 29% of the world's population drinks contaminated water, Rakesh Guduru founded CrazyCap in 2019. Since then, the company has become one of the leading water bottle brands.
FAQ
Vous ne voyez pas la réponse à votre question ?
Is there any bottle brand that the cap is compatible with?
CrazyCap is compatible with a majority of cola-style bottle brands. The most popular brands include MIRA, Simple Modern, Aorin, S'Well, Manna, HoneyHolly, BonBon, LiveLifeLong, Inosu, SunSella, Sportsneer, Chilly's, S'ip by S'well bottles, etc.
How can I turn off the Self-Clean mode?
There is no 'on' or 'off' button on the cap. The self-clean mode is automatic and cannot be turned off.
Charging your CrazyCap is very easy. A port-less USB charging cable is included with your CrazyCap. Simply place the charger on top of the cap, and it will fully charge in 4 hours or less.
How to activate normal mode sterilization?
Normal Mode is activated by tapping the touch sensor on the cap twice (UV is activated for 60 seconds).
Click here
to see the Normal Mode activation video.
How to activate crazy mode sterilization?
Crazy Mode is activated by tapping the touch sensor on the cap 5 times (UV is activated for 2 minutes).
Click here
to see the Crazy Mode activation video.
How to remove moldy odor from bottles?
Step 1: Completely empty the bottle.
Step 2: Screw the cap on to the bottle and treat it two times in Crazy Mode.
Step 3: After two treatments, the odor should be eliminated significantly. If not, try Crazy Mode one more time.
Note: CrazyCap's deep UV can only eliminate odor due to mold, bacteria, fungi, algae, etc., but not due to perishable contents used in the bottle.