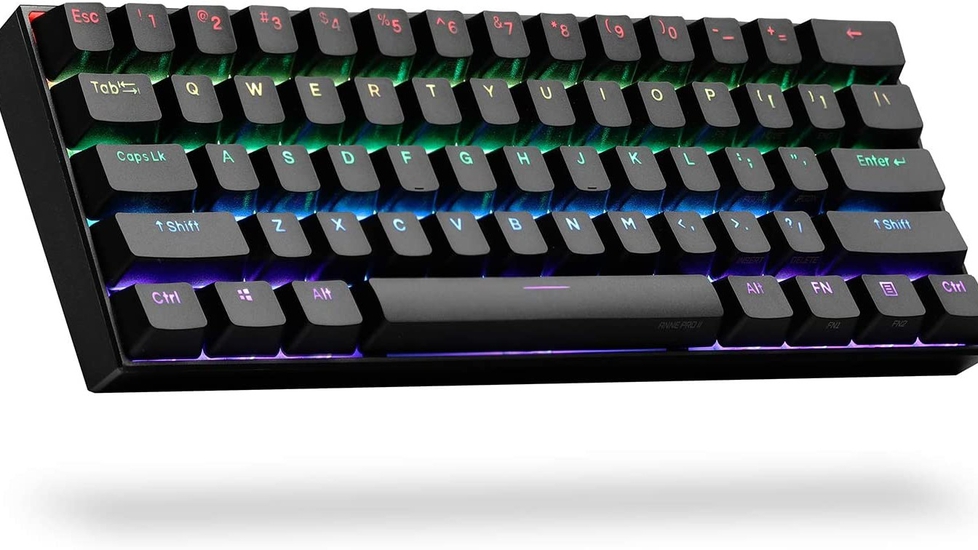 Royal Kludge RK ANNE PRO Mechanical Keyboard: Gateron Brown Switch
Livraison gratuite et flexible
Commande en grosEnregistrer jusqu'à 

2%
Color: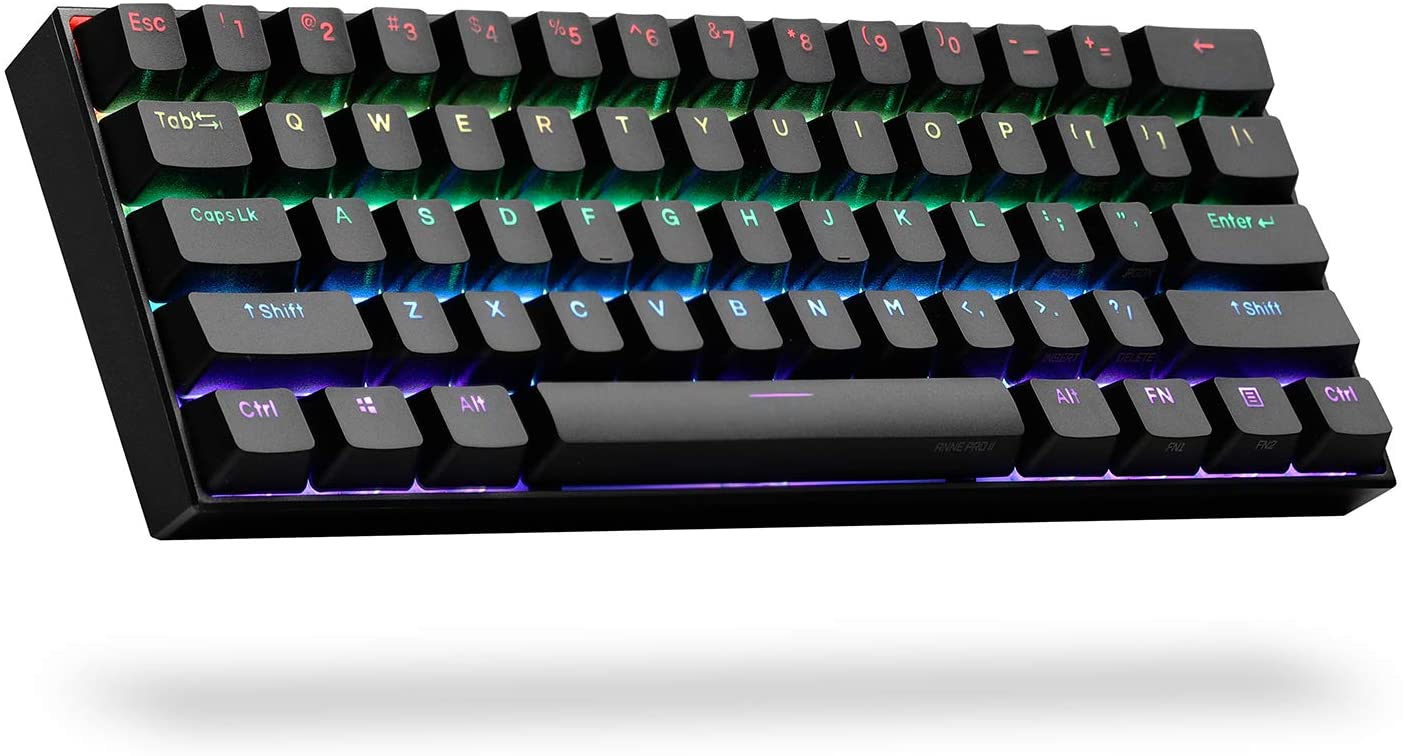 Not available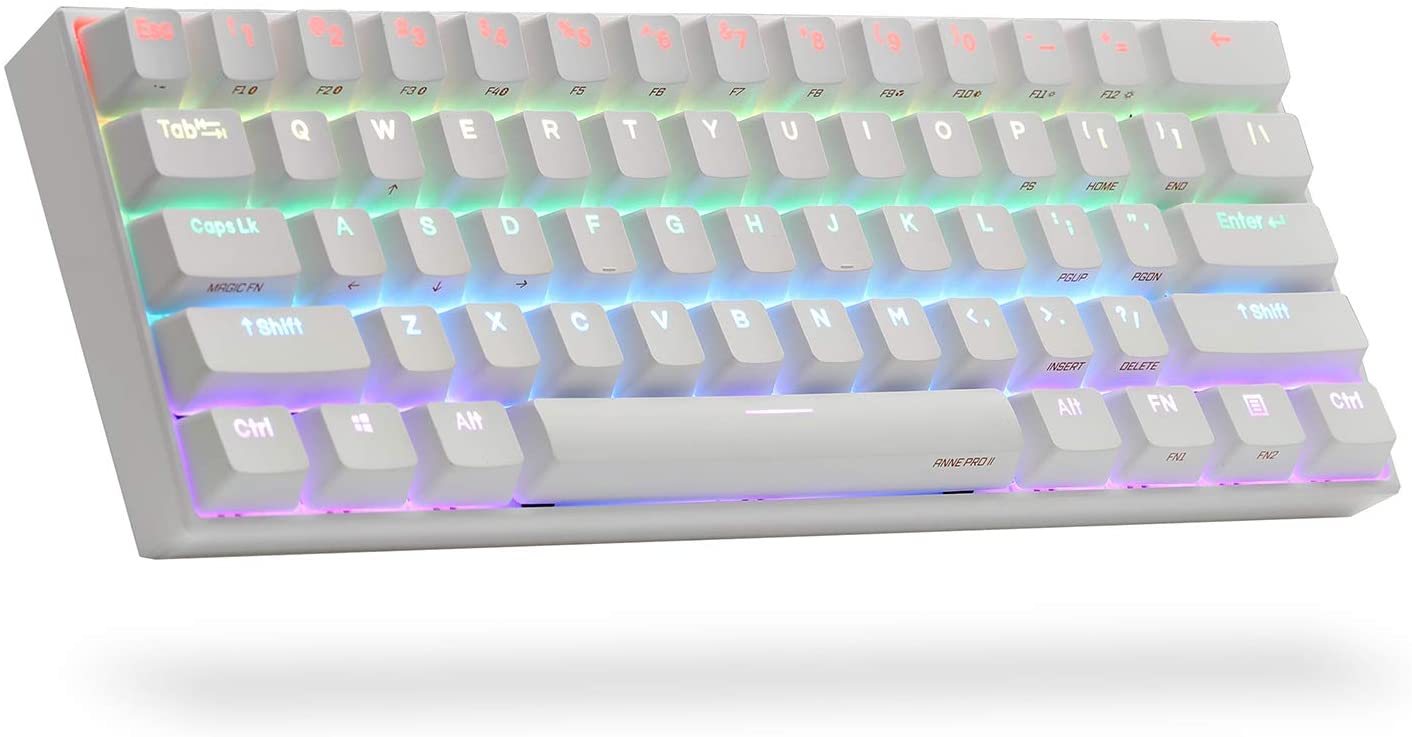 Not available
M'avertir lorsque cet article est disponible
Entrez votre email ci-dessous. Nous vous informerons dès qu'il sera de nouveau en stock.
Vendu et expédié par Royal Kludge
Fonctionnalités principales
• 61 Keys • RGB Backlit • Compact and Portable • Bluetooth Connectivity • Professional Software • Gateron Brown Switch
• 1-year warranty
Minimalistic design doing more with less. Requires less hand movement while still being able to access all the functionalities. Compact and Portable . It saves desk space and easy to carry around. Fits right in backpack. Perfect for home, work and on the go. Decent bluetooth connectivity enables wireless connection up to 4 devices and switch seamlessly back and forth. Revamped obinskit starter software simplifies the way to set up your own key layout, lighting and to create macros. The "Magic Fn" on the Caps Lock button makes it easier to utilize the F1-F12 keys while gaming.
Plongez-vous dans les spécifications
Caractéristiques
FAQs
Spécifications
You'll be successful if you use a mechanical gaming keyboard, like an ANNE PRO 2 keyboard. Try out several toggles if you have the option. The cost of a switch tester might be reduced significantly if you find a retailer that offers free demonstrations of the product. A linear switch has no feedback until it is turned off. You can hear and feel the click of the switches when you activate them. Linear switches are more common in gaming keyboards, whereas tactile switches are more common in typing keyboards. An expensive keyboard may last almost as long as your computer accessories. It is one of the best desk accessories to have. For several reasons, mechanical keyboards, like ANNE PRO 2 keyboard options are excellent gaming peripherals and are also a lot of fun to experiment with. Even though they cost a little more than regular keyboards, mechanical keyboards are well worth the investment. Faster reaction times, improved durability, N-key rollover, extensive customization options, and a gratifying experience all add up to make mechanical keyboards the superior choice for competitive gamers.
What is a Mechanical Keyboard?
For each gamer, the peripherals they use are an integral part of the action on the field. Any person who regularly uses a keyboard understands that having a high-quality, full-mechanical gaming keyboard as ANNE PRO 2 can completely transform your experience. You probably have more options than you realize, but you are unaware of this. Mechanical and membrane keyboards are the two most common switch technologies for keyboards. To differentiate themselves from membrane keyboards, mechanical keyboards, such as ANNE PRO mechanical keyboards instead rely on mechanical switches. Most people think of mechanical keyboards when they hear the term "mini mechanical gaming keyboard," since these are the traditional, robust keyboards that have been popular since the 1980s. In this way, mechanical keyboards have high-quality plastic switches below each keycap.
Why Should You Buy a ANNE PRO 2 Mechanical Keyboard?
The ability to assign individual keys to functions is a cool feature found on certain mechanical keyboards. This will let you assign functions to certain keys and create shortcuts. If you find yourself repeatedly pressing the same sequence of keys, you may assign that sequence to a single, programmable button. Additionally, some games let you alter the control scheme to one that better suits your play style, thereby raising your level of competition. We recommend ANNE PRO 2 wireless. When compared to more conventional keyboards with a rubber dome or membrane, mechanical keyboards are often regarded as being of much higher quality and longevity. In a mechanical keyboard, each key has its own switch, so that when you press a key, it is properly registered. The design of these keyboards, such as ANNE PRO 2 wireless makes for very stable and quick responses, making them ideal for competitive play. When compared to other keyboard technologies, mechanical keyboards have a far quicker reaction time. The length of time it takes for your system to detect a keypress after it is pushed is known as the response time. Due to the unique nature of the switches, mechanical keyboards provide unrivaled reaction time. This eliminates the little delay often seen between pressing a key and it being registered.
Features of ANNE PRO 2
ANNE PRO 2 is simple but effective in any gaming setup, making the most of its few resources. Reduces the amount of motion your hands need to make while providing full access to all features. It's small and easy to transport. It is compact, so it won't take up much room on your desk, and it's simple to transport. Perfect for stowing away in a bag. Excellent for use in any setting, including the office and when traveling. ANNE PRO 2 brown switches' Bluetooth support is sufficient, allowing you to connect up to four devices wirelessly and toggle between them without any hiccups. The redesigned obinskit starter program makes it much easier to customize your keyboard's layout, illumination, and macros. Using the F1 through F12 keys in a game is simplified by pressing the "Magic Fn" button located on the Caps Lock key of ANNE PRO 2 brown switches.