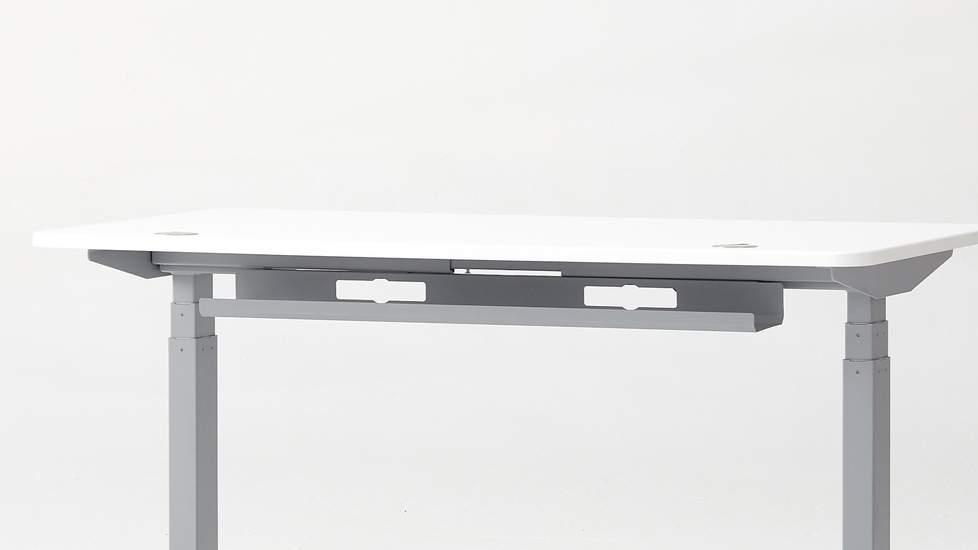 199 Commentaires
Livraison gratuite et flexible
Commande en grosEnregistrer jusqu'à 

7.5%
Acheter maintenant
Ajouter au panier
Livraison gratuite Dec 10 - Dec 12
Acheté par 1122+ Google employés.
Vendu et expédié par Autonomous
Cable Tray en un coup d'œil.
Indispensable pour garder les choses en ordre. Parfaitement compatible avec tous nos SmartDesks, il vous permet de garder vos cordons et vos idées bien en ordre.
• Facile à installer et à personnaliser, sans perçage
• Capacité de charge jusqu'à 15 kg
• Assez spacieux pour accueillir une multiprise et plusieurs câbles
• Fabriqué en acier solide
• Finition antirouille
• Compatible avec les cadres SmartDesk Pro, Corner
• 1-year warranty
Plongez-vous dans les spécifications
Caractéristiques
FAQs
Spécifications
Commentaires
4.7
If you're like most people, all those unsightly cables and wires coming from your computer give you a headache. In the past, there wasn't much you could do about it, but now there is! If you get an under-table cable tray, you can hide all of those wires and feel more confident. Cable management for standing desk setups is plentiful. Therefore, you're sure to find one that meets your needs and preferences. The main point here is to get a desk cable organizer to assist in various ways.
The Positive Impact of Using a Cable Tray for Wire Management
It's essential to organize office desk setups effectively so that you have enough room to work. Most people focus on where the monitor and keyboard should be placed, but if you look under the desk, you see all the wires and cables. An under-desk wire tray can have a positive impact on the entire setup. Most people don't know what those are or the benefits of using a cable management tray. Here are just a few of them:
Wires Live Longer
If you don't use a cable tray with your sit-stand desk, it can reduce the lifespan of the wires. They often get stretched out multiple times a day as you go from standing to sitting. With that, they can get crimped while the desk moves. Cables aren't supposed to bend too much. Even if they look fine outside, damage happens inside that can make them not work at all. Most people think that a desk cable tray is much better than buying new computer wires all the time!
Easier Maintenance and A Cleaner Look
Typically, it's easier to maintain your devices when you have a cable management tray. You want to assemble all the cables and wires near your equipment to give you easy access. Plus, you can group various wires together to make it easier to identify them when you're doing maintenance. For example, keep all the wires to your computer in a separate cable tray. Then, add the other monitors to a different under-table cable tray. If you have other equipment, such as fax machines and printers, they can go in yet another under-desk wire tray. When you choose a desk cable tray as your management system, you are less likely to disconnect the wrong wire. Most people prefer a desk cable organizer because it gives them a cleaner look. If you choose the under-table cable tray, no one even sees them coming from the computer.
Getting Organized with Autonomous Cable Tray
Now that you know why it's so important to organize your standing desk accessories, you can start organizing all the wires with your cable management tray. It's tucked out of the way, so no one sees it. However, it keeps everything together so that you don't have wires here, there, and everywhere. Let's learn more about the Autonomous Under-table Cable Tray:
High-quality Material and Weight Capacity
The under-desk wire tray is made using quality materials. The solid steel is durable and lasts for a long time. Many people worry about humidity or other forms of moisture getting on the desk cable organizer. However, it comes with an anti-rust finish for longevity. Now, you can install the desk cable tray and never worry about it again! You may not have thought about the weight capacity of your cable management tray. After all, how heavy can the wires be? Most people are surprised to learn that some of them can be quite hefty. Plus, if you have five to 10 wires coming from your desk, that adds up. Luckily, the under-desk wire tray from Autonomous holds up to 35 pounds. Many people actually put their power strip up there, and it holds it and various cables, too!
Superior Protection against Electrostatic Interference
Electrostatic interference is often caused by stray electrons in the control cable and other machinery in the area. If you enclose the cables in a cable tray from Autonomous, that prevents these electrons from disrupting your cell phone and other equipment. Some people worry about the cable management tray being open and not fully enclosed. However, there's such a small gap that it doesn't make a difference. With that, you aren't likely to get zapped each time you touch the metal. If there is static electricity in the office, though, there's no risk of a power surge or sending too much electrical current through the cables to do harm.
Time-saving
Another good reason to consider a desk cable organizer is that it takes less time for you to install new wires and get new computers set up. Generally, you don't have to crawl under the computer and change out wires all the time. Once it's set up, it's done. However, there may be times where you want to put in a new monitor, take out an old one, and more. With the right cable management tray, it's much quicker and faster to do that. Plus, you know which cable goes with what, so you don't accidentally pull the wrong one out and risk damage to the outlet or the plug.
Lengthy Trial & Warranty
Autonomous knows that things happen. Though every office employee can benefit from an under-table cable tray, you may want to return it for some reason or another. If that happens, you can do so, as long as you do so within 30-days of delivery. Unless you're spending over $1,500 on tons of cable trays, the trial period applies to you and your desk cable tray. When you receive the under-table cable tray from Autonomous, make sure that you inspect it. You have one week from delivery to do that. It's also wise to save the packaging. From the time of delivery, your cable tray is guaranteed from defect for a full year. This includes any mechanical and metal parts. The warranty doesn't cover improper assembly and normal wear and tear, though. If you are interested in buying a desk cable organizer for your sit-stand desk, now is the time. Autonomous offers this and many other accessories to help you work comfortably and enjoy your time at the office.