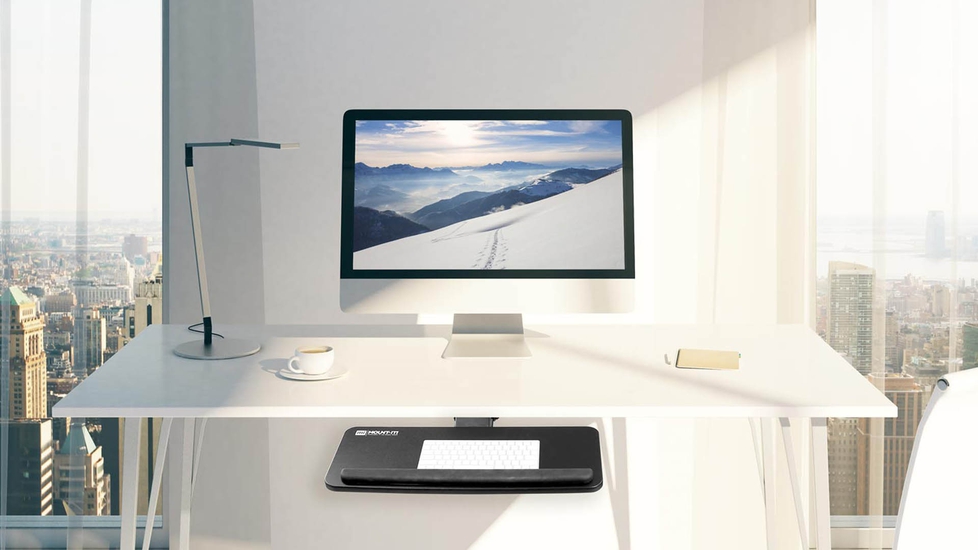 Working from home?
Obtenir des prix spéciaux
Keyboard and Mouse Platform by Mount-It!
$59
This space saving adjustable tray can be tucked away underneath your desk when not in use. Position your peripherals lower and closer to your body to adopt and maintain a neutral working posture. Enjoy optimum wrist placement and maintain healthier work posture throughout your workday.
Expédié sous 2 jours ouvrés
|
Livraison gratuite et flexible
|
30-le jour revient.
Faites-le payer à votre entreprise
Nous pouvons transmettre cette commande à un contact de bureau et demander le paiement en votre nom.
Économisez jusqu'à 10 %.
Achetez plus, économisez plus
Quantité
Prix unitaire ($)
| Quantité | Prix unitaire ($) |
| --- | --- |
Keyboard and Mouse Platform by Mount-It! en un coup d'œil.
• Compatible with small and large keyboards
• Height adjustable
• Tilt and swivel for optimum placement
• Gel wrist support pad
• Slides under your desk when not in use
• Tray dimensions: 25" long x 10" deep
NOTE: Not compatible with our SmartDesk
• 10-year warranty
Plongez-vous dans les spécifications
FAQ
Vous ne voyez pas la réponse à votre question ?
Is the Keyboard and Mouse Platform compatible with Autonomous SmartDesk products?
Unfortunately, this platform is incompatible with the current models of Autonomous SmartDesk.