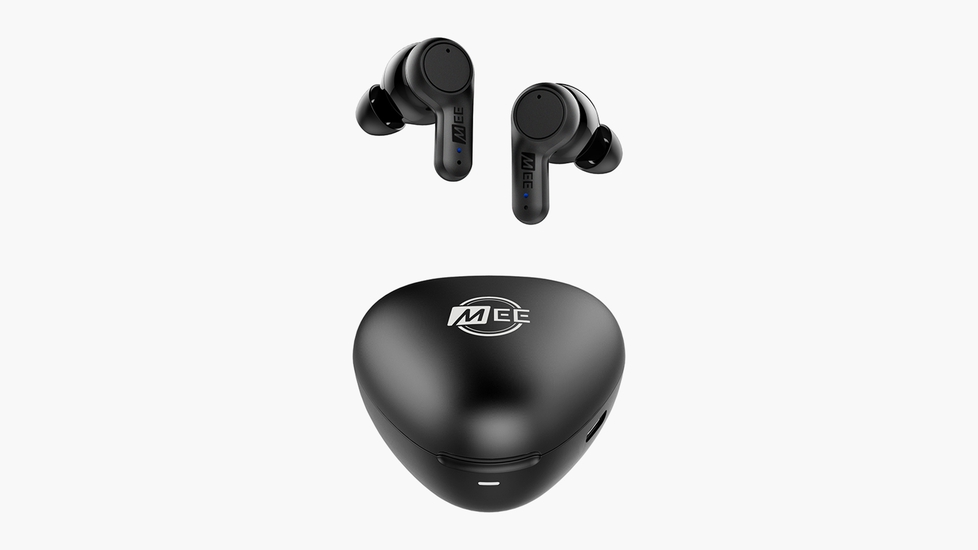 MEE audio X20 Truly Wireless In-Ear Headphones: Active Noise Cancelling
MEE audio X20 Truly Wireless Active Noise Cancelling In-Ear Headphones
4 Commentaires
Visit our store
Livraison gratuite et flexible
Commande en grosEnregistrer jusqu'à 

2%
Acheter maintenant
Ajouter au panier
Livraison gratuite Dec 06 - Dec 08
Vendu et expédié par MEE audio
Fonctionnalités principales
• TRULY WIRELESS TECHNOLOGY delivers unparalleled freedom of movement with MEE signature sound, featuring 10mm dynamic drivers tuned for deep bass, warm midrange tones, and crystal-clear treble • ON-DEMAND ACTIVE NOISE CANCELATION for distraction-free listening on airplanes and in other noisy environments • LIGHTWEIGHT ERGONOMIC DESIGN provides a secure fit and all-day comfort; left and right earpieces can be used independently • BUILT-IN HEADSET features integrated microphone and touch controls for calls and media; quickly activate Siri or GoogleAssistant by tapping the touch control 2x • IPX4 WATER-RESISTANT DESIGN for protection from sweat and the elements; up to 25 hours of battery life with included charging case - 5 hours per charge with 5 charges total
• 1-year warranty
The MEE audio X20 truly wireless in-ear headphones with Active Noise Canceling technology deliver unparalleled freedom of movement and superior audio quality even in noisy environments
Plongez-vous dans les spécifications
Caractéristiques
FAQs
Spécifications
Commentaires
4.2
We have arrived at the dawn of the wireless era. The vast majority of the devices we own these days are capable of being operated wirelessly. As far as wireless technologies go, Bluetooth is one of the most versatile. Because of this, you may use wireless earbuds like a MEE audio X20 and yet receive the same high-quality audio experience as you would with corded earbuds with headphones. We'll go over a few of the advantages of using one of the best smart devices in this post. While truly wireless in-ear headphones are fully devoid of any wired or wired connections that join the two earpieces together, simply wireless headphones still have some kind of connection in some form or another. However here are 10 unique and cool desk accessories for your workspace on Autonomous.
Why Go For MEE Audio X20 Truly Wireless Active Noise Cancelling In-Ear Headphones
Every one of us has been there at some point. Your headphones are all knotted up and you can't get them out of your ears. Now what? You're about to go or feel the need to listen to the next chapter of your audiobook. It's like attempting to solve a Rubik's cube with the extra obstacle that the wires really fight back when you try to disentangle them. If you've ever tried to untangle your headphones, you know how aggravating it can be. It soon takes the fun out of listening to music. Once you've untangled them and therefore are working out, going for a stroll, or doing anything else routine, they might catch on anything and get yanked out, resulting in a frustrating listening experience.
The NoiseShield Active Noise Canceling technology in the MEE audio X20 truly wireless in-ear headphones provides unmatched mobility and outstanding audio quality even in loud areas. These ear headphones' noise-canceling technology provides an unmatched level of mobility and audio quality even in the most challenging of circumstances. In addition to NoiseShield on-demand ANC, installed SIRI and Google Assistant access, and IPX4 sweat protection, the lightweight and best truly wireless earphones provide 25 hours of battery life with the supplied charging case. In a loud area, NoiseShield ANC technology enables on-demand active noise canceling, giving you greater control over your listening experience. If you are looking for more office gadgets, here are 20 amazing desk gadgets for you on Autonomous.
Advantages Of Noise Canceling Headphones EarBuds
Enhanced wireless range and separate left and right earpieces come included with today's cutting-edge, truly wireless technology. The MEE audio X20 has a lot of functions, yet the earpieces are small and light, so they're comfortable to wear all day. 5 hours of playtime and active noise cancellation; 25 hours of battery life with the included charging case included in this product. Sweat and the elements are no match for the weatherproof design's dual integrated microphones, which allow you to use either one or both earpieces to make phone calls.
Portable
With best truly wireless earphones, you can get rid of all of your wired devices. You'll be able to answer calls without having to put your phone in your ear, as you may perform your work without having to put it in your pocket. These earphones will take care of everything. It is also true that the cables of your headphones or earbuds will never become tangled again.
You're free to move around as you speak
Another benefit of using best truly wireless earphones is that you can roam around while talking. In fact, the wireless earbuds allow you to work and even do household tasks without having to hold your phone in your hand. You may listen to music, make and receive phone calls, and pause and restart playing at any time.
They're reasonably priced and attractive
MEE Audio X20 Truly Wireless Active Noise Cancelling In-Ear Headphones provide a sleek and classy appearance. They have a sporting appearance and feel to them. Because of the way they're constructed, they'll keep their shape as you work out. Even if you only use earphones sometimes, you'll appreciate their aesthetic appeal. Despite their elegant appearance and nature, they are also reasonably priced.