Smart Products
20+ Amazing Desk Gadgets Make Cool Office
3,460 Views
Gadgets are basically toys for adults. However, cool office gadgets are not just tools with which you play. Desk gadgets often have a practical design that permits one to do things they may not have otherwise been able to do. They make work a lot easier than it used to be. 
Thanks to modern technology, every other day, new computer desk gadgets enter the market. Every version is seemingly cooler than the previous one.  Chances are the more cool desktop gadgets you have to work with, the more fun you have at your job. 
It's never a bad idea to turn a place that may have been an otherwise tedious workplace into a cool office space by getting some tech desk accessories. 
Top 20+ Amazing Desk Gadgets for your Desk
Do you go to work all energetic in the morning but before the end of the day, you're bored to death? If so, you need some awesome standing desk accessories to spice up your work life. Here is a list of the best office accessories and desk gadgets available. 
1. Autonomous Wide LED Desk lamp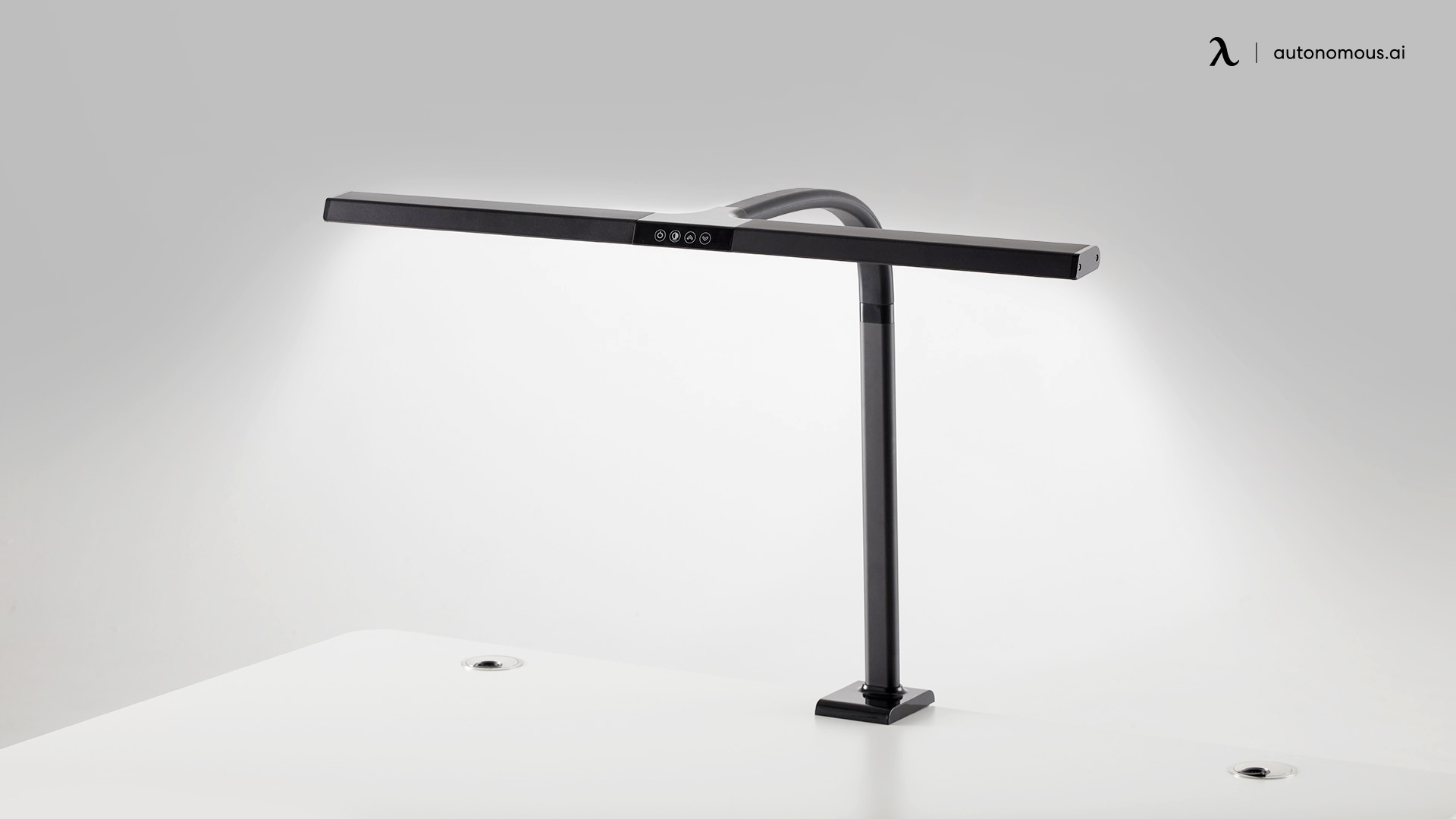 If you feel the need to have extra lighting in your office occasionally, then the Autonomous Wide Led Desk Lamp is the perfect desk accessory for you. This desk lamp is highly adaptable and provides maximum usability and flexibility. It has a sleek, minimalist design and the LED light bar is super wide at 31.5 inches. This width often provides full desk coverage. Its neck rotates and bends, allowing you to focus the lighting at the most convenient angles when needed. 
The lamp has four temperature modes alongside five levels of brightness. It goes perfectly on any office standing desk. 
2. Lumicharge wireless charger and speaker lamp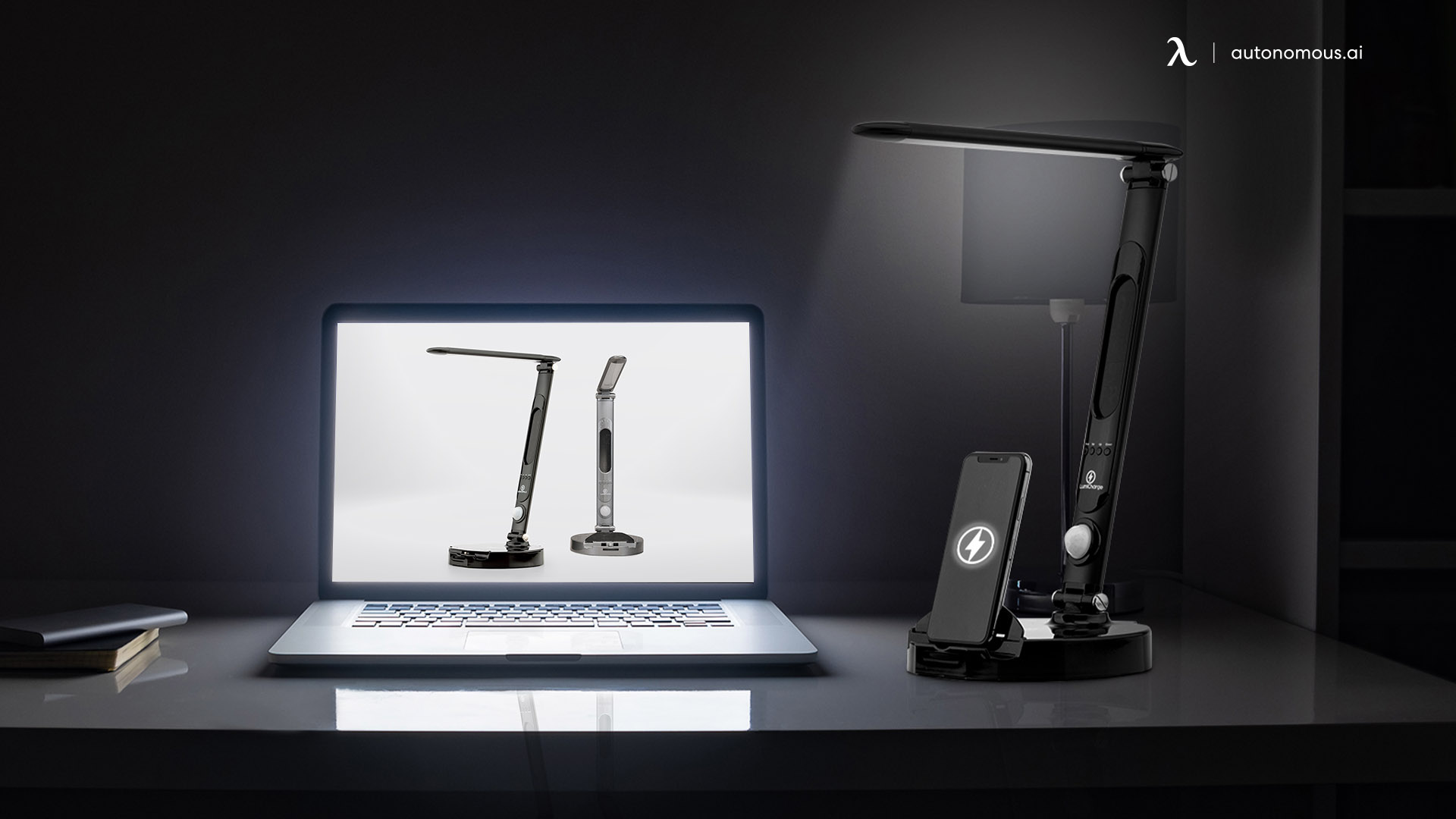 Lumicharge LED Lamp with speakers is a wireless charging lamp capable of fast charging any android phone and iPhone. This lamp also has speakers that play your favorite music and is one of the best desk gadgets you could use to spice up your desk. It has three light colors and 10 brightness levels. Its best features are its three chargers, a built-in LED smart display, and an automatic night light mode. It also comes with a one-year warranty. 
 3. Lexon wireless power bank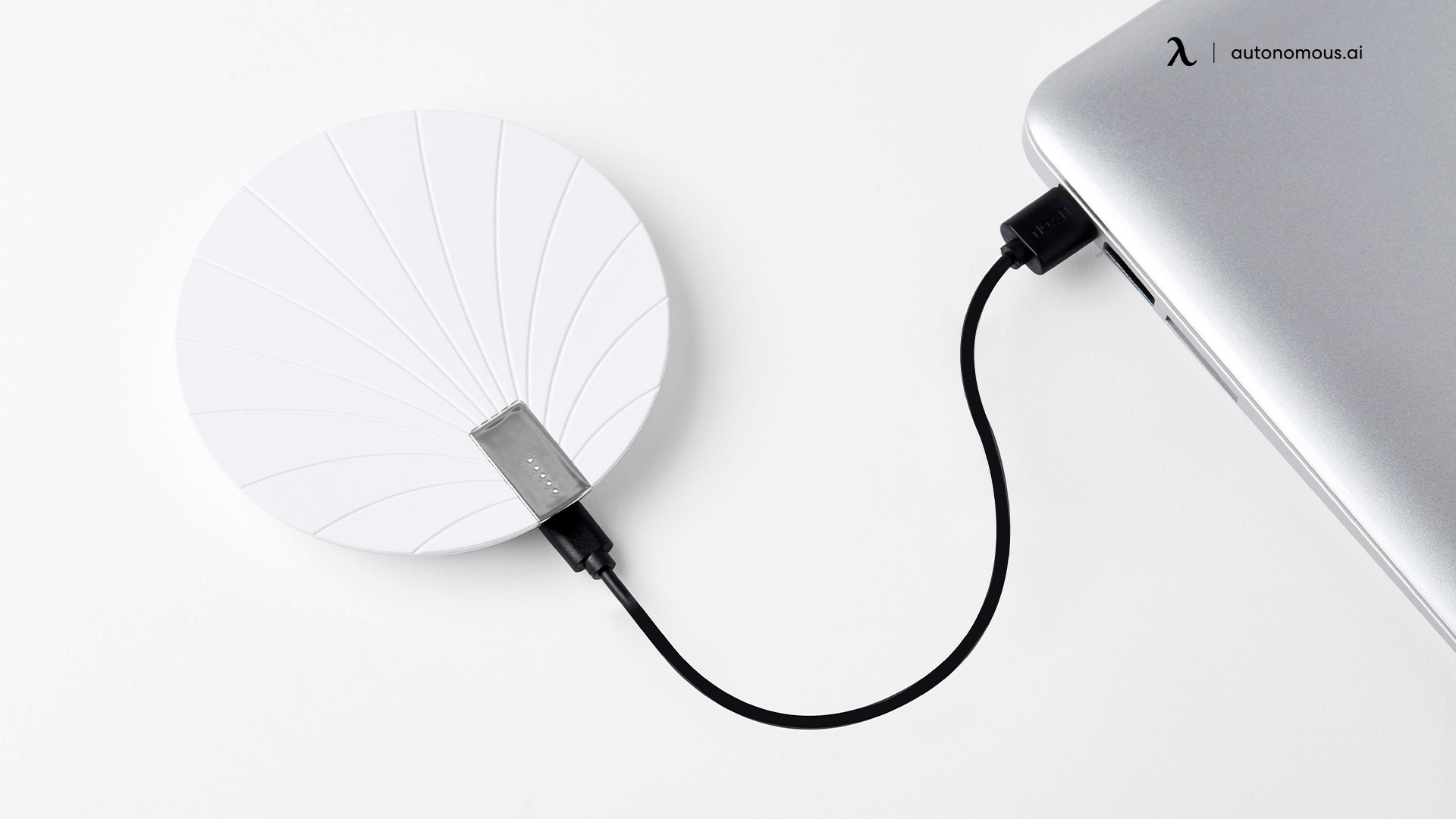 The Lexon Wireless Power Bank is a 5000 mAh Power Bank that serves as a wireless charger and works with any USB-A or USB-C cable. It has a distinctive thermal cooling and power management system that allows you to charge confidently. This tech desk accessory also comes in an elegant design, is durable and has excellent build quality. It is compatible with many different kinds of devices and charges phones very quickly. Its polycarbonate finish makes it one of the prettiest desk gadgets on the market. This power bank comes with a two-year warranty. 
4. Desk Treadmill by Treadly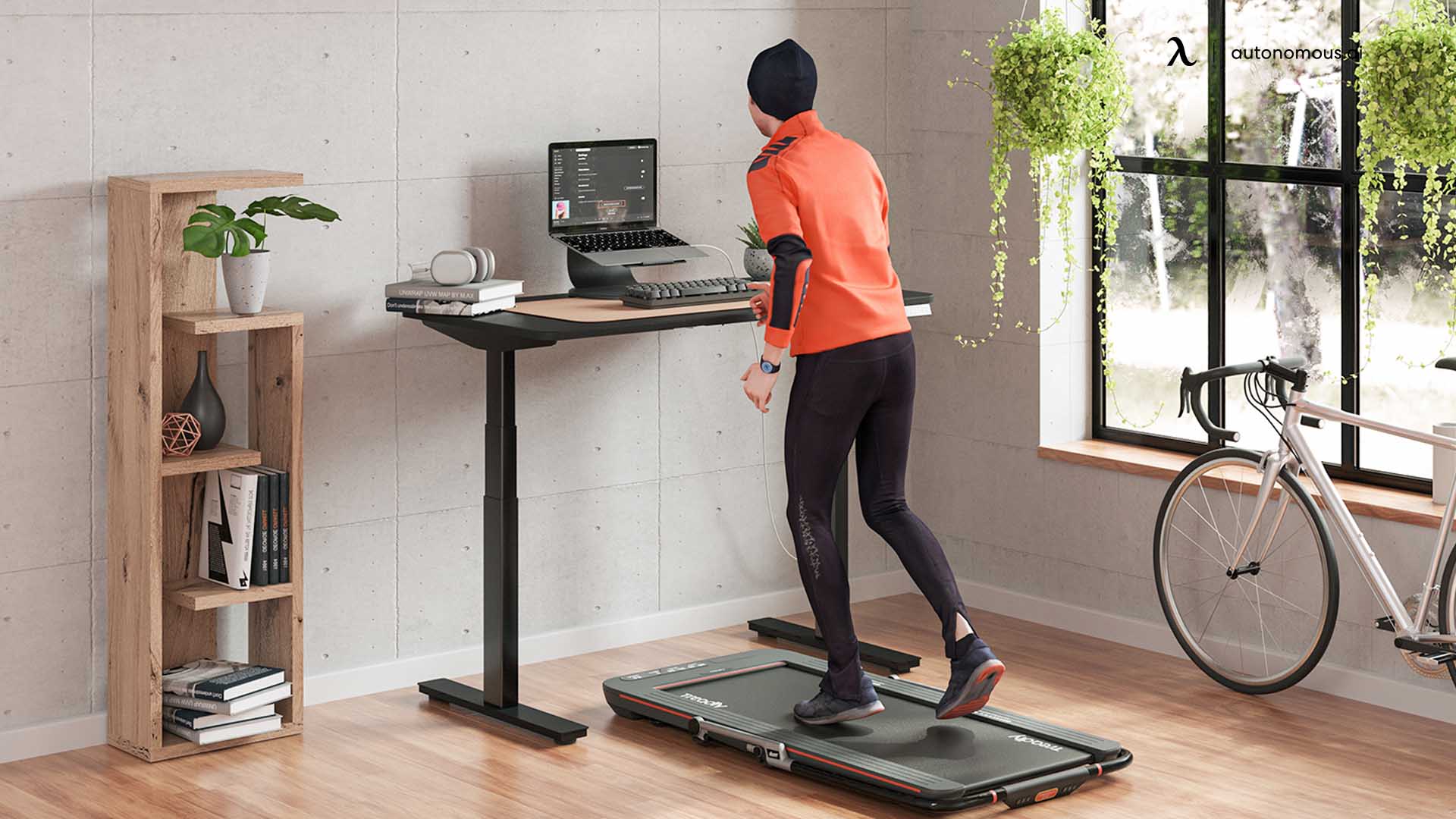 This compact, portable office treadmill by Treadly is one of the most unique desk gadgets you can find. It's a professional treadmill that fits perfectly in home offices and other workspaces. These cool office gadgets can carry up to 265 lbs of weight, they are suitably compact for office use and one can fit them in all kinds of small spaces. 
Treadmills by Treadly work best with the Autonomous SmartDesk Pro and SmartDesk Core. The SmartDesk Pro has an improved weight capacity of 310 lbs and a height that one can adjust from 26. 2 inches to 52 inches. The SmartDesk Core on the other hand easily lifts 265 lbs and is height adjustable between 29.4 inches to 48 inches. These desks are compatible with all kinds of tech desk accessories. The Treadly 2 treadmill is also compatible with several other kinds of standing desks.
5. Office Foot Rest for Under Desk by Everlasting Comfort
One of the coolest desk gadgets that one could get for their office desk is an under-desk footrest.  The design of this teardrop-shaped footrest contours your foot's natural arch, to reduce workplace fatigue and discomfort on the foot. These cool office gadgets have premium memory foam inside. The footrest softens and conforms around your feet using your body heat and providing optimal comfort. 
You can create unwanted pressure points on your hips, legs, and feet by placing your feet on flat ground. If you experience leg pain while sitting during work hours, you can easily get some pain relief by using this footrest. 
Spending long hours sitting on your desk can often cause all kinds of numbness and discomfort on your feet and legs. Fortunately, this footrest improves your circulation and keeps pain at bay. It keeps your legs and feet at an angle so that your back, shoulder, and hips are aligned. This is the perfect position for your feet, making this footrest one of the best desk gadgets one could buy. 
6. Trio Portable Monitor for Laptops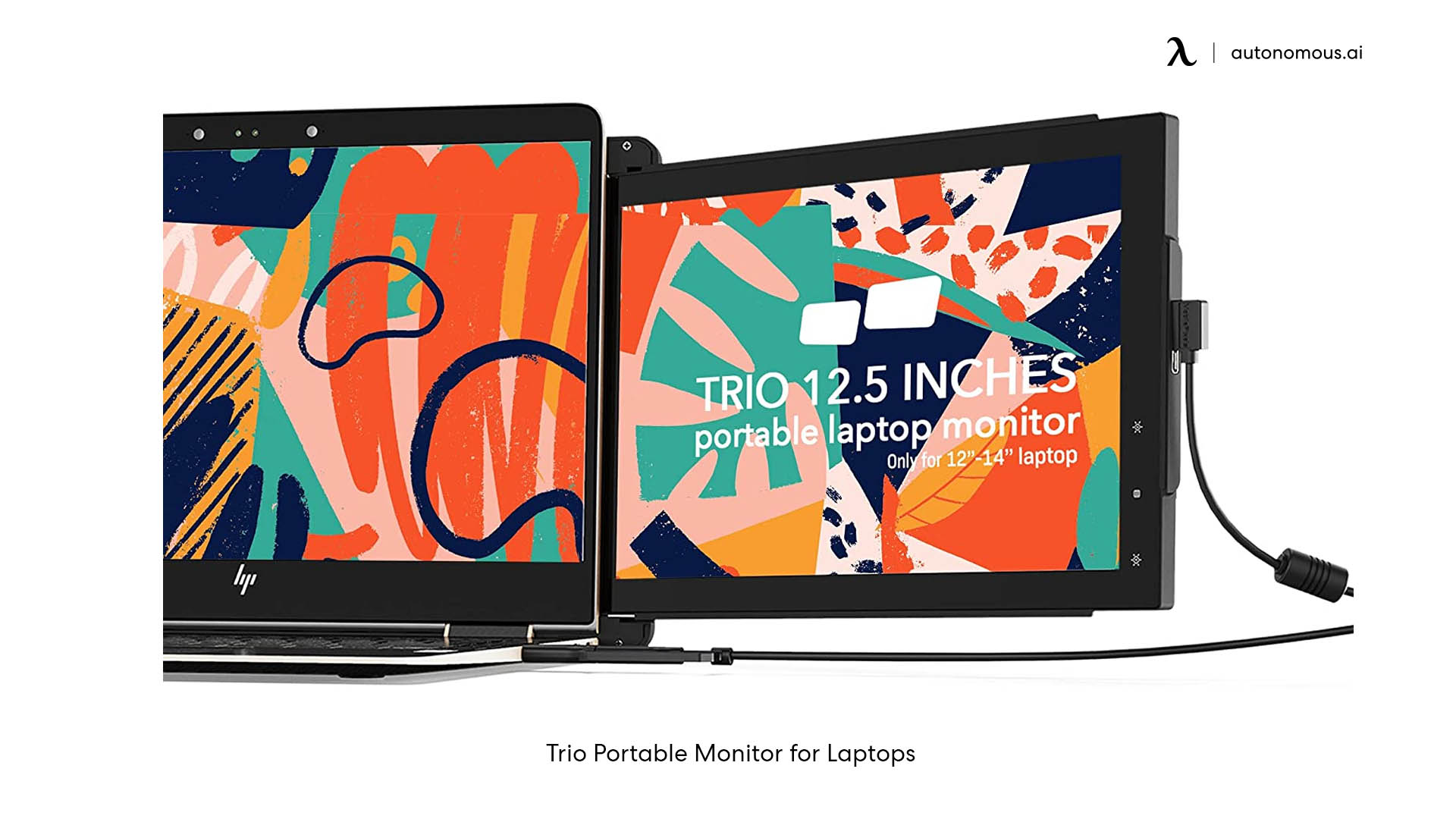 The Trio Monitor is a triple monitor system for computers. One can easily magnetize these screens to their laptop so that they can use them even while on the go. These cool office gadgets provide up to three different screens that help you multitask and improve your productivity. Tech desk accessories such as the trio portable monitor best suits gamers, coders, stockbrokers, entrepreneurs, and even students who sometimes need to multitask while working. 
These monitors effortlessly magnet your laptop, such that you can easily use them on the go.
Some of the best features of these cool desktop gadgets are their adjustable brightness, triple screen capacity, energy efficiency, 270 degrees rotation, and lightweight and compact nature. 
7. Reefa Beetle Vacuum
A clean workspace equals a clear mind. The Reefa beetle vacuum is a vacuum dust sweeper shaped like a ladybug. It is battery-powered and comes in three different colors. They work best on desktops and are one of the coolest computer desk gadgets one can buy. 
8. Yikor Tihoo Desktop Vacuum Cleaner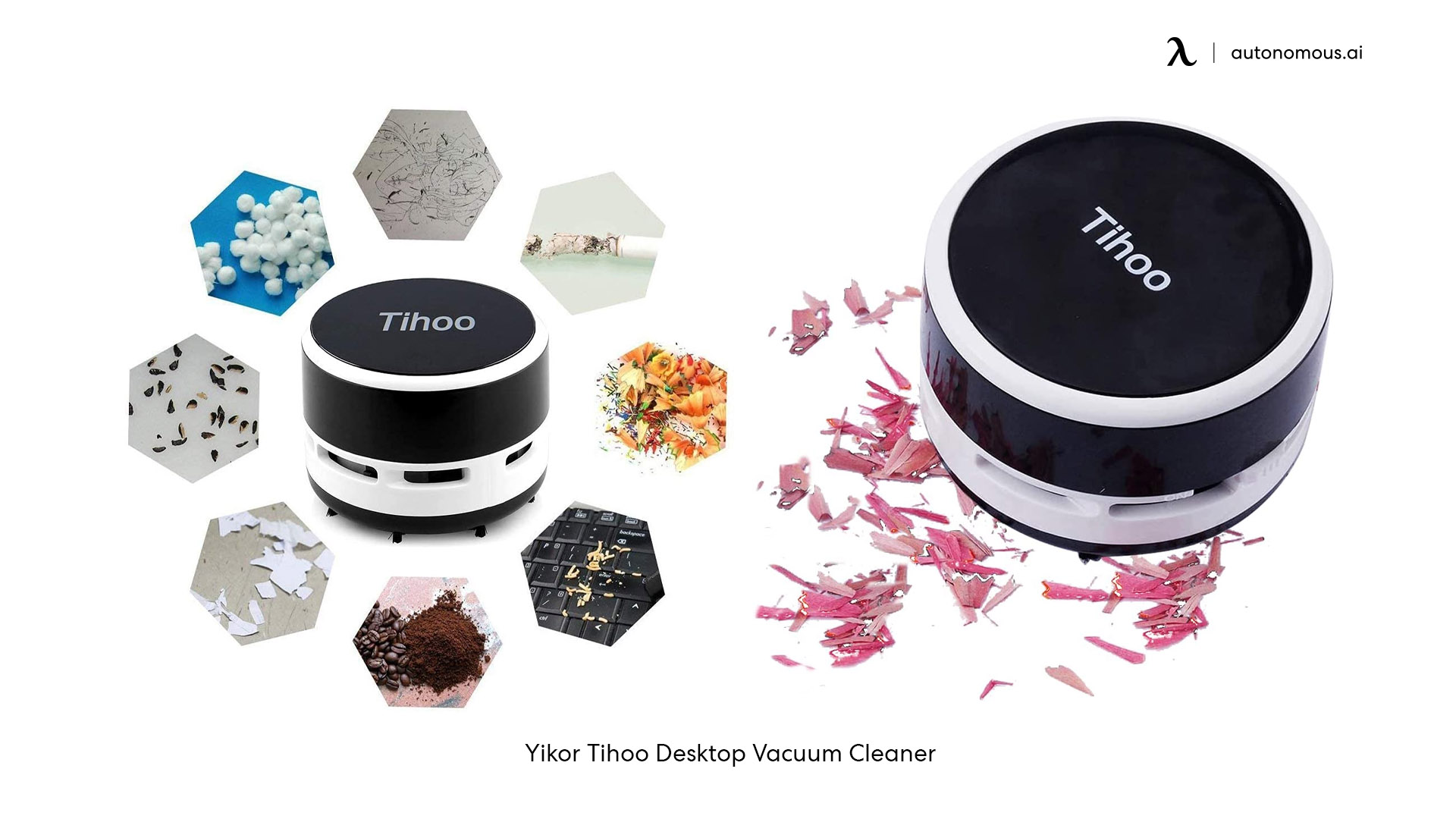 You need these cool desktop gadgets to clean off dust from desktop surfaces. The Yikor Tihoo vacuum cleaner is very convenient to use. It's portable and makes very little noise while cleaning. It is also cordless and multi-functional, with wide application. They can clean off all kinds of desks on desktops from breadcrumbs to cigarettes, and pet hair. 
9. Cubii JR1 Elliptical Machine
This elliptical machine is one of the coolest workplace gadgets available today. It's kept under the desk and works perfectly for people who need to work out while working for long hours. This ergonomic desktop gadget has eight different resistance levels and a quiet operation mode. It also has an LCD and a portable, compact design. These cool office gadgets are excellent workout machines that allow you to fit your workout schedule into your daily work routine. With them, one can exercise while sitting at their desk at the office. 
10. YSAGi Multifunctional Office Desk Pad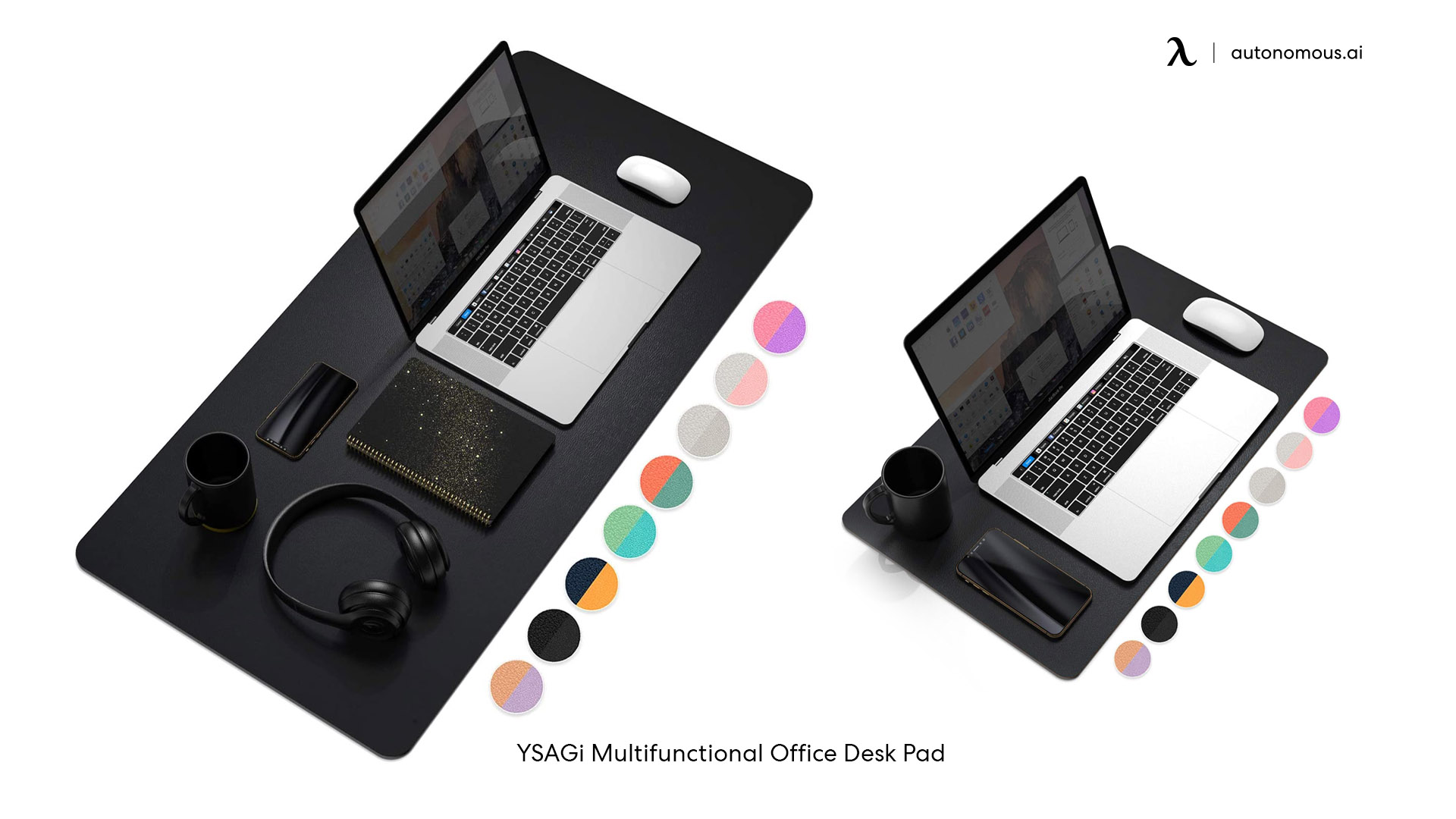 This is one of the best desk gadgets available today. It is a special design that allows one to use both sides of the pad. They are durable, made with heavy-duty PU leather which is very easy to clean. To clean the office pad, all you have to do is wipe it with a wet cloth. It has a large surface measuring 31.5 inches by 15.7 inches, which is enough space to place your laptop, keyboard, and mouse. This office pad protects your desk from water and oil spills. If your table is made of wood or glass, this desk pad can also protect the surface from scratches. With it, you don't need a mouse pad as it serves as a smooth surface to cool your mouse. 
11. Anself Desktop Lamp Fish Tank Aquarium
This mini desktop accessory is a clock, a lamp, and an aquarium all at once. If you need to improve the aesthetics of your desktop then these cool desktop gadgets are the way to go. It has an LCD that shows the temperature, date, time, and an alarm clock. These cool office gadgets can also play some tranquil nature sounds. The tank comes with several decorative pieces that are capable of brightening your fish's space and yours. 
12. 2 in 1 headphone stand with wireless charger by Oakywood
Do you just toss your headphones on your desktop? Perhaps a headphone stand is a better option. These innovative desktop gadgets offer you a space to hang your headphones when you don't want them on your head. It has an oakwood base that's geometrically shaped. It also has a 10W wireless charger that's compatible with Qi-enabled devices.
13. Ticktime – Physical Countdown Timer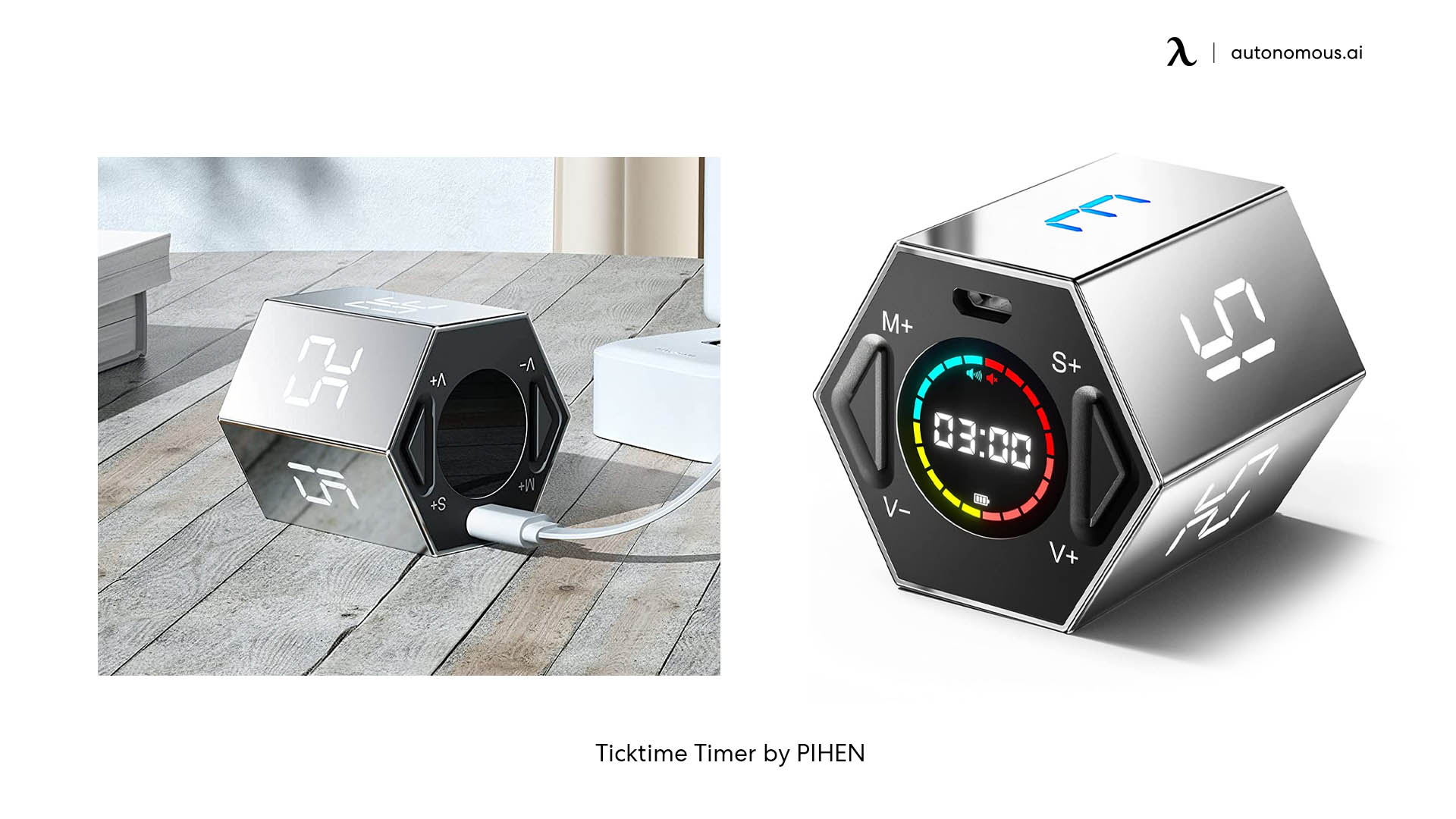 These are one of the most useful work desk gadgets one can buy. The Ticktime timer helps one improve their productivity by helping them manage time. It allows you to focus on what's important, and minimize distractions. 
The timer does this by offering three ways to count time: start to count, preset countdown, and customized countdown. It also has a meditation feature, an LED display, an in-built speaker, and a magnetic surface. Overall, it's a pretty cool office gadget that offers immense benefits to anyone hoping to work more productively.
14. Opti Mini Exercise Bike
Why just work when you can work and work out at the same time? That's the basic function of the Opti Mini Bike, giving people a chance to get some work out while doing some work at work. These cool desk gadgets allow you to have a quick exercise session whenever you wish. This way you may not feel all the aches and joints that come from prolonged sitting.   
15. Adjustable Phone Holder by Stand Dock
These are non-slip gripping tablets that hold your phone in place. They are lightweight which means you can easily carry them to and fro work. These tech desk gadgets best suit people who check their phones a lot. It's easier to have a stand to hold your phone when you have to use it for hours at a time. These cool desktop gadgets are strong enough to hold all kinds of mobile phones alongside their cases. They have an angle adjuster that lets you adjust your phone to the perfect angle when necessary. 
16. MONITORMATE ProBASE X USB 3.0 Monitor Stand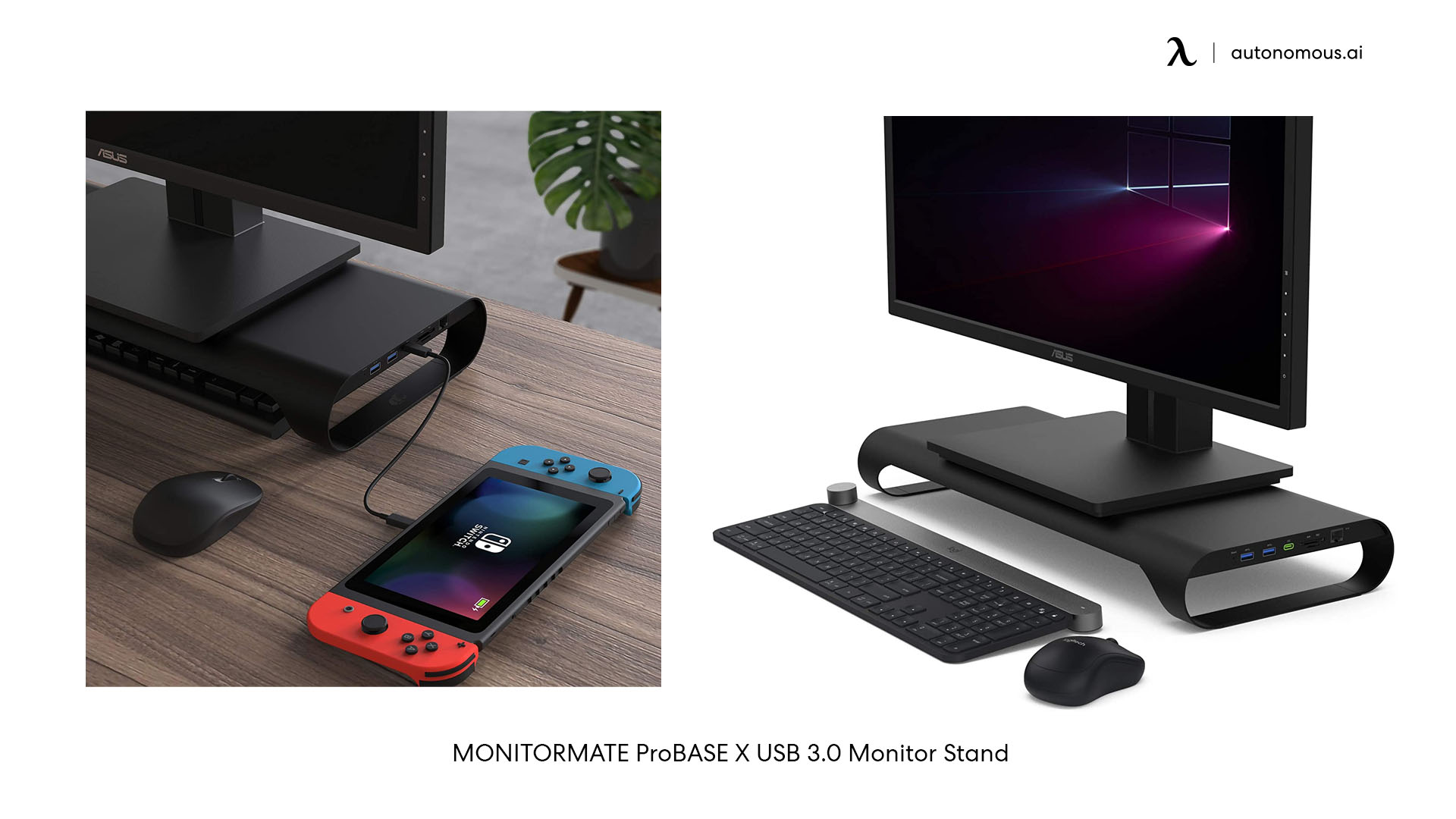 These work gadgets are a cool way to make your workstation a little more ergonomic. Monitor stands elevate your monitor to your preferred viewing level. This desk gadget is stylish and at the same time functional. It has a dock that enhances its connectivity and a sleek matte black finish that gives it a professional appearance. Its best features are its aluminum build, two USB ports, ethernet port, storage drawers, and card readers. 
17. Gimars Superfine Memory Foam Set
If you are looking for the coolest computer desk gadgets to spruce up your desk, the Gimars foam set is perfect for you. It's a keyboard and mouse padding that provides some support and firmness for your wrist. This foam is capable of improving your wrist posture and is perfect for use at home and in the office.
18. LED Clock Fan Stand by MenKind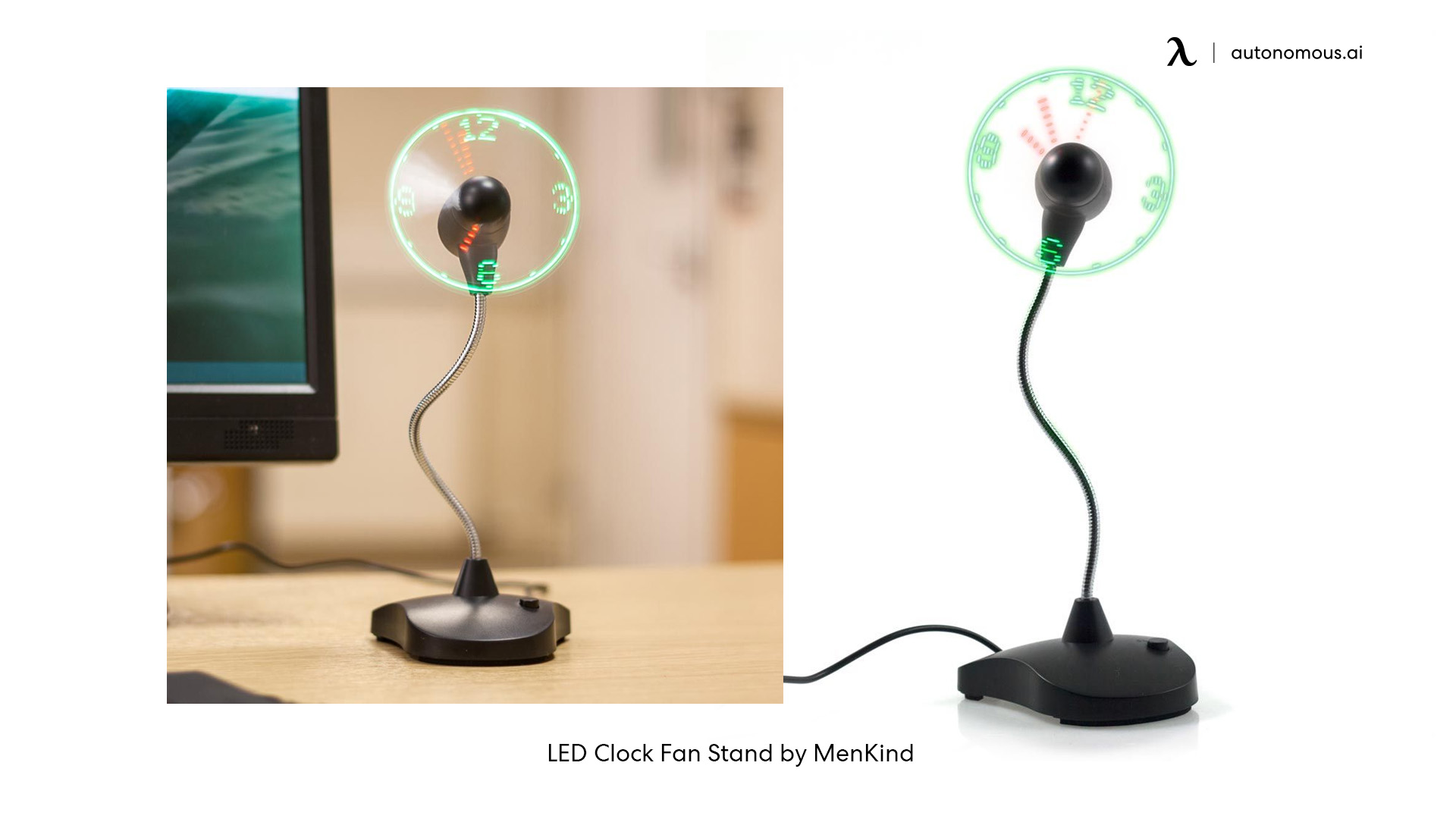 These work desk gadgets are an ingenious hybrid of a clock and a standing fan. It displays the time while simultaneously keeping you cool on hot days at work. You can plug these cool computer desk gadgets into your computer using a USB cable. 
19. Gazepad Pro – Wireless Charging Mouse Pad
This wireless charging mouse pad has a three 3 coil system that enhances the charging area. It has two Type-C charging ports and a wireless charging feature. One of its best features is its non-slip base that firmly keeps the mouse pad in place. It's made in a smooth leather material that comes in four colors, midnight blue, brown, black, and grey. 
20. AMERIERGO Dual Monitor Stand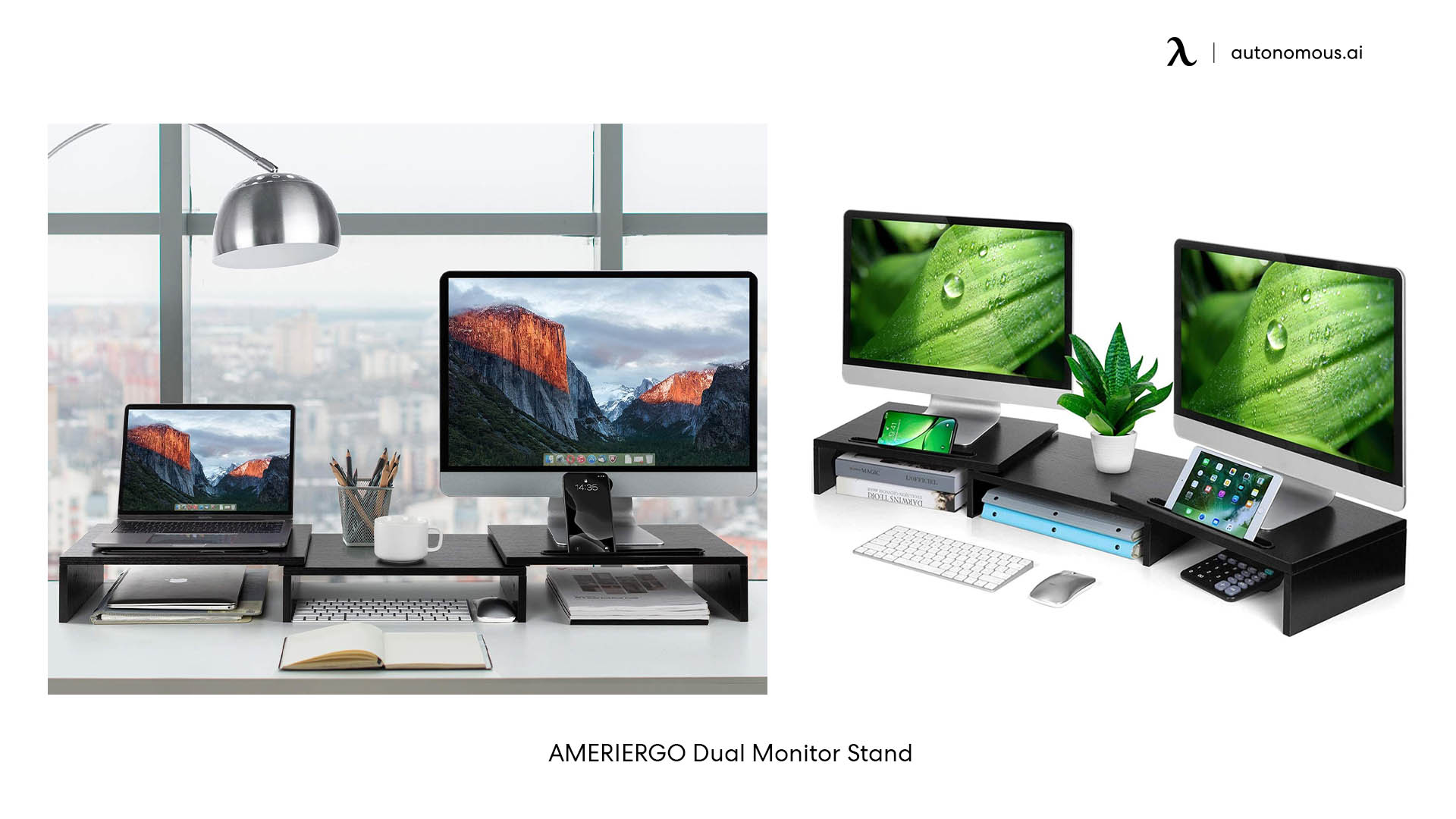 This monitor stand offers you a platform to elevate your monitors so that it's at a comfortable angle for you to work. This helps relieve back, neck, and eye pain. 
21. Avantree Cable Tidy Clips Management
These desk gadgets help you keep all your cables organized. It comes in a 12-pack that includes quadruple, triple, double, and single sets. They have adhesive backs that allow them to stick to all kinds of surfaces without damaging or staining the surface. Cable organization is a big part of maintaining a clutter-free desk space so these tidy clips are cool office gadgets. 
Conclusion
Every office can surely benefit from some tech optimization. To keep up office productivity and inspire one's self or other employees, you may have to invest in certain must-have tech desk accessories and top-rated computer desktop gadgets. This list serves as a guide for choosing some fun and simple work desk gadgets to make your workspace livelier.
Keep up with Autonomous news
Stay informed, stay inspired with our new blogs.
WRITTEN BYAutonomous
We build office products to help you work smarter.