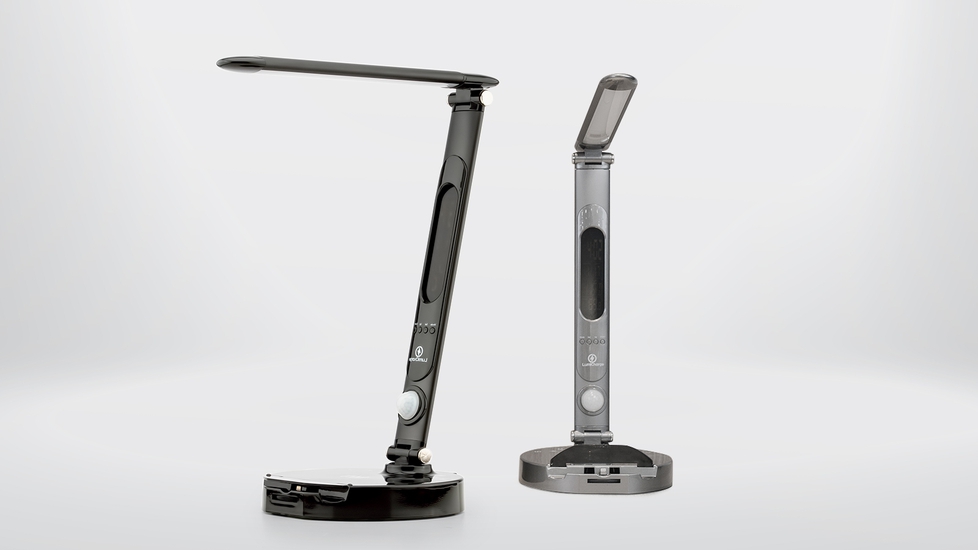 Lumicharge LED Lamp with Wireless Charger
12 reviews
Visit our store
$85
$109
(-22%)
Free shipping
Color:

Not available

Not available
Buy now
Add to cart
FREE shipping Oct 04 - Oct 06. FREE 30-day returns.
Bought by 3+ Facebook employees.
Sold and shipped by Lumicharge
Lumicharge LED Lamp with Wireless Charger at a glance.
The LumiCharge II is an LED desk lamp with wireless charging. Power up and illuminate your space with this wireless charging lamp.
• 03 light colors and 10 levels of brightness
• Built-in up to 03 chargers
• Automatic night light mode
• Built-in LED smart display
• Certifications: CE, FCC and Qi
Deep dive into specs



Features
Specs
FAQs
reviews
4.3
The All-New LumiCharge II: A Wireless Charging Lamp
Office workers and college students who are concerned about their workplace ergonomics are aware of how important it is to have a reliable light source in their workspace. We know that you are among such people as well; that's why you're here to learn what we have for you in-store. A wireless charging lamp has always been in demand when it comes to buying a reliable LED light for your workspace. That's why we have designed the all-new LumiCharge II exclusively for you. You might be wondering why we focused on LED lights specifically and not some incandescent or common fluorescent light. Well, there is a reason behind that. Some of you might be in favor of getting a desk lamp with a charging station but do not know how vital it is to have an LED light. This is usually due to a lack of knowledge regarding the LED lights. However, if you know what LED lights are and what pros you can expect from them, you will have a vivid idea of why we have designed LumiCharge II. So, let's have a glance at these details.
Why Should You Choose Wireless Charging Lamps?
Different Brightness Levels to Illuminate Your Workspace While Providing a Safe Charging Port
You would have noticed in the beginning that we told you LumiCharge II is a wireless charging lamp that has LED lights as the light source. We discussed the part that why we added LED. The next question that might pop up in your mind is why we thought of making LumiCharge II a desk lamp with a charging station. Or, let's say more precisely, why should you choose our LumiCharge II above all other options available in the market? Well, there are few reasons for that too. So, let's explore them together! LumiCharge is a wireless charging lamp known to illuminate your workspace while providing a safe charging port. This lamp is carefully designed to provide you a wireless charging port for your mobile phone. So, for those of you who like the modern desk light ideas but wish to stay clutter-free, LumiCharge II would be a great choice. Our wireless charging lamp is installed with three different brightness adjustments, so you can have a wholesome experience round the clock. Out of the three, the warm white light or yellow light is best for late-night reading, while the cool white light comes in handy during the day, especially in the office environment.
Small Space Solution - Adjustability
Every office worker or college student is not blessed with a large space, so buying a wireless phone charging lamp helps you have a brighter work experience in the smallest of spaces. If you think of our LumiCharge II, a wireless phone charging lamp, this light has a very sleek design that tends to take up minimal space on your work desk, providing you more space for putting other accessories. The wireless charging desk lamp has a very flexible design, which means you can adjust its angle as per your requirement. The built-in pivots of the LumiCharge II come in handy here.
Back-To-School Season & Work From Home Office
If you think of this situation from a perspective of a college student who is currently awaiting the back-to-school season, you would realize that you need a durable light source to light up your college desk setup. Our LumiCharge II is exactly what you need. Moreover, considering the benefits of a wireless charging desk lamp that is as efficient as our LumiCharge II, choosing it for your college desk won't be a bad decision at all. Considering the second possible situation, you might be an office worker who is working from their home office as most companies have gone hybrid, you will need a reliable desk lamp LED to light up your workspace and stay ergonomic. Well, why choose any common LED lamp when you have the option of buying LumiCharge II, which is itself a durable charging lamp that is useful in many ways? So, go ahead and shop for LumiCharge II!