Smart Products
Looking For Cute Office Supplies? 30 Options for 2023

Autonomous
|
Sep 23, 2022
1,803 Views
One of the great things about working from home is that you get the chance to organize your workstation according to your exact taste. By choosing a few cute office supplies, you can create a work area that is both comfortable and good for productivity. 
At Autonomous, you will find a wide range of cute office décor that will spice up your home office. With so many products to choose from, you are guaranteed to find something that suits your style and is within your budget. 
In this article, we will focus on some of the essential office accessories that every home office needs. By the time you reach the end, you will have a good idea of what you need to look for to create the perfect workstation. 
What Essential Cute Office Supplies Do You Need?
Shopping for cute desk supplies is not easy if you do not have a clear idea of the kind of accessories that are essential for any productive office. The following are some of the most important pretty office supplies you need to consider: 
A strong and stylish filing cabinet

Desk organizers are great for keeping your workstation neat

If you use a PC then you need a laptop stand

A file holder to keep track of your paperwork

Consider a desk pad for added comfort when using your computer 
Things To Consider When Buying Cute Office Desk Supplies
To avoid wasting money buying the wrong things, consider the following when you go shopping for cute office desk supplies: 
Style
You are going to be spending a lot of time in your office so it's important to make sure that the design is something that appeals to you. These days, you can choose a traditional look, a Kawaii desk setup, something minimalistic, or go all out on an ultra-modern office design. Whichever option you choose, make sure it's something you will not get tired of quickly. 
Budget
There is no need to strain your budget because whatever your taste, there are lots of affordable cute office supplies to choose from. Furthermore, there are some rather expensive accessories on the market for those with deeper pockets but in most cases with a bit of patience, you will be able to find cheaper options of the exact cute office accessories that you need. 
Function
Be careful not to get carried away with style and design while forgetting that the most important function of a home office is to provide a place to work productively. The purpose of your workstation should always be at the back of your mind as you go about shopping for cute office desk supplies.
Gender
Most modern office designs aim for a gender-neutral style that will accommodate all team members equally. However, since it's your home workstation, you can choose a style that is more specific to your gender. At Autonomous, you will find a lot of male and feminine office décor to choose from.  
30 Cute Office Supplies To Consider
Are you ready to shop for the best cute office supplies available on the market? Autonomous has some great products for you to consider. Take a look at the following: 
1.  Autonomous Filing Cabinet
If you don't want your office to end up full of loose papers everywhere then a filing cabinet should be one of the first things on your list. The Autonomous Filing Cabinet has a lot of space for you to store all your important documents in a safe and secure place.
2.  Cork Desk Pad
Improve your mouse performance and protect your desk from scratches with the Cork Desk Pad from Autonomous. It is made from 100% recycled oak tree wood shavings and comes with a great six-month warranty. 
3.  Magnetic Desk Organizer
With a high-quality solid bamboo base and top-of-the-range durable plastic, the Magnetic Desk Organizer from Autonomous will last you a lifetime. Get this magnetic organizer for your desk and keep all your accessories stored stylishly. 
4.  Triangle File Folder
The Gold Triangle File Folder from Mindspace is a small heavy-duty file organizer that is designed to help you make the best of a workstation with limited space. Additionally, the solid metal frame means that you don't have to worry about replacing it for a very long time. 
5.  Wire Office Desk Organizer
If you are looking for an organizer that adds a bit more style and personality to your desk then consider the Mindspace Wire Office Desk Organizer. With such a beautiful and unique color finish, this organizer is sure to be an eye-catching addition to your desk. 
6.  Ergonomic Birch Wood Laptop Stand
A lot of the back problems that patients suffer from can be traced to a poor sitting position while working on their laptops. Having an Ergonomic Birch Wood Laptop Stand is a great way to raise your PC to the best position while you work. 
7.  Autonomous Cable Tray
There is nothing more annoying for office workers than having to put up with a bunch of tangled cables at their workstations. With the Autonomous Cable Tray, you can easily organize your cables in the most efficient way possible.
8.  Sahara Keyboard Case
If you are looking for the best way to store your keyboard and increase its lifespan then look no further than the Sahara Keyboard Case. Made from high-quality material, this cute office accessory is a definite must-have. 
9.  Deltahub Carpio Ergonomic Wrist Rest
Wrist pain and Carpal Tunnel Syndrome are common complaints from people who work long hours in front of a computer. The Wrist Rest from Deltahub Carpio is a great way to relieve wrist strain and help you work longer in comfort. 
10.  Modernsolid Single Arm Monitor Stand
If you have limited space on your desk but need a way to add a PC monitor then consider this Modern Solid Single Arm Monitor Stand. Small enough to fit any desk, it is also made of very robust material. 
11.  AOTHIA Dual Monitor Stand Riser
These days it's not unusual to have two monitors working simultaneously on your desk. If that is the case then you will definitely need the AOTHIA Dual Monitor Stand Riser. 
12.  Rain Design Monitor Laptop Stand
Do you need a stylish and eye-catching stand for your laptop but you are working on a limited budget? Look no further than the Rain Design Monitor Laptop Stand for a good-looking stand that provides real value for money. 
13.  AOTHIA Metal Desk Organizer
A desk organizer does not have to look too traditional or old-fashioned. With the Metal Desk Organizer from AOTHIA, you can add a modern touch to your workstation. 
14.  Sahara Case Stand for Cell Phones and Tablets
If you are one of those people who love their gadgets then you probably have a laptop, tablet, and cell phone all at once. Finding a good place to put them on your desk is easy if you have a Sahara Case Stand such as this one. 
15.  Mount-It! Clamp-on Keyboard Drawer
When you are working with limited space, having a good place to store your keyboard when not in use is a good idea. Consider the Clamp-on Keyboard Drawer from Mount-It! 
16.  Desk Flower
An indoor office flower is a great way to add some nature to your office and give it a more pleasant atmosphere. There are many options to choose from, with some providing a lot of extra health benefits too. 
17.  Personal Art
If you really want to add a personal touch to your office you can consider including some homemade art from your kids. It will not only look cute but also give you something to smile about while you work. 
18.  Floating Shelves
Floating shelves are very popular these days and will help to give your workstation a more modern look. Although they can be expensive, the touch of class they bring is surely worth it. Take a look at some of the great options available at Autonomous. 
19.  Logan LED Lamp
With a wide range of light and color settings, the Logan LED Lamp will look perfect sitting on your desk while making sure you always have the best type of light that won't strain your eyes. 
20.  Pink Desk Pad
Ladies who are looking for a more feminine look for their office will love the Pink Desk Pad. You can protect your desk while staying true to your sense of style at the same time.
21.  Wall-Mounted Pin Boards
It can be very difficult to keep track of the progress your team is making, especially when handling multiple projects at the same time. One way to solve this issue is by using wall-mounted pin boards next to your workstation. 
22.  Ergonomic Chair
Your desk is not complete without a good ergonomic chair to pair it with. At Autonomous, you will find a wide range of high-quality chairs that will look good at your workstation while helping you maintain a healthy sitting posture while working.
23.  Feathers and Flowers
If ultimate cute office accessories are what you are after, then you can go for some feathers and flowers for your desk. When arranged properly, this simple design can add a touch of art to your workstation. As a bonus, this is one of the cheapest ways of organizing your office. 
24.  Wallpaper
One of the first things that anyone who visits your desk will see is the type of wallpaper you have on your PC. Luckily, there are literally millions of wallpapers to choose from. You can even add a new one every day to suit your mood. 
25.  Wall Muriel
When chosen properly, a Muriel wall can be the highlight of your entire office. Whether you want something extravagant or you prefer a more subtle touch, you can't go wrong with a good-quality wall Muriel. 
26.  Mirrors
If you do not mind trying something totally different, then you can go for a good-looking mirror for your office. While this is not a common office fixture, when chosen carefully it can be a really good addition to your workspace. The frame for your mirror makes all the difference and there are a lot of designs to choose from.
27.  Creative Lighting
The type of lighting you choose has a huge effect on how you feel while working and how other people perceive your workstation. You can use some LED lights to creatively light up your office in a way that will help you feel more comfortable and ready to work. 
28.  Add Some Scent
A lot of people underestimate the power a scent has over their mood. If you can choose the right smell for your office, you will be able to maintain high levels of concentration for longer. Office flowers are a good way to get your office smelling and looking great. 
29.  Black and White
You do not always have to go all out when it comes to picking out some great colors for your office. A simple black and white design can be the perfect choice to give your office a modern look. You can add a bit of gray as well if a two-tone color design seems like it's too boring. 
30.  Keep it Natural
There are a lot of benefits to going all-natural in your office design. Not only will you be doing your part for the environment, but you can also give your office a classic traditional look by investing in some great-looking recycled wood furniture. 
Final Word
With these great options from Autonomous, there is no reason why you should not have the perfect home workstation full of all the cute office supplies that you love. You can make your home office the place to be and you don't even have to go over your budget to do so.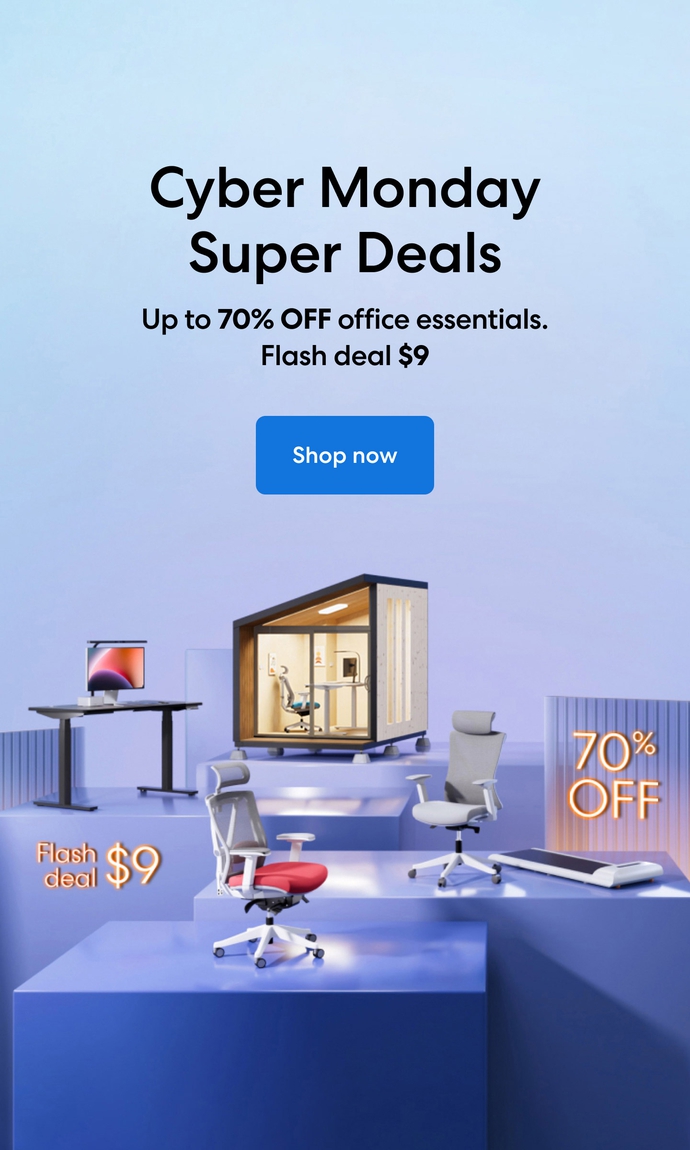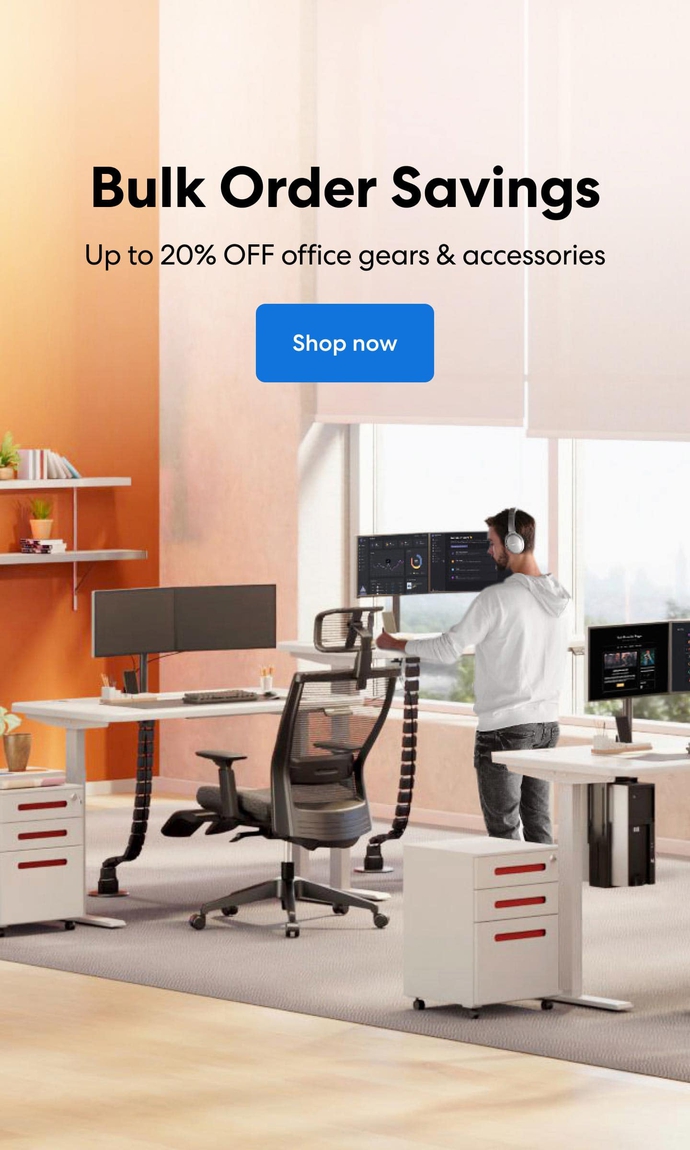 Subcribe newsletter and get $100 OFF.
Receive product updates, special offers, ergo tips, and inspiration form our team.