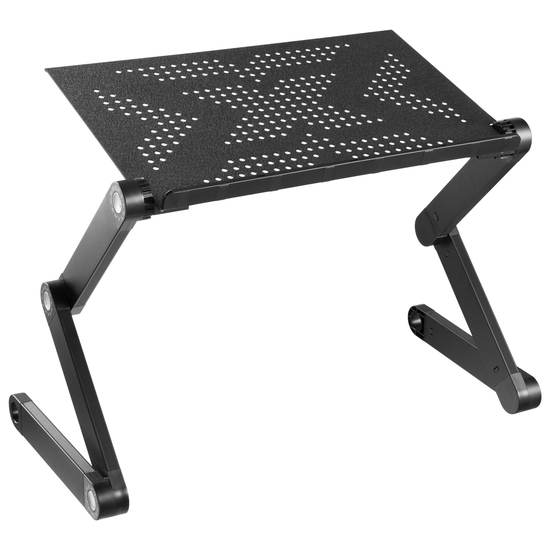 Mount-It! Height Adjustable Laptop Tray
$33
$39
(-15%)
Livraison gratuite et flexible
Commande en grosEnregistrer jusqu'à 

4%
Acheter maintenant
Ajouter au panier
Livraison gratuite Sep 30 - Oct 02
Acheté par 4+ BHG employés.
Vendu et expédié par Mount-It!

Price Match Guarantee
Fonctionnalités principales
Dimensions: 20.7" x 10" Tray Dimensions: 16.5" x 10.6" Height: 1.6" - 18.9" Swivel: 360° on 3 pivot points Load Capacity: 22 lbs
• 10-year warranty
The height adjustable design can turn your desk into a sit-stand design for better blood pressure and circulation.
Plongez-vous dans les spécifications
Caractéristiques
Spécifications
FAQs
You may use a height adjustable laptop tray for everything from school to business to employment. For improved blood pressure and circulation, you may use the height adjustable laptop tray as a design for your better health and productivity. Workplace ergonomics may be improved by placing your laptop at such an angle to lessen stress on your neck, wrist, back, and eyes. Keeping your laptop at a more comfortable temperature extends the life of your computer. The lightweight and compact adjustable laptop desk stand makes it simple to carry on a plane or train. Working from home, a coffee shop, or a conference room is all possible thanks to a laptop's portability and an adjustable laptop holder. On the other hand, laptop computers are not the best option for ergonomics since you cannot adjust the keyboard as well as screen individually. This causes individuals to bend over when operating on a laptop; this may cause upper back, neck, shoulder, hand/wrist/arm discomfort, and muscular strain, hence you should make sure you use an adjustable laptop holder. A height-adjustable laptop table stand is a terrific method to enhance the ergonomics of using a laptop. Your laptop's height may be adjusted so that you can work in a more ergonomic position. Most laptop stands may be used in a variety of places, from your desk to a coffee table to your bed—and everything in between.
Advantages Of Using A Height Adjustable Laptop Tray
You may avoid eye strain and neck aches by lifting your laptop to the same height as your external display. Using a vented laptop stand that can be adjusted in height can assist keep your laptop cooler. If your laptop overheats, its performance will decrease. A vented laptop tray is an inexpensive method to maintain the life of a laptop. An ergonomic laptop stand may help you get it in the ideal posture for your body type if you're using your laptop while standing or sitting. It's easy to transfer your laptop stand from place to place since many laptop stands are just as light and portable as the laptop itself. Using an adjustable laptop desk stand will allow you to set your laptop at a height that is halfway between the optimal monitor height (the center of the screen about eye level). You may get a laptop stand with built-in fans if your laptop becomes a little too hot to handle. Keep the bottom of the laptop cool by moving the air around it. The angle at which your laptop is placed on an ergonomic laptop stand may assist decrease screen glare, which can cause eye strain and headaches for certain people. Extra USB ports plus cable management, a tiny drawer, or even a slot for your smartphone are all common features on height adjustable laptop trays. Store them beneath the laptop stand when you're not using your keyboard and mouse. An adjustable laptop stand may also be used as a book stand, tablet stand, or sheet music holder.
Use Height Adjustable Laptop Tray As Standing Desk For Laptops:
People have sat in a regular office for many years without doing anything else. Research has shown that sitting for long periods of time might have negative effects on the body. Standing desks are an excellent investment since they can be easily adjusted to suit the needs of the user. Consider using a height adjustable laptop tray to answer your next email or work on your next project. A stand-up desk may, in fact, reduce the health hazards associated with sitting for lengthy periods of time and increase productivity. Here is proper height of standing desk full guide calculator, for you on Autonomous. Do you burn calories with a standing desk? Yes, you do. Standing all day has been shown to be healthier than sitting over eight hours, which is one of the major advantages of using a standing desk. It's a decent trade-off for most people to be able to burn calories while standing all day. It's not clear, though, whether all those calories burnt equal weight reduction.