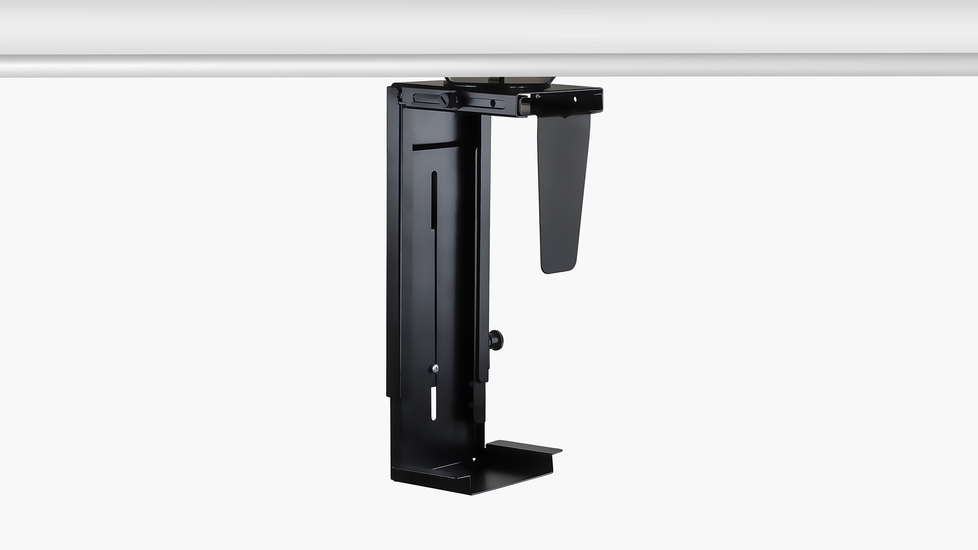 Mount-It! Under Desk CPU Holder
5 Commentaires
Visit our store
Livraison gratuite et flexible
Commande en grosEnregistrer jusqu'à 

2%
Acheter maintenant
Ajouter au panier
Livraison gratuite Dec 05 - Dec 07
Acheté par 61+ Zoom employés.
Vendu et expédié par Mount-It!
Fonctionnalités principales
• Save space by storing your computer off of your desk • Compatibility: CPUs in height from 11.8" to 21" and width 3.5" to 8" • Wall mountable • Weight Capacity: 22 lbs. • Swivel: 360° (when mounted under desk)
• 10-year warranty
The MI-7150 under desk computer mount accommodates a variety of towers, with its adjustable frame, ranging in height from 11.8" to 21" and widths ranging from 3.5" to 8".
Plongez-vous dans les spécifications
Caractéristiques
FAQs
Spécifications
Commentaires
4.6
Computer holder under desk is one of the essential home office accessories for anybody who wants a professional-looking work environment. In addition to protecting your computer, the under-desk CPU mount makes your work area cleaner and more organized. When working with a small work area, they're an excellent way to get the most out of your available space. Although not every under desk PC tower mount is ideal for you and your computer, there are a number of factors to consider when making a purchase decision. And this article will guide you in this regard.
Things To Consider Before Getting An Under Desk CPU Mount:
Brand equity. There are a wide range of brands out there, each with their own unique value propositions and unique characteristics. Try to find the characteristics that best meet your requirements by narrowing your search. If you want to discover the best under desk PC mount, be sure to read the specs. Remember to stick to your budget while shopping. More accurate descriptions may be found online in the form of ratings and reviews. As a result, Mount-It computer mount isn't often the first thing that springs to mind when you're designing a home office. These gadgets may help you in a variety of ways. A computer's central processing unit (CPU) is an overall microprocessor responsible for overseeing all aspects of computer functioning. As "the computer's brain," it is thus essential. The downside is that it's brittle and may quickly shatter if anything goes wrong. An additional fan is included as a clever workplace accessory. This provides cooling and heat protection. Its normal functioning may be hampered if it is contacted with dirt and grime of any kind. All of these requirements are met by an under desk PC tower mount, which is vital for each PC owner. However, here are essential home office desk accessories for you on Autonomous.
Why Get A Under Desk CPU Mount:
There are several advantages to purchasing a computer holder under desk, we recommend you SmartDesk Core for all your desk needs. There are a number of ways to prolong the life of your CPU. You may also keep your gadget off the floor to prevent the office equipment from sucking up dust and filth. As a bonus, it's no longer located in a vulnerable spot that a simple bump or kick may damage. On the other hand, these under-desk CPU mounts are significantly more comfortable to use while working or gaming. A wide range of types is available, each of which may be customized to fit your specific area and make cleaning a breeze. There is frequently a lack of room for a computer at home and in the workplace. Finding a spot for the CPU might be a challenge in desktop computers. When it comes to wasting space, none of us have a clue. It's a challenging issue, given that we have to think about both convenience and security when it comes to making this decision.
Best Option - Under Desk Computer Mount by Mount-It:
The Mount-It! ® In order to provide a seamless connection between your computer and display, an under-desk CPU mount may be quickly and simply fitted under your desk. The under desk computer tower mount may be moved back and forward and in 360 degrees on a smooth moving track for easy access to all of the essential connectors. It is the most effective way to safeguard your equipment while also conserving valuable floor space. In addition, it's the ideal place to put your computer. This under desk computer tower mount may be placed beneath your standing desk. It accommodates towers up to 22 pounds and can be adjusted from 3.5 to 8 inches wide and 11.8 to 21 inches high, making it a fantastic option for saving space. With a little assistance from a friend or family member, you can easily install it yourself.