Smart Products
29 Best Ergonomic Office Chairs Under $500 for Your Office

Autonomous
|
May 30, 2022
481,903 Views
Choosing the best ergonomic office chairs to use in the office can be tricky business. With so many brands and models out there, all claiming to sell the best of the best, it's increasingly difficult to pick out the standouts from the duds. We don't blame you for feeling lost or frustrated at the lack of transparency, especially if you're looking to score a great deal. For those of you who want the best a limited budget can buy with no compromises, here are our recommendations for the best office chairs under $500.
Best Ergonomic Office Chairs Buying Guide
Price
A high price does not guarantee a high quality chair. A low price likewise does not mean that it is a low quality chair. No matter what price you pay for your office chair, it must be able to help you increase your productivity. It must do what you bought it for.
Improved worker health
One of the reasons that people buy ergonomic office chairs is so that they can alleviate back, neck, and shoulder pain. All these discomforts are caused by long hours of sitting on a chair that does not conform to the natural shape of your spine, for many hours. Considering that most of us do more than 40 hours of work every week, you can see the importance of having a most comfortable ergonomic chair.
Research shows that the effects of sitting down for long hours are the same as those of smoking. This means that the chances of having a chronic illness from sitting down for long hours is similar to that of contracting a serious illness from smoking.
Besides that, you will also experience other serious symptoms such as chronic fatigue. This is an indication that your back could be suffering from stress injury. When you sit down, the L5 lumbar vertebrae takes all the weight of your body. If you do not get a good chair with lumbar support that can help support your weight, your L5 will be injured. This could be a prelude to long-term back pain.
Another thing that is very important in an office chair is arm and neck support. The best posture to adopt when you are sitting down is one where your head, shoulders and butt are aligned. However, for the shoulders to stay aligned, you will need an office chair that has armrest support.
This prevents the shoulders from sagging down because of the weight of the arms. When you are working on your computer sitting on a chair without armrests, the elbows are going to sag downwards. This pulls the shoulders down too.
Neck support comes in the form of headrest. Some ergonomic office chairs may have headrests and others may not. It would be much better to get one with a headrest. However, even one without but with all the other features is still good.
Customer Reviews
To be sure you are getting a good ergonomic office chair, read a few reviews, such as you will read here. Reviews assure you that you are not buying something blindly. When you order something online, you do not get the opportunity to test it to see how good it is. Thus, you can only depend on reviews left by other users.
Buy an office chair that will last a long time. Among some of the costs that businesses face today, office furniture and equipment take a big share. If you get the best ergonomic office chair under $500, it will last a long time.
As you buy, consider the interior décor of your office. A good office chair is not only part of the office décor, but it also enhances it a great deal. Bold and neutral colors are better because they complement just about any kind of décor. If you will spend money on it, then it had better look good.
Now that you have read the buying guide on the best office chairs under $500 to buy, you will be eager to delve right into it and see the most recommended chairs. Read on.
Reviews for 29 Best Ergonomic Office Chairs Under $500
1. AvoChair
The AvoChair - eco-friendly office ergonomic chair will show you just why office furniture need not be bland and boring. Even from a casual glance, you can tell that this is a very exciting chair to use. One of the most endearing things about it is the minimalistic design and structure. You will pay under $500 for this chair, and you will have it intact for a long time.
Many people wonder why it costs so little, yet it is a very good chair. Many of its parts have been made from recycled materials. However, do not be deceived into believing that this chair will not meet your needs because it will. In fact, it will exceed them.
Some of the features to look forward to include the strong, die-cast aluminum-alloy base, which helps you to lock the chair into your locking position of choice. At the same time, the simplistic armrests are adjustable and the backrest conforms to the natural shape of the spine.
Pros
Nice color to match with any interior décor
Simple to use controls for height adjustment
Made of recyclable parts
Breathable back
Removable armrests
Cons
2. ErgoChair Pro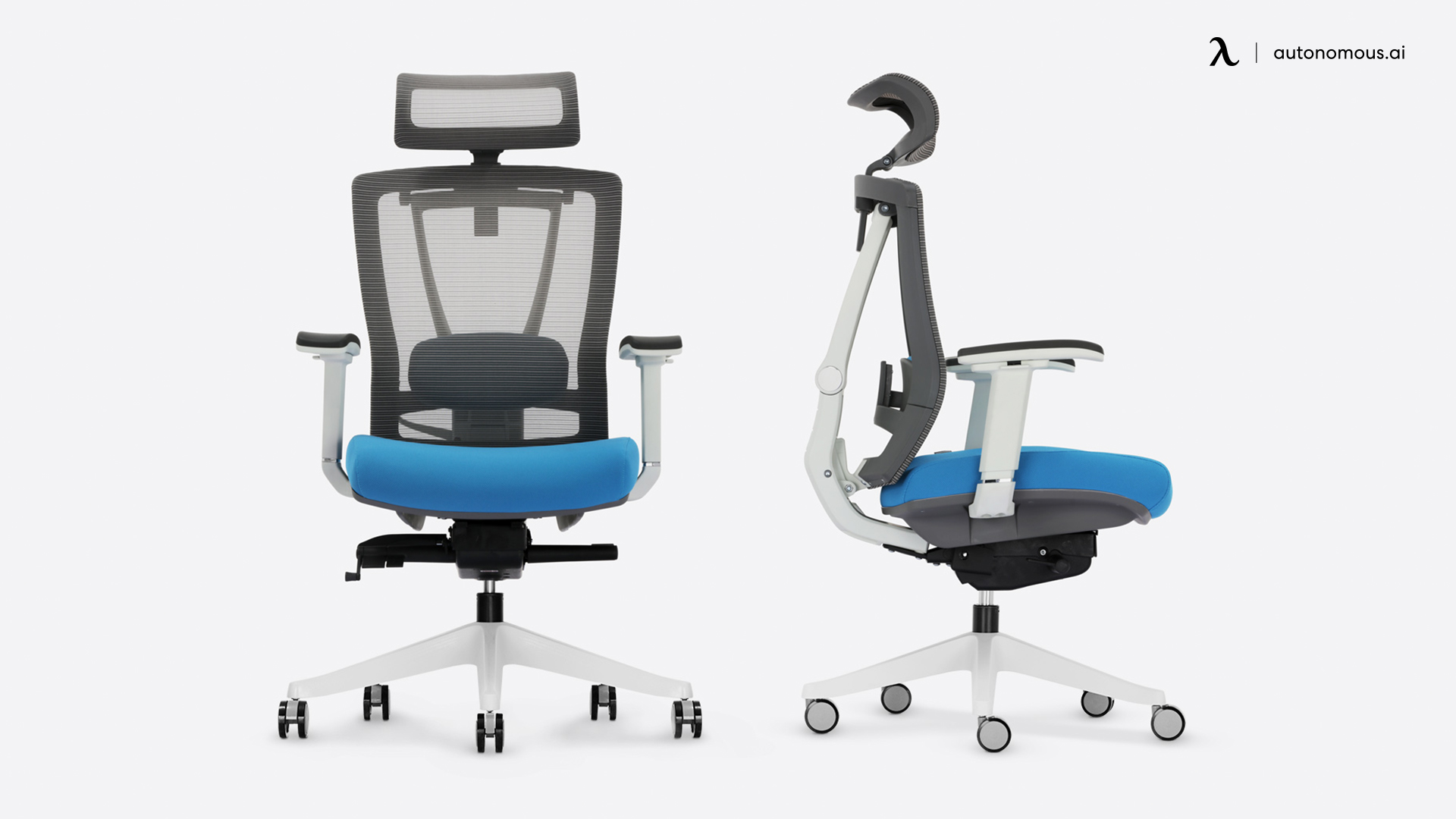 Coming hot on the heels of the AvoChair that we have reviewed above, the ErgoChair Pro is an Italian design chair and is one of the best office chairs under $500 you can find in the market. This ergonomic chair makes the work environment more exciting. Because of its intelligent design, it makes the space wherever it is placed look good.
Looks are nothing without great features. You will not be disappointed as this ergonomic office chair can be adjusted for different sitting postures. Whether you are tall, short, a bit weighty or on the slim side of things, this is the perfect chair for you.
Irrespective of any posture that you adopt for working, this seat will support your shoulders, arms, lower back and even the neck. It is built to offer surround-comfort, but not in a discomfiting hugging way. The lumbar support is adjustable. Sometimes, you would love to raise the support for your lower back a couple of inches higher, or lower it a bit. This chair allows you to do that.
By just a touch of a knob, you can lower or raise the back support by collapsing it inwards. The armrests are adjustable too as is the general height of the chair. The pneumatic controls allow you to make all these adjustments without having to rise up from the chair.
The headrest has been designed in such a way that it conforms to the nape area between your head and shoulders. It does not get to be any more ergonomic than this chair.
Pros
Best buy office chair under $500
Stylish black and white design
Adjustable lumbar support for the entire spine
12-month warranty
30 day money back guarantee
Built to last
High quality casters
Cons
Not as many color choices as customers would love
3. ErgoStool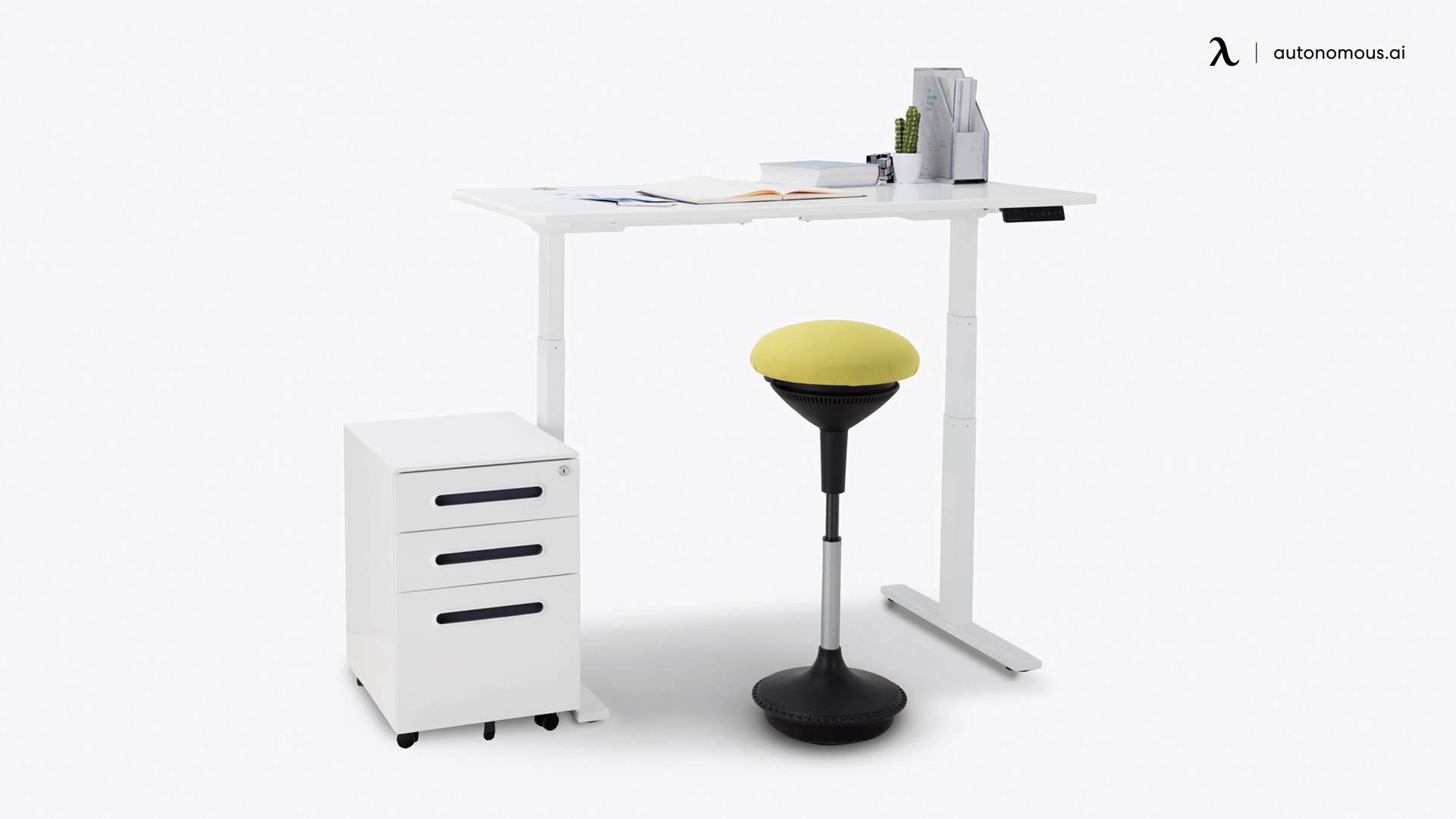 Just because a stool does not have arm and back support, it does not mean that it cannot be used in the office. The ErgoStool that we are reviewing here will give you flexibility at work, as you can stand or sit as you see necessary.
Designed in the saddle shape, this stool is ergonomic and helps you  keep your back straight as you work. The ability to quickly switch between standing and sitting is just too good to miss. To adjust the height of this ergonomic stool, just press a knob located under the seat once and pull the seat up.
The height of the stool can be adjusted to give shorter people a better reach on the desk. The stool's weight base is quite stable. You can wriggle and move about as much as you need to get the right position.
The ErgoStool is stylishly designed to complement your office décor. The white and black color combination is cool for any office décor.
Pros
Flexible when in use
Easily movable from place to place
Best affordable ergonomic chair
Heavy base makes it impossible to topple over
Easy to adjust height
Cons
Not many color choices
No foot rest
4. Autonomous ErgoChair Plus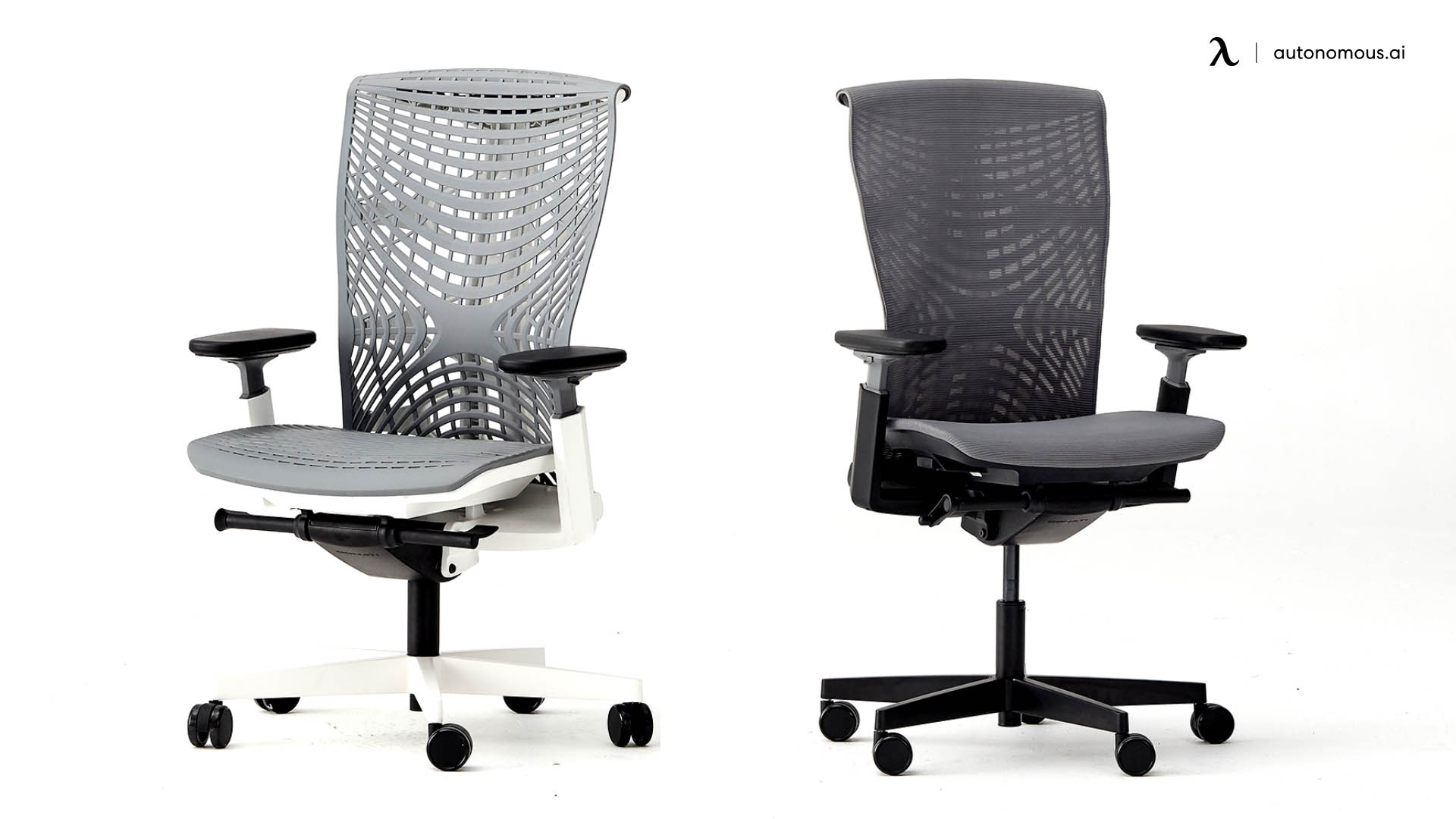 The ErgoChair Plus has a unique fishbone design, and it is comprised of a durable and advanced TPE material for longevity. Its top-tier lumbar support goes beyond the typical function of supporting your back by correcting your sitting posture as you work. It's Autonomous' best and most comfortable ergonomic chair deals, and it's not very hard to see why it gets that distinction. 
Apart from functionality and practicality, there is also an aesthetic advantage to having the chair, thanks to its sleek modern design. It's undoubtedly the best office chair under $500.
Pros
Full adjustability

Superb lumbar support

Adaptive headrest

Great range of motion

Eco-friendly design
Cons
Limited armrest adjustment
5. Autonomous ErgoChair Recline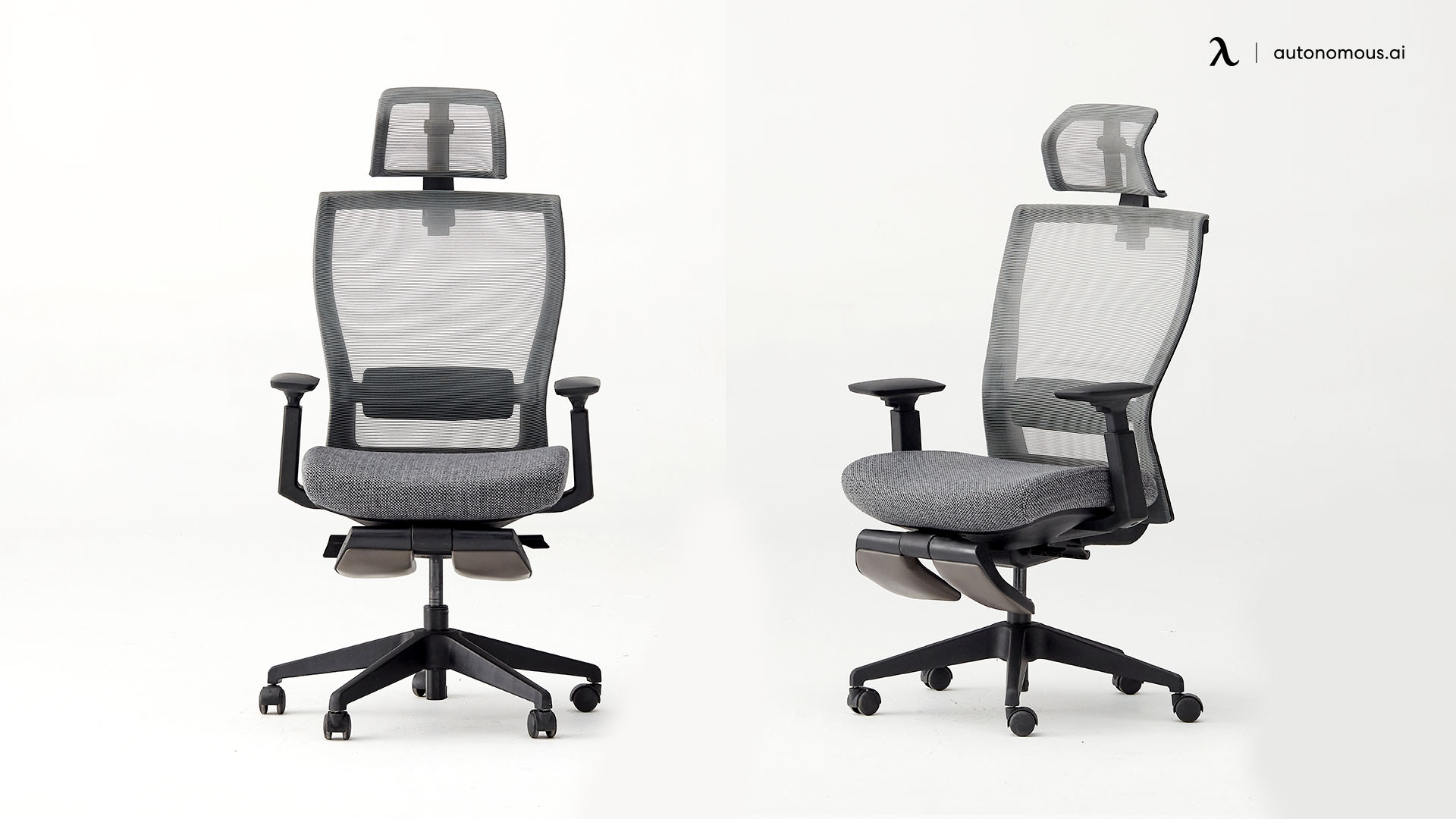 Here is another great candidate for the best affordable ergonomic chair under $500. The Autonomous ErgoChair Recline combines function with superb affordability. You can choose between two editions, one of which includes the headrest and leg rest, and one of which does not. Enjoy a well-designed reclining feature to help you get and stay comfortable. Additionally, the design features a competent tilt mechanism to allow for unrestricted movement.
The breathable mesh backrest helps to keep you cool, and it's one of the best ergonomic chairs to help with your back pain. 
Pros
Mesh backrest design

Recline feature

Footrest
Cons
Tilting compromises elbow support
5. Logicfox Ergonomic Chair
We love this Logicfox ergonomic office chair as one of the best ergonomic office chairs under $500. The Logicfox ergonomic chair encourages a great posture allowing the user to sit upright.
With 8 different points of adjustments, it is one of the best desk chairs under $500 in the market, let alone on this list. Enjoy full control and offer lumbar height, headrest, seat height, seat tilt, and armrests which can be moved in three directions. The chair is designed for 8+ hours of comfortable work and gaming. It offers a 30-day trial period to attain maximum customer satisfaction.
6. KERDOM Office Chair
Visit the KERDOM official store now to get this best ergonomic chair under $500. We define this office chair with headrest and adjustable arms as a complete solution to workplace fatigue. This chair removes all physical pain from your body because it is designed to conform to your body shape like never before. It has adjustable seat height, seat tilt, recline, and armrests.
The chair has a mesh back with lumbar support and a curved back to give your spine a natural sitting posture. It is easy to assemble and can also be unassembled for convenient storage. The chair comes with a 1-year warranty.
7. KERDOM Adjustable Armrests Office Chair
A KERDOM ergonomic office chair with lumbar support is all you need to finally solve the case of aching back. The chair is simplistic, has a minimalist design, and is also compact. This doesn't mean it suffocates your body while sitting. It has a fully ergonomic design with a mesh back and lumbar support. As much as we enjoy the adjustable armrests, the flip-up feature provides easy storage and the ability to work closer to your desk. It has a weight capacity of 250 pounds and offers a 1-year warranty.
8. Logicfox Ergonomic Chair
Double lumbar support and active spine care are features of the Logicfox ergonomic office chair that make it a desirable product. But we also love the blue and white color combination that graces the right balance of simplicity and modernism to the chair. The Logicfox ergonomic chair encourages a great working posture with 6 points of adjustments and delivers up to 8+ hours of comfortable work. The chair offers a 3-year warranty and can support up to 330 pounds.
9. FinerCrafts Office Chair
We all love a reclining office chair that can deliver the best of both worlds. Besides the best ergo chair under $500 with a reliable recline feature, the FinerCrafts ergonomic chair is also one of a kind. This chair is ergonomically designed, offers easy assembly, and has active lumbar support. You will also get relief for your neck as the adjustable headrest supports your upper body and maintains the posture perfectly.
10. US Office Elements Conference Chair: Lumbar Support
A conference room chair must look good and be compact in size but also comfortable. The US office element chair ticks all the boxes perfectly. This chair comes in black and white colors and has many other excellent features. It is space efficient, lightweight, and has a breathable mesh material for long meeting hours. The foam seat is paired with a mesh back to give high comfort. You can also enjoy the best-curved armrests, and the chair also comes with a 1-year warranty.
11. Duramont Reclining Chair
The Duramont reclining chair is a leather office chair to bring special aesthetics to your workplace. This office chair had an adjustable seat, allowing you to sit comfortably throughout the day. The extra padding at the bottom and back makes you feel comfortable all day and helps you sneak in a quick nap. Thanks to the recline feature of the duramont.
12. US Office Elements Tall Office Chair
Get your hands on this ergonomic chair with exceptional lumbar and back support. The chair has a breathable backrest, hence no sweat during summers or long work hours. It has a seat tilt along with an adjustable headrest. The US Office Elements office chair has a sleek design and is made specially as a modern executive office chair.
13. US Office Elements Ergonomic Chair
If conference chairs are comfortable, more people will be attentive to meetings. Hence our bet on this most affordable US Office Elements ergonomic chair. With a wide back design, mesh structure, and a headrest, the chair is designed for long hours of use. It is fully ergonomic and has armrests and wheels too. However, the armrests are fixed, which might be a deal breaker for some people.
14. KERDOM Ergonomic Chair
Your search for the best office chair under $500 ends here because, for this product, you can get two under $500. The KERDOM ergonomic chair comes in universal colors, black and white, and many other features. Other than offering multiple color options, you also get a chance to choose among the three different wheel types designed for ultra-high performance and to protect your office floors. Moreover, the chair has a fully ergonomic design and breathable mesh. 3D armrests and an easy-to-install assembly. It also has a 1-year warranty while giving you the best sitting experience with a headrest and high back.
15. Flash Furniture Mid Back Office Chair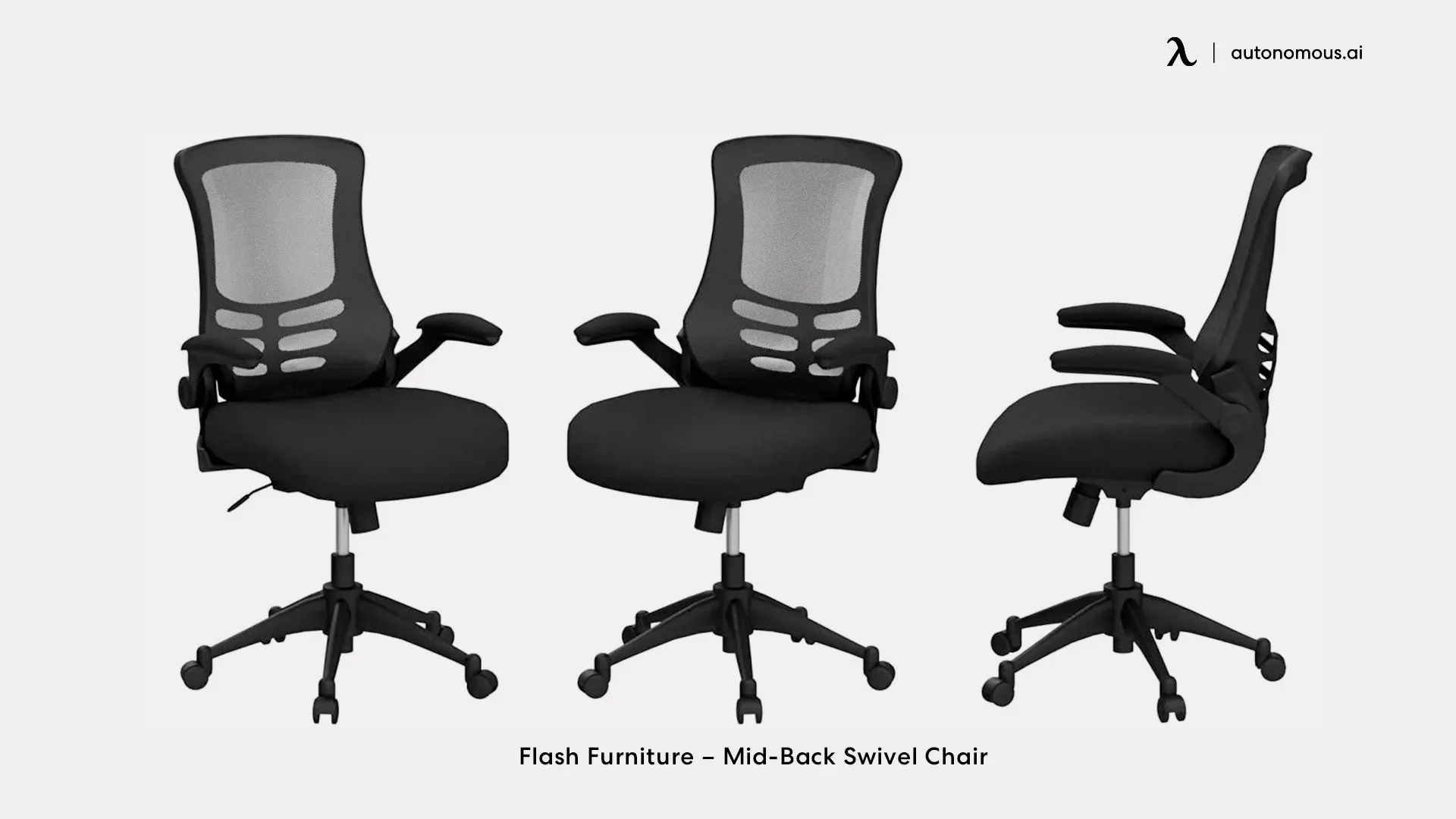 As for the price and appearance, the flash mid-back-office chair is a remarkable product in the market. This budget-friendly office chair stands out from the sea of other grey and black office chairs with its unusual appearance.
However, you might not find the office chair from flash furniture extremely comfortable. Nevertheless, this is unquestionably a model to consider if you're searching for an affordable office chair that looks decent.
16. Steelcase Leap Office Chair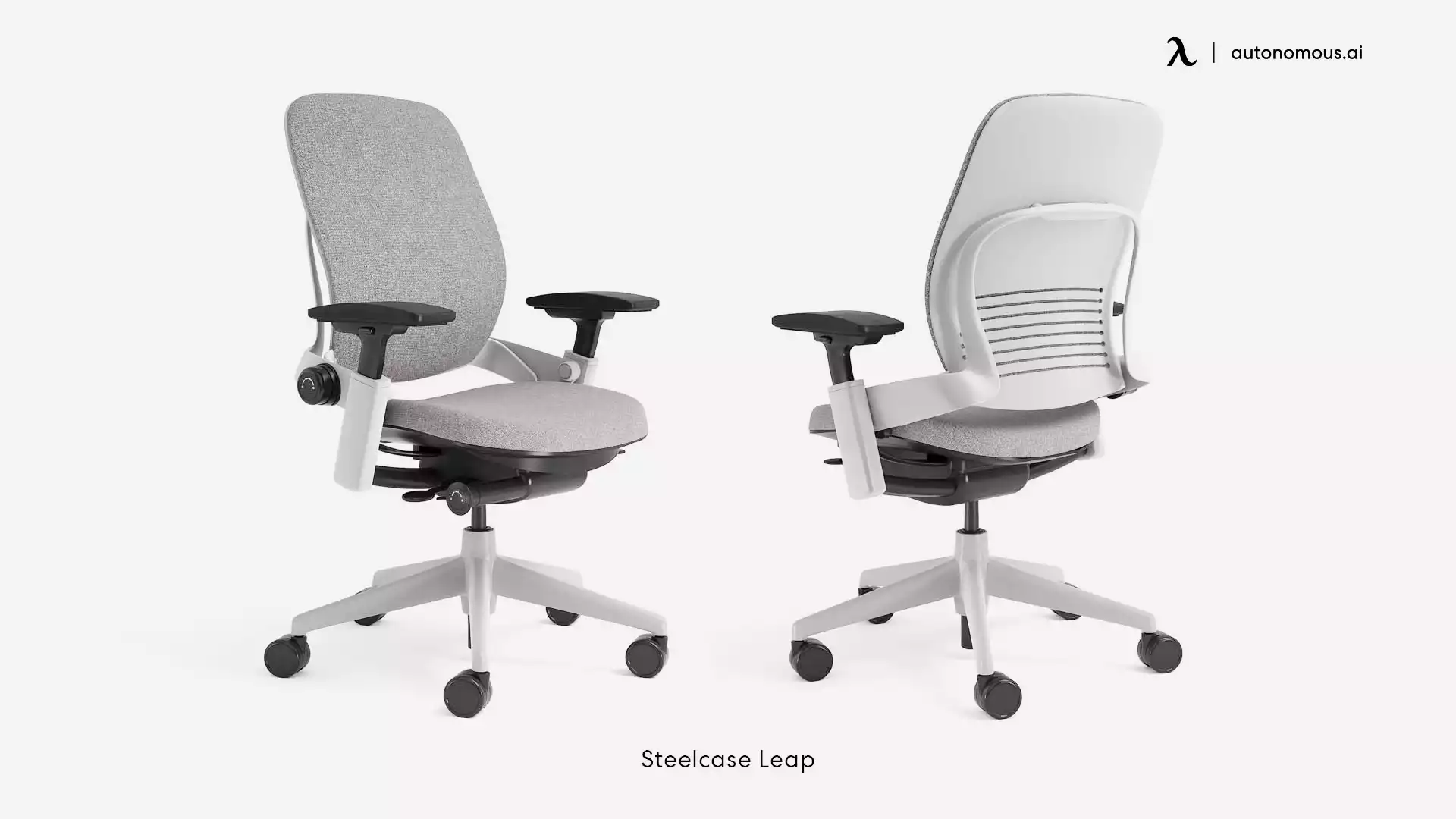 If you experience back discomfort, you need the Steelcase leap office chair. The Steelcase Leap moves as you use it. Three controls allow you to fine-tune the chair design for your spine, lumbar region, and posture. This makes the chair an excellent choice for those who frequently experience back or spinal problems because the controls may be changed to increase the chair's comfort greatly.
17. Humble Hyken Office Chair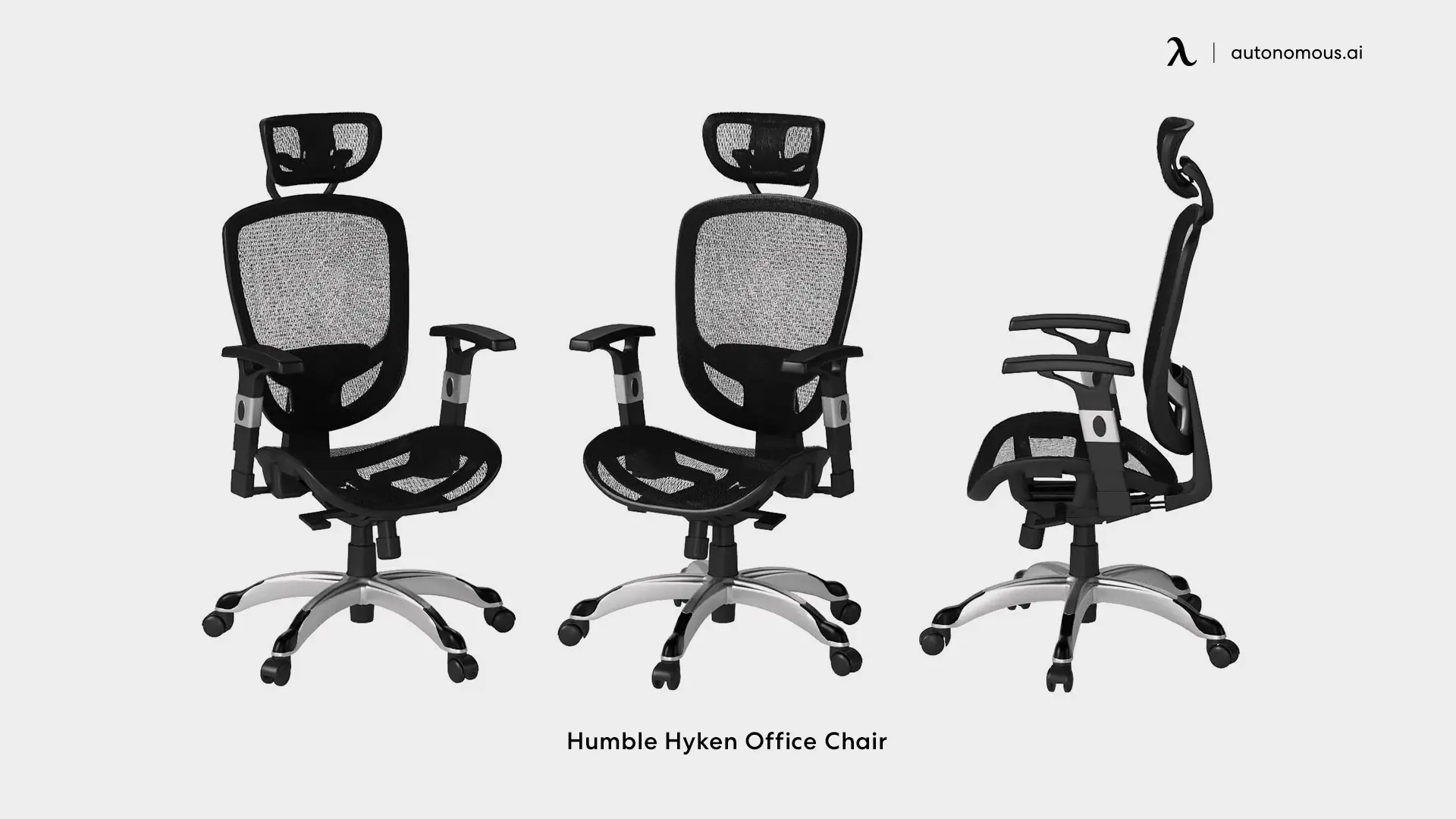 One of the most economical good options available is the modest Hyken. It is strong, reclines, and has a mesh-like fabric covering the back and seat. Even a headrest and lumbar support are included. However, it might not be the ideal choice if you require a wider seat.
18. Techni Mobili High Back Office Chair
At a price that is slightly below $200, this high back ergonomic chair is going to give you good value for your money. It has a breathable backrest that not only supports the lower back but the rest of the spine as well. It has been designed with a headrest that offers nice and firm neck support. You can work longer and better without undue muscle tension and fatigue.
The seat fabric is contoured. You are assured of having a good butt grip when you sit down, or when you lean forward or backwards. The waterfall style of the seat edge gives the back of your knees some reprieve when you sit for long. The armrests offer more support.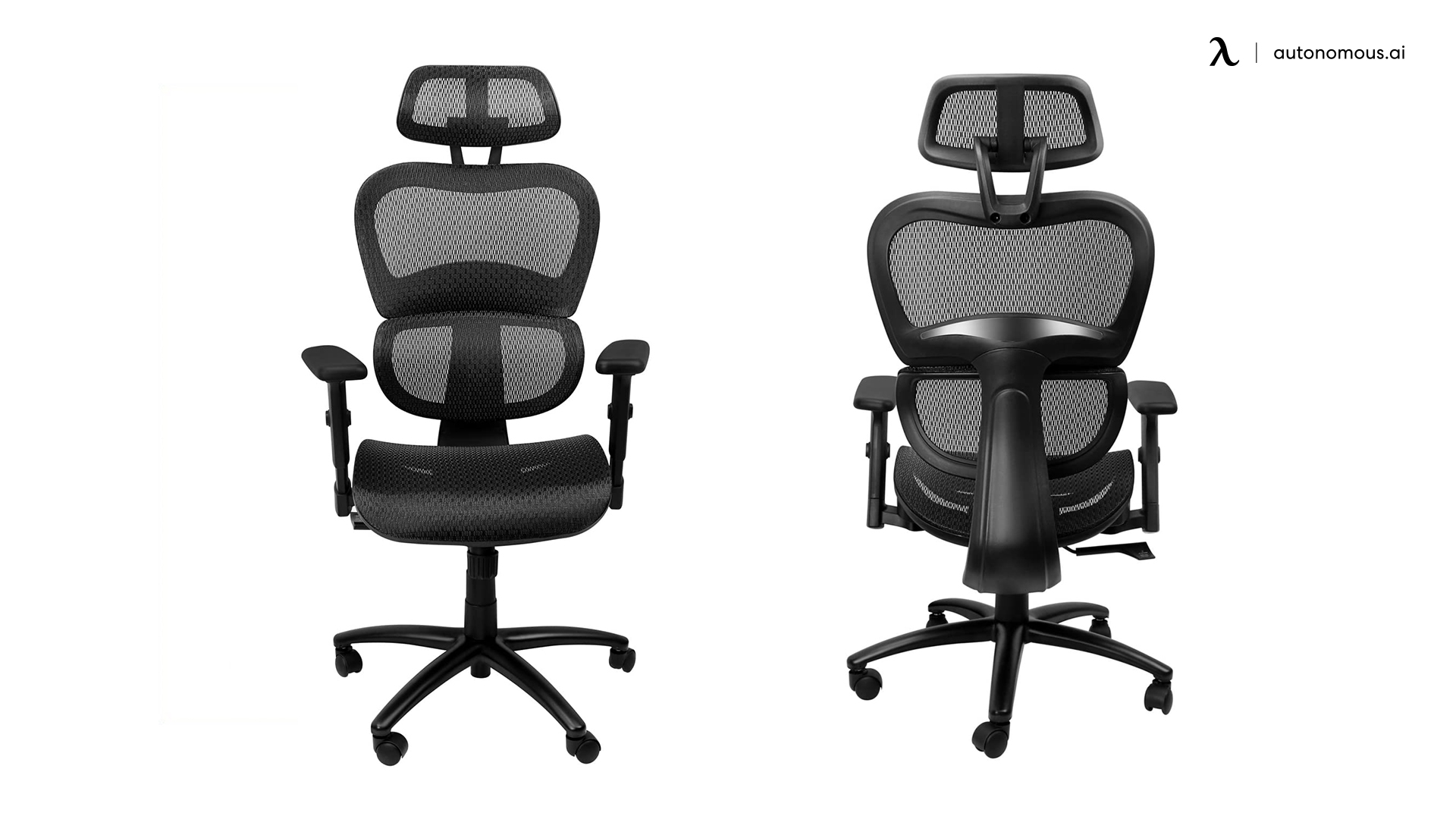 Pros
Affordable price ergonomic chair under $500
Adjustable recline
Easy to adjust
Can flip the armrests up
Heavy duty nylon shape
Cons
Armrests can be flipped up but not adjusted
19. Alera Etros Series Petite Meshed Back Chair
Despite looking like a captain's chair from Star Trek, the Alera Etros is very easy to use. Some of the most noticeable features include the breathable, meshed backrest. When you work for long hours, you want a seat with a breathable backrest. Such allows air to circulate around your body easily. The cushion of the seat is also covered in mesh, same as the back. You need breathability on your seat too if you will sit down for long hours.
The height of the chair is adjustable, and the backrest has been designed with good lumbar support. That is not all; because the lumbar support can be adjusted by shifting it up or down, as may be necessary.
Armrests of this best ergo chair under $500 are adjustable, each comes with an adjusting knob at the side. Almost everything in this seat is adjustable. Even the seat can be slid forward an inch or two. The backrest can be tilted to suit different postures.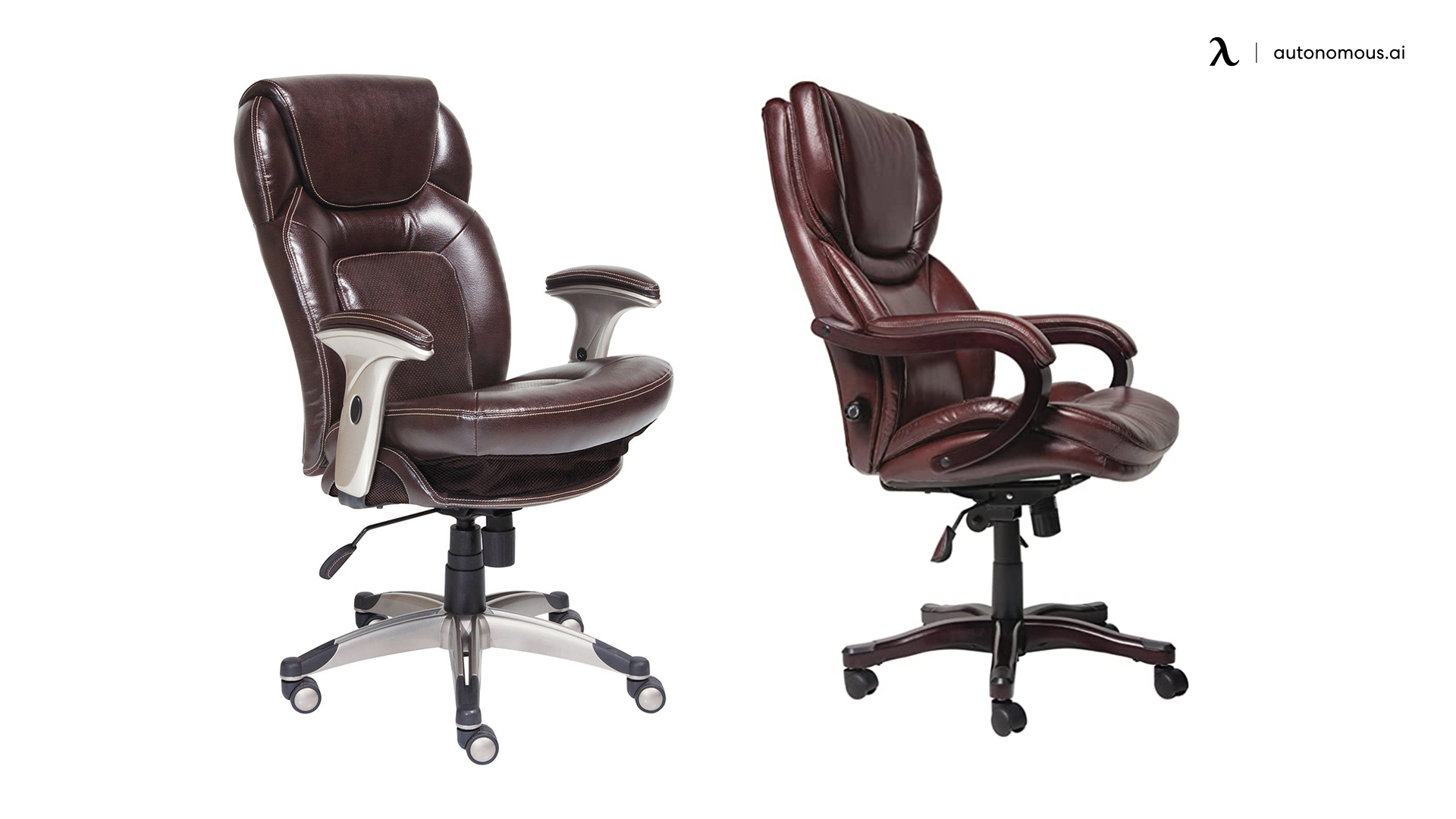 Pros
Adjustable in many ways
Simple to assemble
Breathable back and seat is good
Comfortable on your muscles
5-year warranty
Cons
Made for petite people only
Creaks a lot
20. Serta 43506 Bonded Leather Chair
This chair is covered with soft leather that is brown in color, looks quite executive and professional. It is a perfect office chair under $500 for tall people because of the high back. The layered ergonomic body pillows are arranged in such a way that they give your spine support where it is needed most. The lumbar support is adjustable to give you good support where you need it most. The armrests are padded and covered with the same soft, bonded leather.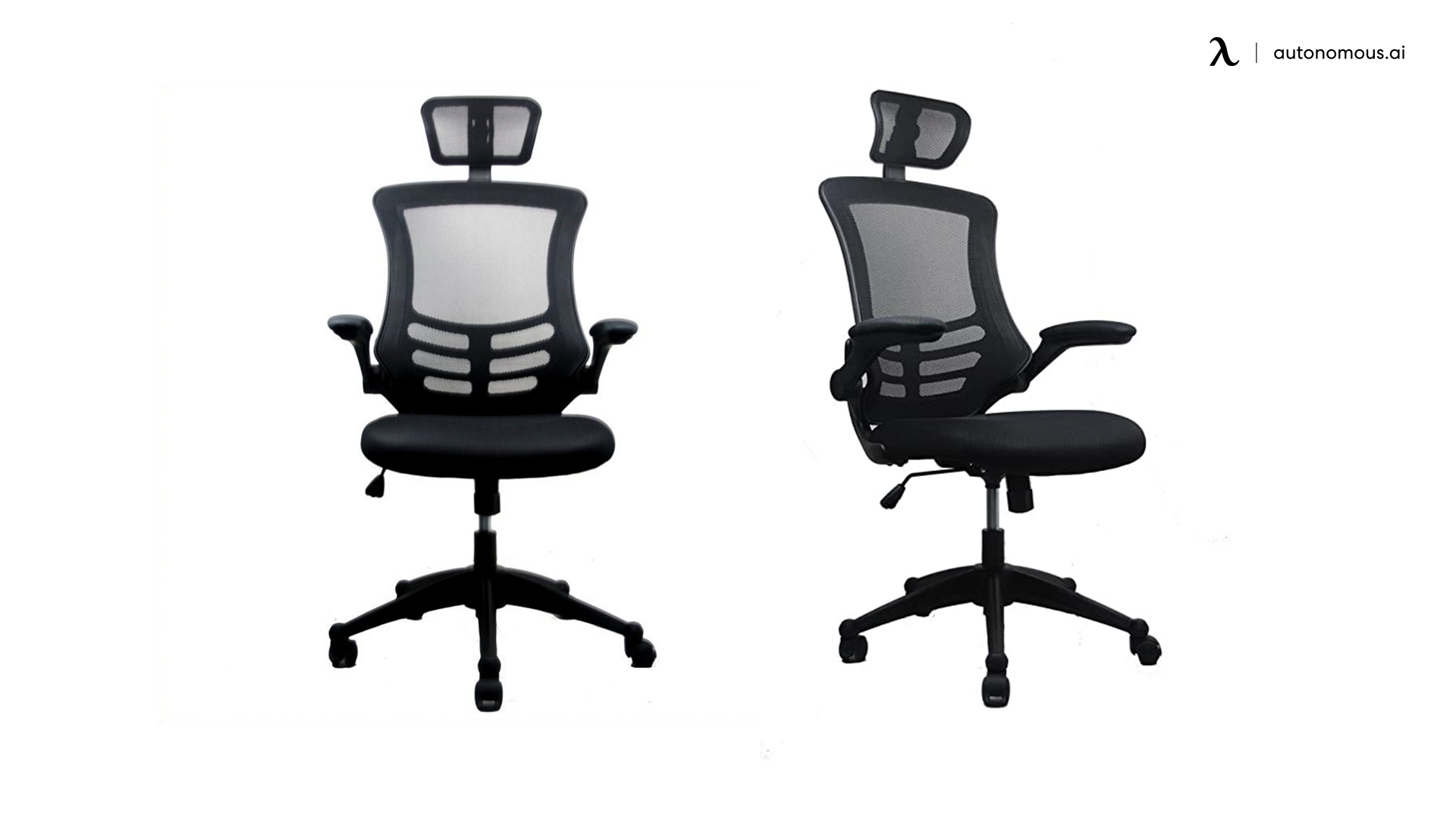 Pros
Beautiful and stylish
Adjustable lower back support
Bonded leather adds a luxurious feel to your office
Softly sloping armrests
Good tilting mechanism
Cons
Armrests are fixed

Might not be very breathable
21. Komene Office Chair with Meshed High Back
Komene looks like a good chair and sells for a good price too. It is a high back chair, meshed and as breathable as they come. It has armrests that you can flip up and adjust to your most favorable height. The headrest of this best ergonomic office chairs under $500 is adjustable and breathable. It is good for a person suffering from back pain because it helps keep shoulders, butt and head aligned.
The back support is designed in two parts. People who have used this chair office chair under $500 say it has been designed to not only prevent back problems, but to help people with bad backs to heal. The five-star base is sturdy, the casters roll nicely on all floors. This chair has many adjustable features to suit different users.
Pros
Very breathable
Easy to assemble
Can recline to more than 130 decrees for a good nap
Designed to make it easy for buttocks and hips
Good for people with back pain
Cons
Just the black color choice
Costlier than many in its price range
22. Secretlab Titan
The use of gaming chairs is becoming more popular in the office space, and the Secretlab Titan is one of the best options. It offers a series of ergonomic features, such as adjustable armrests and a reclining seat function that goes as far as 165 degrees. The best ergonomic office chairs under $500 has a durable design, and the lumbar support is sure to wow you.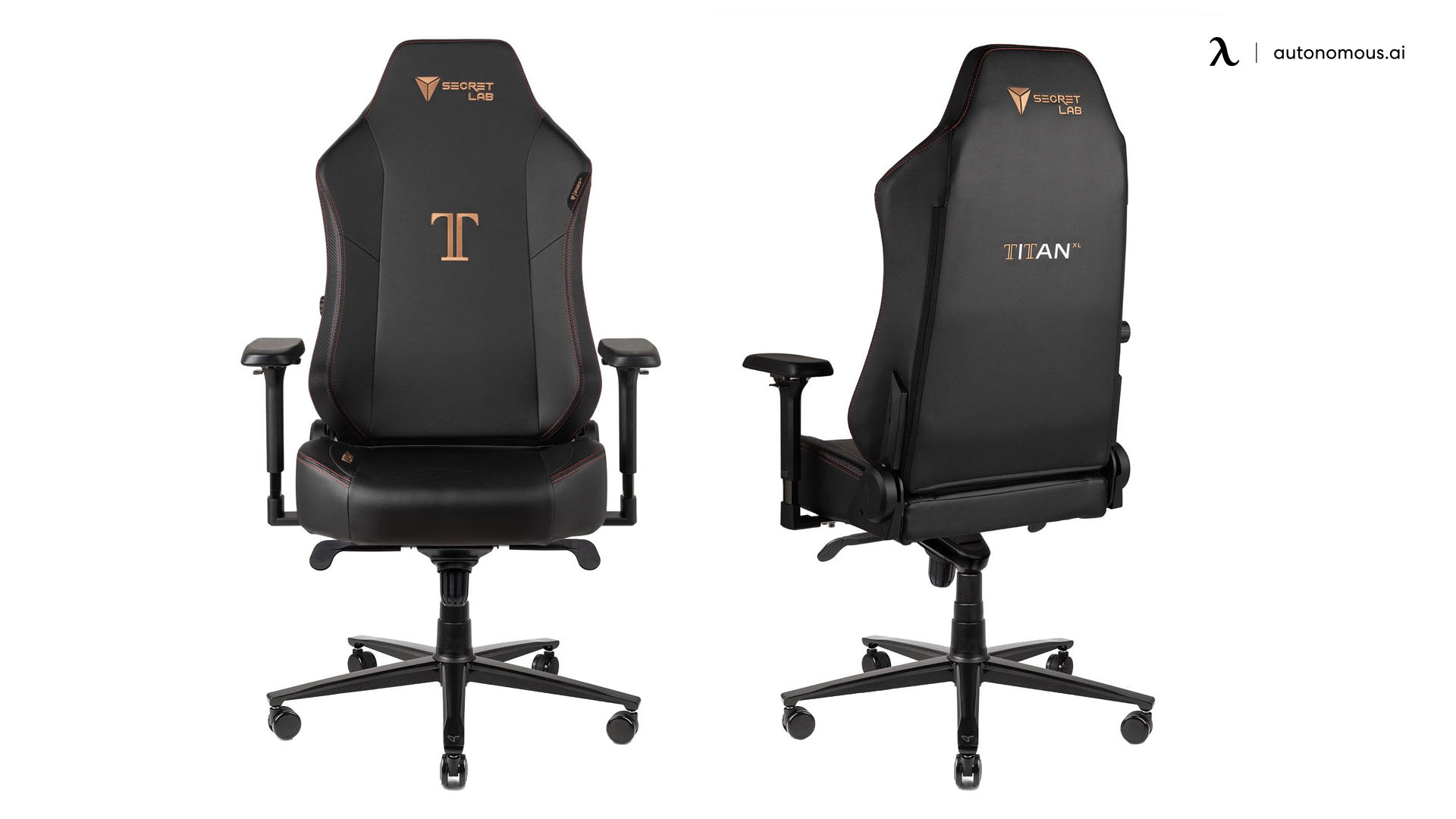 Pros
Great recline feature

Adjustable lumbar support

Tear-resistant design

Great aesthetic
Cons
Seat feels very firm

Doesn't integrate as well into smaller offices
23. SIDIZ T50 Office Chair
The mesh backrest in this best ergonomic chair under $500 contributes to maintaining a cool temperature as you work. It's an attractive chair that features great adjustability functions to maintain your comfort and improve your productivity. The lumbar support has in, out, up, and down movements, which means how you sit is based on your choice.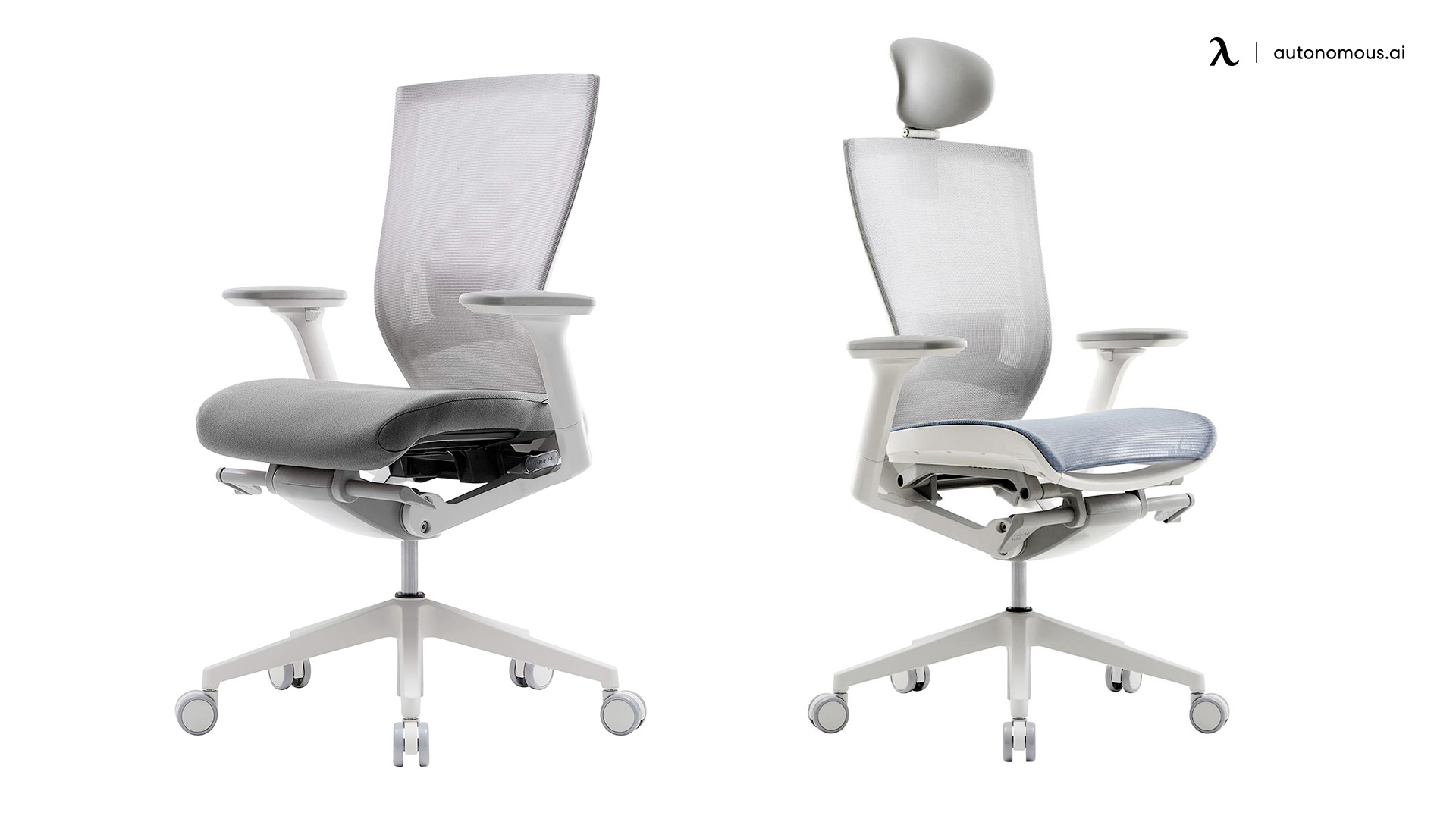 Pros
Many color choices

Robust lumbar support

Breathable backrest
Cons
Assembly presents quality control problems
24. Bowery Adjustable Office Chair
If you've ever seen the Herman Miller Sayl Chair, this best ergonomic chair under $500 from Bowery looks like it and rivals it in terms of ergonomics. The elastomer backrest and adjustable nature of the chair make for a seating experience that matches your body's contours. Be that as it may, it still maintains a level of firmness that is enough to provide the support you need. The backrest's open mesh design keeps you from sweating while you sit, and the chair's height and armrests can be adjusted as needed.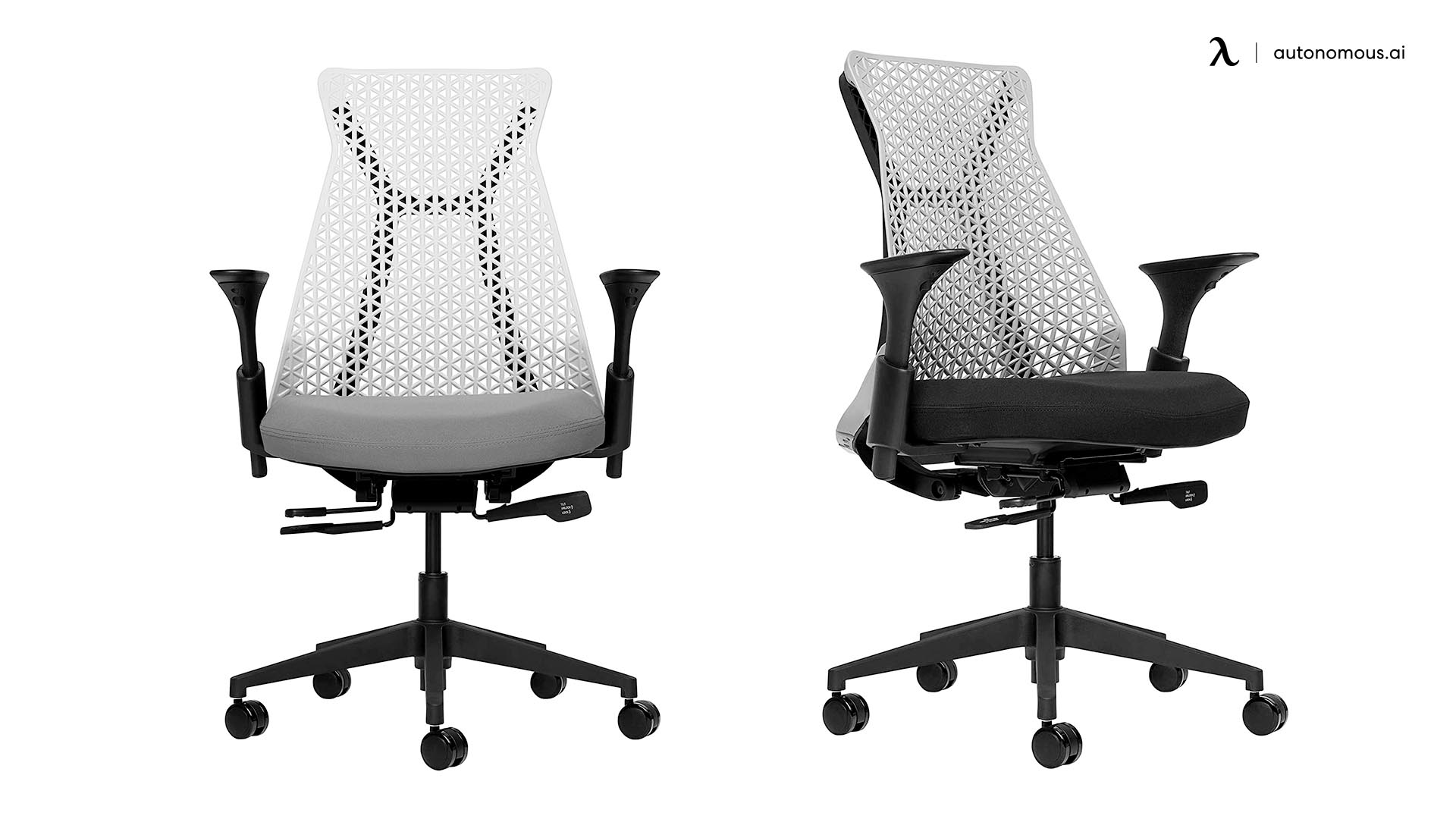 Pros
Great back support

Lightweight design

Adjustable sliding seat

Attractive design

Breathable backrest
Cons
25. HON Ignition Task Chair
The HON Ignition task chair has a mid-back design that allows you to facilitate your spine's curve, regardless of your height. The seat depth of this best desk chair under $500 can also be modified, which means proper alignment of both your upper and lower body when you are sitting. You may also take advantage of the synchro-tilt mechanism for a comfortable recline.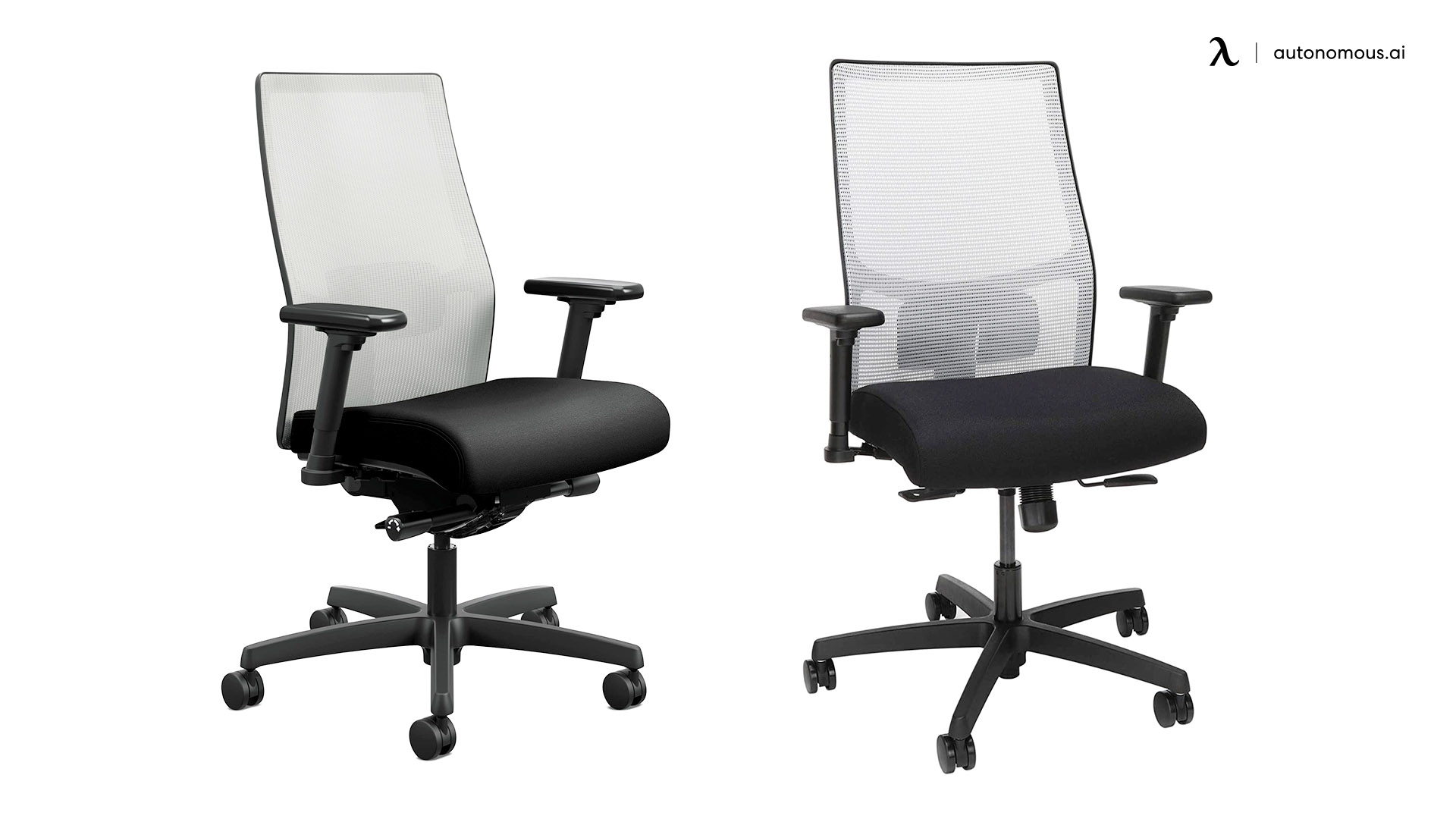 Pros
Adjustable backrest

3D armrests

Breathable backrest

Simple design that fits into any office space
Cons
Durability is not the best

No headrest
26. Flash Furniture High Back Mesh Chair
This Flash Furniture design is one of the most cost-effective ergonomic chairs you can get with proper neck support. You may choose from an impressive number of different colors, which means you can match any office aesthetic. The headrest is adjustable for maximum comfort and support of your neck. 
This may not be the best low cost office chair, but it still gets the job done.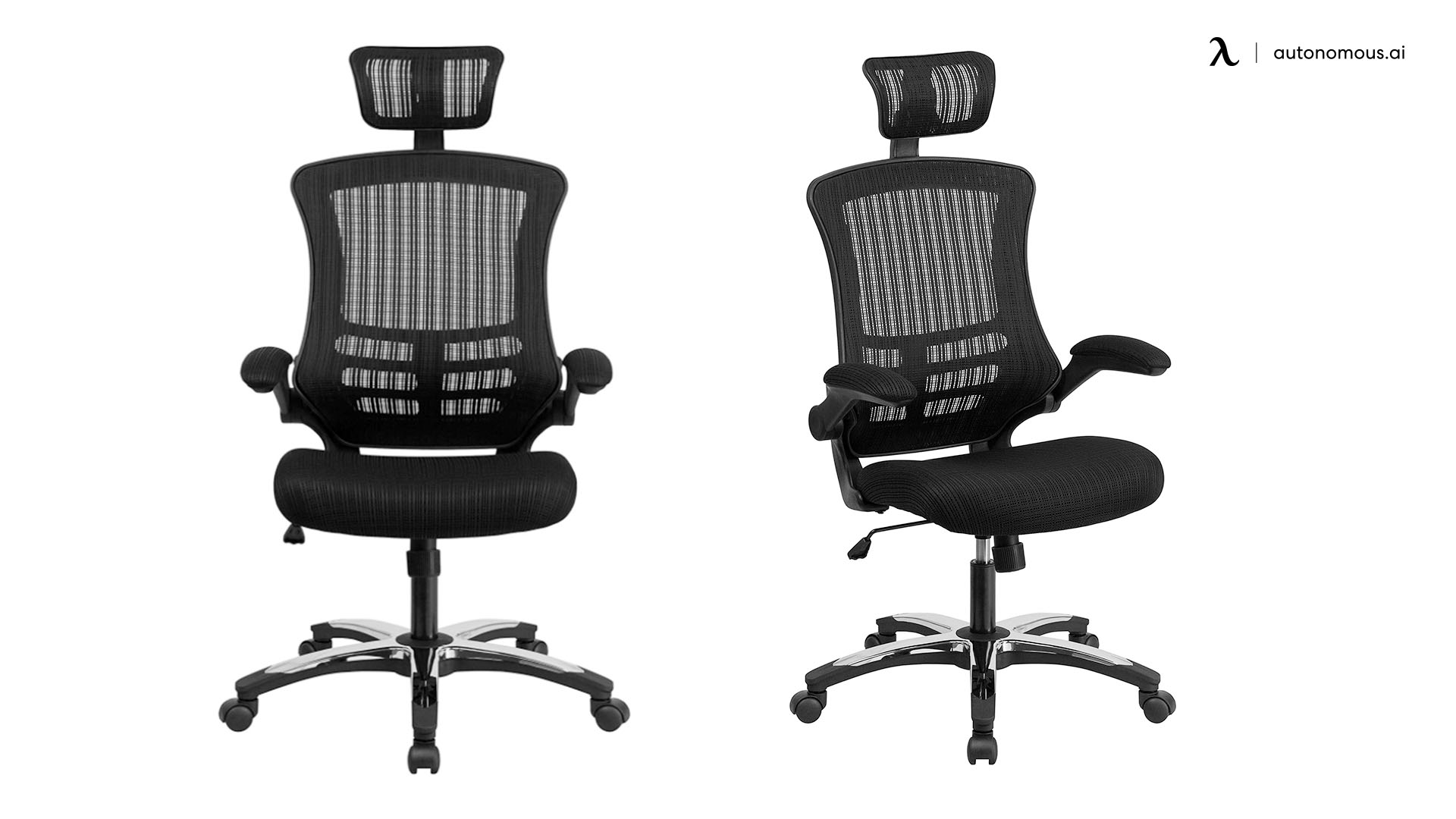 Pros
Many color choices

Mesh backrest

Adjustable headrest
Cons
Stationary armrests

Not much adjustability options
27. Steelcase Series 1 Office Chair
The combination of a very stylish design, tremendous comfort, and customizability make the Steelcase series 1 the epitome of comfort and practicality in your office space. It's very well suited to offices with a smaller footprint, thanks to a very space-conscious design. It's an affordable ergonomic chair under $500 with an expensive look.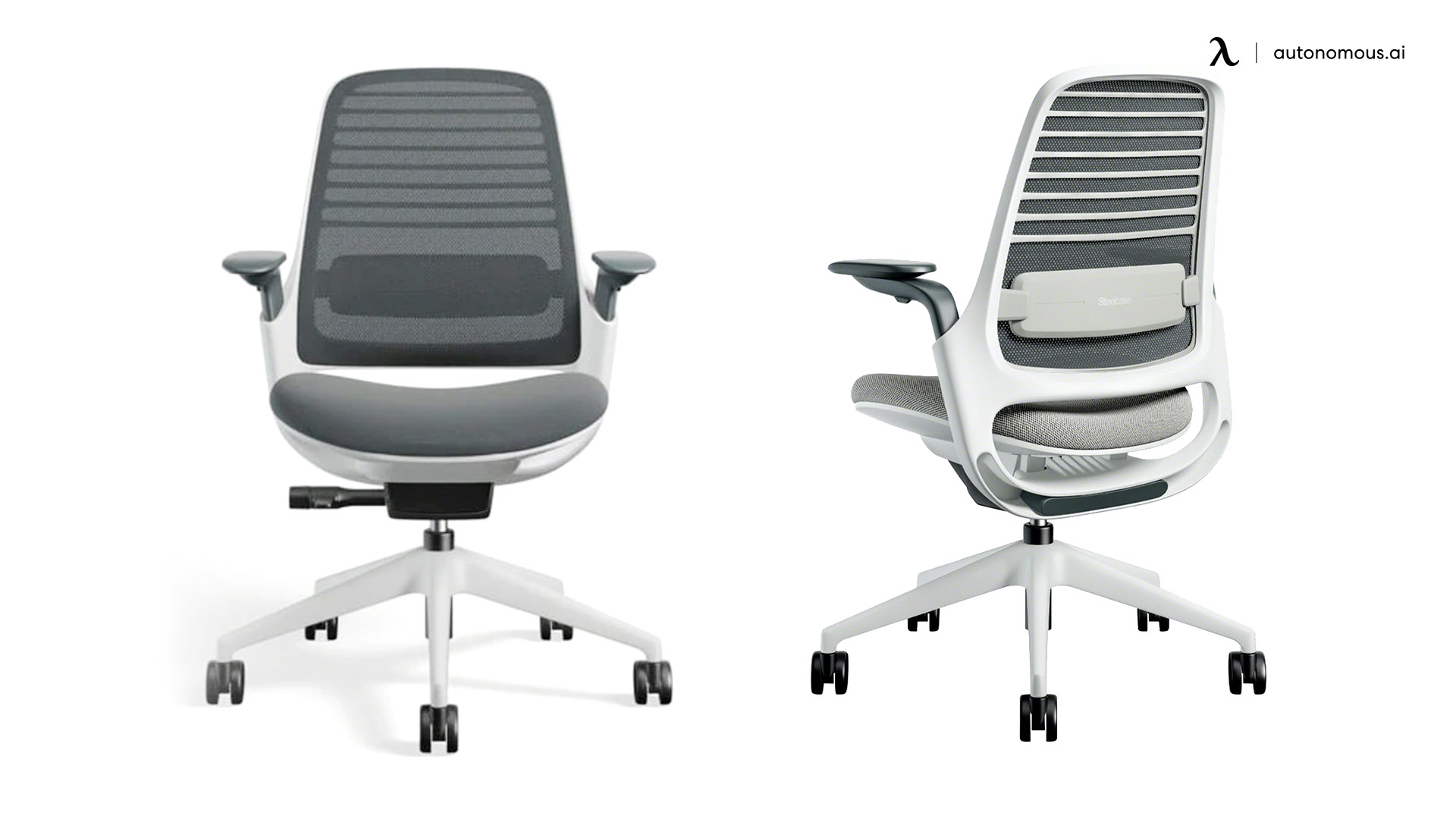 Pros
Mesh backrest

Tremendous lumbar support

Great seat adjustment options

Attractive design
Cons
28. National Office Furniture Vora Chair
While the Vora Chair does not have adjustability options in lumbar support, the curved back fits itself well to the human spine's contours. Its simple design makes it suitable for any office environment, and the knee tilt and swivel tilt make for a more comfortable sitting experience. 
Pros
Mesh backrest

Swivel tilt function

Comfortable padded seat
Cons
29. The Smarter Office Verve Chair
Don't be fooled by the unassuming design of the Verve chair. This best desk chair under $500 is known for its adjustable height, synchro-tilt, lumbar support, and tilt tension. As you sit in this chair, you feel like it is taking care of your back, your arms, and your legs, so you can be as productive as possible. 
Pros
Great lumbar support

Tilt tension adjustment

Simple and attractive design
Cons
Conclusion
These are just seven of the best ergonomic office chairs under $500. While there are many more, we feel that these should meet the needs of people under different budgets very well. Except the stool, you can see that all the other chairs reviewed here have armrests and backrests. These are some of the most sought after features in office chairs.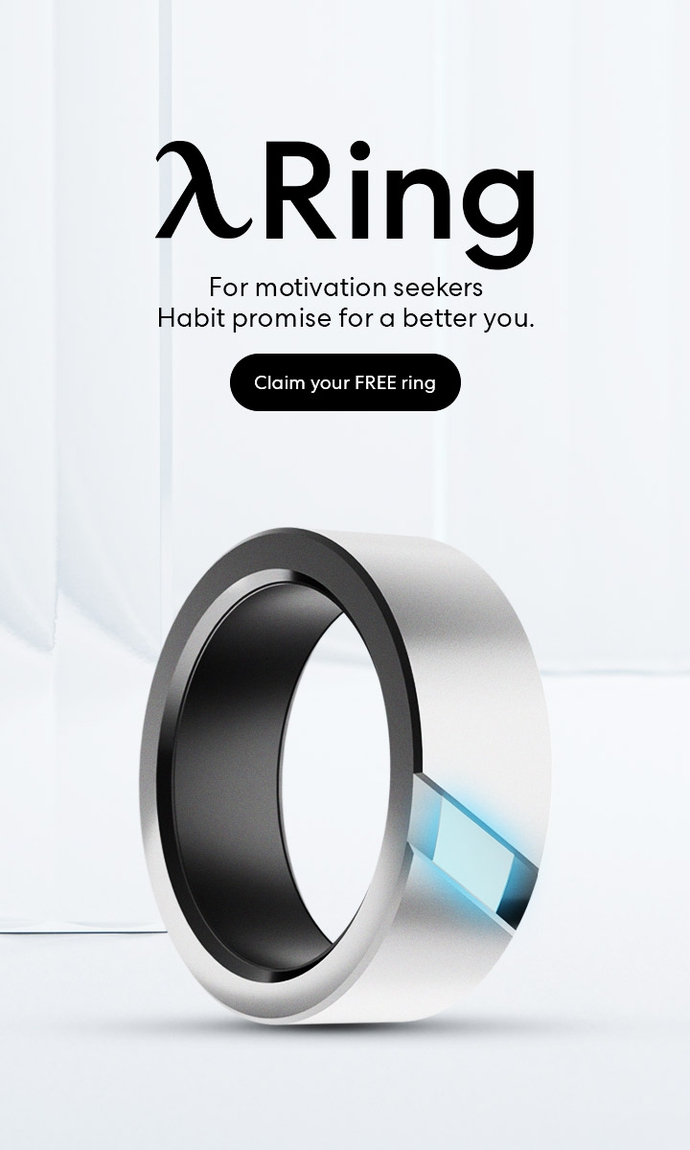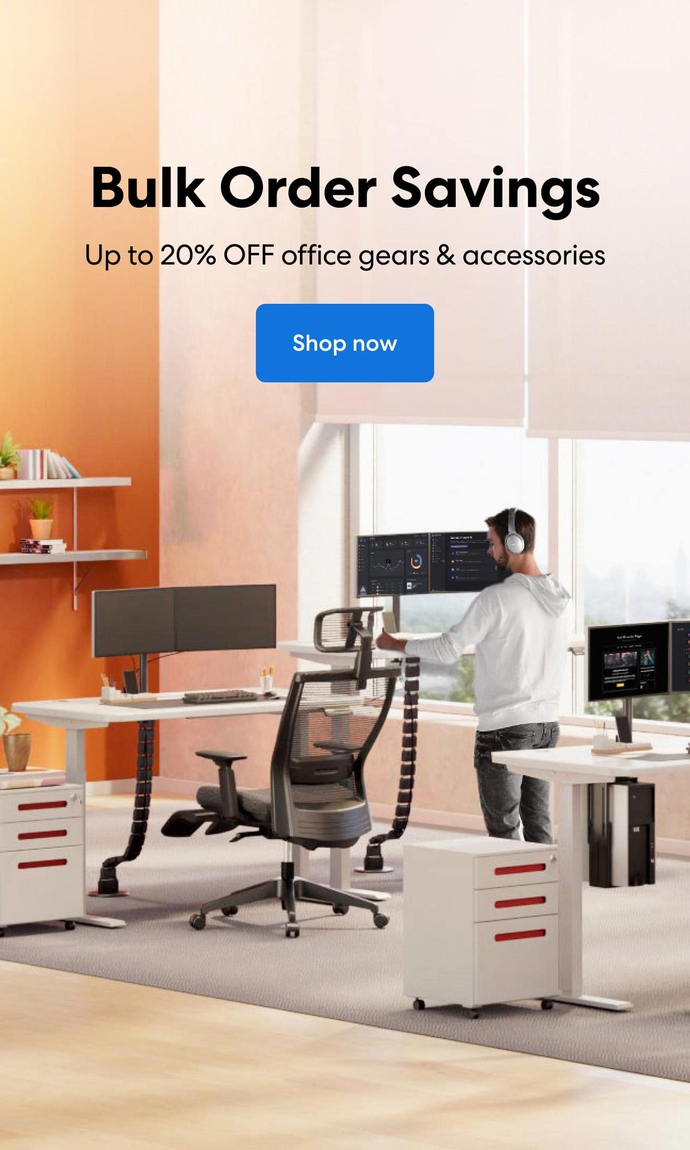 Subcribe newsletter and get $100 OFF.
Receive product updates, special offers, ergo tips, and inspiration form our team.