Standing desk converters, also known as desktop risers or desk toppers, are placed on your existing desk. The desk does not need to be moved or removed for you to stand. Most black desk riser desk surfaces have keyboard trays. These come in different styles, sizes, and prices. Standing desk converters are likely to be the least expensive and easiest black desk converter choice for those of you who wish to keep your current desk. Now you can find many great black standing desk riser options that are less expensive than ever before that improve old designs. Standing desk converters have many other benefits other than health benefits.
What Is a Desk Riser?
Stand-up desk risers are not complete pieces of furniture on their own. A black height adjustable desk converter is not a computer but rather a sturdy and sleek device that sits on top of a table or desk. A kitchen table, workbench, or office cubicle can all be used to display one.
The Benefit of a Standing Workstation
The ease of set-up and adjustment for your unique height and needs is one of the most important features of a quality black monitor standing desk. All individuals are different in size, and your standing platform needs to be at the right level to be comfortable. Consider electric office desks if you need assistance positioning your devices and connecting them.
Tables, desks, and counters can fit different sizes

Height and posture can be adjusted according to the settings

A range of styles that accommodate two monitors, a laptop, several keyboard drawers, and more
List of 10 Black Desk Risers Today
1. Electric Monitor Riser by Mount-It!
You can turn any table into a sit-to-stand workstation by adjusting the height on a Mount-It! motorized standing desk converter. The standing desk converter includes ample space for a laptop and peripherals. It also includes a monitor stand that allows your screen to tilt and rotate. Sit and stand with ease. Make your working environment healthier.
You can save hundreds of dollars by using your existing desk. A simple height adjustment standing desk connect system, paired with a powerful motor system, allows you to raise and lower your entire workstation quietly and easily. A single button does it all. The monitor is compatible with any VESA monitor up to 32". You can tilt the screen up to 45° and rotate it 360°, allowing you to work more ergonomically.
2. Deskmate Standing Desk
The affordable and portable black desk riser can hold 20 kilos in total (or 10 kilos per shelf) built on a two-tier cardboard box with a double-walled standing position design. Standing desks are still beneficial even if the cardboard option is not as strong as a solid wooden desk. We recommend it if you frequently change your work location or need to minimize your workspace at home.
3. Humbleworks Sit-Stand riser
The Birchwood shelves slot into the openings provided. The riser's main structure is easily folded out, and the two shelves slot into it. This vertical workstation is very space-efficient since it's vertical.
4. Duronic Sit-Stand adjustable riser
In addition to supporting a full-sized monitor, notebooks and coffee cups, this 90 x 59 cm black desk riser also features an integrated device holder. Two-way switches on the steel frame allow the risers to be adjusted height. You may flatten it to a mere 16cm by using two switches.
5. VIVO Height Adjustable riser with keyboard tray
It's easy to relieve muscle tension, reduce work stress, and increase productivity while standing with VIVO's desk riser. In addition, standing throughout the day helps to keep your brain active and focused. Compared to the desk surface, the height of the top platform is 6.4", and its distance to the surface is 16.5". This desk is pre-assembled in many ways. Assemble the feet by hex-tapping them to the desk using the included tool.
6. Executive Office Solutions Aluminum Desktop Converter
An aluminum tray that is light and can be carried in almost any position. Four fully adjustable legs lock into position at various angles by rotating 360 degrees. It collapses quickly for portability. Power your CPU cooling fans with the USB cord included (included) by connecting them to your computer.
7. HUANUO Adjustable Laptop Stand
This laptop stand has nine different angles, allowing users to customize their experience while reducing neck and back pain. Cushioned bars, a large base of MDF, and a heavy-duty frame protect your computer from damage as it is built with a non-slip design. To maintain a healthy balance between sitting and standing, we offer adjustable laptop stands which can adjust from 3.5 to 16.5 inches in height.
8. Ergo Desktop Kangaroo Pro Stand
The "stopping bolt" feature lets you raise our adjustable height desktop's work surface to the same position. The work surface of this black desk riser can be adjusted independently from the monitor to provide you with Dual Ergonomics. Its main surface can be adjusted up to 16.5" above the desk. Monitors can be tilted, panned, and rotated using this VESA bracket. (Included).
9. AboveTEK Standing Desk Converter
Using the handle on the desk riser, you can easily adjust the gas springs and elevate or lower the height-adjustable desk to suit your needs throughout the day. The large standing keyboard tray measures 25.6" x 11.8" and supports up to 4.4 lbs. and offers enough space for both a full-sized keyboard and mouse on the large surface of the 36" standing desk converter.
10. Victor DC450 Dual Monitor Standing Desk
A padded steel plate provides stability and protection to the desk surface underneath the DC450, which fits an existing desk or cubicle. There is no need to clamp or bolt it in place. The Easy Tap Technology allows for simple operation. The motor is activated by simply pressing a button. The work surface will stop at the desired height when you press the button a second time. Also, the desk will descend to a seated position when you press the button a third time. When the desk is lowered to the sitting, a Safety Sensor detects whether a contact has been made with an object. The device stops the desk from moving downward when the object is removed.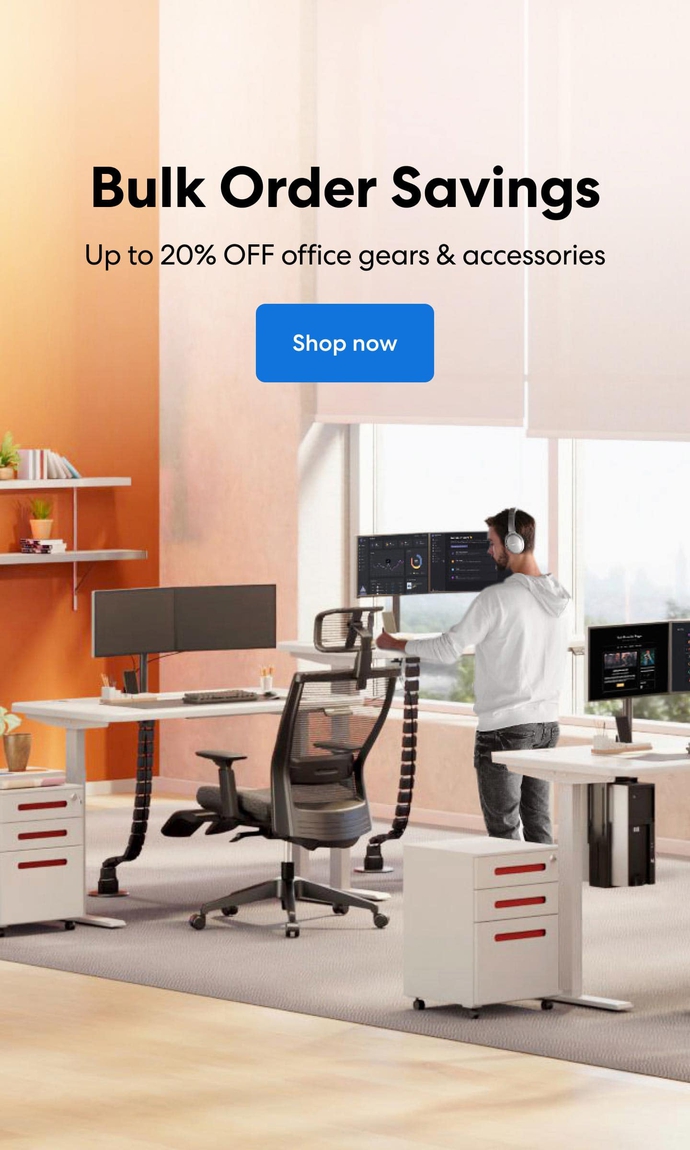 Subcribe newsletter and get $100 OFF.
Receive product updates, special offers, ergo tips, and inspiration form our team.