Smart Products
Top 10 Comfortable Stationary Office Chairs This Year
1,039 Views
Those who spend a lot of time at their desks, especially during crisis periods when they must work from home constantly, know first-hand how an office job can both physically and mentally tax them. All office jobs require long hours in uncomfortable positions, whether you work in a medical clinic, at home, or for a financial institution. As a result, many people suffer from back and neck problems caused by their posture. The quality of a person's office chair is at the root of this problem. If you don't have a good stationery office chair, you'll face daily discomfort and the possibility of permanent neck and back problems. An office chair of high quality is essential to those who work in a workplace. Understanding which stationary desk chair with no wheels is best for you can be difficult.  
Stationary Office Chair vs. Ergonomic Office Chair
The ergonomics of a regular office chair and an ergonomic task chair are two of the biggest differences. Because ergonomic task chairs are built with comfort and ergonomics in mind, they may be more beneficial for people who suffer from back pain.
A certain stationary office chair that swivels with stationary bases atypically offers basic adjustments, such as a height feature, a tilt mechanism, and a swivel function. Still, otherwise, they tend to be fixed in design. Among the features of the ergonomic task, chairs include the height and depth adjustments, adjustable armrests, lumbar support, and swivel and tilt capabilities.
There is usually a high backrest on a stationary office desk chair, but they don't always offer lumbar support. The backs of stationary chairs are usually mid- or full-height and may also feature a separate headrest and neck rest. A full-height back stationary home office chair will provide the best support regardless of how you prefer to sit. However, the choice depends on what you prefer and what feels most comfortable to you.
List of Top Stationery Office Chairs to Buy
1. ErgoChair Core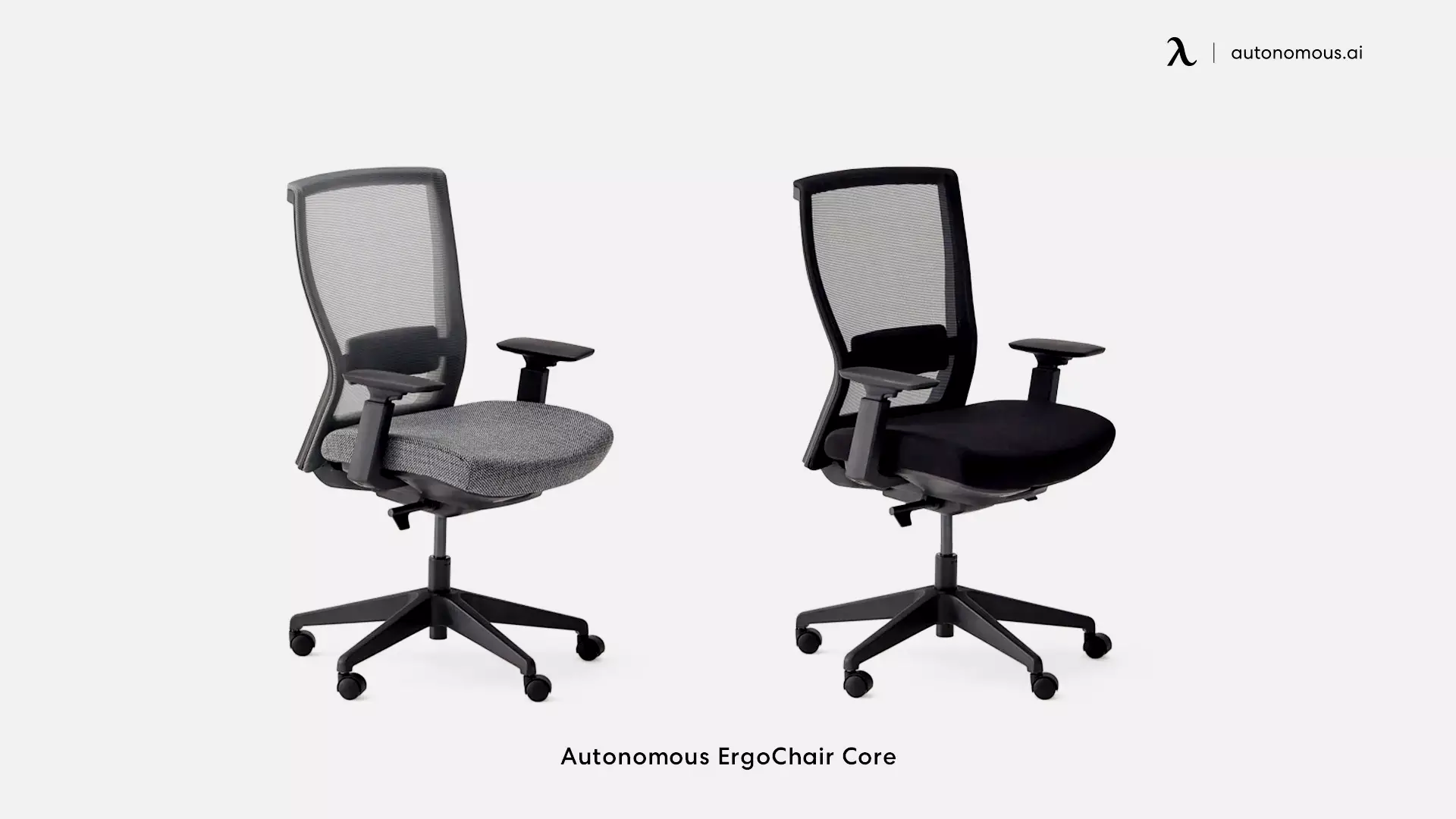 Starting at $349, the Autonomous ErgoChair Core computer ergonomic chair can be yours. You will need to pay $399 if you want the leg rest and headrest. Black and gray are the available colors. The maximum weight capacity is 250 lbs. The mesh back keeps you cool while you exercise. The headrests, armrests, back tilt angles, seat heights, lumbar supports, and footrests are adjustable. The seat is 19 inches by 19 inches. For the version with a headrest and leg rest, there are ten steps to assemble the chair.
If you were to examine the height adjustment poles underneath the seat, you would also notice some differences. Compared to the Pro, the Core's travel is longer at 4 inches compared to 2.5 inches. That would mean the maximum height of the Core would be higher than that of the Pro. Nevertheless, the difference is only around one inch.
This may only be a slight difference, but it can make a big difference if the Pro chair is too low for you. Therefore, if you are a bit taller, this stationary office chair will be more suitable for you. On the ErgoChair Core, there is a combination of firm and soft padding.
2. AvoChair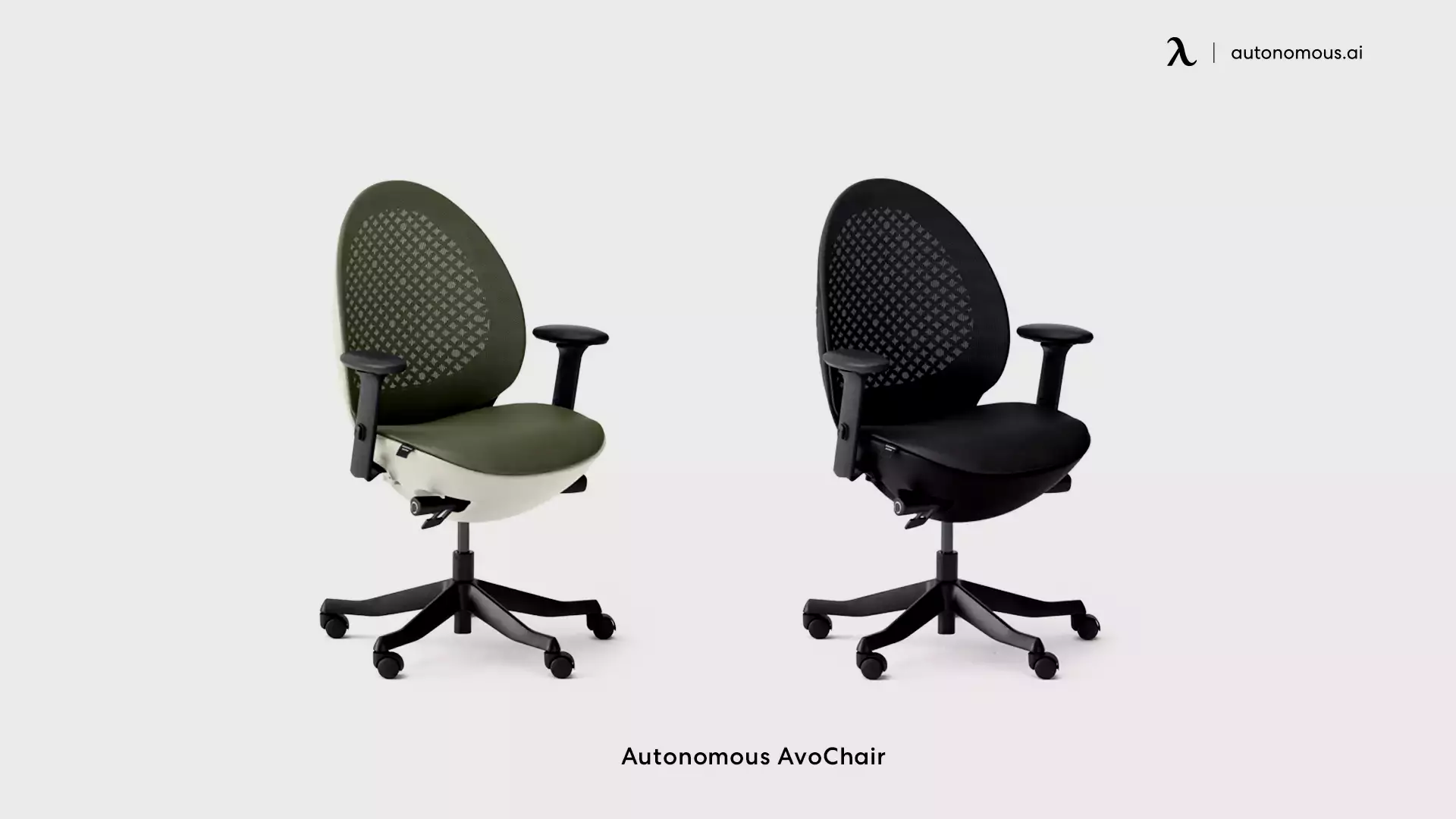 AvoChair is often referred to as one of the most comfortable ergonomic chairs on the market when you search the web. Moreover, its price is also very affordable. An important aspect of Avochair is its aesthetics. If you enjoy the modern look of the ErgoChair Plus the Pro, you will love this avocado-shaped chair even more. This chair moves from the traditional tall office chair to a mid-back one.
Made from elastomeric mesh, this stationary office chair has an oval shape and is an eco-friendly office chair. This chair has a lockable recline function. This allows you to enjoy downtime between meetings. There's something special about the relining features of this chair model.
The back of the chair does bounce a little when you sit on it. At the back of the plastic pattern, there is some give. By pushing the pattern back a little, it will recline. There is lumbar support in the Avochair. The shape of your spine is mimicked even though it isn't adjustable. A decent chair because you won't feel any pain in your back after sitting for a few hours on it. The chair also has adjustable armrests and a padded seat cover.
3. KERDOM Swivel Desk Mesh Chair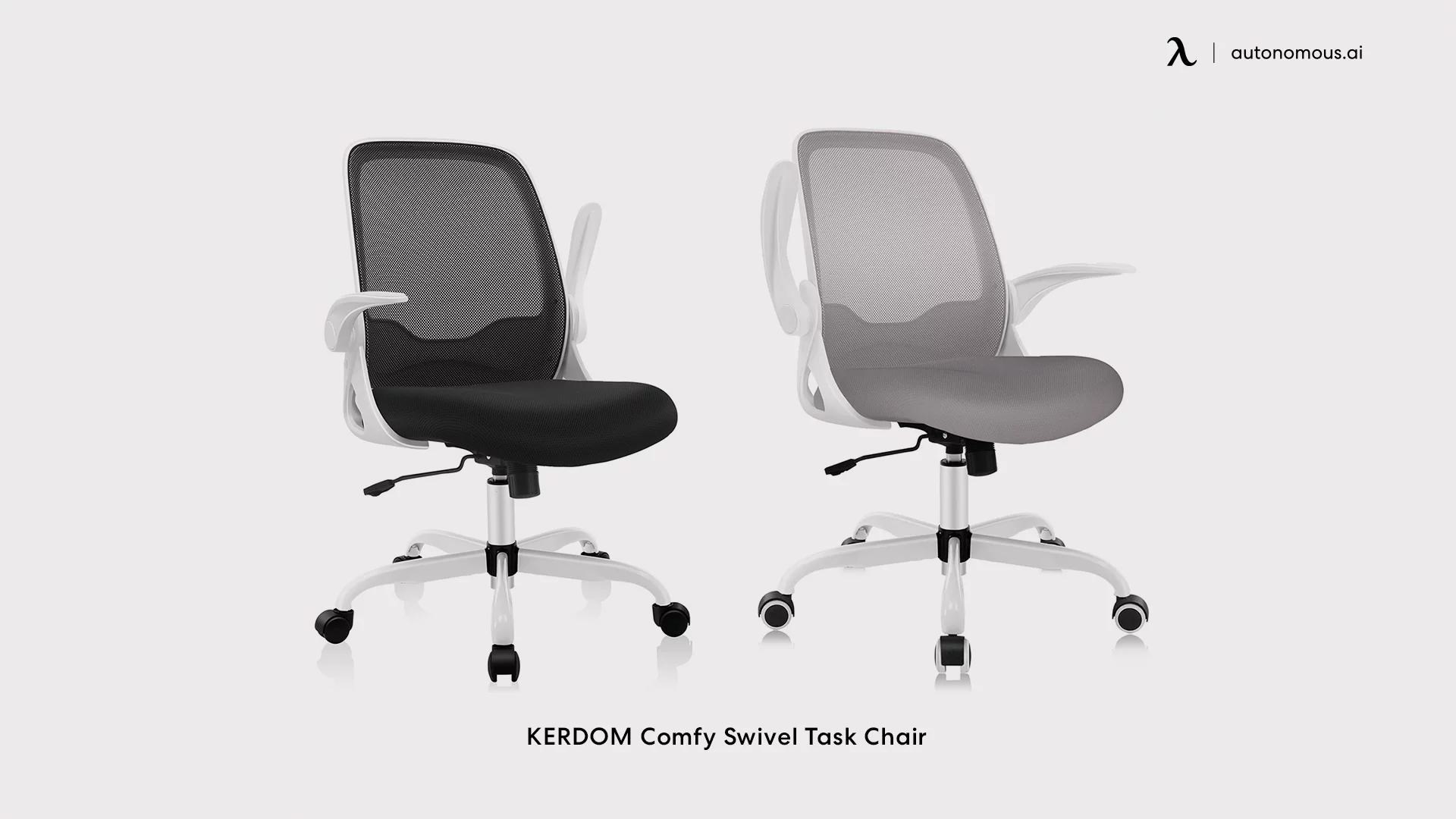 KERDOM has just started making ergonomic chairs, and this one is a fairly recent addition. The KERDOM breathable ergonomic office chair has a mesh backrest, lumbar support, and 3D adjustable armrests, making it suitable for offices. There are support points on the back, hands, back, and head, as well as lumbar support, allowing the chair to support up to 300 lbs.
Armrests can be adjusted by 70 cm up or down, while the headrest can be rotated by 30 degrees. You can apply in the back rest at 95 degrees, 110 degrees, and 130 degrees, depending on the height of the check. The flexible mesh fabric used for the cushioned backrest and seat cushion offers ideal comfort during summer. Front foam padding relieves leg pressure when the seat is occupied.
4. Home Office Ergonomic Mesh Task Chair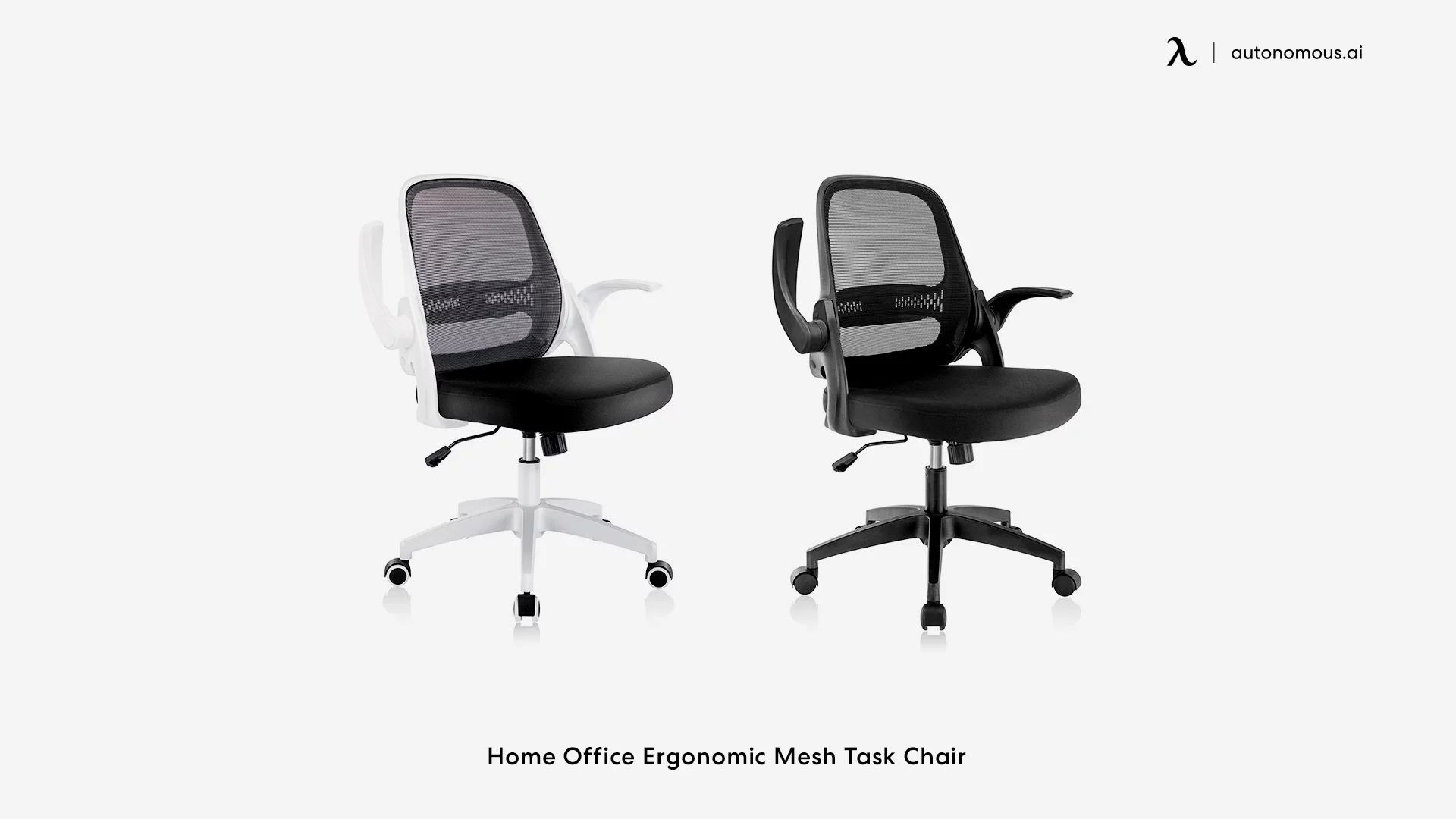 With adjustable armrests and a seat and lofty mesh back, you can sit comfortably for long periods in this ergonomic office chair. As a result, you won't sweat all day long sitting at the desk covered in a mesh-covered KERDOM ergonomic office chair with flip-up arms. Although the chair is lower-priced than other options, it is yet an outstanding choice for those who work remotely.
You can customize the Pablo MB to suit your preferences regarding the wheel casters, seat width, headrest, and several other features. In addition to being available in four different colors, you can adjust the chair's armrests in many ways, including depth, width, and angle. Furthermore, you may well adjust your backrest and your headrest to ensure that your posture is as comfortable as possible. 
5. KERDOM Office Chair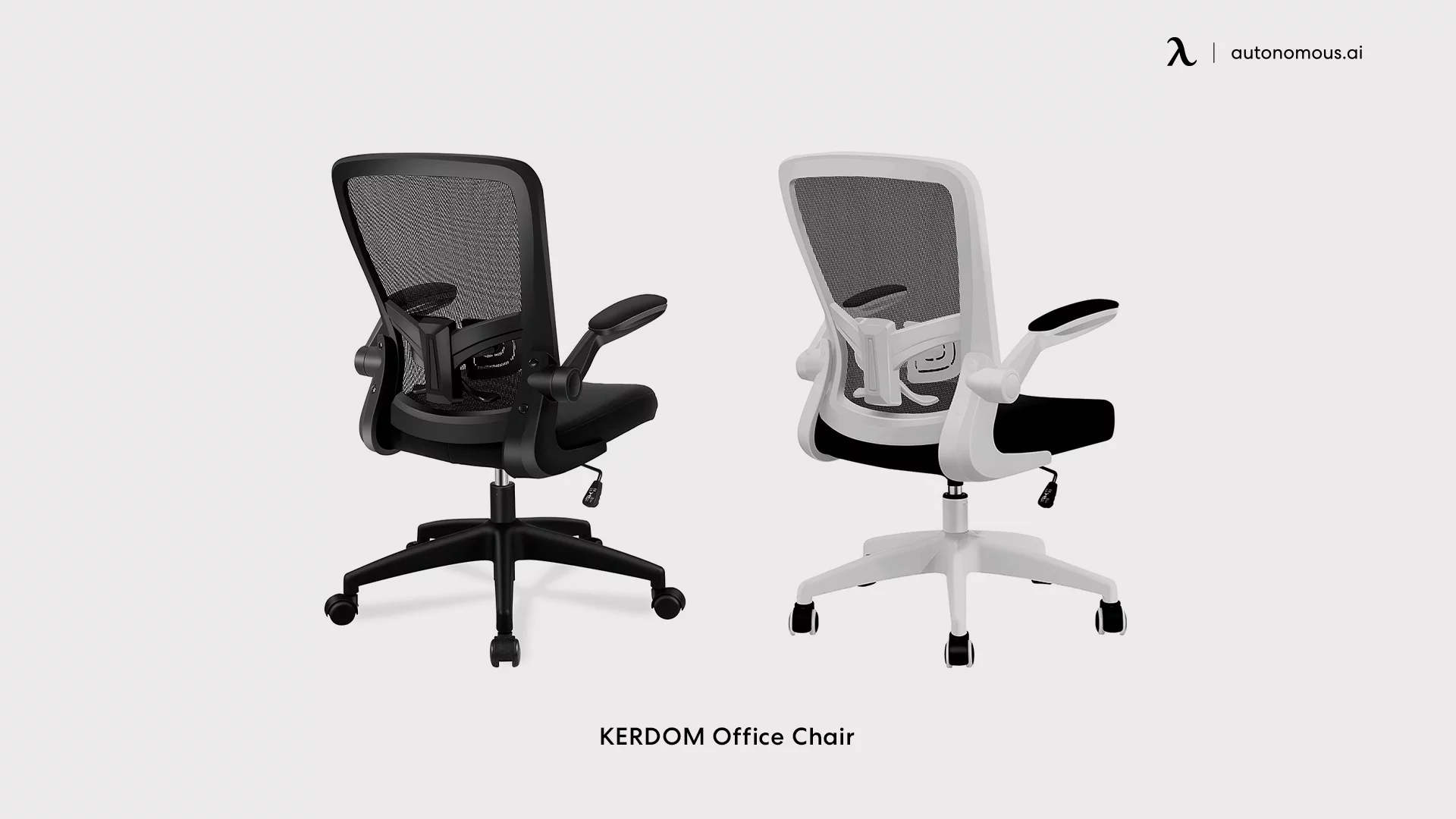 Its distinctive build adds a touch of sophistication to any office with the designer hector chair. This chair's suspension bridge-inspired webbed back and cushion will keep you cool and comfortable throughout the day. Perks and features, such as robust lumbar support and an assurance/ warranty, make it the best bed on the market.
Although it looks simple, this stationary office chair can tilt, rock, and swivel while holding nearly 300 pounds without sacrificing comfort. You can tilt back into the most comfortable posture in order to win on the thick memory foam seat, which features an adjustable footrest and retractable footrest.
6. KERDOM Comfy Swivel Task Chair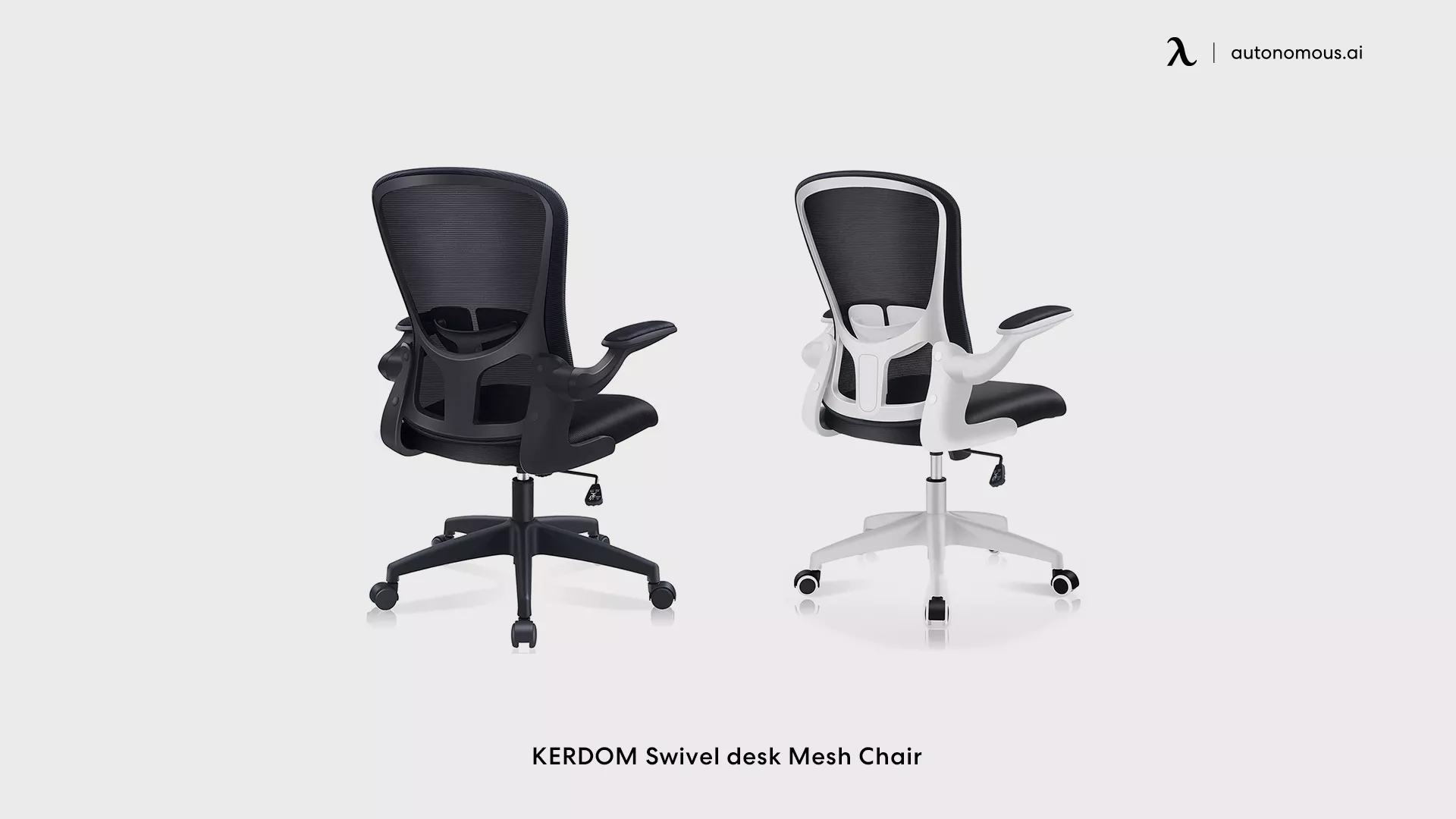 There are four points of support (head, back, buttocks, and hands), and the chair is designed to provide lumbar support. Adjusted headrests, backrests, and seat height can meet the needs of different individuals. Comfortable, long-term office use, with excellent elasticity, abrasion-resistant, and deformation-resistant, the KERDOM mesh office chair flip-up arms give you a good experience.
Polyurethane casters are made from durable polyurethane and are made with industrial-grade steel. Your floor won't be scratched, stained, or damaged. It's safe to use on carpet as well. You won't be disturbed by noise during your smooth 360° glide since it is as quiet as a mouse.
7. KERDOM Office Chair: Adjustable Armrests
An ergonomic chair adapts to your body's movements throughout the day to accommodate your motions. All the dimensions of the arms may be adjusted following your preferences and needs. The KERDOM office chair with adjustable lumbar support includes wheels on the bottom for convenient transportation, and it features a lever on the seat for easily adjusting the seat height. Various leg lengths and knee strain can also be accommodated by modifying the seat's depth.
8. ErgoChair Recline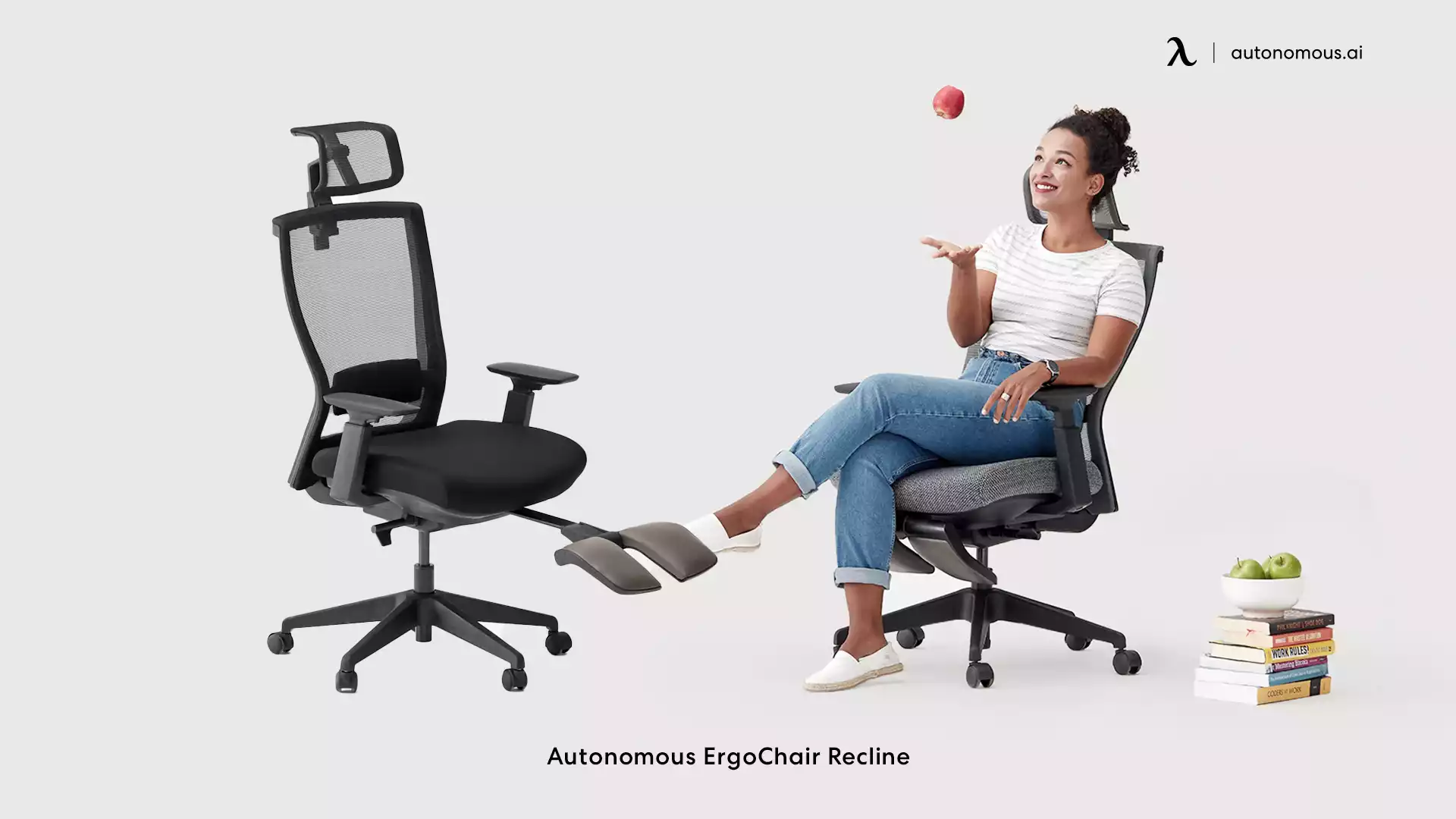 The ErgoChair Recline adapts to how much weight you are lifting and keeps your spine straight. Your shoulders, neck, arms, and back won't be put under tension so that you can move freely. A headrest is adjustable, so your spine is properly supported. Soft vegan leather is used for leg rest, which can be extended and folded away under the office chair when not in use.
9. ErgoChair Pro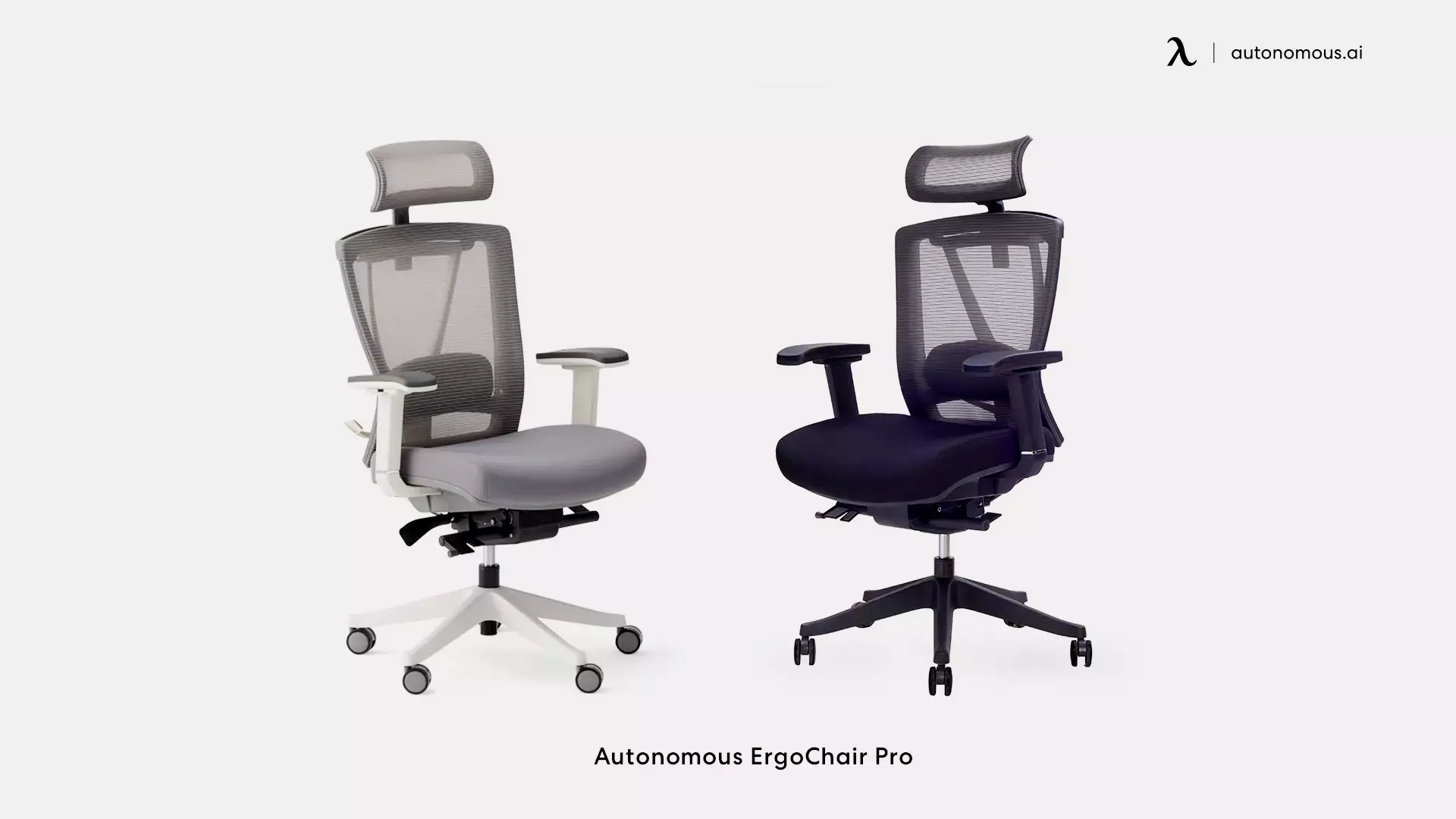 The recline angle of ErgoChair Pro is 22 degrees, and the tension is adjustable. Each of the 5 key positions is intended to provide spinal stability and support for your lumbar region. Additionally, it's covered in breathable mesh to perfect your posture gently. With an ergonomic 2:1 ratio, the back and seat can be reclined and stretched without putting pressure on your legs, thighs, and lower back. You'll have the same energy you had when you started your day.
10. Duorest D2A Dual Backrest Ergonomic Office Seat
Duorest is well-known for more than a few ground-breaking technologies, including their seat and back designs, known as the 'Duo Rest.' In this manner, your spine is supported in its natural position, relieving stress on your spine not considering whether your chair is reclining or not. In terms of the reclining mechanism, Duorest's D2A is quite highly developed - you can basically fall asleep on it if you make use of it fully reclining.
It's easy to discover the right height or depth with the backrest's complete adjustment. By incorporating this feature, the Duorest ergonomic chair ensures our back is stress-free and pain-free at all times. This allows you to experience great long-standing comfort. Despite being made of plastic and latex, it is durable.
Autonomous Employee Purchase Program

Have you ever wondered the best way to buy an affordable ergonomic chair? Then get registered with our Autonomous employee purchase program. You can only find new products and promotions through it. It will save you money on your purchase. Also, your purchase will be covered by a warranty and extended free trial. You can create a perfect school for your company, and we will follow up with your manager to ensure it happens.
Keep up with Autonomous news
Stay informed, stay inspired with our new blogs.
WRITTEN BYAutonomous
We build office products to help you work smarter.