Smart Products
11 Amazing Gaming Lights for Decor (LED, RGB) in 2023

Autonomous
|
Mar 31, 2022
1,908 Views
Many gamers have spent a lot of money on their gaming furniture, so it is only natural that they want the best gaming lights to match their setup. Gamers must have adequate lighting, so they do not strain their eyes during their game. However, gamers also need a gaming LED light that will not cause any glares on their screen. When there are glares, it is harder to see the game in front of you. 
Luckily, this list is filled with the 11 best gaming lights for your gaming pleasure.
11 Amazing Gaming Lights for Your Office Decor
1. Lamp Depot RGB Corner Lamp
The Lamp Depot RGB corner lamp is perfect for those who want a minimalistic look. It has been beautifully designed with a metal finish and a weighted rubber bottom to fit anywhere. Also, you can shuffle through over a million different colors and over 300 multi-color effects, which will bring the right ambiance during any gaming experience. One of the other things about this lamp that people like is that it comes with a remote control. 
This remote control allows you to customize your lighting experience by touching the color ring. It is a beautiful gaming room light that many people enjoy. Depending on your needs, you can purchase it by itself or two at a time. Lastly, it comes with a one-year warranty, so you can rest easy knowing that you will be able to get it replaced if you need to. 
2. Philips Hue Gradient LightStrip
Everyone has seen the Philips Hue Gradient LightStrip being used all over social media. It is a great gaming room light for many reasons. People attach this gaming strip light to the wall or furniture to light up their room the way they want. This can be a good alternative if you can't afford a gaming desk with an LED light because you can have an LED light on your desk, but you can also remove it with this gaming strip light 
Also, many people use this particular light strip as a wall gaming light because they can stick it to the wall and create exciting designs. It is a great way to add more of your personality and style to the room because this is your space! Additionally, you can get this light strip by itself, but there is also a version that changes color to your music. 
However, it is on the pricier side, so you might want to think about it first before purchasing. 
3. Julylux Smart LED Light Bar
These light bars from Julylux are another excellent way for gamers to put LED gaming lights in their room. You can place these light bars on your desk, and they will create the ambiance you want. If you want to change the color, you will need to download the app onto your phone, but it just means that you have one less remote to worry about when you have an app. 
Additionally, the lights have been made to sync with any music you are playing. You can enjoy the light show as you intensely play a video game or listen to music while you're working. There are many different ways you can use these lights, but if you are running out of ideas, then make sure to look at our gaming room light ideas post for more inspiration. 
4. Nanoleaf Rhythm Edition
Another popular light found on the internet is the Nanoleaf Rhythm Edition light. This RGB gaming light setup is perfect for those who want the ultimate customization capabilities, amazing software functionality, and beautiful aesthetics. Yes, many people have these lights, so you might not think you could make it look unique in your room, but the customization options are endless, so you are sure to find the right look. 
Many people also like Nanoleaf because of the software capabilities it has. The downloadable app has been configured for you to be able to set the color and behavior of every panel so that you can create your theme. Also, there is a built-in mic, which will allow the gaming light to change along with the music. This is another wall gaming light that many people enjoy having in their room, so there is a possibility that you will too. 
5. GLW RGB Flood Lights
These GLW RGB flood lights are the perfect floor gaming lights for those rooms that are larger than most. Many people don't want to show off their wires when they place their gaming lights around the room. However, lighting a larger room can be difficult because it can take up a lot of space, but these flood lights are an easy solution. They happen to be incredibly bright, so they will bring the right color to your gaming room. 
Additionally, these gaming room lights can change colors, so you can pick the right color for you. They are best used as indirect lighting, so when they are placed in the right spot, you can light up an entire wall with just two flood lights. However, there is no app for these lights, but you are given a remote that you can use to change the colors, lighting modes, and brightness levels. 
6. EncaLife Galaxy Projector
If you have an aesthetic that would benefit from a galaxy light, this projector might be the one for you. The EncaLife Galaxy Projector will fill your walls and ceiling with beautiful spotlights that will remind you of the galaxy and everything it has to offer. It is perfect if you want to get lost in your world of magic and beauty. 
Also, you can download an app that will allow you to control and change the color and brightness of the stars, clouds, and the speed at which it moves around. There is a smart home functionality option, so it can also move around with music and other lighting, meaning your gaming room light immerses you into its world. The projector is compact and comes with four different angles, so you are sure to light up your ceiling and walls. 
7. Cololight Hexagon Table Lamp
Unlike the other larger lights on this list, the Cololight Hexagon is perfect as table décor. If you are someone who wants an exciting lamp in the corner of your desk that can light up that area, then this LED desk lamp could be the one for you. It is one of the most affordable options on this list, but that is also because of its size. Also, the functionality and customization options for this table lamp are impressive, so you will enjoy this option. 
You can power this light with a USB cable, making it easy to plug in and go. The hexagon panels can be placed onto one another, so you can create a shape that best suits you in that current moment. Additional panels are also sold separately if you want to expand your light even further. There is a button on the base for you to press to turn it on and choose your lighting preset, but you can also download the app for further customization. 
8. Govee Aura Smart Table Lamp
The Govee Aura is a gaming room light shaped like a cylinder and can be placed on your desk. It has a smooth color gradient lighting effect so that you can light up the areas on your desk nicely. There is an app that you can download to sync the lights up with the music. Many people enjoy this feature because the lights will move along with the music and create the perfect mood lighting. 
This desk light has 360 degrees of customizable LED lights, making it different from the other desk lamps. Additionally, it comes with an anti-slip base, so you don't have to worry about it falling off your desk when your gaming becomes too aggressive. If you buy two, you can put them on either side of your desktop, and they will be the perfect gaming lights for your room. 
Lastly, there is an app for you to download to customize the color, lighting, brightness, and more. 
9. Corsair iCUE LT100
If you want two tower gaming lights, then the Corsair iCUE LT100 might be right. These lights give off a vibrant and diffused glow in your small gaming room so that it won't create any glare on your screen. This is an excellent alternative to some of the more expensive lights you can buy because it is more affordable, and you can easily unlock all of its features. These are great gaming room lights that are minimalistic and functional. 
Also, these lights fit perfectly with other Corsair products, which is great if you already own other products from this brand. However, if you don't, then you will find that these gaming LED lights do not work with other smart home devices. 
10. Govee Lyra Floor Lamp
Many people want a floor gaming light, and some have been picking this Govee Lyra floor lamp for many reasons. It is a slim light that will fit in any area in your gaming room, so you can create the look that you want. This light can also produce a smooth color gradient effect with multiple color combinations and styles. You will need to assemble this light, but it is quick and easy, so it should not take anyone long to complete. 
You will need to connect this light directly to your Wi-Fi to have complete control over it with the downloadable app. However, it does come with a remote control if you don't want to use an app. Lastly, the remote has a magnetic mount on the bottom of the floor gaming light, so you can place it there when you're not using it. 
11. Vinsetto LED Racing Chair
This last option is for those who don't mind spending extra money to buy something unique that will have everyone talking. The Vinsetto LED racing chair is an LED gaming chair. Your chair will have LED strip lights on the sides to have the perfect gaming lights around you. However, we do not suggest only having this gaming LED light because it will not light up your room. 
Instead, remember to pair it with another gaming light that will give you enough light to see. However, this is a statement piece in any room. It comes with a remote control, and you can pick between one of the seven colors available. If you want a real statement piece in your gaming room, this LED gaming chair might be for you. 
Conclusion
Having the right lighting in a gaming room is crucial for many reasons. You need to be able to see what is going on around you and have enough lighting to make sure your eyes are not strained while you look at your screen. However, the lighting needs to be perfect because you don't want glares on your screen while you're in the middle of an important battle. 
That is why many gamers purchase LED and RGB gaming lights for their gaming room. Not only can you create a space that has the perfect lighting for all of your gaming needs, but it will also just be a great place to relax. Many of the lights on this list are affordable, but you should only pick the gaming lights that best suit you and your space. You do not want to have lights that feel out of place because then, it will throw off the entire aesthetic of your room. 
Instead, look around and see what kind of lighting you want in your room so that you can have the best rustic or neon gaming room for you.
Video ads for product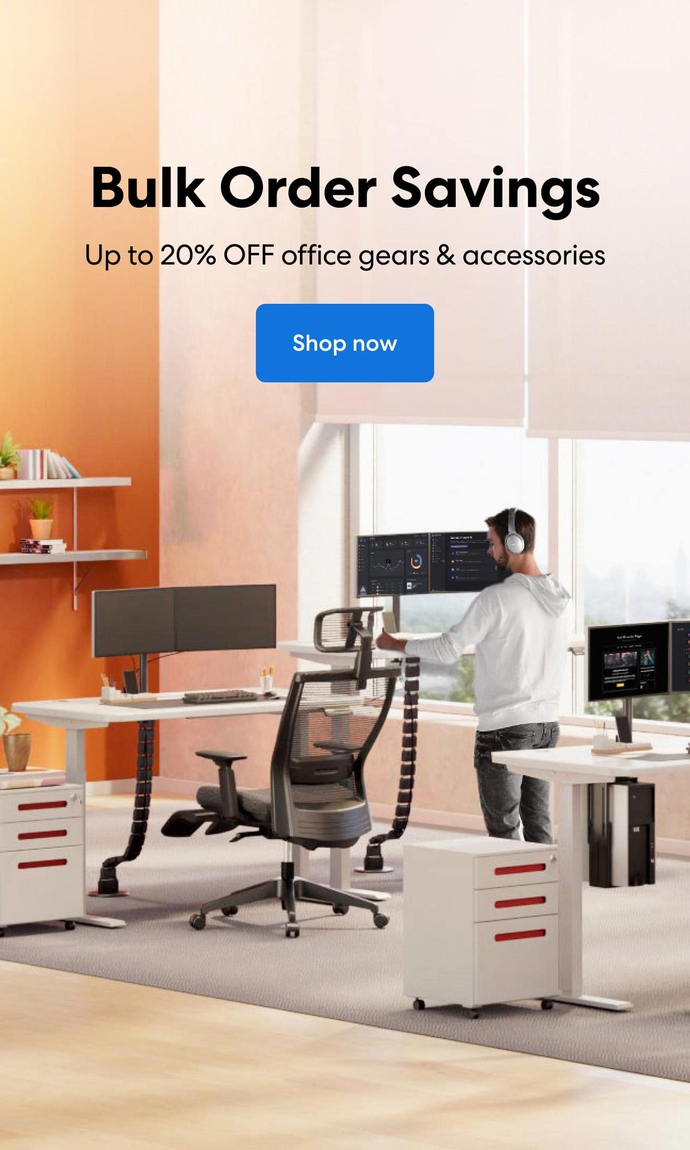 Subcribe newsletter and get $100 OFF.
Receive product updates, special offers, ergo tips, and inspiration form our team.