Smart Products
15 Best Home Office Desks with Drawers You'll Love
706 Views
When using a home office desk, it is no surprise that people want drawers. They are useful for storing work items like notebooks, stationery, and headphones. However, not every desk does come with drawers. Also, drawers can be on either side of the desk and not just on both.
To learn about home office desks with drawers and find the best desk with storage drawers, keep reading below.
What Types of Desks Have Drawers?

When picking a home office desk with drawers, it is important to choose one that will fit your room perfectly so that you will be happy with it. Some desks that come with drawers are:
Executive desk

Credenza desk

Corner desk

Secretary desk

Floating desk

Standing desk
Every one of the previously mentioned desks can have drawers on either side or both; it all depends on the style and what you prefer when choosing your desk.
Why Get a Desk with Drawers?
One of the main reasons people get a home office desk with drawers is that they can use it for storage. Many people do not like clutter everywhere, so having a drawer is a good way to fix that. Even though some people may not use the drawers, others will. Also, it is a nice way to hide the things you don't want people to see when you aren't working.
Additionally, drawers that have locks are great for people who work with confidential information. They can lock away any items they don't want anyone to see, and no one will even know they are there. Lastly, it is just nice to have a place where you can throw stuff in without worrying about people seeing it. Who cares if the inside of your drawers is a little messy!
1. Autonomous SmartDesk Connect Pro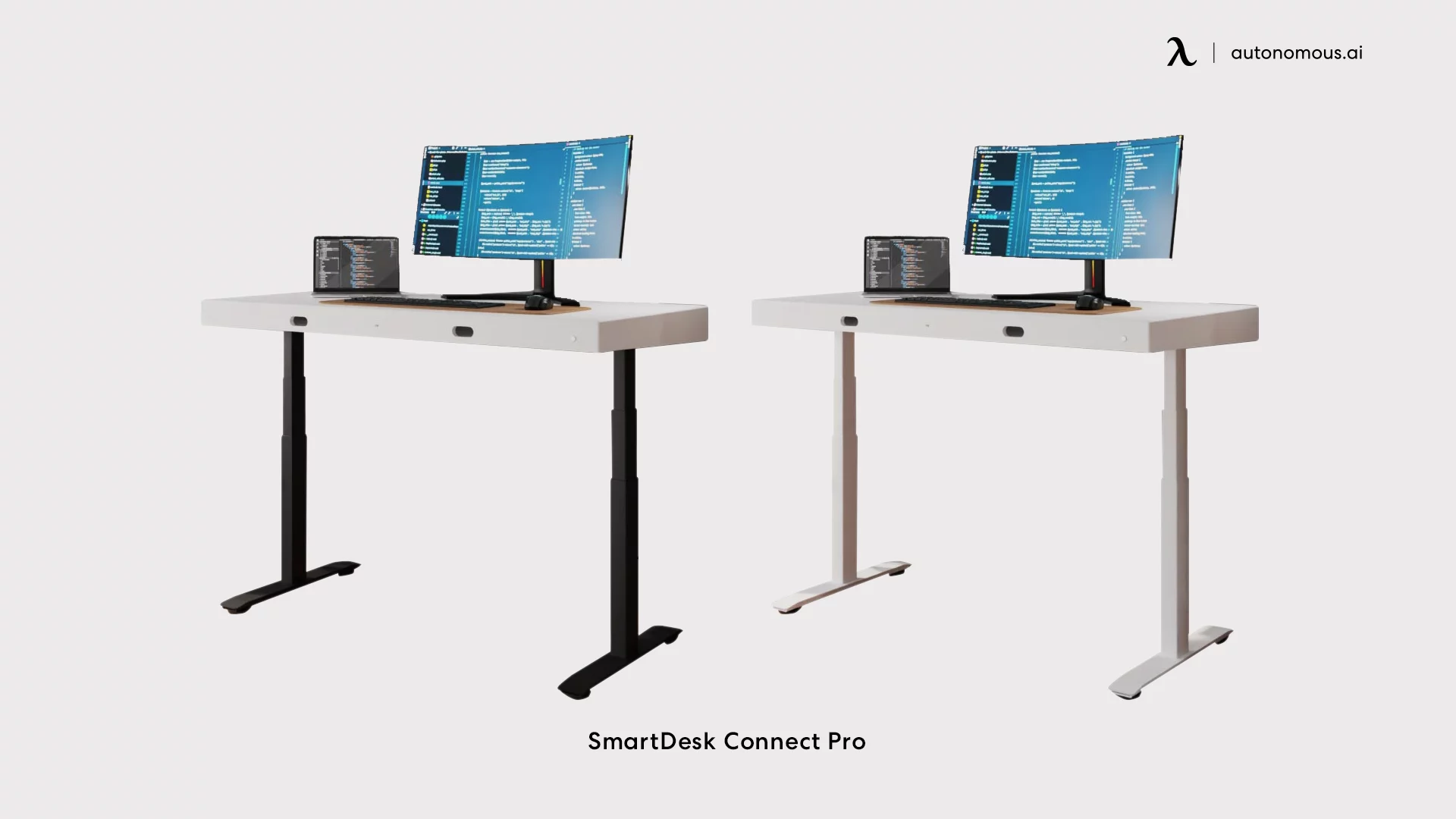 The SmartDesk Connect Pro is a great standing desk for those who still want drawers to put their belongings in. It comes in three colors, so you will find one that suits your room. People can also download the convenient app that helps them control their desks. The desk can hold up to 310 lbs, which means you don't need to worry when you have all of your equipment on it.
Also, it comes with a wire management unit at the back, which will help keep your wires and chargers from cluttering up your desk area.
2. FENGE Compact Desk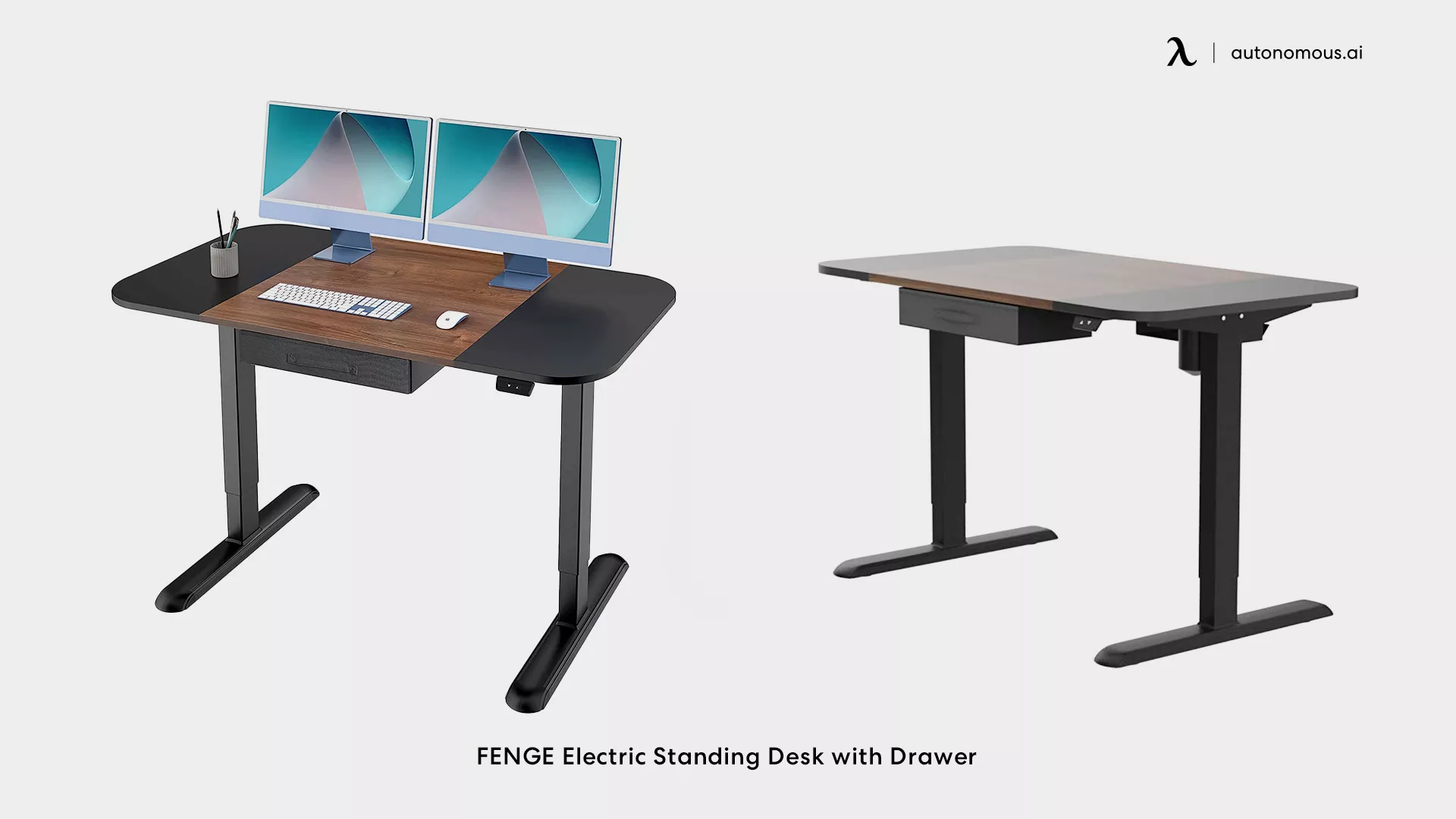 The FENGE electric standing desk with a drawer comes in two colors, and people will be able to pick one that matches their room easily. Since it is a compact desk, it can also fit in the smallest of spaces, making it a great option for those who do not have a lot of free space to give up a desk. The drawer is perfect for some under-desk storage. Since it is not on the floor, people won't be able to see your drawer.
Also, it comes with a hook on the side, so you can neatly place your bag or your headphones when you aren't using them.
3. Canora Grey Writing Desk
If you want a small desk that can fit in your space without taking up much room, then the Canora desk may be the one for you. It has a vintage feel, with a wood finish and soft curves. Also, there is a drawer that people can use to store their belongings. Many customers love the legs of the desk because you can't find many desks with vintage-looking legs anymore.
4. Wade Logan Oglethorpe Floating Desk
No one thought this white desk with drawers would be perfect for their space until they saw it. This office table with drawers is a new take on desks because it can be drilled into the wall, and there are no legs underneath it. However, people do not need to give up on their storage because it comes with two spacious drawers that people will be able to utilize when it comes to organization.
5. Bush Furniture Office 500 L-Shaped Executive Desk
People who want a work desk with drawers that make them feel like the most important person in the room will like this Bush desk. It is a hefty desk that is wide yet practical for anyone who wants to have it. You won't be disappointed with the number of drawers that it comes with, and they are all deep so that you can fit a lot of things in there.
Also, the finishing is remarkable, making it one desk that people will talk about when they walk into your office.
6. SAFAVIEH Dean Black 2-Drawer Console Table
This compact standing desk comes with drawers, making it another good option for small spaces. Since it is small, people will need to be okay with it not having a lot of surface space for their belongings, but the drawers have more than enough space for someone to put their notebooks and pencils. It comes in a dark black, making it a good fit for any color scheme because black goes with everything!
7. Autonomous SmartDesk Junior
People who want a stand-up desk for their child will like the SmartDesk Junior. It comes in three fun colors, making it one that people want to have available for their children. Even though working from home has been focused on adults, children have been working from home too. They need a place where they can sit and complete their school work, and what better way to do that than with a desk that has been made for them?
It comes with a fun interactive pegboard where they can choose where they want their shelves. Also, the single drawer is perfect for the few pieces of paper and pencils they may need to complete their work.
8. TribeSigns Modern Life Top Computer Desk
A standing desk with drawers is perfect for those who know that having a standing desk is good for their health. This desk is ideal for people who want to get up after working a long few hours. It comes with a vintage wood finish and metal frame, making it a chic piece of furniture that could fit into the right room perfectly.
Also, it comes with two drawers, two shelves, and a place for wires and cables. This office table with drawers was made for the organization, so people don't need to choose between clutter-free and useful. The top comes up, so you can adjust where you need it to go when it's time to stand.
9. Wistopht Compact Desk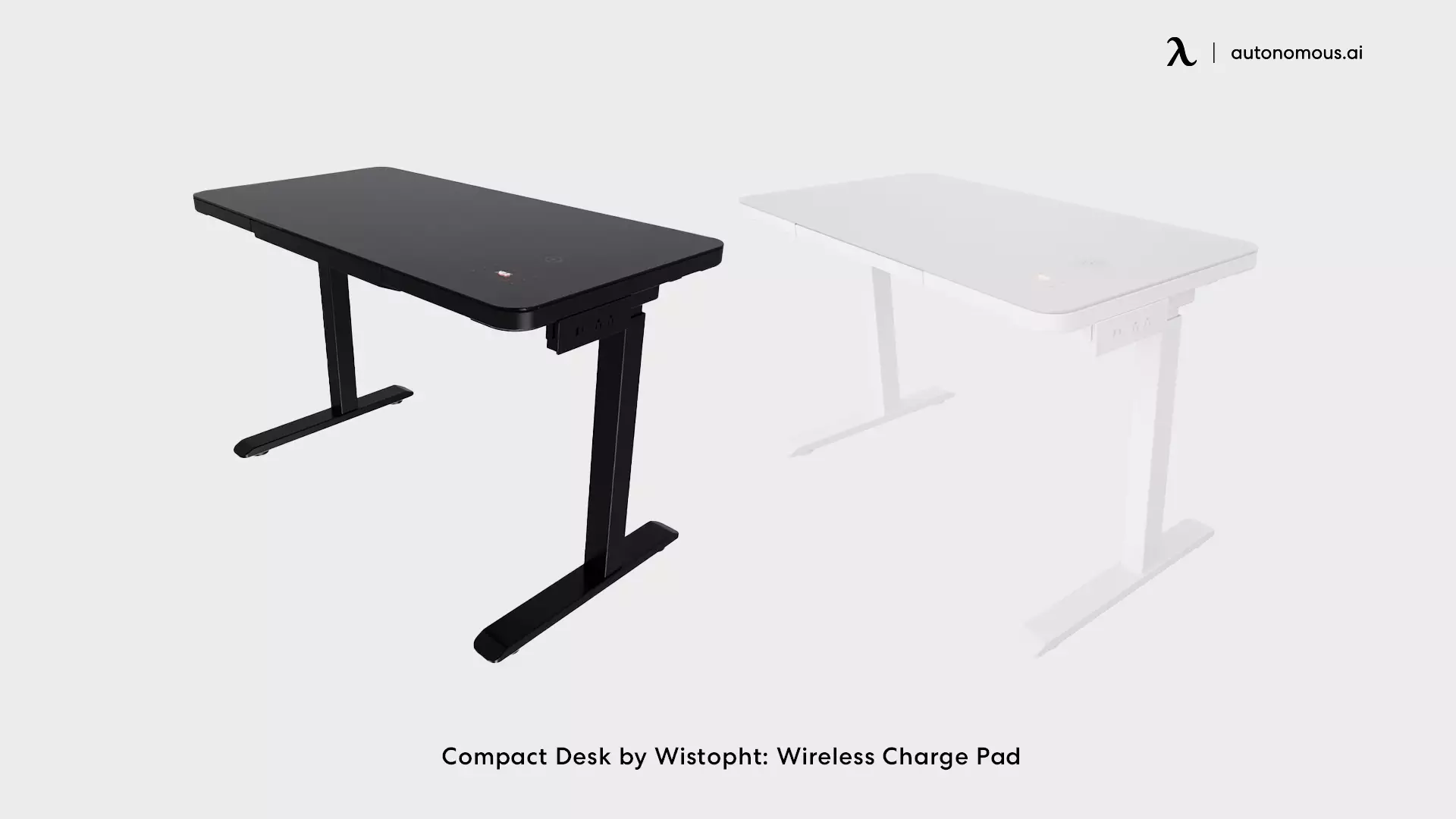 People who want to have a desk with drawers that can lock will appreciate this Wistopht desk. It is a standing desk, so people can easily move the desk's height throughout the day when it's time to stretch their legs. People will also like that they can charge their phone on the desk with the cordless charger capabilities.
It comes with a unique tempered glass look on top, which is also scratch-resistant, so your desk will be looking fresh for longer.
10. West Elm Industrial Storage Mini Desk
This home office desk with drawers is a classic from West Elm. It comes in a mango-wood finish, and the drawers seamlessly fit into the desk. People will barely notice that they are there since there are no handles. Also, if you have more space, you can get this desk in different sizes, making it a desk that many people can enjoy over and over again.
11. Monarch Specialties Metal Computer Desk
You will love this desk if you want a desk with drawers on both sides. It is larger than many of the other desks on this list, but it does give you a lot of options when it comes to storage. Also, hundreds of positive reviews talk about how great the drawers are and that people have a lot more space than they initially thought.
On top of that, it is a solid desk that can hold up your computer without problem, so you can work without worrying. The top of the desk comes with a lot of space, so you can spread out your work if you need to without compromising on the space you already have.
12. Andover Mills Suri Corner Desk
There is always a corner that can be used, but many desks are too big for these spaces. However, that's not true regarding the Andover Mills Suri desk. Anyone with a work-from-home desk will love this option because it can fit into any room. It comes with a single drawer that is perfect for putting your things in.
Also, other members of your family will be able to enjoy the desk since it comes in bright colors. Many people are surprised by how much space they get with this desk, but you will be able to put two full-sized monitors on this desk with no problem. It is honestly a great find that people love talking about.
13. Acme Furniture Gorden Desk
If you want a desk that has a weathered look, then you will like this one. This work desk with drawers by Acme Furniture is a great find for people who want a vintage-looking desk without the hefty price tag. It comes with three drawers and two shelves, making it a desk perfect for people with all storage needs. You can put all of your things in the drawers while placing the odd piece on the shelves. The weathered oak finish gives it a nice touch, making it a desk that can be a real feature piece in a room.
14. Rita Productions Techni Mobili
This home office desk with drawers has a lot of space and is perfect for those with a computer tower. There is a spot for the tower to sit while adding a keyboard tray and additional drawers for people to store their belongings. It will remind people of desks from the early '00s era, which might be what some people want when they are looking to upgrade their work from home space.
It comes in a light gray finish, so people can easily fit it into any room. There is also a protective glass on the surface, so it does not get scratched during your work day.
15. Monarch Specialties Left or Right Facing Computer Desk
The last work desk with drawers on this list is the Monarch Specialties computer desk. It comes in white, and it is perfect for storage lovers. People will have a lot of work space with the added surface, but they will also have a ton of storage. There are three drawers, a cupboard, and two cubbies. People will have no problem putting their things away throughout the day because there is so much space.
Also, it will look amazing in the corner of a room because of its L-shaped design. Many people will enjoy this desk with storage drawers because of everything it has to offer.
Conclusion
When purchasing a home office desk with drawers, people need to be mindful of what kind of desk they want and how many drawers there are. Since there are so many different desks, it is impossible to find one that is perfect for every person and their needs, but there is one for you.
However, if you are spending many hours sitting at a desk, then it is recommended that you get a standing desk. There are a lot of health benefits of a standing desk. The last thing you want is to give yourself any additional problems that could have been avoided.
Hey, you have special pricing through your company.
Get exclusive rewards
for your first Autonomous blog subscription.
WRITTEN BYAutonomous
We build office products to help you work smarter.