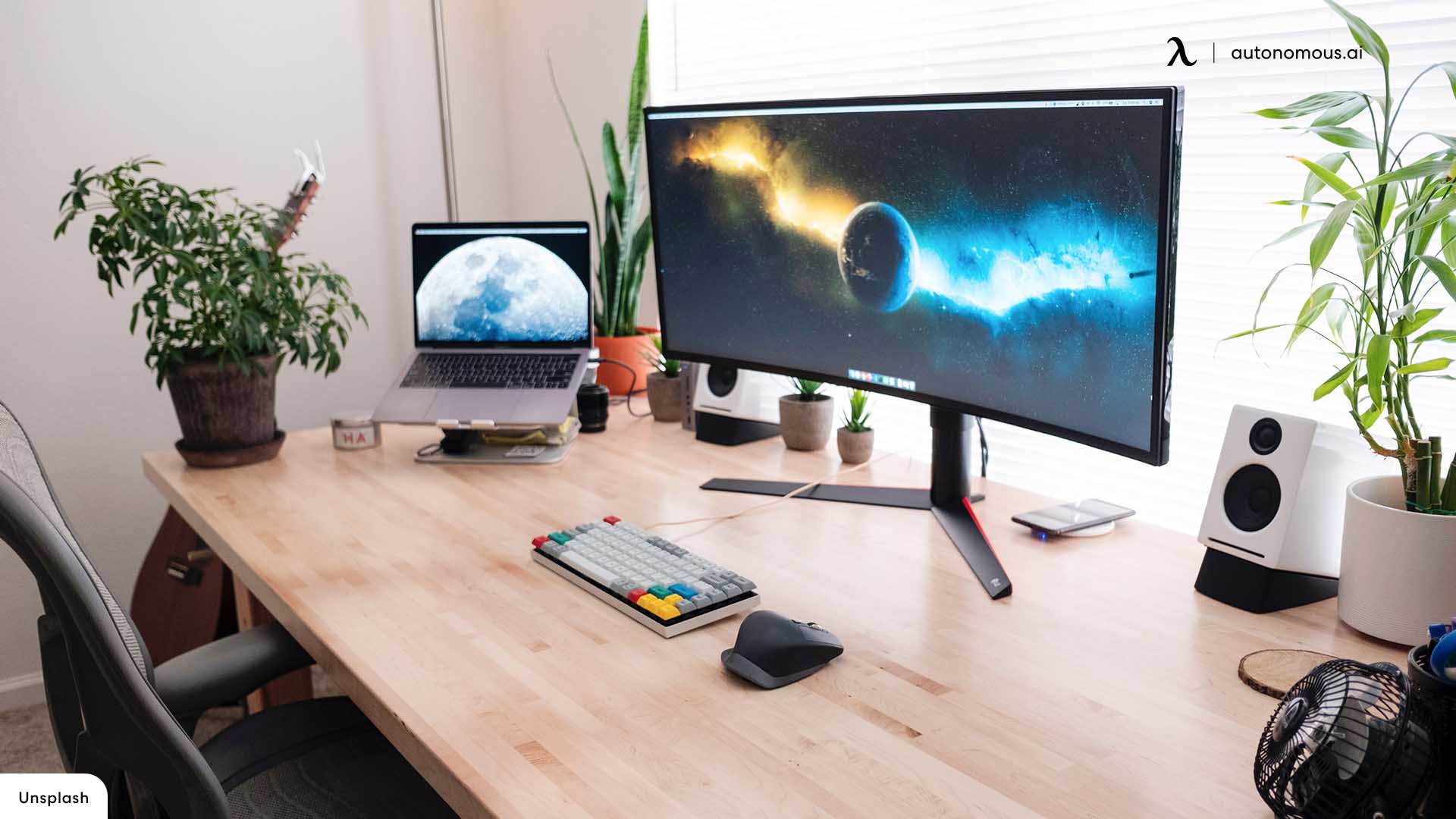 Smart Products
15 Extra Large Corner Desks for a Bigger Workspace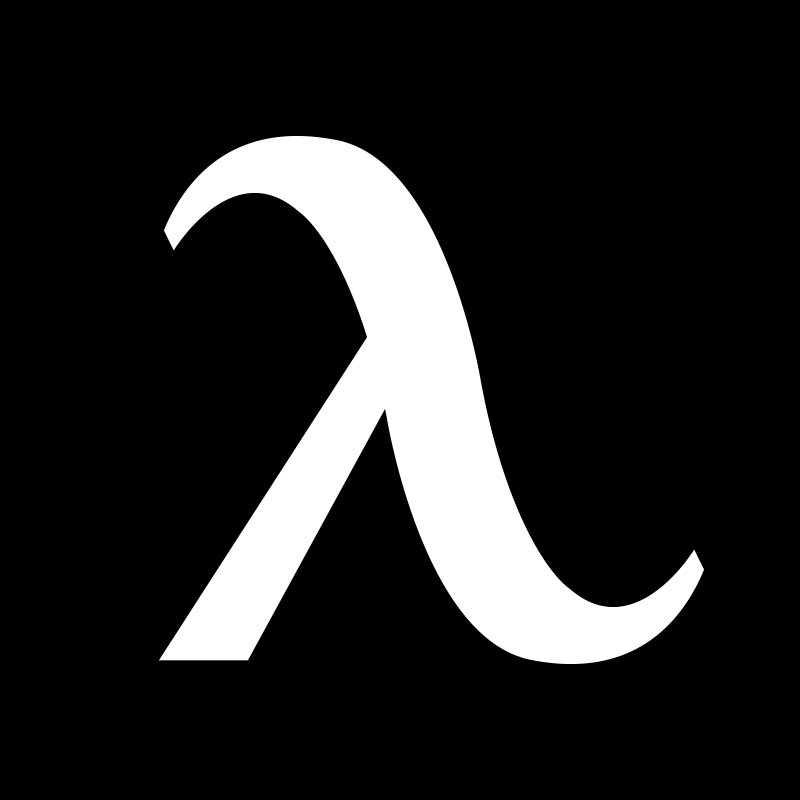 Autonomous
 | 
Nov 9, 2021
Large corner desks are essential for boosting the appearance of your home and interior while also providing a variety of additional purposes. A desk's versatility makes it a must-have, whether it's for storage, academic reasons, as an office desk, or for any other reason. People who want to renovate their homes might consider purchasing a long corner desk. The corner desks can make your place feel more comfortable and homey without taking up too much room. Big corner desks can be used in any room of the house, including the bedroom, lounge, and living room.
We've produced a list of 15 of the greatest corner desk ideas so you don't have to waste time looking for the ideal corner desk for your home.
15 Extra Large Corner Desks for Your Workspace
1. Autonomous SmartDesk Corner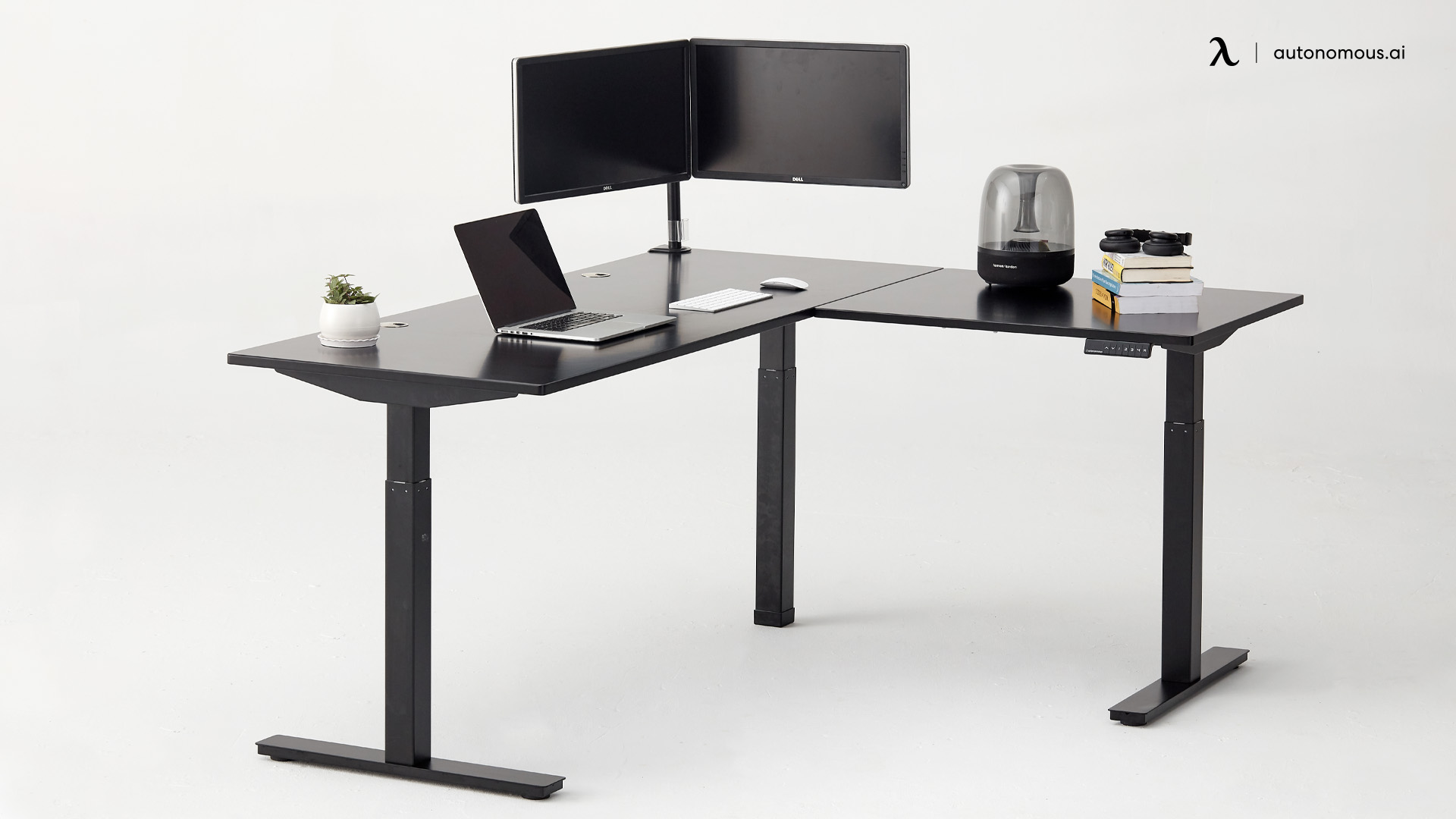 Moving to a standing position for a few minutes here and there is even less of a headache with this SmartDesk's triple motors and sleek appearance since the desktop rises to meet your posture fairly rapidly. It's just a desk, after all, and as long as it looks well, feels good, and is properly constructed, it can suffice. There is just something physical and visceral about sitting at this long corner desk, and we believe that it would make an excellent home office setup for many of you. Further, there's nothing else one could ask of this L-shaped standing desk and we think Autonomous did a fantastic job combining a bit of technology with a clean look to create an adjustable L-shape desk that does all you need and then gets the job done well.
2. SmartDesk Frame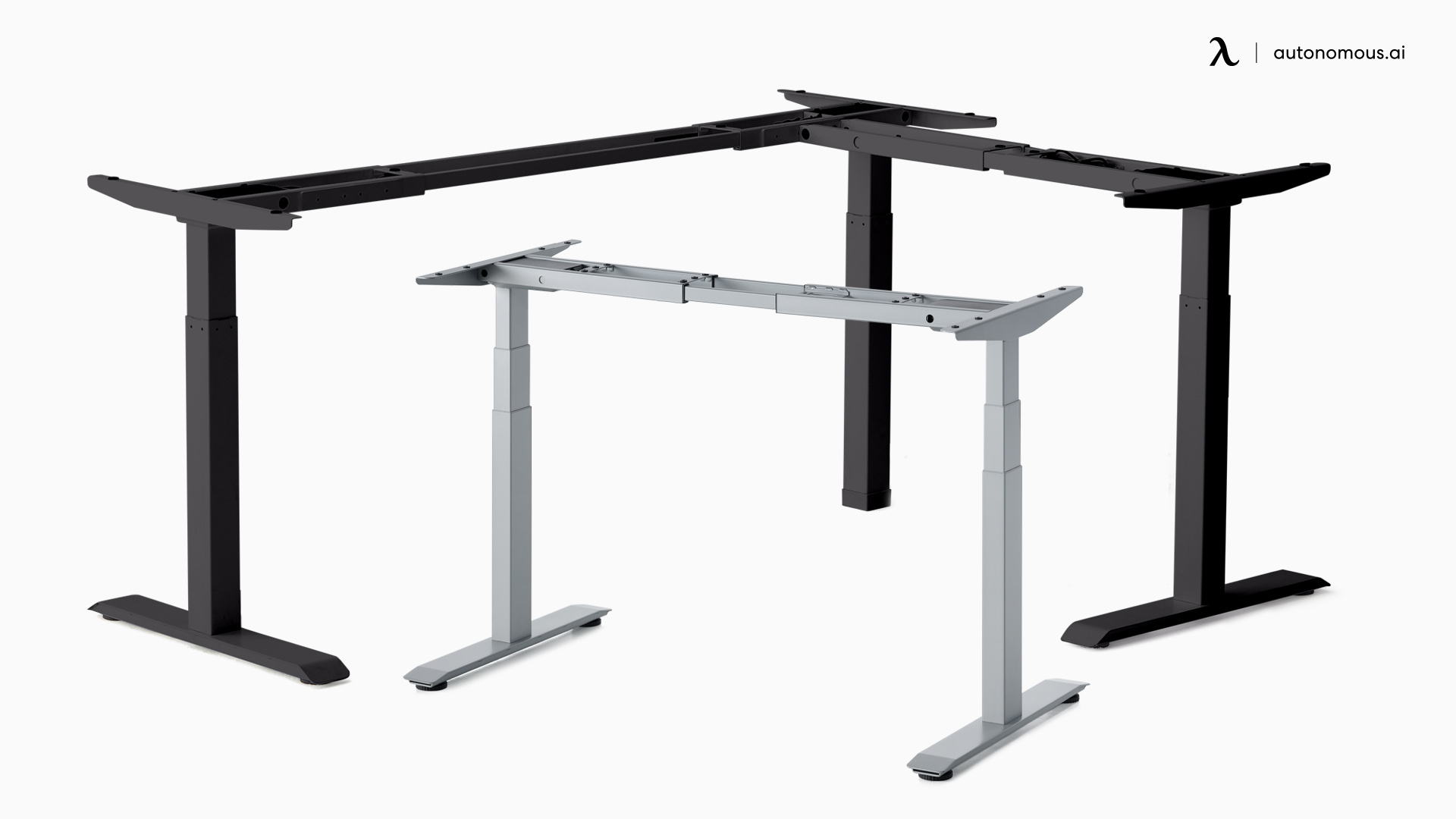 Now is the time to personalize your workspace with our DIY standing desk frame. You have complete freedom to design your own height-adjustable desk with the Autonomous SmartDesk Frame. This adjustable standing desk is also long-lasting. It's smart, durable, and genuinely enjoyable to use. Do yourself a favor and don't lean over your computer or slouch on your chair if you work from home. You feel better for standing for a portion of the day every day, and it can greatly enhance my working experience from home.
3. Bestar Hampton Corner Desk
We live in a time when more and more individuals are working remotely. Bestar Hampton's home office corner desk is a must-see for anyone looking for the ideal office desk for their house. The long corner desk has a contemporary style that gives the user a touch of luxury. It's a one-time investment that pays off tremendously. Bestar has a keyboard tray and a large storage drawer on the side for your belongings. The monitor stand that comes with the laminated flat-top large corner desk is optional and easily uninstalled. Overall, the near-perfect design can undoubtedly appeal to a niche market.
4. Sauder Corner Desk
It is fair to say that corner desks are in higher demand in businesses and work environments. When compared to standard office desks, corner workstations have more storage and other features. Because of the ample working space, the Sauder harbor desk is not only space-efficient, but it can also accommodate multiple monitors. It is far from a little computer desk, with multiple drawers and a storage area. The large corner desk is well-made and available in a variety of colors and designs, making it a desk worth considering.
5. White Monarch Corner Desk
What distinguishes a white large corner desk from other colored furniture? It defies all fashion and trends while keeping a high level of style. Monarch's white corner desk is incredibly popular since it mixes in with any home or workplace decor. Because of its hollow design, the white L-shaped desk provides a modern touch to your room. The sleek and modern design offers the ideal balance of practicality and durability. This large corner desk has plenty of room for your laptops, computers, writing materials, and other devices. To keep your items, there are three drawers as well as plenty of open storage space.
6. L-Shaped Desk by Ameriwood Home
Many people are looking for something more than a simple corner desk with drawers. Additionally, for some people, having a large L-shaped desk with a hutch is a must because they receive the added benefit of having shelves with their workstations. Ameriwood's workstation is ideal for folks who deal with a lot of paperwork. The desk may appear large at first glance, but don't be alarmed; it can easily fit into a corner of your workplace or house. There is plenty of closed and open storage space in the hutch. To top it off, the large corner desk's cherry color gives it a distinct look.
7. Classically Styled White Desk
The white corner desk is fairly similar to the brands' desk, but it has two major advantages. To begin, the little desk includes an open lower shelf that can be used to store books or other decorative items. Second, this antique white long corner desk has a higher rating and more reviews than King's desk. The desk features an enclosed drawer for small items, and the spacious surfaces can handle almost anything.
8. Monarch Computer Corner Desk
This desk is distinguished from its competitors by its stylish and fashionable design. The corner gaming desk with a drawer is available in a variety of colors, allowing you to select the one that best suits your needs. Monarch's large corner desk features two shelves and three drawers, providing plenty of storage space. The desk is simple to put together, and it comes at a reasonable price. We recommend the sleek white finish.
9. Fairview L-Shaped Desk by Bush Furniture
It's another Bush Furniture large L-shaped desk that's very similar to the Cabot desk discussed before, but with a few differences. This black large corner desk has a distinct vintage style that works nicely in any modern setting. The big working surface is cherry-finished, and the cherry and black contrast is ideal for this corner desk with drawers. Drawers, cubbies, and a closed storage compartment are among the several storage options available on the desk. The big corner desk's simplistic form is appealing to the eye and deserving of a spot in your living room.
10. Bush Somerset L-Desk, 71"
Many people like minimalist and simple design desks and this Somerset desk fits the bill nicely. The adaptable big corner desk features a large surface with two sliding drawers and a storage cabinet. Like the rest of the desks, the modest corner desk with drawers is inexpensive. The desk comes in three different styles, so pick the one that best suits your home or business decor.
11. Tangkula Corner Desk
You can never go wrong with black, and a black big corner desk can simply blend in with your home's decor. A black large L-shaped desk can be bought in any furniture store, and there are a variety of sizes, materials, and designs to choose from. This corner desk with drawer, designed by Tangkula, is available on Amazon in a simple yet lovely style. The desk is composed of wood and may also function as a corner computer desk. It has a built-in drawer and is suitable for storing stationery as well as serving as a bookcase.
12. Haotian Wall-Mounted Corner Desk
Who says you can't turn a corner desk into a floating desk? Hoatian has created a floating desk that can be readily fitted into even the tiniest of spaces to create a workspace. It's perfect for households with little space because it frees up the floor for other items. Because it features storage shelves, the Hoatian corner desk with a drawer provides additional storage. The desk is constructed of engineered wood and is available in white. White corner desks have always been popular.
13. Mr. Ironstone L-Shaped Desk
If you acquire the monitor shelf for this large L-shaped desk, you are able to convert it to a standing desk. Depending on your preference, the shelf can be put on the right or left side. Its desktop is composed of P2 MDF with a textured surface that is scratch-resistant and easy to clean. The metal frame and "X"-style shape of the legs lend strength and longevity to the desk, which can accommodate two or three monitors or desktop computers. Because the desk sides are the same length, two desk sets can be placed next to each other, which may appeal to gamers who enjoy playing with their friends.
14. Flash Furniture L-Shaped Desk
The modern Flash Furniture L-Shaped Desk is sleek and fashionable, with a strong silver-powder-coated metal frame and a five-millimeter transparent tempered-glass desktop. With a vast surface area of 83.5 by 48 by 29 inches, the open design provides a dynamic workspace. There's enough area under the desk for a file cabinet or a place to rest your feet.
This desk can support up to 110 pounds and has enough space for numerous displays, making it a fantastic choice for laptop and desktop users alike. The glass desktop serves a second purpose by allowing you to write on it with dry-erase markers and then wipe away the writing. Floor guides that self-level keep your desk steady and level. This design lacks a cable management component, making it an appealing option for individuals who like to stay organized with zip ties.
15. FEZIBO L-Shaped Electric Standing Desk
Sitting for lengthy periods is bad for your back, especially if you already have problems with it. The FEZIBO Electric Standing Workstation has a dual-motor lift system that makes it simple to convert to a standing desk. Customize the height settings for your needs, then assign them to a button for quick access. This desk is made of aluminum and particleboard and can support up to 176 pounds. It comes with an extra wooden stand that may be used for storage or as a laptop riser. The desk also helps with organization, with two desk hooks for headphones, a purse, or a jacket, and a cable management basket to keep your wires in check.
What Accessories Do You Need on a Large Corner Desk?
1. Desk Organizer
An organizer is one of the first workplace accessories you want to acquire for your desk. A desk organizer contains many compartments to keep all of the various and unnecessary items that clutter your desk organized and neat.
2. Desk Mat
Desk mats are a terrific way to instantly improve the look of your workspace. They do not only provide visual appeal, but they also serve a practical purpose. A quality desk mat protects your laptop or keyboard from scratches and damage, as well as the work surface. Writing or drawing on paper is also smoother and more fun with a desk mat. Look for one that is non-slip and matches the surface of your desk.
3. Desk Plant
A little plant on your desk can help decrease tension, provide (a small amount) of fresh oxygen, and keep the air humidity levels surrounding your desk in check. Plants can also feel like a work partner in a way that inanimate objects can't. There's a whole universe of house plant potters out there, from the charming and quirky to the sleek and luxurious. Choose one that complements your desk's décor or swap them seasonally. What's not to like about this adorable desktop accessory?
4. Noise Canceling Headphones
The level of distraction from background noise can range from light to loud and annoying. Noise-canceling headphones can keep you productive and focused, whether there's construction across the street or a loud conference call. Look for cordless headphones that allow youtube mobile while also reducing the amount of clutter on your desk. Modern headphones are available in a variety of shapes and colors to match your other office equipment.
5. Laptop Stand
If you use a laptop regularly, a laptop stand is one of the best investments you can make together with your large L-shaped desk, as well as one of the most eye-catching desk accessories. Laptop stands, which hold the laptop at an ergonomic angle, so you're not bent over, are sometimes neglected, yet they enhance your posture. The best aspect is that they're really inexpensive.
Hey, you have special pricing through your company.
Get exclusive rewards
for your first Autonomous blog subscription.
WRITTEN BYAutonomous
We build office products to help you work smarter.
Coming at You Live from Autonomous' Social Media!