Today's review is designed for those of you who work from home, and it's devoted to the most practical and effective functional desks available on the market today. They can save you room, provide ample storage, clean your workspace, charge your gadgets, they can be hidden, and far more! All of these trendy things can enhance your interior style and possibly become a focal point. 
The functional office desks discussed below attempt to remedy congested living environments while also providing an innovative approach to create a compact office. Its office interior design includes exhibition and storage areas, as well as an adjustable shelving system and ports. 
17 Functional Desk Options for Your Ergonomic Workspace
1. SmartDesk from Autonomous
Sitting for long periods is recognized to be detrimental to one's health and has been related to an increased risk of diabetes, obesity, heart disease, and circulation issues. Given that most employees spend most of their week sitting behind a functional office desk, this is a significant problem. Ergonomic office products such as the SmartDesk Pro and SmartDesk Core standing workstation, fortunately, provide a solution. 
The Autonomous SmartDesk's key feature is the electrically driven height adjustment. This is useful not just for accommodating different user heights, but also for readily converting it to a sitting desk.
The flexibility allows you to change your working style throughout the day. When you hit that lunchtime dip, standing up and doing your work can help give you a surge of energy.
It also has four memory settings built in so you can effortlessly swap between your preferred heights or even share the desk. 
Autonomous creates standing desks that may be used for both personal and business purposes. Whether you work from home and need more room, or you operate a business, these functional computer desks can be very useful. 
It is critical for those who work from home to be able to shift from a sitting to a standing posture depending on the activity and the number of hours spent. Sitting all day is not healthy for your physique. It has a variety of effects on the body, so if you work at a computer all day, rotating between sitting and standing frequently can keep you fitter and more productive. 
When it comes to the real cost, the model and aesthetic choices you make can have an impact. The home office model costs $499, the premium model costs $629, and the L-shaped standing desk model costs $829. 
2. Hive Desk
The Hive functional desk is ideal for those who prefer furniture made constructed of wood but with a modern touch that makes it appear less traditional. This function home desk is made of solid Sheesham wood and measures 30" H x 53.5" W x 20" D. It has a drawer and a bigger cabinet on the right side, as well as an extra storage shelf just underneath the upper surface. The natural differences in the wood, as well as the hexagonal pattern on the door of the bigger drawer, contribute to the Hive desk's stunning appearance. 
3. Cubiker Writing and Computer desk
The Cubiker desk may appear to be a normal rectangular desk, yet it is worth considering for a variety of reasons. There's plenty of space for writing or gaming, and the structure is built with MDF boards and a steel foundation for sturdiness and functionality. The desk's minimalism also facilitates assembly. The functional desk is available in several colors and sizes to meet your needs. It's a great functional computer desk for your office. If you do encounter difficulty, Cubiker advises consumers to contact its customer support team for assistance in resolving the issue.
4. Camron L-Shape Executive Desk
If you're ready to step everything up a level and spend more money on a beautiful modern L-shaped desk, you should check out what the Camron has to store. This is an L-shaped functional home desk with a stunning design and a white surface that is suited for a very sophisticated office, measuring 30" H x 63" W x 28" D overall. 
You're undoubtedly asking what explains this very pricey piece of furniture, given that it's built of MDF. The functional desk's design, on the other hand, makes it appropriate as a substitute for various types of furniture due to its properly thought-out compartments. You have shelves and compartments, clever glide-out drawers with sliding doors, and a 100-pound weight capacity. 
5. IKEA Thyge Desk
If you need a function home desk but don't want to spend a fortune, Ikea's Thyge Desk might be just what you're looking for. 
It costs less than $100, yet even at that affordable pricing, it is attractive and has a compact footprint, allowing you to place it in any space. With movable legs that can be adjusted between 23 5/8" and 35 3/8," the desk accommodates a wide range of users of varying heights. 
The deep tabletop of this functional office desk is simple in form and provides enough space to handle a computer and your office work or office supplies. The desk has been evaluated for workplace use and satisfies "the criteria for durability and reliability," according to IKEA. 
The high standards, adjustable legs, and minimal care melamine countertop that is both sturdy and stain-proof make this functional desk appear to be more valuable than it is. 
6. Salina Desk with Hutch by Bush Furniture
The Salina Desk is ideal for those who wish to stay organized. This functional desk has a lot of storage and arrangement options. The open shelves of the hutch are ideal for storing folders and books that you use frequently. 
A built-in cabinet is ideal for storing important documentation that you don't want others to see, and the sliding tray is ideal for storing your keyboard. The functional desk's subtle style makes it adaptable, so it should look excellent in whichever room you use as a home office. 
Furthermore, the Salina Desk is available in a variety of colors to let it blend in or stand out in your environment, including white, gray, driftwood gray, shiplap gray, black, ash brown, and reclaimed pine. 
7. Eames Desk Unit
On our list of the top functional computer desks, we couldn't leave out the renowned Eames Desk. It is a true masterpiece with an original design that was first introduced to the market in 1952 by Herman Miller designers Charles and Ray Eames. 
This functional desk is still considered one of the finest pieces today, not just for its modern appearance but also for its functional design. 
The plywood desktop is large enough to accommodate a laptop as well as paperwork and office equipment. The Eames are also adaptable with two color schemes available. 
Choose the birch front with brilliantly colored side and back pieces for a splash of brightness in your room (red, white, blue, and yellow).  If you choose the black and white color scheme for the side and back panels, which also have a birch frame, you get a more neutral aesthetic. 
The filing drawers can be positioned on either the left or right side of the functional desk. It is constructed of a plywood top, a zinc-coated steel frame, and coated hardboard sides and panels. 
8. Clarke Height Adjustable Standing Desk
This standing desk may not be the most visually sophisticated, but it is intended to be a functional desk with an adjustable height that allows you to freely modify your working posture anytime you switch to a different chair or simply feel the urge to stand up. It's ideal for folks who enjoy projects that don't demand a lot of desk space, and it comes in black and white. The desk's height may be adjusted from 29.5 to 47 inches, and it can also be locked in place. It includes a wire management system, as well as built-in USB ports and sockets for your electronics. It has a metal base with a glass top and is 47.25" W x 25.63" D. 
If you choose a sitting function home desk when thinking about a sitting vs standing desk, is this a good option?
9. Scriptor Executive Desk
The Scriptor is another type of office desk with intriguing geometry and a distinctive style. This collection of executive writing tables was conceived by designer Leon Krier and manufacturer Giorgetti for modern environments that require a touch of luxury and elegance. The desks are supplied in maple wood with leather, ebony Macassar with leather, or all wood. The cylindrical piece features five drawers and a satin-finished base constructed of extruded aluminum. 
10. Origami Desk
It's simple to understand where the Origami Victory Wood desk got its inspiration. This functional desk, created by Darko Mesek for Fireart, is actually quite simple. It has a sculptural foundation made of two origami-inspired steel components and may also function as a desk. Despite the lack of storage, the desk would be an attractive addition to a home office. It is available in a range of colors and textures. 
11. Lacquered Regency Desk
This high-end designer function home desk radiates retro charm and is engineered of hardwood that is protected with a high-gloss glossy finish. 
Choose a blush pink or vivid teal-colored desk to add a splash of color to your space. The colors immediately give a sense of playfulness to any decor, and the desk is also available in white if you want a more traditional look. 
The legs are composed of lucite and finished with a touch of bronze. The brass theme is repeated in the unexpectedly hefty hardware featured on four of the drawers, two cabinet-like drawers, and two narrow drawers ideal for hiding office essentials.
12. Stir Kinetic Desk
The Stir Kinetic workstation is a simple adjustable standing desk frame that returns to your pre-set sitting height with a double-tap. This powered desk, like the XBOX Kinect, detects your presence and records how much time you spend sitting or standing, as well as the calories you burn while standing. When in active mode, it softly reminds you that it is time to shift positions. The function home desk is also Bluetooth and Wi-Fi enabled, allowing it to connect to wellness and exercise apps. It also has built-in AC and USB power connectors for connecting and charging your devices. 
13. Branch Standing Desk
The Branch Standing Desk is an experiment in form and function, designed for support in an ergonomic home office. The exquisitely made piece of furniture has dual motors and three-stage columns for a swift and silent raising. Even better, the high-tech standing desk includes brushed cable eyelets for convenient wire organization, centimeter-level adjustment, and a keypad with four memory presets. 
14. Aliyah Solid Wood Desk
Our first recommendation is a modern pine desk that is 30" H x 35.75" W x 20" D and has a drawer that measures 2.25" H x 32.25" W x 15.25" D. The drawer runs the entire length of the desk, making it ideal for storing not just forms and documents, but also a variety of writing equipment and art supplies that may be neatly placed here with drawer dividers. The pine rectangular desk has a lovely brown finish, but it is also available in white. 
15. Clybourn Desk
This mid-century is a formal statement. A thick solid walnut top sits on four brushed stainless-steel supports, which may be used to store your keyboard and mouse or even your tablet. Two storage drawers and one letter file with brushed aluminum closures are included with the functional office desk. Under the floating tabletop, squared stainless steel sled legs appear to extend. 
16. Trenton Fold-Out Desk
If you're short on room but need a dedicated area for your laptop, a basic fold-out desk is ideal. However, don't mix up a fold-out desk with other wall-mounted furniture or try to imitate a desk with floating shelves, as these cannot support the weight of a laptop. The Trenton Pop-Up Table from Pottery Barn is robust and ideal for use as a temporary desk. When you're finished, it folds up against the wall. 
17. Drommen Writing Desk
The writing desk, also known as a correspondence desk, is most likely what comes to mind when you think of a desk. While we no longer sit down to write long letters with quills, an ergonomic writing desk is still a terrific place to make payments, sort through stationery when you need to mail a card and keep track of the family calendar. A writing desk is often smaller and less heavy than an office functional desk and does not have much storage. CB2's Drommen Desk is an excellent example of a modern writing desk. It's not too big or bulky, and despite its small look, reviews laud it for its spacious tabletop.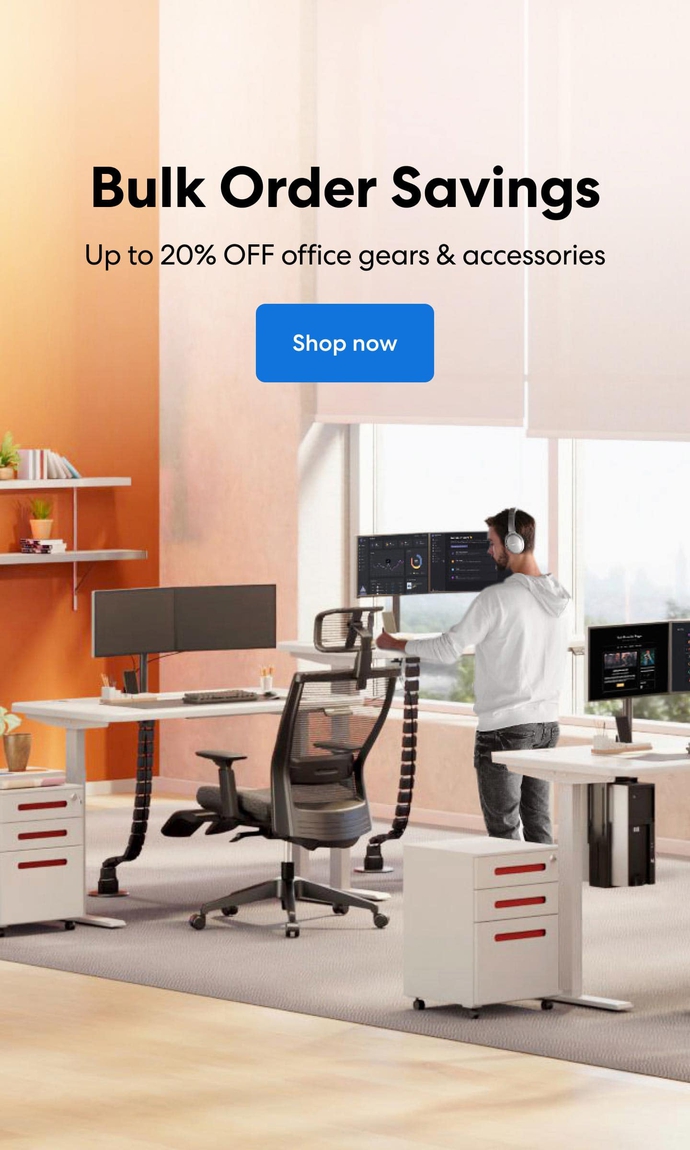 Subcribe newsletter and get $100 OFF.
Receive product updates, special offers, ergo tips, and inspiration form our team.