Poor posture results in back pain. However, one can reduce the risk of this pain while improving the posture. The ergonomic chairs for bad backs provide the necessary support to your back that encourages the user to have a proper posture.
Studies have concluded that with improved ergonomics, the back pain of the user is reduced significantly. However, before you buy the best back pain ergonomic chair, you must remember certain factors to make your purchase worthwhile. Also, get yourself familiar with mid back vs high back chairs.
Get to Know Your Sitting Posture
Once you get to find out about your sitting posture, it would become quite easy for you to choose a chair according to your posture. The best office chair for back pain would provide you maximum support while preserving your natural sitting posture.
Adjustability
Buy a chair that has up to 14 adjustments. It can protect your body from any strain.
Wheelbase
Consider the nature of the flooring of your office. It will help you to choose a chair with appropriate wheels. For instance, if your office flooring is fully carpeted, you need to buy a chair to support that kind of flooring. Do not strain much while reaching on to the next desk.
Lumbar support office chair
If you are a bad back worker, then lumbar support is one feature you must look for. The adjustability of the lumbar support in your chair can help you align your back with the back of the seat while providing firm support. Any chair without the lumbar support would cause excessive straining that can result in sciatica.
Price
Price happens to be one indicator of value. Often people make the mistake of buying the most expensive chair, thinking it to be the best for their use. But in reality, one should buy a chair not based on price but comfort and adaptability. Besides, it is a poor idea to opt for a low-quality chair.
The Best Ergonomic Chair for Bad Back Workers
You can find many office chairs in the market that claim to be the best in class. However, it certainly makes the choice extremely challenging. For this reason, this guide would help you with some of the incredible options of ergonomic chairs that are best for bad back workers. Using this chair can help prevent back pain from the upper and lower region of the worker. 
1. Autonomous ErgoChair Pro
The Autonomous ErgoChair Pro has the best lumbar support. Due to this flexible lumbar support, one can easily have good posture while sitting in a chair. Therefore, this chair can help every bad back worker to feel maximum comfort.
2. Autonomous ErgoChair Recline
ErgoChair Recline is one of the budget-friendly ergonomic office chairs that provide excellent ergonomic benefits. It engages the core while the user is sitting and helps to improve the posture of the user. One can gain better posture while building their strength and improving their balance after using this product. For every bad-back worker, this chair is just a savior.
3. Autonomous Ergo chair Pro+
The ErgoChair Plus provides the user the opportunity to recline instantly. Thus, it helps to maintain good back health. Designed with an auto-balance mechanism, one can adjust this ergonomic chair for a bad back instantly according to the user's preference.  
Furthermore, the provision of the headrest, adjustable armrest, and lumbar support helps the user have proper support that diminishes any risk of upper back pain and lower back pain. 
4. Zipcode mesh chair
By maintaining every ergonomic guideline, the company has manufactured this chair. It is one of the budget-friendly ergonomic chairs that follow the natural curve of the user's spine. Therefore, it provides proper support to the user's back while reducing the pain. 
5. Tempur pedic mesh chair
The memory foam provided on this ergonomic chair for bad backs increases the comfort level of the user. It allows workers with bad backs to work for a longer period. The seat height and armrests are equally adjustable. It enables support for the users back.
6. Modway articulate mesh chair
The ability to adjust the armrest and the seat height of this ergonomic chair for bad backs makes it one of the best. Moreover, this chair helps to alleviate back pain while improving the posture of the user.
7. La-Z-Boy Trafford ergonomic chair
A person having a bigger build and taller height can opt for this chair. It can accommodate a weight of at least 500 pounds. With the help of the memory foam incorporated in the chair's backrest, the user can lower their back pain with constant use. 
8. Gabrylly mesh chair
This ergonomic chair for bad backs provides the user with a wide range of features. One can find incredible lumbar support, adjustable armrest and headrest, and even an adjustable headrest that provides the user with maximum comfort to their back when they sit on the chair for a long period. This chair is, however, considered to be the best office chair for back pain. The user can also customize the ergonomics of this chair according to their preference, which would help alleviate back pain faster.
9. Dragonn ergonomic kneeling chair
When you tend to work for long, maintaining various positions can provide you with good back health. The user can have several benefits while using this chair as it would maintain the upright position of the user while they are sitting. The hip flexors would be lengthened, which would reduce the pressure on the glute muscle and the user's hamstring. The design of Dragonn's ergonomic kneeling chair promotes a neutral lumbar spine.
Conclusion
Even if you are working in a flexible workplace, you need to have a back support ergonomic chair for maximum comfort. Taller people who tend to sit for a longer period need to have a chair that has better ergonomics. Without the proper support, one would slouch or slump over the desk. It can result in bad posture. The benefits provided by ergonomic chairs make them one of the valuable investments in your office. One chair can cost less than numerous doctor's appointments to correct your back pain problem due to prolonged sitting in a traditional office chair. So buy ergonomic office chairs now.
Video ads for product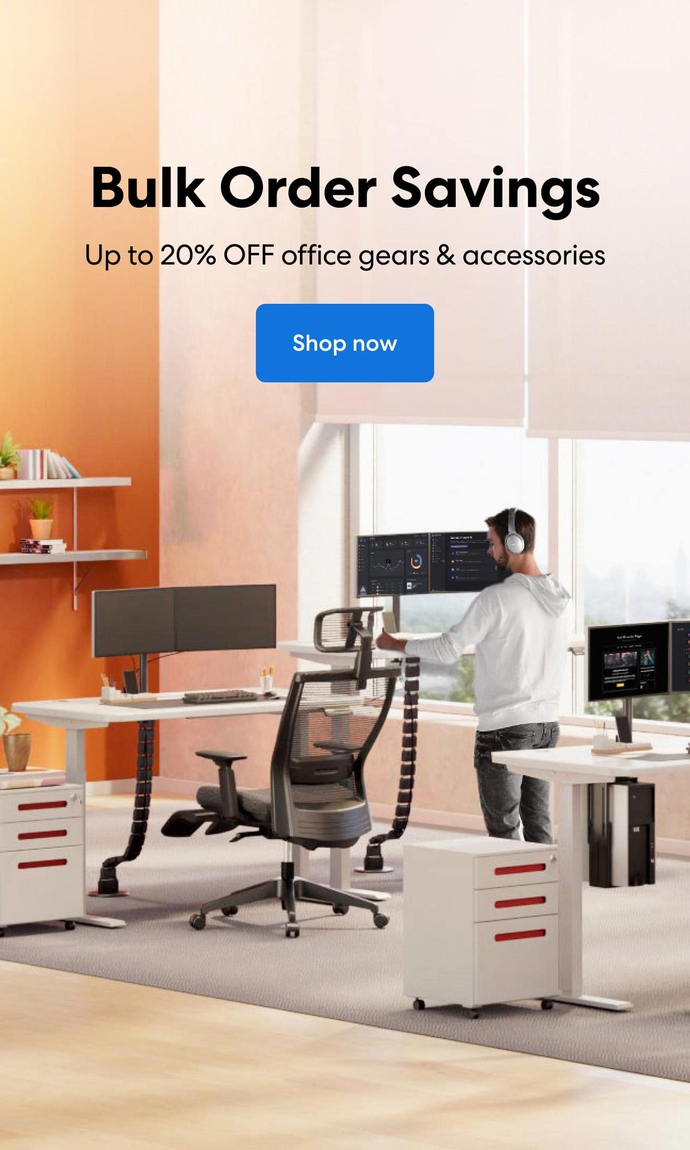 Subcribe newsletter and get $100 OFF.
Receive product updates, special offers, ergo tips, and inspiration form our team.