We already have such a tough time finding a good gift for Dad on his birthday, Christmas, and Father's Day. With most Dads stuck in hybrid remote work and with no definitive end to the days in quarantine, that task got even tougher! For dads working at home, the best gift would be an office desk for dad that's comfortable, makes him more productive, and lasts a long time. Have you got any ideas about getting an office desk for father's day? Here are our recommendations.    
1. Autonomous SmartDesk Pro
If you need a good father's day standing desk gift idea, try the SmartDesk Pro. Originally packaged with a $499 price tag, the makers are offering a $399 father's day price. The SmartDesk Pro is a thin, compact design that comes in the Classic and XL models. You can customize the desk by choosing any of the three frame colors and any of the six desktop colors.
This office desk for dad is height adjustable up to 52 inches using any of the four programmable settings. An upgraded electric dual motor gives you a much quieter function at just 40 dB. The desktops come in classic and wood finishes and can support a load capacity of 310 lbs.
2. Autonomous SmartDesk Core
The SmartDesk Core is the other standing office desk option designed for dad. When buying, you can pair it with the ErgoChair Pro and get a special offer on the desk and chair at $649. The desk comes with a steel frame fitted with a dual electric motor. This gives the desk an adjustable height range of 29.4 inches to 48 inches, with four programmable settings. It can hold a maximum of 265lbs.
3. Autonomous SmartDesk Corner
If dad's remote office is in the corner of a room, then this L-shaped standing desk is the better choice. The longer length gives you twice the space, and the triple motor can easily modify the height to a maximum of 48 inches. The solid steel frame offers enough durability and strength to hold up to 400lbs, with modular segments so that the desk fits well into any corner.   
4. The D51L29 Soreno Corner Desk from Walker Edison
We call this office desk for dad 'sleek' as it has a very classy tempered glass surface that's polished to perfection. It's the right ergonomic desk for dad because of its large, L-shaped build that can hold two monitors easily. The desk can be assembled easily and can be transformed into a gaming hub as well.
There's just one thing to notice – the glass top does have a weight limitation, but that's something you would expect from desks with this kind of build. The glass surface is tempered for safety and heat protection. Overall, it's the perfect height; it offers lots of room to sit in and is extremely sturdy. You can place up to 50 lbs weight on either side while the keyboard tray can hold up to 10 Ibs.
5. Jennifer Rectangular Desk from the Zinus Modern Studio Soho Collection
This is the office desk for dad with a minimalist design with a traditional rectangular-shaped desktop and loads of spatial capacity. It offers just enough workspace for everything your dad may need to use. Plus, there is enough space underneath to fit the ergonomic office chair and still be able to roll around freely. The height is just right too, and beyond its good look, this desk is sturdy and very easy to assemble.     
This simple desk with a no-fuss design comes in three desktop lengths: 47 inches, 55 inches, and 63 inches. The design has a universal outlook, so it fits perfectly in any room. A solid steel frame with a very thick tabletop can hold 100 lbs of weight easily.
6. L-Shaped Desk from Tribesigns
This is an L-shaped desk with a practical design that is stylish, sturdy, and easy to assemble. It is made with an E1 certification particleboard desktop and a thick steel frame. Since it's a corner desk, it saves on space while still being wide enough for gaming equipment too. The steel frame is very rugged, making it reliable and durable for more stability.   
7. Writing Computer Desk from Coavas
This office desk for dad has a more informal look to it with a nice, light minimal design. The no-frills design is perfect for dads and for any smaller, cramped office space. But what it lacks in look, it makes up for in functionality, lightweightness, and sturdiness. The big plus point is that it is low priced and very easy to set up.    
So, that's a great amount of value for the price. You can choose from either the 32 inches or the 40-inch variants. The desk can be folded up and be transported to other locations of the house and fits just about anywhere you want it to be.
8. 415109 Harbor View Hutch Style desk from Sauder
Some dads still love the old-fashioned feeling of a hutch desk. If that is the case, then this is a good choice. The desk is huge, from the top hutch to the thick legs with cabinets and drawers to one side. This king-sized desk offers king-sized storage and weighs 185 pounds making it very stable.
It appears to have all you can possibly think of: a slide-out keyboard tray, a small cabinet, three drawers, a very large desktop, and 6 top vertical shelves. The drawers of this office desk for dad have a T-lock assembly system, and the last drawer offers hanging files storage facility for papers and files. There is a storage space behind the lower detailed door that can hold the vertical CPU tower with an adjustable shelf. 
9. Carson Forge Desk 412920 from Sauder
If dad needs lots of storage but doesn't have the space for a hutch desk, try this option instead. This office desk for dad has a nice, classic design that is very sturdy. There are three drawers in total: two deeper ones on the right side and a thinner, longer one just under the space for your laptop or PC. This can double as a storage area or a keyboard tray. All three drawers have these elegant metal safety stops, handles, and runners.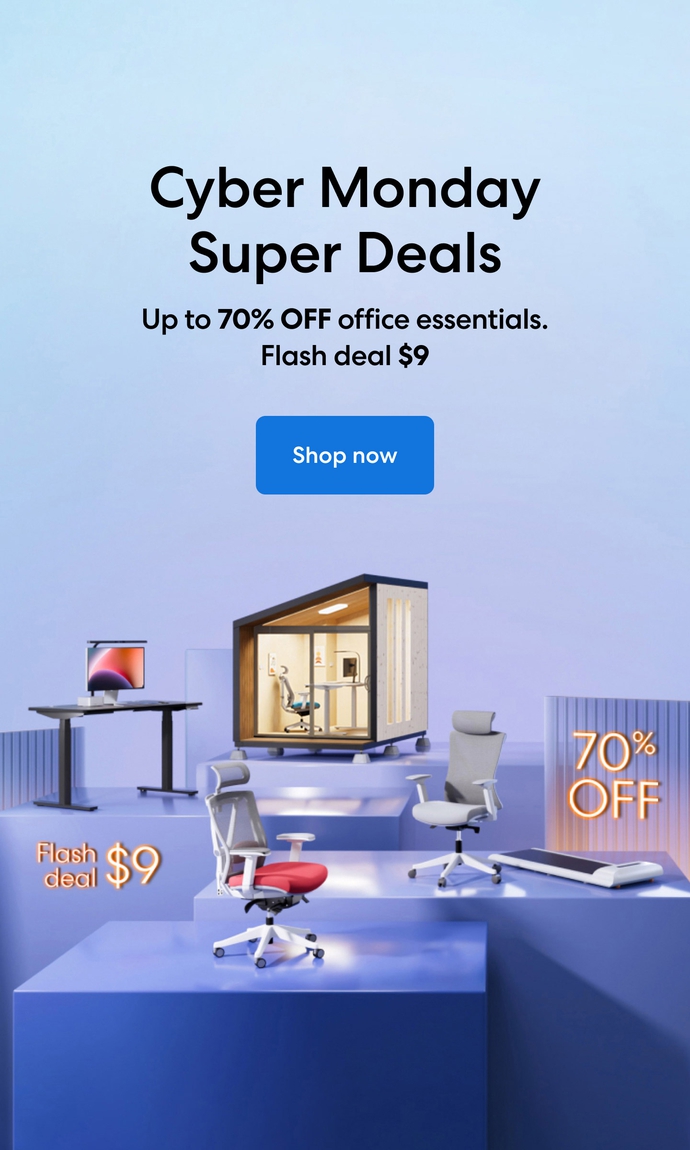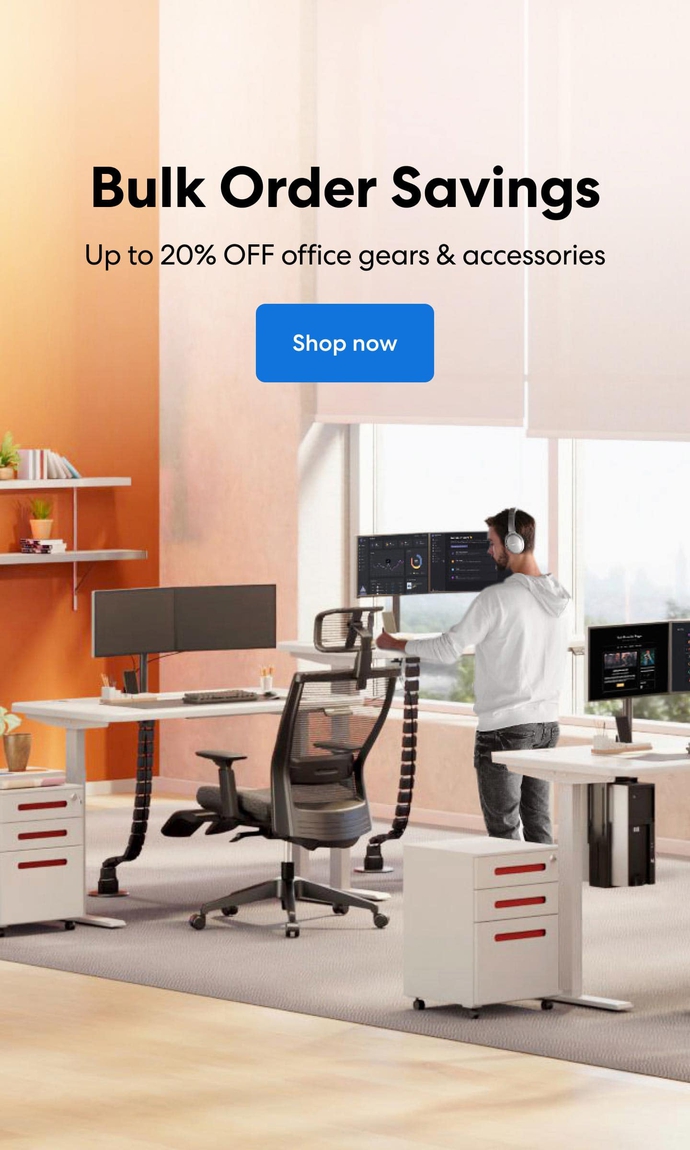 Subcribe newsletter and get $100 OFF.
Receive product updates, special offers, ergo tips, and inspiration form our team.