Smart Products
5+ Essential Types of Business Equipment for Productivity & Success

Autonomous
|
Oct 19, 2022
3,781 Views
An office cannot work appropriately without the right ergonomic office supplies. People that have in mind starting a business should also consider having an office requirement list, so you know what to include in each area. Here we're not talking about technological elements solely. We also include other business equipment like furniture and office essentials (i.e., paper).
Office Equipment: Definition
We can define office equipment as an element that an office worker utilizes to complete diverse tasks at the workplace on a daily basis. These can range from administrative tasks to office-related responsibilities. Thus, it is quite a general term and includes several sub-categories.
Office equipment, business equipment and office supplies are not the same. The former includes furniture, machines, and collaborative resources, while the latter compiles all the essential items you frequently use, including paper and other materials that employees consume in elevated amounts. Hence, office supplies are another sub-category of office equipment, even if different types of office supplies exist and have diverse purposes.
Types of Office Equipment You Can Find at Any Workstation
It doesn't matter if you have a small or a large organization, or even if you're working from home. It is important to have a well-equipped workstation to ensure that you will be able to maintain your productivity and efficiency at optimal levels.
If you're starting a new office or want to renovate your current one, here we have a types of office machine and equipment list you can consider to solve the issue quickly.
1.  Furniture
Ergonomic furniture at work is essential as it assures the comfort of each employee throughout the day. Even if you're working from home, it is necessary for you to equip your workstation with ergonomic furniture to avoid discomfort and ache as you continue working throughout the day. According to studies, lower back pain is more common in people under age 45 and is the most common disability reported at workplaces.
For this purpose, good office furniture solutions may include options like the ErgoChair Pro, or if you'd like to ensure adjustability, comfort, and a good posture if you usually work for long periods.
On the other hand, an adjustable standing desk is also an excellent alternative to traditional desks. They allow you to adjust the height, so it matches your body proportions. In addition, you will be able to alternate between sitting and standing if you start feeling uncomfortable while you're seated. Standing desks have been linked to many health benefits, like reduced back pain and productivity improvements.
Also, this area doesn't stop at desks and chairs. You should also consider other business equipment items, like bookshelves, cabinets, meeting tables and chairs, sofas, and so on.
2. Technology
Here is another type of office equipment in any office. You will find many options in the technology category, but they all vary based on the workplace and its budget. A person that works from home won't need large equipment such as enormous printers and photocopiers, but it's a different story when it comes to large workplaces or even small businesses.
The first stop is the computer device. Here you can alternate between a desktop computer and a laptop. Both options are good, but remember to arrange those items appropriately so you can contribute to the room's ergonomics. Plus, if you decide to go for a laptop, consider buying an external monitor. Doing so will allow you to work more comfortably as monitors are adjustable, and you will be able to see everything on the screen more easily.
Besides computer devices, any office needs printers, photocopiers, and scanners. Offices usually need more of these items, while you can work with one of each if you own a home office.
You will also need technological accessories like a mouse, keyboard, and if you work from home, a webcam may help you during business meetings. Remember to include a headset, too, if you'd like to have the ultimate video conference experience, but you can also opt for a pair of speakers.
3. Office supplies/stationary
Last but not least, here we compile two sub-categories that are deeply related to each other: office supplies and stationary. There are both common types of office equipment for your office.
Every workplace needs office supplies, regardless of their nature. Here we include several things, from pens and pencils to paper. Binders, folders, staplers and staples, tape, scissors, and many other items also go on the list as they're everyday business equipment that an employee needs on a daily basis. Plus, make sure you have some backup printer ink in case your machine runs out of it.
The stationary category doesn't go too far away from these items. Here you'll include business cards, envelopes, and notepads, for instance. Some people like to invest in digital notepads to avoid paper waste, but it's all a matter of preferences.
4. Storage Equipment
Storage equipment plays a crucial role in office organization and efficiency. They are designed to store and manage various items, such as documents, files, supplies, and personal belongings, in an organized and accessible manner. The types of storage business equipment commonly used in offices include filing cabinets, shelving units, bookcases, lockers, and storage cabinets.
Document and file storage: Storage equipment, such as filing cabinets and shelving units, are used to store documents, files, and records in a systematic and organized manner. This helps in easy retrieval of important information, maintains confidentiality, and reduces clutter in the office.
Supply organization: Storage business equipment can be used to store office supplies, such as stationery, printer paper, envelopes, and other frequently used items. This ensures that supplies are easily accessible and minimizes the chances of running out of stock.
Personal storage: Lockers or storage cabinets can be used by employees to store their personal belongings, such as bags, coats, and valuables. This helps in keeping the office space tidy and provides a secure place for employees to store their belongings.
Space optimization: Storage equipment can help optimize office space by utilizing vertical space with shelves or cabinets. This allows for efficient use of limited office space and prevents clutter.
Aesthetic appeal: Well-designed storage equipment can also enhance the aesthetic appeal of the office by providing a neat and organized appearance. This can create a positive impression on clients and visitors.
When choosing storage equipment for your business, consider the following factors:
Storage needs: Assess the type and amount of items that need to be stored in the office. Consider the size, weight, and dimensions of the items to be stored and choose storage equipment that can accommodate them appropriately.
Space availability: Measure the available space in your office and choose storage equipment that fits well without obstructing movement or creating congestion. Consider vertical space as well to make the most efficient use of the available area.
Durability and quality: Look for storage equipment that is durable, made of high-quality materials, and built to last. This ensures that your investment in storage equipment is worthwhile and provides long-term functionality.
Security features: If you need to store confidential or valuable items, consider storage equipment with security features such as locks or password protection to ensure the safety and security of your items.
Budget: Consider your budget when choosing storage equipment. There are various options available at different price points, so choose storage equipment that meets your needs and fits within your budget.
Aesthetic appeal: Consider the design and style of the storage equipment, as it can impact the overall aesthetic appeal of your office. Choose storage equipment that complements the existing décor and enhances the overall appearance of your office.
5. Office Waste and Recycling Tools
Office waste and recycling tools are products or solutions designed to help businesses effectively manage their waste and implement recycling practices in the office. Investing in these tools can have several benefits for businesses, including:
Office waste and recycling tools can help businesses reduce the amount of waste they generate. For example, recycling bins and composting solutions can encourage employees to properly separate recyclable materials, food waste, and other organic materials, reducing the amount of waste that goes to landfill.
Implementing effective waste management and recycling practices can result in cost savings for businesses. Recycling programs can often reduce waste disposal costs, as recyclable materials are diverted from costly landfill disposal. Additionally, some recycling programs may generate revenue through the sale of recyclable materials, further offsetting waste management costs.
Environmental sustainability
Investing in office waste and recycling tools can help businesses reduce their environmental impact. By diverting recyclable materials from landfill, businesses can conserve natural resources, reduce greenhouse gas emissions associated with waste decomposition, and help protect the environment.
Corporate social responsibility
Demonstrating a commitment to environmental sustainability through waste reduction and recycling practices can enhance a business's corporate social responsibility (CSR) profile. Many customers, partners, and stakeholders value environmentally responsible business practices, and investing in waste and recycling tools can help businesses meet their CSR goals and enhance their reputation.
Compliance with regulations
Many jurisdictions have regulations or guidelines related to waste management and recycling. Investing in office waste and recycling tools can help businesses comply with these regulations and avoid potential fines or penalties for improper waste disposal.
Implementing effective waste management and recycling practices can also engage employees and foster a culture of sustainability in the workplace. Providing accessible recycling bins, composting solutions, and other waste and recycling tools can encourage employees to participate in waste reduction efforts, leading to increased environmental awareness and sustainability practices among employees.
Examples of office waste and recycling tools include recycling bins, composting bins, shredders for paper waste, electronic waste recycling stations, and waste sorting stations. When investing in these tools, businesses should consider their specific waste management needs, available space, budget, and sustainability goals to choose the most suitable options for their office environment.
6. Other resources
Although they are not strictly necessary, resources like whiteboards and bulletin boards are quite useful in an office environment.
Offices can take advantage of bulletin boards and place them in break areas. This way, employees will take at least a few seconds to take a look at it and see the information it contains. There you can update them about daily tasks, for instance, and anything else you may find useful.
Contrary to this, whiteboards are extremely useful types of office equipment during presentations. It's highly recommended to have one even if you're working from home. This way, you will make your presentations a lot more dynamic and understandable for anyone. Let's remember that zoom fatigue is a real phenomenon that has been affecting people across the globe since the pandemic started.
Conclusion
As you can see, there are several types of office equipment you can include at your workplace or home office. However, the business equipment items mentioned throughout the article are just a few. There are many must-have office supplies that you can consider adding based on your needs and the nature of your work. What we include here are basic items that every office should have to ensure that the employees can work efficiently throughout the day.
Building an ergonomic office takes time, but you should remember that putting your comfort as a priority will help you know what you need to complete your obligations without problems.
Video ads for product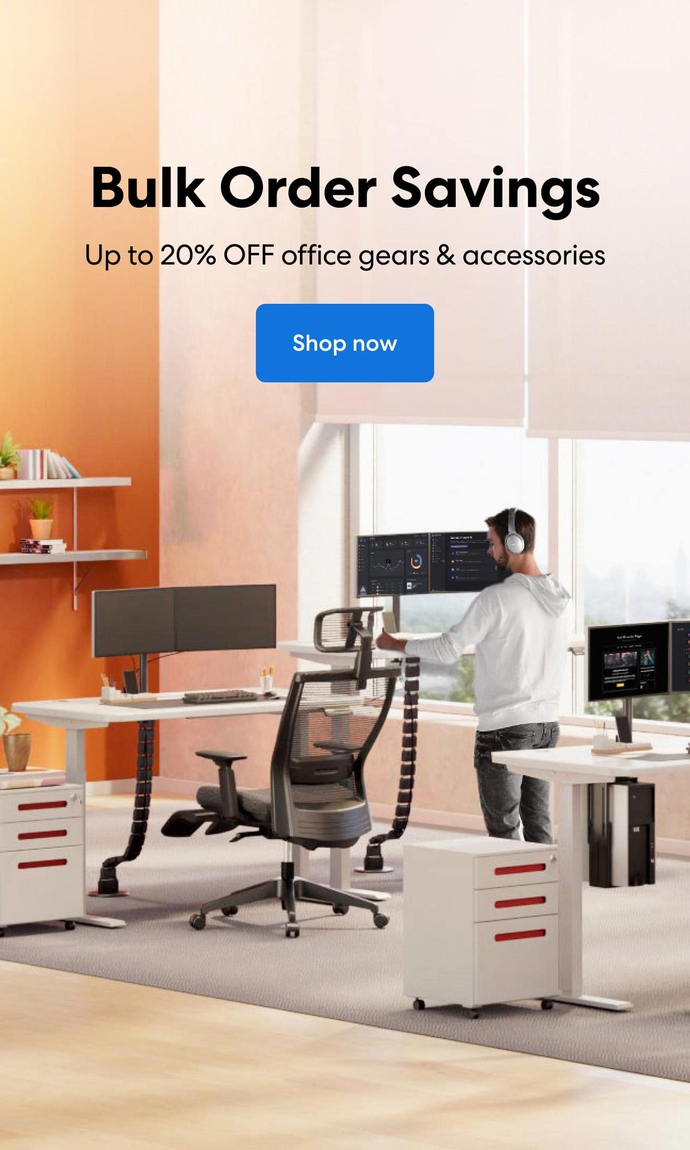 Subcribe newsletter and get $100 OFF.
Receive product updates, special offers, ergo tips, and inspiration form our team.