Smart Products
Office Standing Desk Accessories to Support Your Feet

Autonomous
|
Aug 16, 2021
1,868 Views
Standing desks do wonders for your health, but as a commonly known fact, they also tire your feet out. However, that doesn't mean you should quit standing and go back to enjoying the negative impacts of sitting. On the same hand, a standing desk not only straightens your posture but also keeps your mind and body active. Using an adjustable standing desk with standing desk accessories for feet will make your experience wonderful and allow you to reap the maximum benefits of a standing desk.
The Best Standing Desk Accessories
A major portion of workplace-related injuries results from musculoskeletal problems arising from poor posture and improper seating in the workplace. The worst part is that these problems result from gradual and constant negative strain on various parts of the body. As a result, many people develop short-term and long-term health issues such as sciatica and other permanent back pain.
As sitting was associated with the biggest contributor to health problems in the workplace, there are now standing desks that are not only great for energy levels but also keeps the posture aligned and straighter. A standing desk is specially made with years of research to cure the pressure on the lower back and strain on neck muscles. But most people complain about standing desks being too hard on their feet as they find standing for hours painful.
With our collection of must-have desk accessories, you can enjoy this experience and make your entire workstation productive to the maximum. The best desk accessories can also help you adjust to this big change in the workplace easily, and you will be amazed to see more efficiency and improved energy levels.
Anti-fatigue Mat
Without a standing desk mat, your feet will experience a hard time. This is one of the most important standing desk accessories for feet. This is because staying on our feet causes the lower body to remain in a stagnant position. This will put unnecessary pressure on lower limbs, and prolonged ignorance may lead to permanent pain in the nerves.
With the help of an anti-fatigue mat, you will get micro-movements that prevent the feet from falling asleep in the same position. Especially for people with lower back pain, a standing desk feet mat is a must-have standing desk accessory for feet.
1. Autonomous Anti-Fatigue Mats
This anti-fatigue mat comes in black. The Autonomous anti-fatigue mat features a sloped, ridged surface with a 2-inch incline, which helps reduce back pain. As a bonus, this Autonomous anti-fatigue mat massages your feet while you're standing. The anti-fatigue mat is made from polyurethane, PVC leather, and it features SBR anti-slip payer, which prevents you from tripping.
This anti fatigue mat measures 33" x 20" x 2", and it can support your entire body perfectly.
2. AmazonBasics Premium Anti-Fatigue Mat
This standing desk pad for feet comes in two colors: black and brown. The mat features a diamond pattern and is available in a single 36 x 20-inch size. This standing desk feet mat also features non-curling and slightly beveled edges, which protect you from tripping. Also, it has a non-slip base, so it remains in one place.
3. CubeFit TerraMat
The TerraMat is thicker than other standing mats available in the market and it's 100% Phthalate-free. This anti-fatigue mat comes in three colors: black, brown, and grey, which are perfect colors for office décor.
The standing desk pad for feet is antibacterial, shock-absorbent, and wear-resistance, so it offers durability and more comfort for your feet and legs. 
Also, this anti-fatigue mat features unique 3D features. The standing desk feet mat also has acupuncture pressure peaks to stimulate your feet, while the two massage mounds massage your soles.
Flow Board
Who said you could not have fun while working? Flow board is one step ahead as a standing desk pad for feet. The flow board keeps the feet under constant yet easy movements that will keep your feet strong and bring freshness to mind. This will cause you to stand for long hours without experiencing any fatigue.
Step Stool
Not to mock the tiny crowd, but a step stool isn't just to make you taller. Well, that's the least of concerns, honestly. A step stool is a great standing desk accessory for feet because it will keep your feet in comfortable positions without you having to force it. In addition, the tiny rubber patterns allow the feet to reside strongly without any fear of slipping. So whenever you move, the rubber dots will hold you strong against the earth.
Under Desk Elliptical
Fitness and health, the under-desk elliptical will take your fitness routine one step ahead. Rather than finding a separate hour or two for the gym, an under-desk elliptical will keep you fit while working. You can move at slow speeds or even pace up a little. Either way, it will be a great way to keep those feet active and burn the extra calories.
Ergonomic Chair
Sounds contradictory, but we don't think you can be in a workplace without an ergonomic chair, one of the must-have standing desk accessories for feet. The whole purpose of a height-adjustable standing desk is that it allows you to work while sitting and standing. Experts recommend that the time spent while sitting and standing should be scheduled for no extra strain on any body part. While you sit and work, an ergonomic chair will help you keep the posture straight and prevent any injury.
Comfortable Footwear
Other than using accessories for standing desk foot support, wearing the right shoes is also very important. Standing for long periods, like walking and jogging, necessitates the usage of proper footwear. The shoe should ideally have good arch support and soft soles.
At a stand-up workstation, wearing Dockers or heels is not a smart idea. This is because when you stand for lengthy periods of time, a lot of weight is transferred to your feet, necessitating the usage of adequate foot support.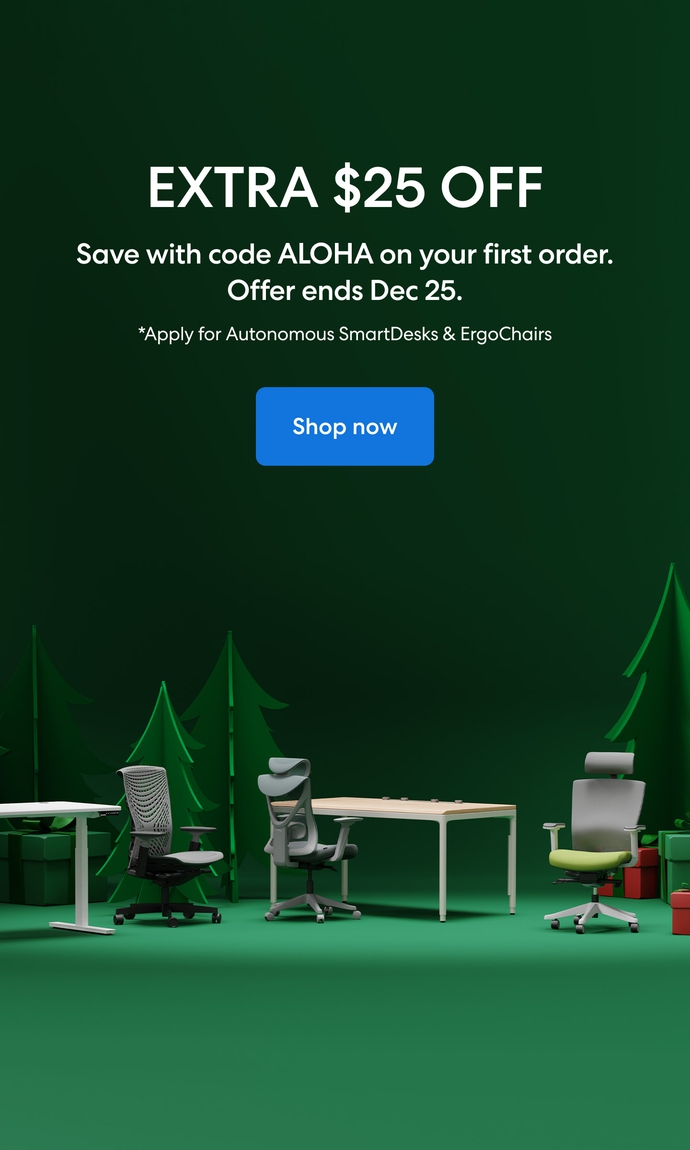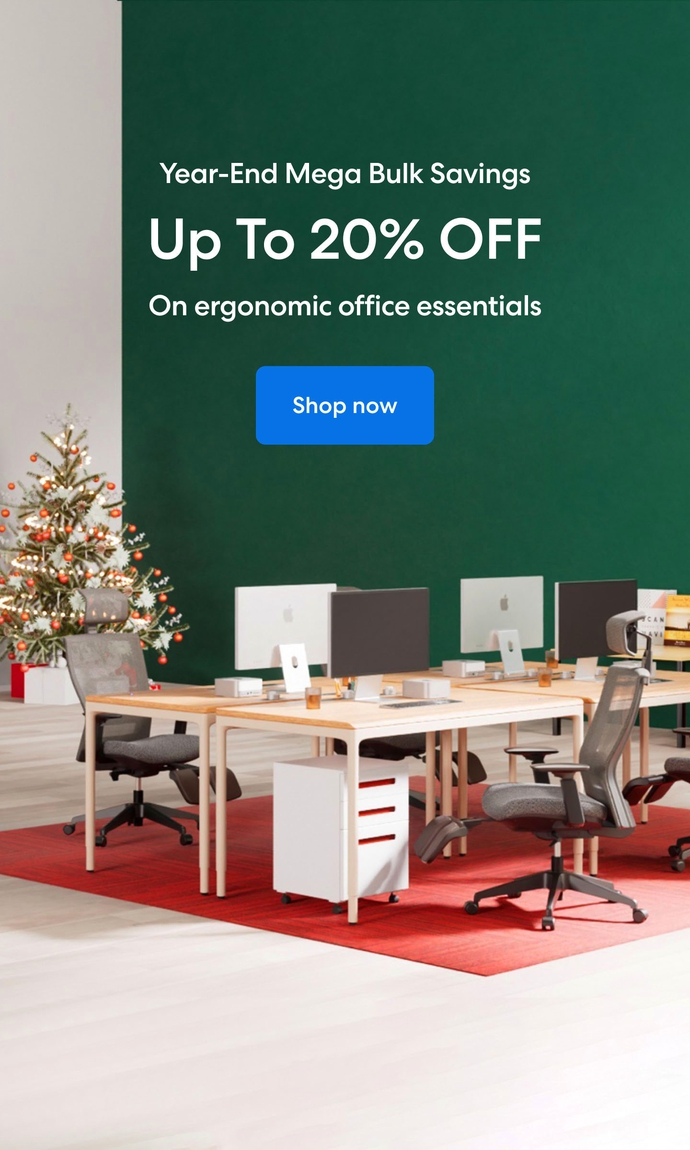 Subcribe newsletter and get $100 OFF.
Receive product updates, special offers, ergo tips, and inspiration form our team.