Monitor risers generally help in elevating your monitor for a better viewing experience. The monitor riser stands are universal; therefore, they can be used for different purposes like raising and lowering desktops, laptops, standing desks, and TVs for monitor risers. 
Getting the right dual monitor riser takes your viewing experience a notch higher. With the majority of the marketing having almost similar features in terms of adjustability, you'll be able to change your height to the desired position where you can easily view the monitor without straining.  
A monitor shelf for a desk workstation can also ensure you have a comfortable posture, which weeds out any sitting posture that would bring underlying back and neck pain in the long run. Before we delve to see some of the best pieces on the market, let's first look at the importance of buying a computer monitor stand. 
Importance of a Desk Monitor Stand
Monitor risers raise the height of your computer to an optimal ergonomic position. A well-designed computer monitor stand offers spaces where you can easily store your keyboards and laptops, which brings in that feeling of order. Here are some reasons why a desk monitor stand is important: 
Limit Straining
The monitor riser stand that came with your monitor may not be of ideal height, which can turn out dangerous for you - since you'll need to strain your neck, which makes your body assume a bad posture. This creates problems that could have been solved with an adjustable dual monitor riser at the very instance. 
Ultimately, computer manufacturers are developing monitor shelves for desk designs that help you put the screen in a position visible to the end-user.  
No Workplace Injuries or Chronic Damages
If the computer is operating at a position that satisfies the shortest individual in the room, then the rest of the other workers will somewhat have problems using the computer. Most employees would be seen hunching over to view the computer adequately. With their spine out of natural alignment, it can quickly lead to all sorts of aches. 
Over time, they become susceptible to chronic back injuries, which may require surgery to repair. It's, therefore, important for remote workers to incorporate a suitable dual monitor stand in their workstation to curb such circumstances. 
Computer Monitor Stand Can Help Combat Workplace Stress
The right computer monitor stand helps combat workplace stress, which many experts believe is more than just a bonus. Most remote workers are familiar with physical ergonomics where they incorporate ergonomic chairs and desks that will increase their overall physical working environment.  
In addition to this list is the very own monitor riser, which facilitates cognitive ergonomics. This position can come in handy as far as increasing health and safety is concerned. Some examples of cognitive ergonomic issues in the workplace include mental and work stress.  
To combat such issues, it's important to put in measures to counter negative work pressure that may make remote workers feel overwhelmed. A simple way of doing so is installing a dual monitor stand. 
The Ideal Distance Between the Eye and Your Computer
It's important for remote workers to maintain an ideal distance from the eye to the screen while working. Certainly, there's a recommended distance between 20 to 40 inches. Basically, it's an arm's length from your computer screens. 
The right distance will also depend on your screen resolution. You can also figure out a suitable distance for your screen to the eye from the screen size. When you find a suitable distance, you'll be able to sit back in the right posture, ensuring you evade problems caused by bad sitting positions like neck discomforts, eye-straining, and even chronic back pain. 
Best 15 Top Monitor Risers for 2022
Now, we know why monitor risers are important. Plus, how far should the monitor be from the face? We can ease into the most popular design in terms of service, affordability, and adjustability. Here's a list of the best monitor risers in 2022. 
1. FinerCrafts Desk Shelf
If you're thinking of a monitor riser that matches your maximum series standing desk, the FinerCrafts desk shelf is the best monitor riser to go for. It is specially curated to provide additional space. Additionally, it can increase your monitor adjustability position, thereby improving the height of a person. 
It features a non-silicon pad with 13 to 30 inches of monitor support and weight support of up to 15kgs. Go for the FinersCraft desk shelf when you want additional space in your workplace, better posture for your spine, and a good match with a sit-stand desk.
2. Birchwood Monitor Stand
This product will help you elevate your screen for the perfect viewing angle. The monitor riser was designed to bring aesthetics and functionality into your office space. Birchwood monitor stand allows you to have a perfect viewing angle that's less strenuous to the neck and spine, improving posture.  
It's coated with protective scent-free oils to avoid scratching and cutting damage. You will enjoy a clutter-free desk with a Birchwood monitor stand in place since it provides additional space on your working station for tucking in your keyboard.
3. Bamboo Monitor Stand
The monitor riser was designed to withstand any type of computer weight with a support weight of up to 100 Ibs. Bamboo monitor stand has sturdy feet with a rubber at the bottom, which supports the stand and reduces sliding on the desk. It provides optimal sitting posture that reduces chronic back pain and neck strain, thereby fixing ergonomic issues. 
Overall, the bamboo monitor stand is quite strong and can support a variety of products. It is perfect for a laptop with a monitor setup that can really save on space. The space freed up can be home to a printer or any other important device.
4. FENGE Adjustable Length Monitor Stand
Another dual monitor riser is the FENGE adjustable length monitor stand. This monitor riser was designed to reduce work stress by ensuring that your posture and neck are kept in comfortable positions. The best part about its design is that you can have additional under-counter space. 
Its high grade will improve the aesthetics of your workstation. You can easily adjust the length of the desk monitor stand to meet your needs adequately.
5. AmazonBasics Computer Monitor Stand
This is a suitable option when thinking of value for money. It has scalable grid stands that enable you to choose a suitable height. The monitor riser was not designed with ergonomic style in mind, but it still gives you the needed storage space underneath to store keyboards, mouse, and laptops, among other things. 
6. Satechi Aluminum Monitor Riser Stand
This desk monitor stand was specially designed for Apple desktop machines - as it is equally built from the same materials as the macOS desktop. It can, however, work with any other computer. The monitor riser pretty much works to raise your computer to a level where you don't have to strain your neck and damage your spine. 
Moreover, this riser stand has additional features like a USB, SD readers, and audio jack. You can easily plug into your PC or Mac with a hidden cable to use these features. Create inexpensive backups with the USB; you'll never have to worry about a spare USB port. The monitor riser stand is not cheap; prepare to dig deep into your pockets. 
7. Jelly Comb Riser
Riser Jelly Comb riser's style and function improve neck discomfort and eye craning that you'd likely endure if you didn't raise your computer. This allows you to work for long hours without getting chronic pain due to bad posture. It consists of a smartphone or tablet stand, plus drawers for convenient storage. You'll also have extra space underneath the riser. You can put the mouse or keyboard when not in use. 
8. HUANUO Monitor Stand
This is the best dual monitor stand for a cramped workstation. It has metal stands for raising your computer to keep it on your eye level. The computer monitor stand works exceptionally well by freeing up the much-needed space - while ensuring users don't crane their necks while seated on your desk.
It's quite small in size, so you can easily fit it on a corner or at the edge of your workstation. Because of your cramped space, don't feel like you can't play around with the designs to find what works best for you in terms of style and function. The steel build was sturdy, supporting a weight of up to 44 pounds. 
9. Bambloom Stand Desk Shelf
If you're looking for a monitor riser stand that provides style and functionality, then the Bambloom stand desk shelf is one for the books. It's made from sturdy materials like qualitative MDF, which makes the computer monitor riser resistant to cracks and wraps. The integrated drawers are made of bamboo, making sliding in and out easy. It is a single-piece item, which means you'll not have to assemble the monitor riser. 
10. Victor Midnight
This monitor shelf for desk comes from the Victor Midnight collection that mixes aesthetics and convenience. You can easily store documents and even books on them. Moreover, users are able to add two drawers on the monitor riser to optimize storage. Additionally, it will leave space for cables by easily positioning them closer to the wall using the monitor wall mount. 
11. Monitor Stand Riser
This is the perfect wooden computer monitor stand that can keep your eye and monitor on the same level. You can easily reduce eye fatigue, neck strains, and other body pains due to sitting in an uncomfortable position. It will free up space on the workstation for storage and comes with additional drawers to maximize your storage needs. 
12. G-Pack Pro 70
This desk monitor stand has an ergonomic style with a robust finish that makes it fit in any interior of a workspace. It's made of metal with an additional triple mount and metal frame. You can certainly not go wrong with this addition to your workspace. 
13. VonHaus 05/081
It either comes as a single or dual monitor riser. If you're going for a dual setup, you must display the outlay of your computers inwards at a steep angle. This can't work if you're going for a larger setup. Consider getting two monitor risers and placing them side by side. 
VonHaus 05/081 has an impressive style plus enough space to store a few important things. It's a good option to go for, but you must take into account the size of your monitors. 
14. Kirigen Monitor Riser
This is another excellent option in the market for those who want to raise their Pixio monitor. It comes with dove-shaped drawers for your storage needs. The monitor riser is laminated to give a stylish finish. Drawers don't cause any instability; they're as sturdy as they come. 
15. StarTech Monitor Riser
This computer monitor stand comes with a surface area of 10.5 X 16 inches and is made of aluminum, allowing gamers to have a stable playing station where they can enjoy their games. With the compatibility of a monitor of up to 32 inches and a supporting weight of 22 pounds, the desk monitor stand can optimize your workstation by freeing up space. 
You also have additional space underneath the monitor riser where you can put some important documents. Moreover, it's easy to assemble and creates a comfortable working posture. 
Bottom Line!

If you're trying to add ergonomic style and function to your gaming or workstation, go for Autonomous desk monitor stands to get the best monitor riser for your needs. What's more, you can certainly get this product through the Autonomous employee purchase program where prices are cut down for your convenience.  
Visit our Autonomous website today to look at the available options, and you never know; you may find something you might like.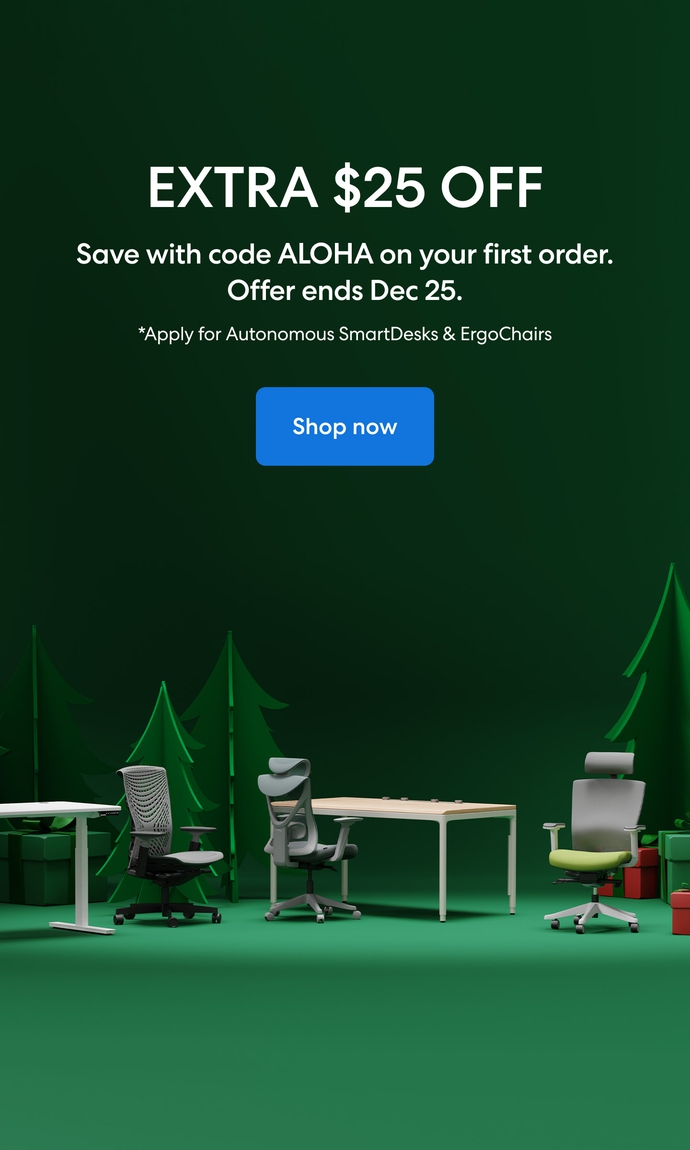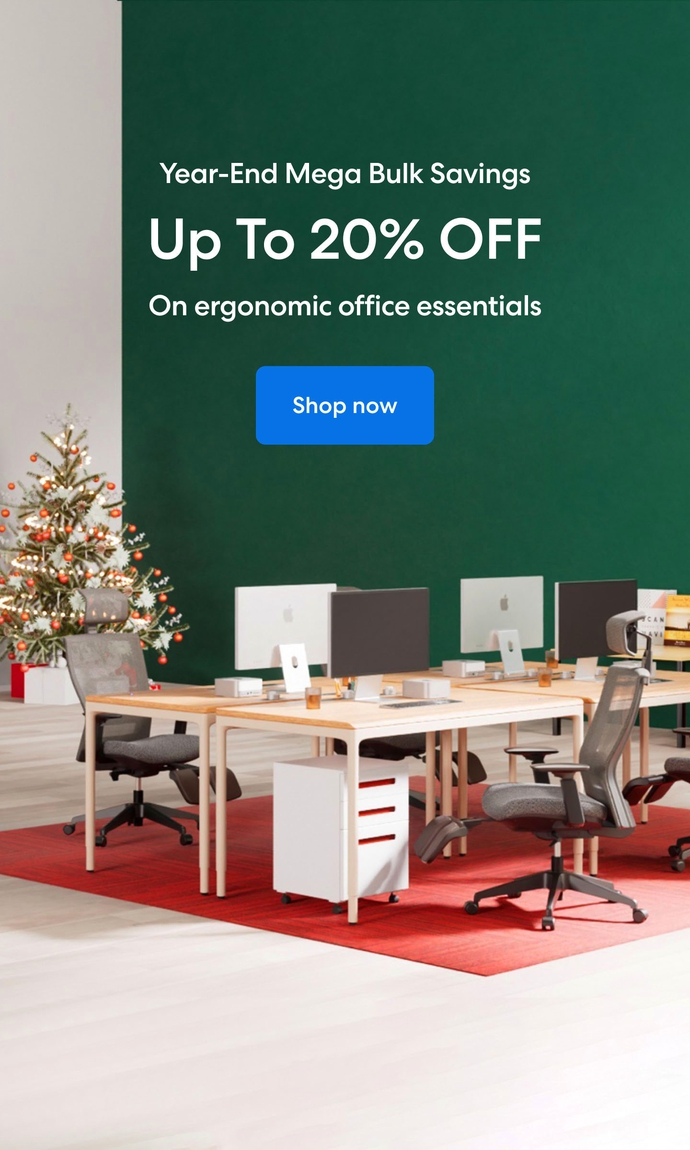 Subcribe newsletter and get $100 OFF.
Receive product updates, special offers, ergo tips, and inspiration form our team.