Smart Products
The Best Durable Office Chair for Any Workspace: Top 3 Picks

Autonomous
|
Jun 24, 2021
2,167 Views
Whether you work in a busy, traditional office, or work from home in a personalized workspace, the chair you spend all day sitting on can make or break your productivity.
An unsuitable office chair can cause both temporary discomfort while you work and long-term aches and pains if you don't do something about it, which is why a professionally designed, durable office chair is so vitally important.
Why Is It Important to Look for the Most Durable Office Chair?
A good quality desk chair is an investment and a significant one at that. They are not inexpensive but can be life-changing if properly suited to your needs, which is why durability is so important. Taking the time to look for a long-lasting, well-designed, heavy-duty ergonomic desk chair ensures your investment is worthwhile and keeps you comfortable and supported for years to come.
What Helps Make an Office Chair Durable?
Choosing a long lasting office chair that is built to be reliable is certainly a priority, but there are a number of other contributing factors you should be considering before confirming any choices. A durable desk chair is not a one size fits all deal, and what suits you best could be different from the person you work beside. Compare different office chairs and you can see what features vary, but there are certain things you should look out for that could be useful:
Adjustable heights
A flashy, fancy office chair with all the bells and whistles becomes instantly redundant without adjustable features.
Ergonomic chairs let you adjust height, armrests, leg rests, angle of recline on the backrest, and the seat depth.
Arm Rests and Leg Rests
This is really a case of personal preference, with some debate about whether they are a valuable feature to look for in a normal day-to-day office chair. If you suffer from upper-back or neck pain an armrest can help keep the top section of your spine in a better posture as you sit at your desk but have also been known to cause pain in the shoulders if not properly adjusted. If you have exposed skin in contact with armrests for a long time, you can end up with irritation.
Leg rests are overwhelmingly beneficial for knee pain and your circulation. There is no doubt they can add a lot of comfort, but some office workers feel they get in the way and are not necessary for the hours they work.
How many hours a day do you sit in a chair?
The length of time a person spends sitting in one day is hugely important when picking a chair. The more hours you work, the more you need to consider an ergonomic chair designed for long hours of sitting.  If you work a four-hour day, Monday to Thursday, you might not have quite the same requirements as someone working 40 hours a week, and some features may not be as important to you.
For people working in dispatch centers who often work even longer shifts, 24-hour office chairs are designed for maximum comfort and support over a longer time frame.
The design of the backrest
Any durable office chair worth its salt has a backrest, but not all backrests are created equally! Lumbar support is the star of the show in any durable desk chair so whatever you chose needs to feel good and allow for adjustments should you require them.
It is also highly recommended that an office chair's backrest should be breathable; meaning the fabric allows the air to flow to your back. The main reason for this is your comfort in the heat. On a warm day, a solid surface could make you very uncomfortable very quickly, and you may try to avoid leaning against it with your full weight. What is the point of backrest if you can't properly rest your back?
The fabric
As far as durability goes, a long lasting office chair needs to use good quality material. Some materials may be great for comfort, but stain easily, and are not easy to maintain.
Other materials may seem luxurious, but prolonged contact could be irritating to your skin, and they cannot stand the test of time.
For more details of what materials to consider, check out our guide to the best long-lasting materials for office chairs.
How well does it move?
Freedom of movement is important for a workspace. Few things in life are more frustrating than dropping your pen and not being able to move easily around you. You may have to fight with your chair, desk, and armrest to retrieve the escaped item, leaving you stressed and flustered, and entirely distracted. The movement and ease of use of your office chair are just as important as the comfort.
What Is an Ergonomic Chair?
An ergonomic chair has been designed with considerations beyond functionality, incorporating the human body and all the things that keep it in fighting shape. More than just something to sit on, ergonomic chairs aim to support bones, relieve muscle strain, improve posture, and encourage blood flow.
Top 3 Most Durable Office Chairs
Each of the office chairs in the following list combines the great ergonomic chair design with a build quality that can last the test of time. All are fully adjustable with breathable backrests.
1. ErgoChair Plus
This model is one of the most dynamically designed office chairs on the market.
ErgoChair Plus
Frameless build for maximum freedom of movement.
Made from TPE; a non-toxic, biodegradable plastic
Extremely versatile recline settings, with 11 different lockable angles
Five-year warranty
Very durable computer chair
High cost
Limited color options for someone looking to personalize their workspace
2. ErgoChair Pro
The little brother to the ErgoChair Plus, this design is a thing of beauty.
ErgoChair Pro
Attractive yet classic design
Available in several colors
Made entirely of 100% Earth-friendly materials
Able to comfortably support weight up to 300 lbs
Not as wide a range of recline settings as the Pro+
Although not as expensive as the Pro+, it is still a costly model
3. AvoChair
This chair design is perfect for the modern office or someone looking to personalize an at-home workspace.
AvoChair
Affordable without compromising on quality
Modern design that stands out from the norm
The design may not fit in a heavily traditional office
Fewer lockable recline settings than ErgoChair Plus
Not as in-depth adjustable qualities, although it is still a very flexible chair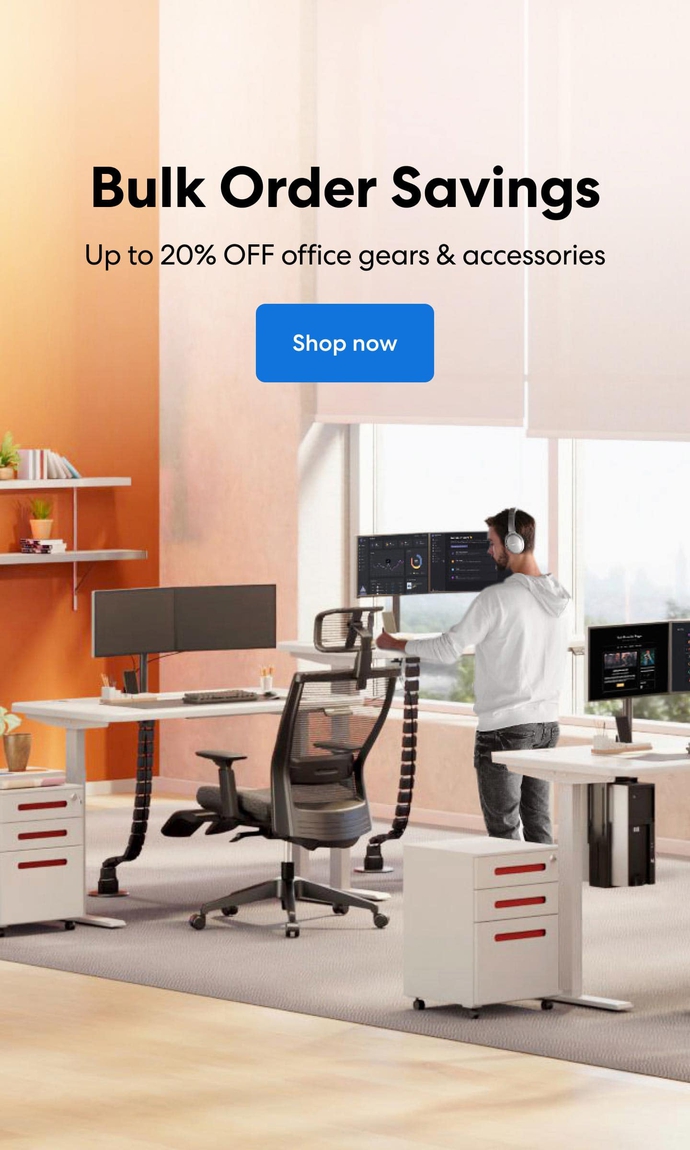 Subcribe newsletter and get $100 OFF.
Receive product updates, special offers, ergo tips, and inspiration form our team.