Black Friday 2021 is fast approaching, and prices will soon start to tumble. If you've been searching for the best Black Friday adjustable desk deals on standing desks all year, then you're in luck. Even the most innocuous bits of kit, like the desk that houses your hardware, can benefit from an upgrade, especially as holiday sales wind down. You may be considering switching to a standing desk if you need an office furniture upgrade; consider these tips on the upcoming Black Friday adjustable desk sales.
Adjustable Standing Desk Features
Memory preset options
There are four memory presets on the Rise Up that function similarly to those on your car radio. Raising or lowering the desk is as easy as pressing a preset button. The preset button you set will automatically adjust the height of your desk when you press it.
Dual motors
Desks that are electronically adjustable but have only one motor can be noisier and slower than desks with two motors. The maximum weight limit may be lower on single-motor adjustable desks for sale on Black Friday desk deals.
Anti-collision features
Likely, an adjustable height desk in the Black Friday office furniture collection will collide with an object in its path when raised or lowered, such as a windowsill or cabinet. If there is something in the way of the electric standing desk, it will automatically stop running- a great feature for those with kids or pets in the workspace.
Crossbar
Desks with crossbars between the legs and the center provide optimal stability, which reduces swaying and shaking.
Electric adjustment
Elevating and lowering an electric adjustable desk is easier than a hydraulic or hand-crank model. By pressing a button, you can adjust the height on office standing desks. Moreover, electric standing desks are smoother than manual options, so items on the desk surface are less likely to fall off when adjusting the height.
Best Black Friday Adjustable Desks
1. Autonomous SmartDesk Core
A SmartDesk Core can be adjusted from 29.4 inches to 48 inches, making it ideal for a wide range of bodies. Users can save a maximum of four custom height settings for easy switching. It easily lifts 265 pounds, no matter how noisy it is. While carrying its maximum load, the unit moves 1.1" per second and remains rock solid the whole time.
2. Autonomous SmartDesk Pro
Two monitors can be accommodated in a regular case. We've got your needs covered with XL. A new lifting column in SmartDesk Pro helps support more space, as well as all your hard work. At 1.3" a second, this machine can handle 310 lbs with no problem for a decade. At its highest height of 52", the three-way is whisper-quiet at 40 dB and wobbles by less than 0.5°.
3.  Autonomous SmartDesk Corner
SmartDesk Corner is one of the most popular options in the Autonomous collection. Double the space of our regular SmartDesks thanks to two modular segments. If the shorter side of the mat is left, switch it to the right. In most cases, there is only one motor in an electric standing desk. In this case, there are three. Your battle station will be able to lift 400 lbs with no problem on its solid steel legs when it is set up, and you'll feel the difference as soon as you set it up. Your perfect positions can be saved using the responsive keypad. 
4. Flexispot Height-adjustable Overbed Table
A touch of a button changes your position from lying to sitting to standing. There has never been a more convenient way to read, catch up on work, or relax in bed. Choose your favorite height when you switch to your new lifestyle. It has a two-button hand controller that lets you stop your standing desk at any height within a range of 65-103cm.  
5. Jarvis L-Shaped Standing Desk from Fully
This frame's lower and upper cross bars provide greater side stability while lifting columns widen toward the bottom for a stronger base. Jarvis' central rail is also useful for wider desktops to prevent sagging. 240 kg can be lifted with the help of three motors - one in each leg. An easy-to-use handset enables height adjustments while sound-attenuating pads sit between the desktops.
6. Cooper Standing Desk Converter from Fully
Keeping your fixed-height desk is no problem because Cooper makes it possible. Easily adjust your height with one hand, thanks to its hydraulic lift, which can adjust nearly 40 cm in height. Weights up to 16 kg can be handled by tension adjustment, and the frame's double X structure of this Black Friday electric desk distributes weight evenly at any height.
7. Jarvis Bamboo Standing Desk from Fully
This craft-conscious Black Friday adjustable desk is a customer favorite. With this award-winning Jarvis frame, you can create the workspace of your dreams. With Jarvis bamboo, you can build an active working space with two shapes, seven sizes, and a selection of accessories.  
8. Flexispot Comhar All-in-One Standing Desk
Four height presets make this device ideal for families and work-share environments where multiple people have their preferences for height settings. By simply pushing a button, you can seamlessly transition from sitting to standing. There are three USB charging ports (1x USB Type-C, 2x USB Type-A) embedded in the desk so that the desk will be compatible with a variety of electronic devices. 
9. Flexispot Classic standing desk EG1
The Flexispot classic is an ideal Black Friday adjustable desk for small offices. Classic standing desk easily adjusts from 71 to 121cm to provide a comfortable standing experience for all needs and functions. A single motor and range lift two legs from 71 to 121 cm. It is extremely quiet (under 50 dB) when increasing and reducing the desk height.
10. Flexispot DynamikDesk EB2(ED2)
Dual-motors lift the desk smoothly from 71 to 120 cm and are very quiet (under 50 dB) when raising and lowering it. The advanced lifting system and enhanced structure increase the capacity and ensure optimal stability, even at maximum settings. The desk height can be easily customized and programmed with the built-in control pad with its three memory height settings.
11. VariDesk Pro-Plus 30 desk converter
Heavy weighted steel base and durable 3D laminate finish are standard features of this desktop converter. You can lower back strain when you raise your desk using VariDesk rowing and spring-assisted lifts. Dual-handle pick-up mechanism and patented foam-wrapped steel mechanism ensure that there are no pinch points.
12. VariDesk Tall 40 desk converter
Using VariDesk's rowing and spring-assisted lift can help reduce how much strain your back experiences when raising your desk. This feature protects against pinch points thanks to its dual-handle lift and foam-wrapped steel mechanism. Heavy-gauge steel makes this desktop converter more stable, while a durable 3D laminate finish is highly durable.
13. The sitstand.com YoYo Desk Pro 2
The Yo-Yo DESK® PRO 2 is a sturdy steel frame extending to different widths and an unbeatable price highlight. SilentMotionTM technology is integrated into Dual Motors (2-Step). A simple up-down switch controls it. With the new upgrade option, you can view digital displays with three memory settings. Max height adjustment 122cm (including desktop), so it could accommodate users as tall as 185cm (6' 1").
14. Yo-Yo DESK PRO 2+ Standing Desk
With three memory settings available, the Digital Display is available for free. A standard plastic port-hole can be upgraded to a metal grommet for added elegance. A 100kg lift capacity is available. With maximum height adjustment to 130 centimeters (including desktop), the chair is designed for users of 203 centimeters (or 6' 4").
15. Yo-Yo DESK PRO 3
There are two return options: Left or Right Return (90°, 120°, or 135° corner angle). A 150 kg lifting capacity is available. This Black Friday adjustable desk is designed for users up to 185 centimeters (6'1") in height (including the desktop). 3-Step motors (2-Step) are powered by SilentMotionTM technology.
16. Yo-Yo DESK Bench
Multiple widths and colors are available, including silver, white, and black. In addition to the FREE cable box, the frame is optionally available with a cable tray or basket for extra storage. A basic switch controls the up and down motion. 3 Memory Settings are optionally available for Digital Display. The lift has a weight capacity of 100kg and an adjustment range of 122cm (including desktop), which makes it suitable for users above 185cm (6' 1").
17. Lavoro Advance Dual Motor desk
Those with sedentary jobs will appreciate this Lavoro Advance Dual Motor Height Adjustable Desk. The motors move at a rate of 40mm per second thanks to the powerful 300-watt dual motor system and conveniently located soft-touch buttons.
The low noise level of 42 dBA makes this Black Friday adjustable desk the ideal choice for offices, as the desk does not generate any intrusive noise, and it can be adjusted to fit wheelchair users.
18. Prima Desk Height Adjustable Desk
Its very stylish and versatile design makes it ideal for use in any room throughout the home, including a home office. The laminated board is of high quality and is resistant to moisture, damage, and scratches). It is built using sustainable wood from PEFC certified forests.
19. SHW Electric Height Adjustable Desk
With the telescopic adjustment, you can transition between sitting and standing from 28" to 46". It features grommets for organizing your cables, which are made of industrial steel. The lift is fully motorized and can accommodate a height of 28 to 46 inches.
20.  Hidesken Electric Ultra-Quiet Workstation
Hindesken's adjustable standing desk is made from sustainable materials. It has a large surface area of 48" x 24", optimal for monitor and laptop setups." With the electric lift desk, you can enjoy the quietness of its motor, its smooth lifting process, and the height range of 27.56"-45.27", as well as saving space.
FAQs
When will the big BF 2021 sales begin?
Tradition dictates that Black Friday occurs immediately after Thanksgiving on the 26th of November. Black Friday, being the height of the holiday shopping season, is typically when the best Black Friday gaming desk deals are announced. The growth and popularity of Black Friday standing desk sales have also extended to the surrounding days and weeks.
Where can I find special BF desk deals online?
Searching online will give you faster access to all of the top adjustable standing desk Black Friday sales and adjustable height desk Black Friday retailers. Save this website address so that you don't miss out on any Black Friday electric desk news! Other good places to look for the next Black Friday computer desk sales include Amazon, Walmart, BestBuy, Ikea, NewEgg, and Ebuyer.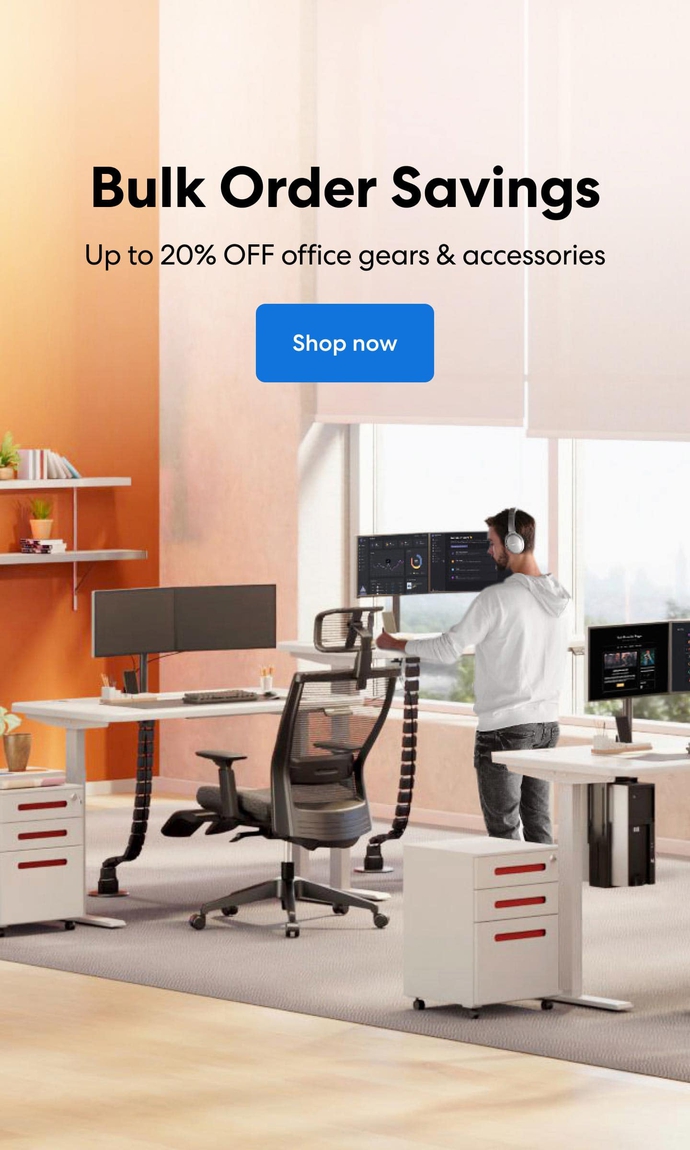 Subcribe newsletter and get $100 OFF.
Receive product updates, special offers, ergo tips, and inspiration form our team.