Furniture layout is one of the most crucial elements when setting up your workspace. It establishes the tone for your working environment and contributes to the first impressions of any client that visits.  
Research shows that white desks are the preferred option of most companies for several reasons. These include their aesthetic appeal and extreme versatility.  
One must consider many elements in selecting the appropriate small white desk to brighten their workspace. This article will explore these factors and suggest the best ones available. 
List of the Best Small White Desks on the Market
1. SmartDesk Core
The SmartDesk Core is ideal for improving well-being and all-day productivity. Its height can change from 29.4 to 48 inches, making it perfect for various body types. This home office desk enables you to find your ideal sit-to-stand position when working.  
You can save up to four unique heights that you can switch. The white mini desk can lift 265 lbs. and has a sturdy steel frame.
2. SmartDesk Pro
This small white office desk has a height range greater than others in its category.   
You can save your favorite positions for you to transition effortlessly from seat to stand. It is a firm desk that can easily lift 310 pounds.  
Noise levels from the motor are under 40 dB. There is an adequate area on the working surface of the desktop for two monitors.
3. SmartDesk Corner
Twice as large as standard SmartDesks, this L-shaped standing desk has two modular segments. It can fit in any corner and allows you to flip its shorter side from left to right.  
The majority of current electric standing desks rely on a single motor. This small white desk has three. Once your station is set up and can safely lift 400 lbs. on its sturdy steel legs, you'll notice and hear the difference.
4. SmartDesk Connect
Considered the most sophisticated SmartDesk to date, this small white computer desk enables you to connect and adjust the height with a practical app that keeps track of your preferences.  
Set your own choices and recurring reminders for sit-stand breaks. It has an integrated sensor that detects objects above and below the desk. This feature helps shut off the adjustable engine to prevent harm or injury.
5. Autonomous CompactDesk Core
This Autonomous compact desk is for workspaces with limited space. You get a complete range of height adjustment features and load-bearing strength as its older siblings. However, it operates more quietly.
6. Autonomous CompactDesk Pro
This small white computer desk has more load-bearing capacity and height range than the Core. It is ideal for anyone who requires a sizable work surface and freedom of mobility in a limited area.  
The CompactDesk Pro has a smaller footprint than the original smart desks, offering more potential and versatility to work in any location.
7. Wistopht CompactDesk: Anti-collision Detection & USB Ports
Due to its greater loading capacity and even quicker lifting speed, the Wistopht CompactDesk is the best option for most people. 
It has a variety of use cases, including live streaming, intricate crafting, and kid learning. Users can benefit from the wide height range of 25 to 50 inches. The double motor system raises and holds up to 265 lbs.  
A built-in anti-collision technology can remember up to three height presets and a reminder of when to sit and stand.
8. Wistopht CompactDesk Starter
This small white desk is a potent workplace tool that features a solid desk structure, a roomy, minimalist surface, and a range of finishes to suit any office aesthetic.  
It also has a durable, scratch-resistant covering. With a height range of 27" to 45", the SmartDesk Core is suitable for users of most heights.
9.  Timotion Compact Desk: Basic Keypad
This compact desk has a strong frame, a compact desktop, and a simple design. Invest in a practical, small desk for your home office that will last for many years.  
The dual electric motor enables it to lift weights up to 270 lbs.
10.  Northread CompactDesk: Programmable Keypad
With a range between 26 and 46.7 inches, the height adjustment is excellent for every body type. 
It contains preset settings to memorize your desired heights whether you choose to stand or sit while working. When the motor is going, keep quiet. Additionally, it has a sophisticated anti-collision system.
11.  Northread Standing Desk with Drawers: USB & Type-C Charging Port
This small standing desk has a stylish panel that includes up-and-down motions, an LED display, and four memory height presets for quick height adjustment.  
The charging desk has three USB connections integrated for different devices.  
Using these ports reduces the clutter and inconvenience of those tangled cords under your desk.  
It has a powerful electric motor that lifts this small white office desk through a height range of 27.2" to 44.9".
12.  Northread Standing Desk Pro: Dual Motor
This small white desk is for people seeking to increase their vigor and inspiration. It is adjustable in height from 25" to 50.8" and has four buttons for memory settings. The motor of white mini desk is less noisy at 50 dB.
13.  Uncaged Ergonomics Rise Up Essential Standing Desk
This is a cheap standing desk that won't break the bank. It is simple to transition between sitting and standing using the memory keypad. With this reasonably priced electric sit-stand desk, you may create an ergonomic workstation.
14. Timotion SmartDesk: Core
The SmartDesk Core by Autonomous x Timotion features a roomy desktop with a minimalist design and a strong desk structure. Invest in a desk for your home office that will last for many years. It has a two-stage frame and dual electric motors that can lift 270 lbs. effortlessly.
15.  Mount-It! Standing Desk by Mount-It!: Touchscreen Keypad
Mount-It! manufactures this desk with a touch control panel that makes it simple to transition from sitting to standing. You can adjust the height from 25.4 to 51.4 inches.
16.  Northread Corner Vanity Desk Makeup Table: 5 Drawers and 3 Mirrors
This beautiful small white desk features modern style,vanity is simple but fashionable, attractive and luxurious. This small white computer desk has a mirror, 5 storage drawers and right-side storage shelves. Straight lines, fashionable color and wooden legs easily compliment any room decoration, perfectly matching your other furniture.
17.  Aiterminal Ergonomic Tempered Glass Desk
It has a stylish control panel with four memory height presets for simple height adjustment. There are two Type-A and one Type-C USB connection and a lock function to prevent erroneous contact.  
The powerful motor provides quick and smooth adjustment with minimal noise during operation (below 50dB). It is sturdy enough to handle your perfect workstation arrangement with a 132 lbs. weight capacity.
18.  ODK Corner Desk
A keyboard tray of this white mini desk has been added to the upgraded version to improve working and gaming experiences. You can keep items on the open shelves beneath the desk. The desk set includes all necessary supplies and thorough installation instructions. 
19.  OneSpace Stanton Computer Desk
With a work surface that is 27.5 inches wide and 19 inches deep, there is plenty of space on the OneSpace Stanton Computer Desk. The detachable keyboard provides more room to keep your workspace neat and orderly. 
20.  Emma + Oliver White Computer Desk with Shelves and Drawer
This small white desk with drawers will blend in when you need a minimalist desk that will fit any space. There is sufficient desk room for your monitor, laptop, and other office supplies on the beveled white laminate top. The border on the back of the desk is its best feature since it prevents papers and pens from escaping your grasp. 
21.  DormCo - Yak About It Quick & Simple Desk - White
You'll have enough open desktop space at a large desk to do your task with this option. The simple design enables flexible use as a work table or desk. This small white office desk with metal legs is simple to set up in your workspace. 
22.  LumiSource Two-Tier Contemporary Office Desk in White
Organize your office while maintaining your sense of style with this small white desk with drawers. The two-tier desk has a second shelf for storage and sleek metal legs supporting a contemporary glass top. It is an ideal solution for a clutter-free workspace. 
23.  Costway Corner Computer Desk
Buying a Costway Corner Computer Desk provides you with enough space for your laptop, computer, lamp, book, and other belongings. It is a unique corner table that maximizes the use of space while also enhancing the cleanliness and organization of your area.  
This small white office desk is made of solid pine wood and guarantees its long-term durability.
24.  mDesign Metal & Wood Home Office Desk with Right Drawer
This minimalist PC and desktop table is ideal for efficiency in the office. It helps create a clean, uncluttered workspace and can store extra office supplies and personal items in the right-hand drawer. 
The mDesign is an excellent home office desk to purchase. 
25.  WOHOMO Folding Desk
You can fold and tuck it into any small space when not in use. Additional hanging hooks provide more storage possibilities to attach every device imaginable, improving the appearance of your entire workplace. It is an excellent basic desk for keeping your workspace organized.
What to Consider When Buying a Small White Desk
Is it The Right Size?
Since most offices have limited space, selecting furniture that maximizes the functional aspects of your environment is vital. Before making your purchase, ensure the desk will fit where you intend to put it.  
White workstations help maximize space utilization and make offices appear larger. 
Comfort
Another crucial aspect to consider when purchasing office furniture is the comfort of its users. This is a requirement for them to perform well.
The appropriate small white desk with a supportive office chair can lessen back discomfort, neck pain, and eye strain. Wide-ranging mobility at the desk is beneficial for multitasking, such as using a computer and writing by hand.
It should also make it simpler for users to stretch their legs and stand up for a brief walk to improve blood flow. 
White desks and office furniture are recognized to be both calming and energizing, making them a top choice for workplaces. The color can enliven a space by reflecting natural light. This is healthier than artificial light and stimulates the mind. 
Your Budget
Always choose office furniture that is within your budget. The amount you want to spend will determine how you make your priority list.  
White furniture may keep things basic while giving you a fashionable minimalistic style if you have a limited budget. 
Additionally, white goes with everything and can be infused with color to change the mood. 
Finding high-quality furniture that is affordable, robust, and long-lasting is also essential so that you don't have to replace them too often. 
Cleanliness
Select workplace furniture that is easy to maintain. Being more transparent will encourage employees to keep their workspaces clean, especially when hot desking and sharing the office space with others.
White desks make excellent office furniture since dirt can easily be seen on them and cleaned. 
Aesthetics
Although furniture must have a purpose, that doesn't mean it can't also be aesthetically beautiful. Add sophistication and organization by installing furniture such as a desk with grommet hole designs or curved edges.
Well-designed workplaces impact employee moods. This has a direct impact on how productive they are. 
Maintaining a white-oriented office can inspire workers and promote brainstorming or cooperation. Most employees won't find white insulting because it is a neutral color.  
Your office will look neat and organized if your office furniture is all the same color. Using a uniform color, such as white workstations, you may prevent the perception of favoritism within your staff that may result from utilizing diverse colored furniture.  
Instead of employing bursts of color to divide off work areas, you can use all-white workstations to give your employees a sense of homogeneity and community. 
Brand Identity
Your office's appearance represents your brand identity, says a lot about you as a business owner, and will be used to evaluate how you run your enterprise.  
Consider your brand identity when purchasing furnishings. Do you want to use your brand's colors?
You can include colors in white furnishings to balance them out if they are too bold or dominating. Office colors can represent your brand's atmosphere and the message you're attempting to get across. 
Conclusion
You can find several other small white desks on the market to complement your office design and setup. However, these suggestions should give you a fair idea of what to expect when you begin your search. 
The buyer's guide also helps you compare products when choosing between multiple favorites.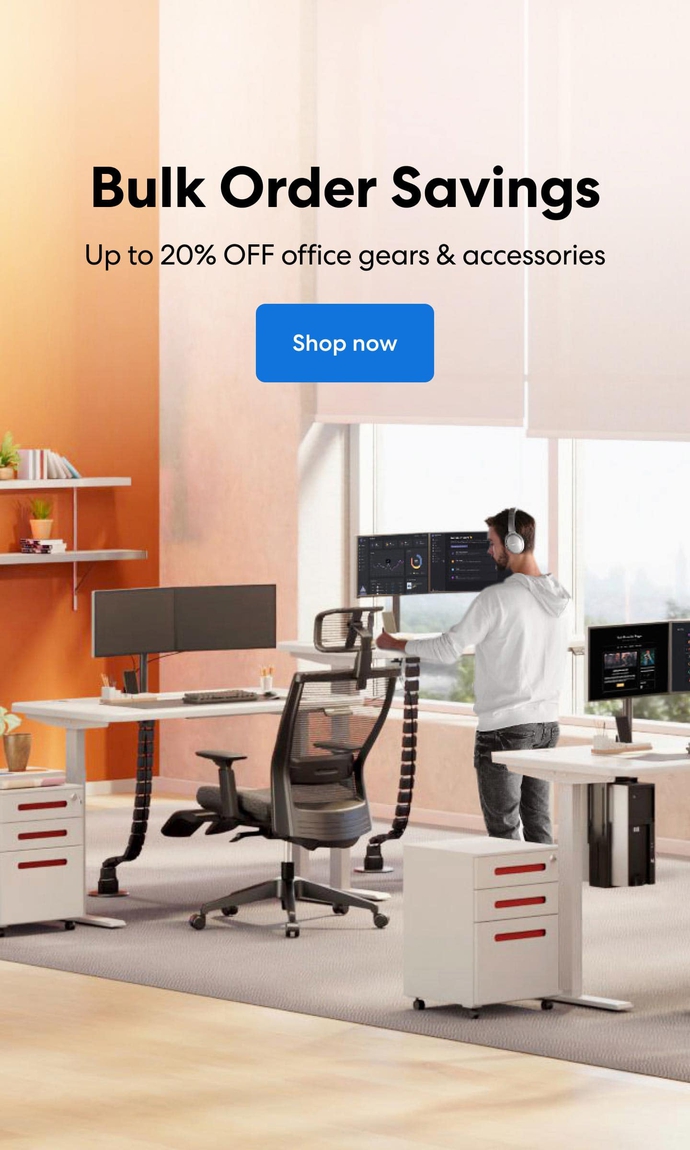 Subcribe newsletter and get $100 OFF.
Receive product updates, special offers, ergo tips, and inspiration form our team.